Depending on which news sources you follow, Milwaukee is going through either a "renaissance" or a "reinvention." Or maybe it's a "reboot" or a "reimagining." However you want to define it, it's safe to say that Milwaukee is currently building a lot of new and wonderful things.
• In case you're wondering if that big Iron District project planned for an 11-acre site near the corner of 6th and Michigan is still happening, it totally is. Construction has already begun on a 99-unit apartment building called the Michigan Street Commons, located on the western part of the site. Meanwhile, Gov. Tony Evers has proposed kicking in $9.3 million in state aid for the Iron District's $45 million, 8,000-seat soccer stadium. ("The proposal will be next vetted by the State Building Commission and the Republican-controlled Joint Committee on Finance," Urban Milwaukee ominously notes.) When completed, the Iron District will also boast a 140-room hotel and a 3,500-person indoor concert venue operated by the Pabst Theater Group. [Urban Milwaukee]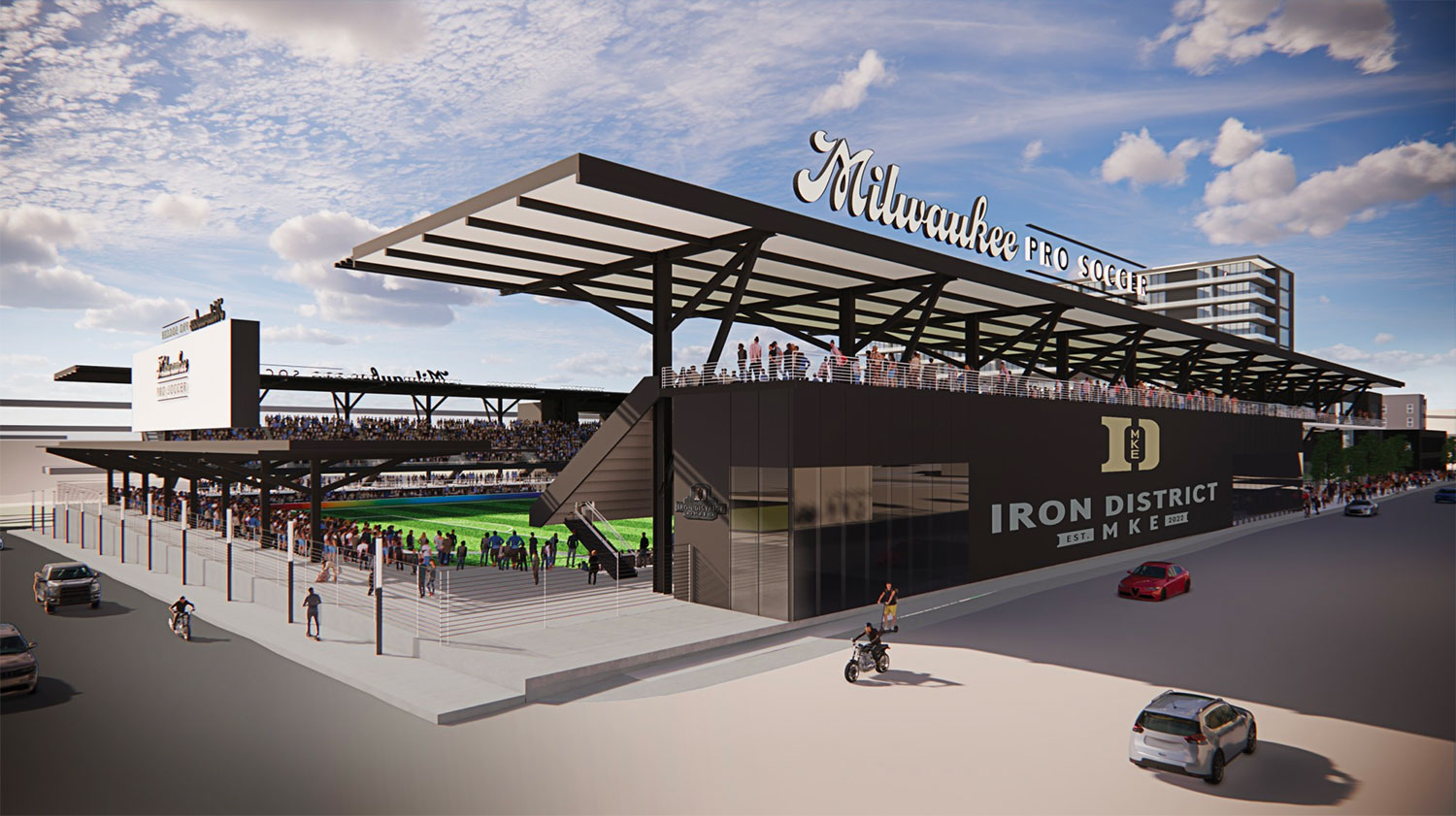 • In case you're wondering if that 11-story hotel planned for the corner of Brady and Farwell is still happening, it totally is. The project recently chalked up its first public approval when the City Planning Commission unanimously okayed a necessary zoning change. As for parking: "The development team proposed a few parking options that would coincide with the parking structure. Two proposed options were a 90-spot surface lot that would utilize valet parking and a 219-stall permanent parking structure." [Milwaukee Business Journal]
• One of downtown's tallest and most iconic office towers has fallen on hard times. The 35-story 100 East building (located at 100 E. Wisconsin Ave. natch) has lost big-name tenants like Michael Best & Friedrich in recent years, and its occupancy rate is currently below 50%. And oh yeah, it's in foreclosure. But a plan from Klein Development and entrepreneur Johnny Vassallo could transform the building into—wait for it—apartments! "Court records indicate a sale could be approved in April and completed in May," reports Urban Milwaukee. Until then, Marcus Corp., Gruber Law Offices, and Wells Fargo remain in the building. [Urban Milwaukee]
• Speaking of Marcus Corp., remember when Marcus bought a prime chunk of downtown land—located at and around 1301-1357 N. Edison St.—and planned to build a "20-story development that included restaurants and a health club on the ground floor extending to the riverfront, along with an eight-screen cinema" there? Well, never mind, because the company is ditching those plans and putting the site up for sale. [Milwaukee Journal Sentinel]
• Milwaukee County has plans for a four-story, 60,000-square-foot human services building at 1230 W. Cherry St. Also, Milwaukee County is looking for a contractor to actually build the thing. [Urban Milwaukee]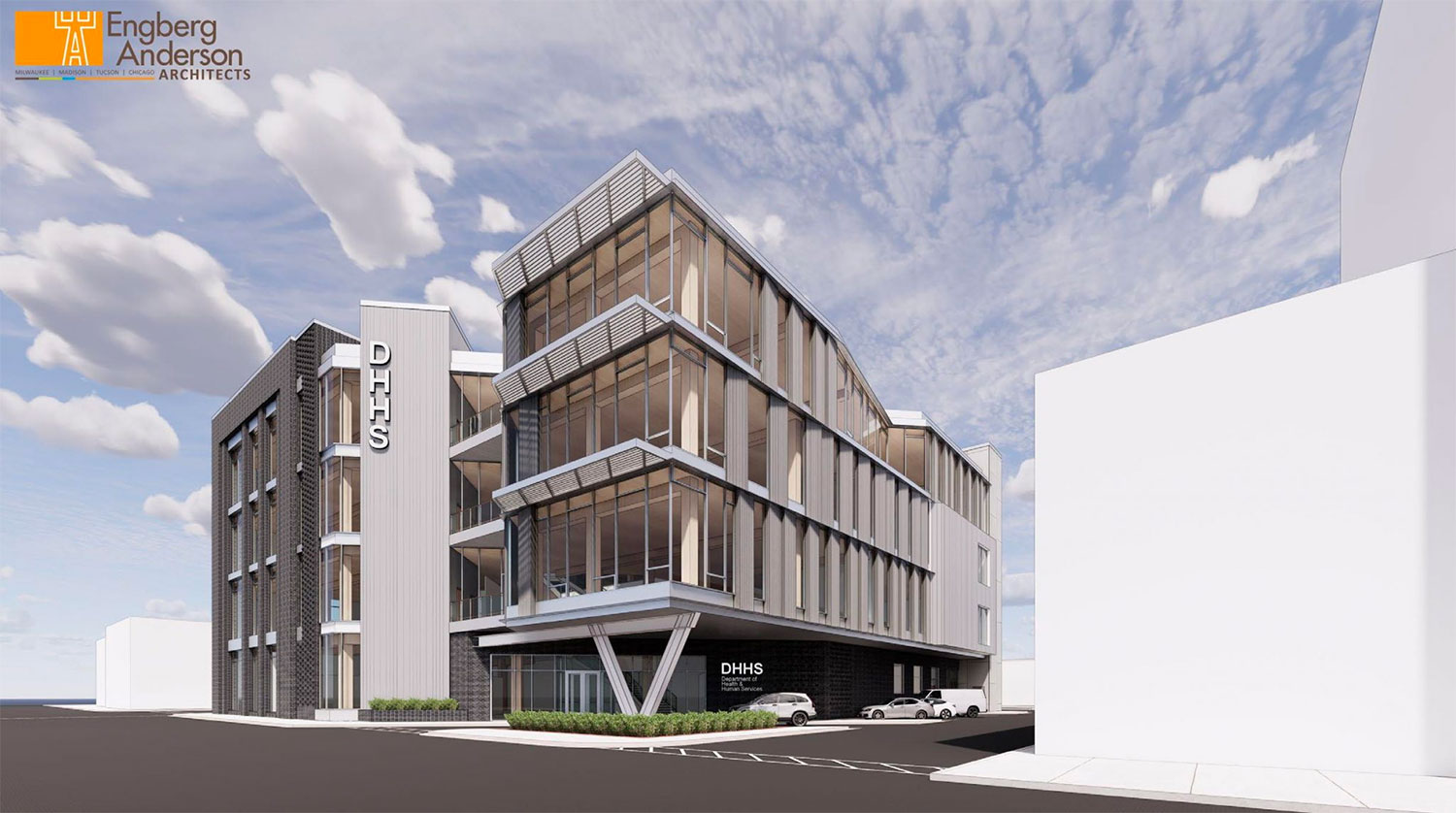 • Plans for an eight-story, 161-room Tempo by Hilton Milwaukee hotel on the corner of MLK and Kilbourn have been tweaked to emphasize the hotel's "verticality, better integrate its rooftop deck, and create a better pedestrian experience." [Urban Milwaukee]
• Draft & Vessel owner Nathaniel Davauer wants to take a small parking garage (and surrounding green space) at 902 S. 2nd St. and turn it into a beer truck park called Giving Tree Garage. The garage would feature four vintage tap trucks and outdoor seating. [OnMilwaukee]
• Speaking of truck parks, Triciclo Peru owner Mario Diaz Herrera wants to take a site on the corner of 38th and Vliet and turn it into a food truck park called Minka. The site is across the street from Triciclo's Empanada Pisco Bar, and would include eight mobile food vendors, an indoor bar, and an outdoor stage. [Urban Milwaukee]
• The fog is getting thicker, and the under-construction Couture tower is getting laaaaaarger. [Urban Milwaukee]
• The big $456 million expansion of the downtown Wisconsin Center is nearing completion—and when it's done, it won't be called the Wisconsin Center anymore. That's because financial services firm Baird has secured naming rights for the convention center, and plans to call it, well, the Baird Center. [OnMilwaukee]
• Speaking of the future Baird Center, you can enjoy it in all its Wisconsin Center glory one last time March 31 – April 2 during the 2023 Midwest Gaming Classic! Fun!
Exclusive articles, podcasts, and more. Support Milwaukee Record on Patreon.
---
RELATED ARTICLES
• Full "New And Wonderful Things" (formerly called "New Sh*t") archives