My seemingly years-long quest to find my favorite taco in Milwaukee has apparently come to, if not an end, a definite screeching halt. A few months back, my sister Yolanda posted a picture of carne en su jugo, a dish from Jalisco that I have written about many times. She had a caption that read "off the hook" and tagged Taqueria La Sierrita. The name means "little hill," and the restaurant has a maguey plant (where tequila comes from) as its logo. It is located at 2689 S. 13th St. in Milwaukee, across the street from an Aldi and up the block from where the Hillside and Camelot used to be. Those who know, know.
There is only one person in this world I fully trust when it comes to their opinions on food, and that is my sister. Recently, I had a meeting with my union mentor, Dave. Our meeting spots are always taquerias on the south side, so we decided to come to Taqueria La Sierrita. They have a full bar and muted orange walls, and the decor is modest. That is usually a good sign. Masks are required and the staff all use them, because they understand that no matter how much people want to believe it's over, COVID is still very real. During our visit, Dave ordered al pastor and I decided to venture out of my normal taco go-to's of asada, instead opting for suadero (marinated crispy brisket) and cecina (thin cut steak slices).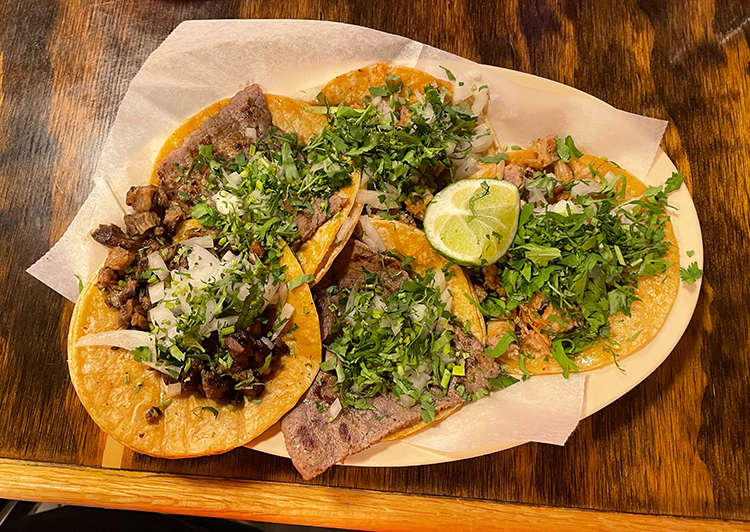 Now, there is a very real and very immediate way to know if the cecina is good. When you bite it, it should not fight and slide out of the tortilla and pull all the salsa and onions and cilantro out with it. This did not happen, and I can honestly say it is the first time it has not happened to me in Milwaukee. I know because I stopped ordering cecina everywhere I went out of fear of this beefy retaliation. After our first bites, Dave and I looked at each other and just nodded. "Fuck yeah, dude" were our only words. The suadero was expertly cooked, keeping the crispy edges of the meat brimming with flavor while the fatty parts simply added to its symphony, or corrido, without letting you know they were there.
The prices, like the aforementioned decor, are modest as well, and while I heard a wise man once say "Don't ever judge a taco by its price," there is something that never sat well with me paying $12 for tacos that came in little aluminum shelves. No. Tacos go on a piece of parchment paper on a plastic plate. Don't come at me.
La Sierrita's limes always seem to be bright and juicy, and the salsas range from mild to pretty damn hot. The hot one is the red one—remember that. The creamy green one is the second hottest, as fried jalapeños make their presence known. The oil makes the capsaicin come out and play in a way that boiling water will not. The mild one is the green one. Tomatillos in salsa always seem to act as the peacemaker.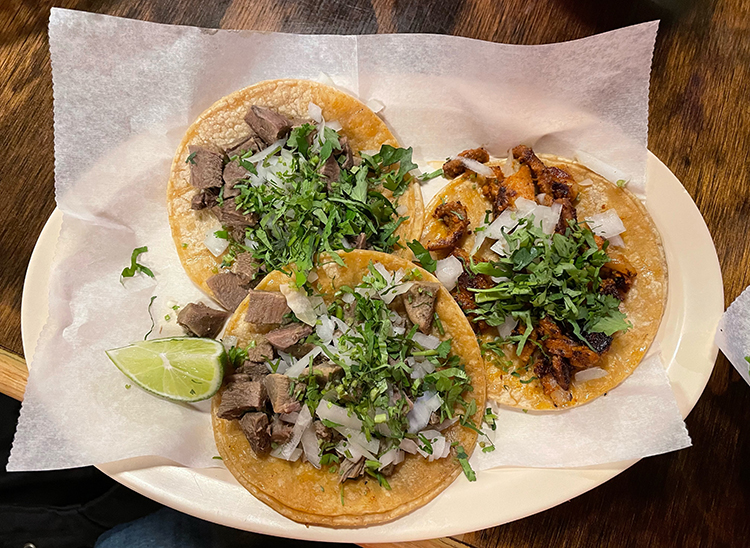 La Sierrita is a gem, a paradise for the true taco connoisseur. They have a truck as well, which is right outside of the actual brick-and-mortar for some reason. I have not tried the truck yet, but I am curious to see if there is a difference. I have now had 13 meetings at Taqueria La Sierrita since I discovered it because I wanted to show new people what the deal is. The tacos have not changed, the consistency is always there, and the asada has a perfect char. I know I still have others to try, but those others now have a lot to live up to. For me, at least.
Exclusive articles, podcasts, and more. Support Milwaukee Record on Patreon.
---
RELATED ARTICLES
• My favorite taco trucks in Milwaukee