Last month, while I was attending the first winter installment of our Midweek Music series at Crafty Cow MKE (2675 S. Kinnickinnic Ave., 414-808-0481), I decided to take advantage of the restaurant's fairly new "Burger Night" special. The promotion, which is available every Thursday from 4:30 p.m. to close, allows customers the opportunity to design their very own smash burger by selecting from a vast list of options.
I decided to keep my first Burger Night order simple, opting for a single patty burger with pickles, raw onion, and the default American cheese. As far as $6.50 sit-down restaurant burgers go, it was great. However, as I examined the tome of toppings on the menu before me while I enjoyed my simple-but-satisfying cheeseburger, I began to focus on the missed opportunities. Should I have upgraded from raw onion to caramelized onion for a quarter more? Was it worth 75 cents to add any of Crafty's eight sauce options to my burger? What the hell is bone marrow butter and why didn't I think to plop down a buck to experience it?
Clearly, the staggering number of possible topping combinations was making my head spin. And that's not even counting the ability to have anywhere between one and four burger patties. My English degree from UW-Oshkosh doesn't quite qualify me to know the exact number of possible burger combinations that can be made from the items on this list, but it's what I believe mathematicians would call "a very big number."
Then it hit me: I could potentially figure out the best combinations by simply ordering a burger with EVERY SINGLE TOPPING on it. It's kind of like if Robert Frost had reached those two divergent roads and, instead of choosing only one to travel, he just set fire to the wooded area between the roads to create one super road. Or something like that.

I told Crafty Cow owner Devin Eichler about my "Infinity Burger™" aspirations and he agreed to help make my dream a reality. Not wanting bug the Crafty Cow kitchen staff during a lunch or dinner rush, I asked to come in post-lunch today. I told Devin which of the two sauces I wanted on the burger (both of us agreeing any more than that would overtake everything else on the burger and make this admittedly dumb experiment even less worthwhile), confirmed I only wanted one beef patty, told him that I wanted all the sliced cheese options, and waited for my date with destiny. A few minutes later, this was brought out to my table…
Holy crap.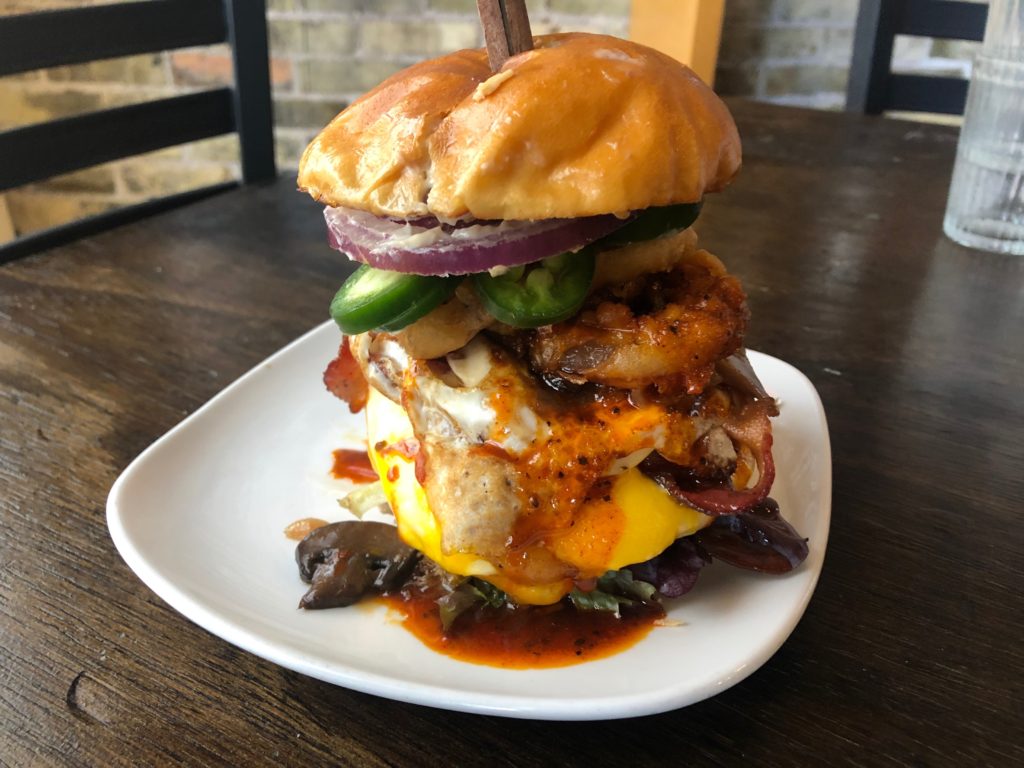 Including the two sauces (Garlic Parm and Nashville Hot) and the four cheeses (American, Pepper Jack, Swiss, and Cheddar), this thing had TWENTY toppings on it. That's not even factoring in the beef patty itself and the buns. I examined the tower of toppings stacked on the plate and took a couple minutes to form my plan of attack. I ultimately decided I needed to dismantle it by eating layers until it reached a size I could safely pick up and bite like a regular burger.
I started by eating some battered onion rings, a few bites of pulled pork, some pieces of jalapeño and caramelized onion, and eating the entire fried egg. I also made a conscious effort to focus on specific toppings that I felt might not go well with others (eat the egg before I got to the pickles, for example). Along the way, I tried to eat some of the melted cheese that was beginning to ooze over the edges of the bun. Try as I did, it was becoming a messy endeavor. Eventually, I reduced the pile enough to be able to pick up the burger and take a true bite. As a one-napkin burger turned into a two- and then a three-napkin delicacy, Billy Joel's "My Life" played over the house speakers. As the "leave me alone!" lyric repeated, I felt thankful I was left alone to eat this 20-topping burger with no witnesses to the mess I was making.
Much to my surprise, I finished the entire burger in a matter of less than 10 minutes. Honestly, everything ranged from good to great on their own, but as you could have probably guessed, the amalgam of toppings was…a bit much when all combined together. There were five cheeses (including the cheese sauce), three types of onions, two pork products, two types of beef, and an egg. It was very tasty, but also very substantial. Oh, and if you're curious, a burger with all these toppings and add-ons would cost a total of $27.50 before tax and tip.
While I'd probably never order a 20-topping "Burger Night" cheeseburger again, I'm thankful I got to live out an admittedly odd dream to see what such a massive burger looked like and experience what it tasted like. I also was able to try toppings I'm sure will make their way onto future (much smaller) Burger Night orders. The battered onion, cheddar cheese, cheese sauce, and garlic parm were all standouts, for example. Though I'm glad I had the opportunity to indulge in absolutely everything available to me this once, I'll be probably just stick to traveling a few much smaller, and far less winding roads in subsequent Crafty Cow visits. That will make all the difference.
MILWAUKEE RECORD REVIEW: 20/20 toppings.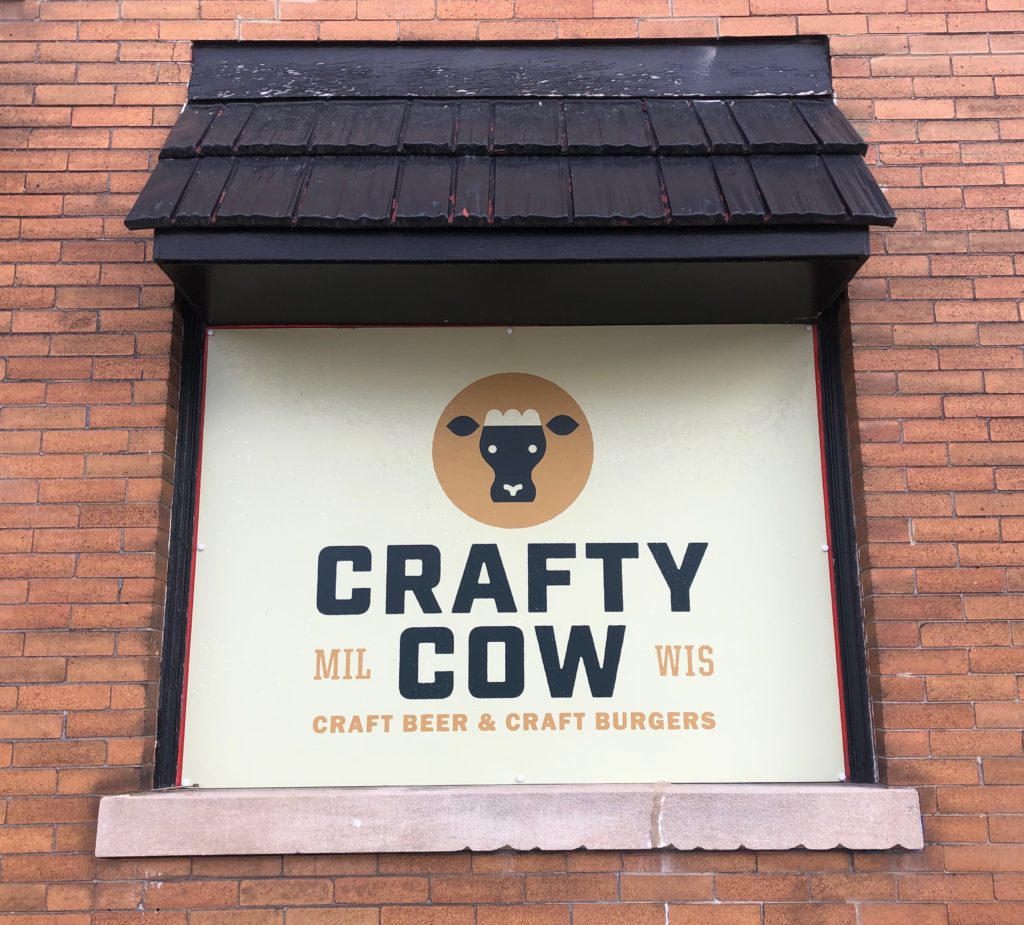 Exclusive articles, podcasts, and more. Support Milwaukee Record on Patreon.
---
RELATED ARTICLES
• The inexplicable 'Medieval Madness' pinball machine at East Side Maytag Coin Laundry: The Milwaukee Record Review
• That 'Boy With Goose' sculpture in Marshall Park: The Milwaukee Record Review
• The new Cousins Subs on the corner of Oakland and Locust: The Milwaukee Record Review
• The new Rocky Rococo at Bayshore: The Milwaukee Record Review