Caleb Westphal hasn't missed a Friday night fish fry since 2013. Follow along with his never-ending adventures here.
Beer and fish frys. Laverne and Shirley. Uecker and the Brewers. Streetcars and strong opinions. In Milwaukee, some things just can't be imagined without a counterpart. Not only is beer associated with fish frys, breweries are as well. Pabst Brewery and Taproom has a fish fry, and so does City Lights Brewing Company. No conversation about the convergence of Milwaukee breweries and fish frys would be complete without a mention of Lakefront Brewery. But, just a handful of blocks away from Lakefront, one can get a fish fry in the same location where patrons once downed beers after taking the Schlitz brewery tour.
Named for the brown bottles Schlitz Brewing Company began filling with beer in 1912 (the brewery itself opened in 1849), The Brown Bottle (221 W. Galena St., 414-539-6450) tasting room opened in August 1938 in the basement of the Schlitz office building. Located next to the brewhouse, The Brown Bottle was frequented by those who took tours of the brewery, as well as by many guests who came there for dinners, receptions, and meetings. Everyone who came through signed a giant guest book. According to a Milwaukee Sentinel article from October 13, 1940, "There during 1939 alone, the brewery tour attendance was 89,070, not counting special parties to which the 'Brown Bottle' was opened on many evenings. These people all sign a huge registry which reads like an international conference and contains many distinguished signatures."
Schlitz Brewing was purchased by the Stroh Brewery Company in 1982, and the Milwaukee factory was shut down, along with the Brown Bottle. In 1983, Stroh sold the factory, and it began being redeveloped. The Brown Bottle returned in 1986, this time with many more brands of beer, and Friday fish frys began being served as well. It closed in 2004, and Libiamo, an Italian restaurant, opened the following year, lasting until 2012. They also served Friday fish frys. Since 2014, the restaurant and bar have once again been The Brown Bottle.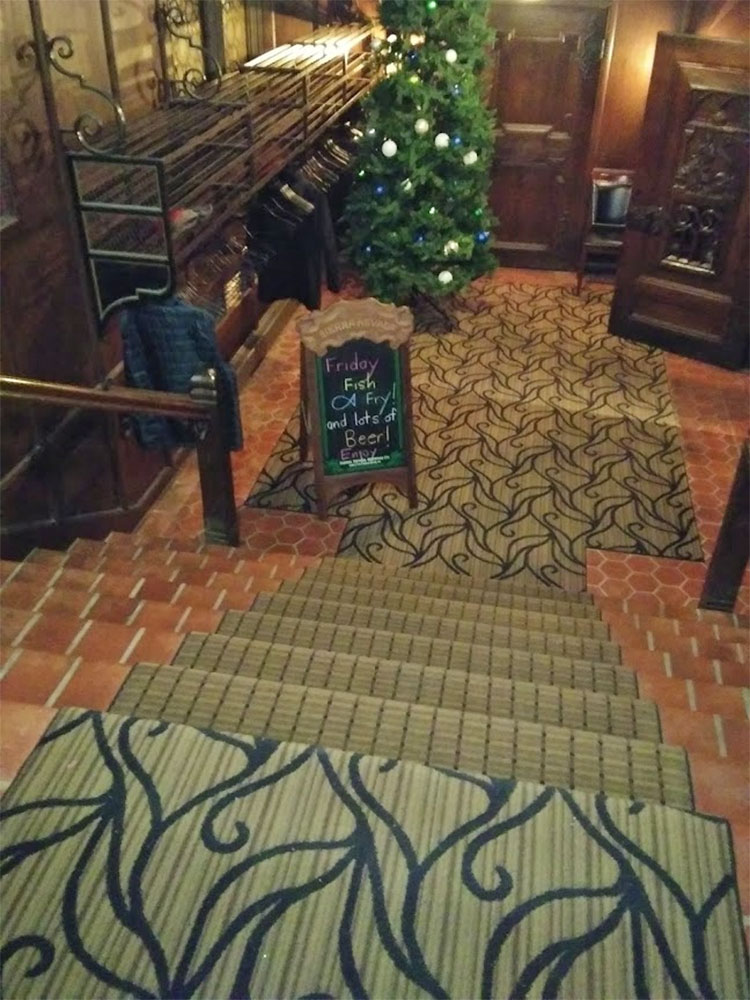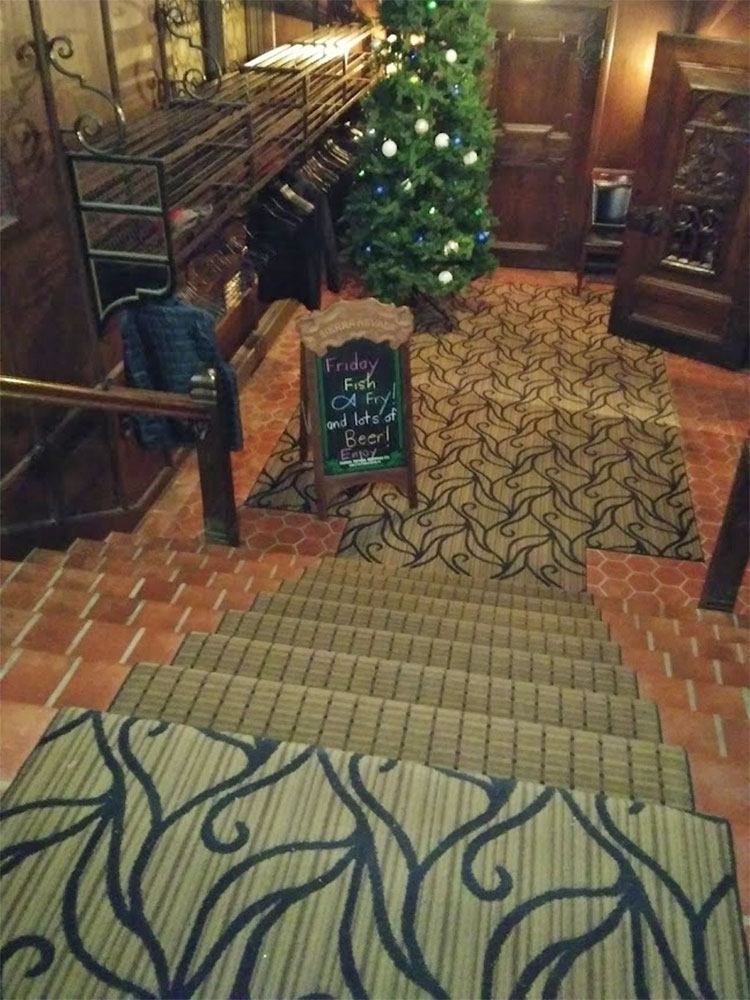 Upon opening a heavy wooden door and stepping down into The Brown Bottle, my friend and I found a place where the spirit of the original tasting room is still very much alive. Dark woodwork on the door frames, walls, and bar brought a reassuring warmth to the cellar-like surroundings, and seemed to say, "If the outside world is whisked away, we shall remain." Antler chandeliers designed by Cyril Colnik hung from an ornate ceiling, just as they did in one of the old pictures that was on the wall.
We were quickly seated in the dining room and given menus. Fish options include Schlitz battered cod ($11.95), baked cod ($12.95), and cornmeal battered perch ($13.95). Each meal comes with fries, but homemade potato pancakes can be substituted for a dollar. I went with the beer battered cod with pancakes. In a very uncharacteristic move, I somehow failed to order clam chowder. Perhaps the large pretzel and mustard that had been brought to the table was what threw me off. However, I definitely did not forget the Old Fashioned. And considering where I was at, I made sure my second drink was a draught of Schlitz.
I was expecting the pretzel to be warm and soft, but it turned out to be rather cold and hard. Nonetheless, the unexpected add-on was welcomed. Soon afterwards, the server brought out the fish frys. "Is this right?" she asked, while placing the basket with potato pancakes in front of me, and the one with fries in front of my friend. I answered in the affirmative, but when I looked down again, I realized the cod looked really small, and that the perch that my friend had ordered looked huge. It turned out the wrong fish was with the wrong potatoes.
Bewildered, I stared at my plate for a moment, and then started trying to remedy the situation, inadvertently tearing the perch apart in the process. I was helpless, but my friend sprang into action and rearranged the baskets. No real harm was done, and we dug in. (The fish photo included here is after the incident. The cod is remarkably intact.)
The meal came with a half-slice of marble rye. It seemed slightly toasted, which contrasted with the soft tabs of butter in a little dish that accompanied it. The cup of coleslaw didn't set off any bells or whistles, but it got the job done. Both the batter and meat of the fish were pretty typical. The batter adhered well and had a nice crispness around the edges, but was a little too salty. I thought the tartar was decent, and my friend was particularly fond of it.
The potato pancakes were the most memorable part of the meal. Rather uniform on the outside, their insides were shredded like hash browns. Their most salient aspect was an extremely pungent flavor at the hands of herbs, which seemed to be a mix of thyme and oregano. The pancakes were enjoyable and original, and I'd have them again, but they were on the precipice of being overwhelming.
After our meal, we looked around at most of the pictures hanging on the walls. There were some black-and-white photos of celebrities and ordinary folks who had drank at The Brown Bottle many decades ago. Bob Crosby, brother of Bing Crosby, was in one of them. There were also photos of the giant guest book. My friend asked a bartender about the book, and was told that no one knows where it is.
Just think, somewhere there is—or was —a book that held thousands of signatures. Bob Crosby probably put his name in there, as likely did Lucille Ball and Desi Arnaz, who also visited The Brown Bottle. Adolphe Menjou, Jane Greer, and Jack Paar were there in 1948, so they probably signed it, and 1960 Republican nominee Barry Goldwater was there a few times in the 1950s, so maybe he signed it as well. Even Bob Hope, Harry Truman, and Eleanor Roosevelt stopped at The Brown Bottle. Is it possible they signed the guest book? Perhaps their names are adjacent to those of your parents, grandparents, and great-grandparents, who also stopped in for "the beer that made Milwaukee famous." And today, in the 21st century, you can stop in for a beer too, and you can even get a fish fry.
Takeaways: Historic brewery location; antler chandeliers; pungent potato pancakes; moderately good Schlitz battered fish; the key is safe, but where the hell is the guest book? If you can solve this mystery for me, I will buy you a Schlitz.