Caleb Westphal hasn't missed a Friday night fish fry since 2013. Follow along with his never-ending adventures here.
As I looped around the back parking lot of A.J. O'Brady's (N88 W16495 Main St., Menomonee Falls, 262-250-1095) there wasn't one parking spot to be found. "No problem," I thought, as I drove down the block past a line of parked cars, "I'll just park on the road." I pulled behind the last car and looked up to find a sign that said "90 MIN PARKING 8AM TO 6PM EXCEPT FRIDAY 8AM TO 9PM EXCEPT SUNDAY AND HOLIDAYS 30 MIN PARKING 2AM TO 6AM." I read it a few times and couldn't tell if I was reading it properly (maybe I'm still not?). "Am I just an idiot and can't figure this out," I thought, "or is this sign really telling me that I have to move my car in 90 minutes or I'll get a parking ticket?" Could people really be given parking tickets during their Friday fish fry? I decided that there was no way in hell that could possibly happen in Wisconsin, so I stayed parked and went inside.
I had been to A.J. O'Brady's once before, on February 21, 2014, just eight weeks after I started keeping track of which fish fry locations I went to each week. I remember having all-you-can-eat fish, and seem to remember having three different kinds of fish at once as well, but I can't remember that for sure. It was my hope to have a similar experience this time around.
Although it was already 7 p.m., the place was still swelling with a dinner crowd. I was thus surprised to hear it would only be about a 20-minute wait for a table (it ended up being not much more than that). I took a seat at the bar and found a card that listed six types of unique Old Fashioneds. I was at a loss as to what to pick until I saw that the "Cherry Old Fashioned Smash" was made with Traverse City American Cherry Bourbon. Back when I was in high school I used to march in a parade with a band at Traverse City's National Cherry Festival. "A toast to memories," I thought. The sour soda that topped it seemed to help bring the bourbon flavor to prominence, and it was a bit boozy anyway, but still good.
While sipping the drink, I tried to read some of the written-on dollar bills that were hanging from the ceiling above the bar. I also noticed a Guinness countdown clock that said it was 239 days until St. Patrick's Day. I thought that was interesting considering this was fish fry #238, and an idea came to mind, but I thought I'd sit with it until after dinner.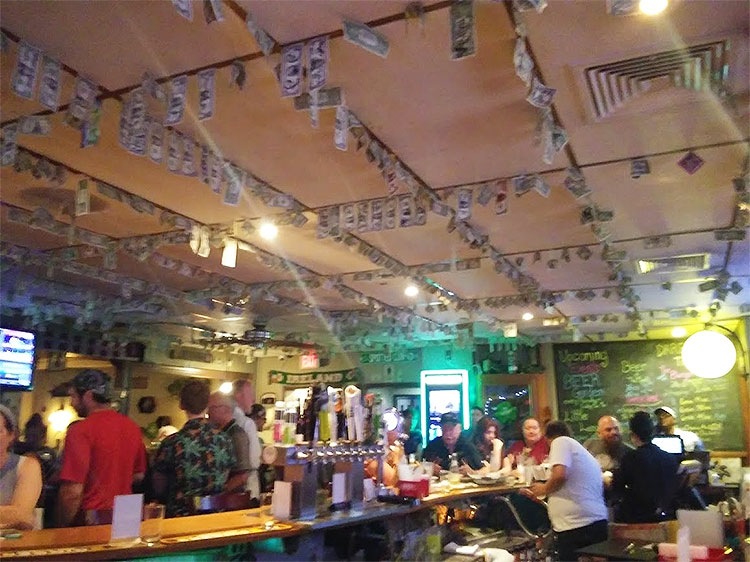 After being seated, I took a closer look at the menu, which was almost as confusing as the parking sign outside. Most of the regular fish frys were listed in the same section as the sides, while the soups were listed in the all-you-can-eat section—but it was only slightly apparent that this was being done because the soups were included with the all-you-can-eat meals. Kick up your feet and let me try to break down this menu for you:
The white fish meal (available pan fried, baked, deep fried, or blackened pan fried or baked) is $6.99, the Guinness battered cod meal is $7.99, and the lake perch meal (available pan fried or blackened pan fried) is $13.99. Soup or salad can be added to the white fish or cod meal for $1, but apparently not to the perch. The meals also include a choice of pub fries and coleslaw, waffle fries and coleslaw, or potato pancakes with applesauce. Mashed potatoes or veggies can be added for a dollar, and an extra coleslaw or applesauce can be bought for 50 cents. The white fish and Guinness battered cod are also available as all-you-can-eat, for $9.99 and $10.99, respectively. The all-you-can-eat meals also include a choice of soup or salad. You get to choose a potato option as well. All fish meals also include warm bread (actually warm rolls) and Irish butter (when available). Was that a confusing paragraph? Try reading the menu.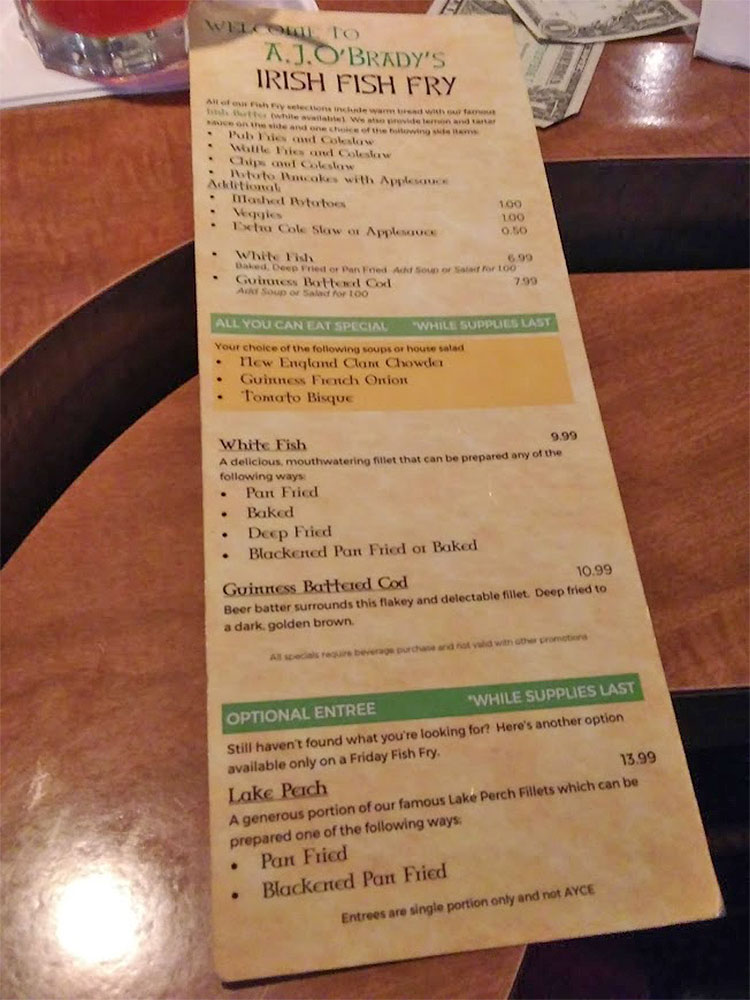 I ordered the all-you-can-eat Guinness battered cod with the potato pancakes, and chose clam chowder as my soup option. Having a fish fry without coleslaw just doesn't seem right, and after initially forgetting to order a side of it, I flagged my waitress back down and ordered one. The rolls and clam chowder were quickly brought out, and complemented each other perfectly. Now, I know there is something actually called Irish butter, and this is probably what I was given, but when it was brought to the table colored green I could only think that maybe it was just "Irish" butter. The chowder was above average; it was moderately above average in its taste, had an average amount of clam and vegetables, and was exceptional in its creamy texture.
I'm sure other restaurants serve Guinness battered cod, but I'm not sure I've had it. Nonetheless, it's a pretty original idea. The cod was covered in a uniform, encased batter. It had a unique flavor that I can't quite put my finger on. Did it taste like Guinness? I don't think so, but that must have been where the underlying flavor was coming from. The tartar was thin and was made with a sweeter relish, but beyond that it didn't have too much flavor. The pancakes were smaller in circumference, but this was made up for in their thickness. They were a little stringy around the edges, but the browned outside helped hold them together. Inside they were soft and fluffy, and overall they had a mild flavor. There wasn't much going on with the coleslaw, but I'm still glad I bought it so I felt complete. The rolls took the place of the usual rye bread. After clearing my plate, I had another piece of cod, as well as a piece of white fish.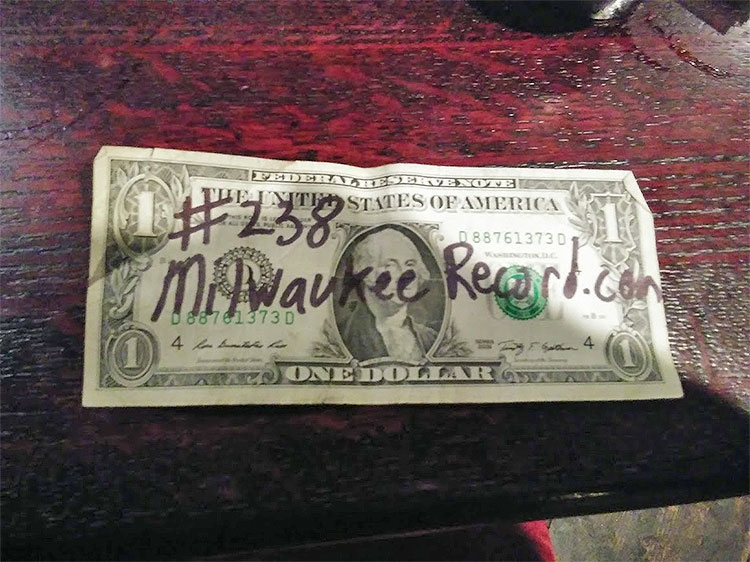 I thought about all the dollar bills hanging from the ceiling, and how I had spent some time trying to read them. I also thought about how I had never hung a dollar on a ceiling before. So, before I walked out the door, I wrote "#238 MilwaukeeRecord.com" on a dollar bill and asked a bartender to hang it on the ceiling for me. Go and find it.
Takeaways: dollar bills hanging from the ceiling; Old Fashioned options; solid chowder; the butter was green; cod battered in Guinness; excellent price for an all-you-can-eat meal, which also comes with soup or salad; the menu confused me, and so did a parking sign outside; if you walk across the street from the restaurant you can see some falls in Menomonee Falls.