Caleb Westphal hasn't missed a Friday night fish fry since 2013. Follow along with his never-ending adventures here.
Friday fish frys can be found in just about every setting imaginable. After having one next to a lake last week, accompanied with some plastic beer cups, Porta Potties, and cover bands, I was ready for something a little more refined. Fortunately, besides being the home of the Friday fish fry, Wisconsin is also the home of the supper club, a magical place where time moves a little slower, and relish trays, steaks, and ice cream drinks abound. While most of my supper club experiences have involved prime rib on Saturdays, there have been plenty of fish frys on Fridays as well, just like this past Friday.
The building that houses Stoneridge Inn (11811 Janesville Rd., Hales Corners, 414-425-7777) has been a supper club for decades. During the 1970s, it went by names such as Larry's Steakhouse, the Candle Wicke (yes, with an "e") Inn, and Mia Casa Supper Club. It has been Stoneridge Inn since the early 1980s, although it was known as Diamond Jim's Stoneridge Inn from 2001 to 2015, when it was owned by Jim Letizia. It has since been owned and operated by John and Diane Demopoulos.
Upon entering the building, I was cheerfully greeted at the host/hostess counter. A sign on the front of the counter indicated dining rooms were to the right and the left, with a bar to the left as well. It also indicated that Red Deacon plays on Wednesdays and Saturdays. I had heard of Red, but wanted to know more, so I asked the hostess about him. She almost began to tear up, and I was bracing for her to tell me that Red Deacon had passed on, but it turned out that Red had just gone into retirement, and had played his last Stoneridge Inn performance the Saturday before. Red "Hi friends, do you like classic country music? I hope you do!" Deacon has been a longtime supper club player in the Milwaukee area, frequenting many other establishments as well, and it was evident that he will be missed at Stoneridge Inn.
My companions and I were seated at the far back of the right dining room. Carpeted and cozy, the room had wine-related items hanging on its walls, with fake bricks painted here and there. (I was informed by a worker that the other dining room had a "winey" theme as well.) I figured the carpeting would absorb some of the sounds of people talking at adjacent tables, but being that the room was shaped like a tunnel, it felt, well, like we were dining in a tunnel. While not as loud as Lakefront Brewery, it did feel uncharacteristically loud for a supper club.
I ordered an Old Fashioned, which came non-muddled and garnished with a cherry and an orange. It had a good balance of flavor, and was one of the best non-muddled Old Fashioneds I've had in a long time. I also assumed they had clam chowder, so I confidently ordered some. It turned out they actually didn't have any, so I settled for some lobster bisque instead.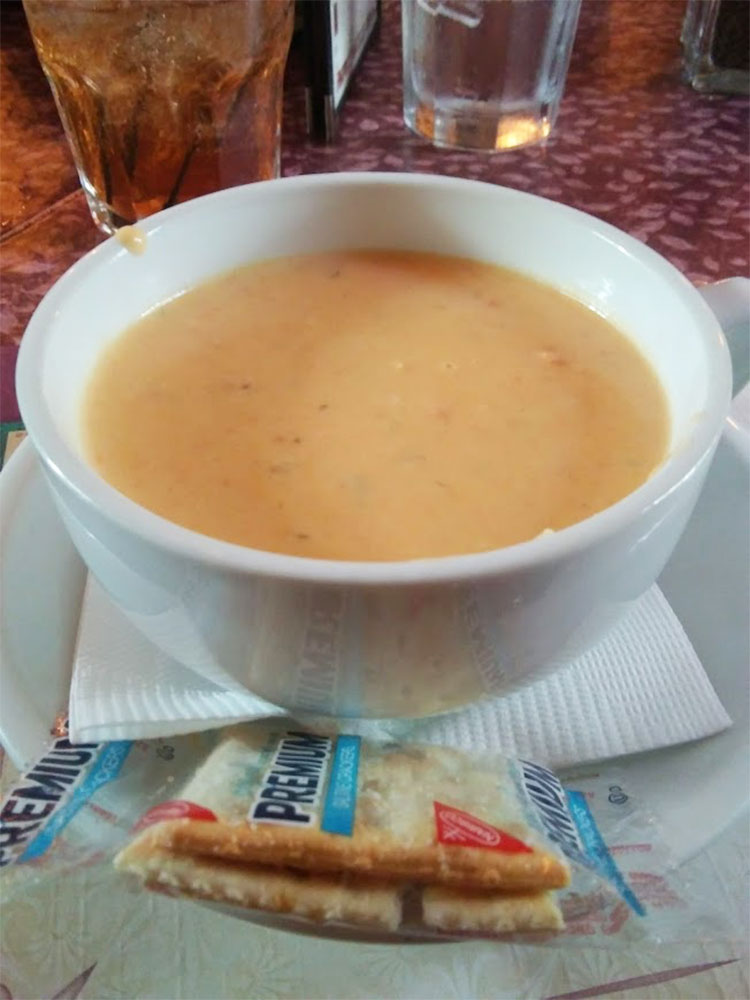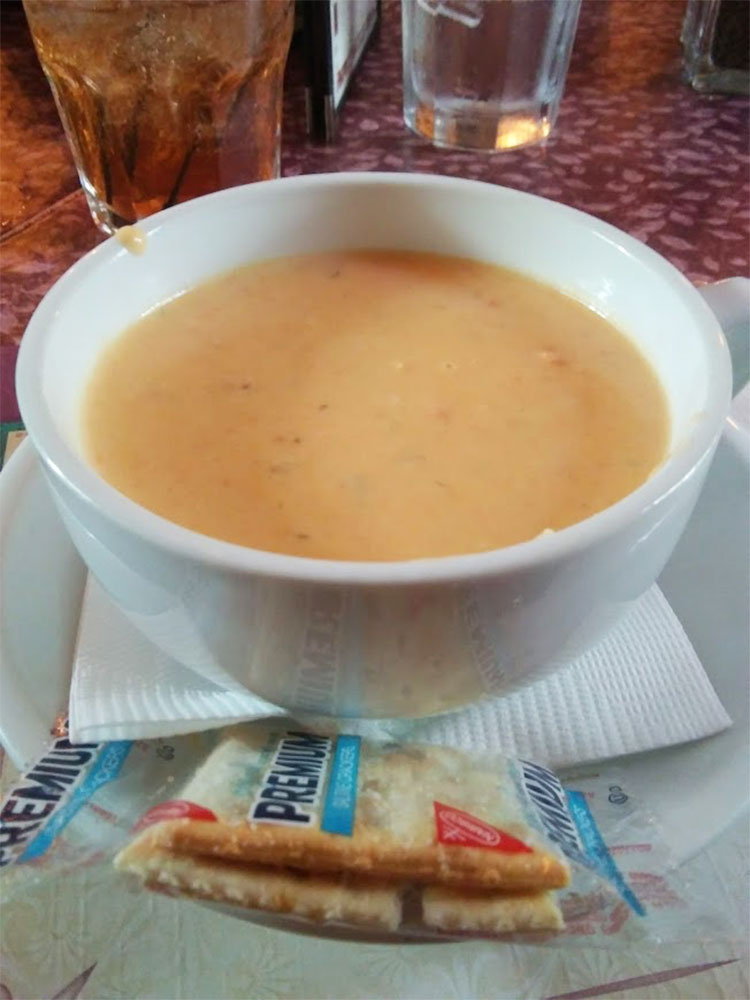 There are a decent amount of fried fish options at Stoneridge Inn. Their standard fry is beer battered cod, which is available as a two or three piece. Pecan crusted or parmesan crusted cod is also available. Breaded lake perch, a perch and cod combo, and a seafood platter with cod, shrimp, and scallops can also be purchased.
I went with the perch and cod combo, which came with two pieces of each type of fish. The perch had a flavorful breading, and was of slightly above average quality, being quite enjoyable. Both the pieces of cod and the batter that covered them were of moderate quality—there wasn't anything particularly impressive about them. The fish was paired with a relish-heavy tartar that also was pretty run of the mill. The homemade potato pancakes were heavy on onion, had sweet undertones, and were so uniform in their appearance that they almost seemed like they weren't homemade. Thankfully, they lacked the extra greasiness that so often accompanies frozen potato pancakes. The coleslaw was heavy on cream and had a very mild flavor, and the marbled rye was soft and buttered.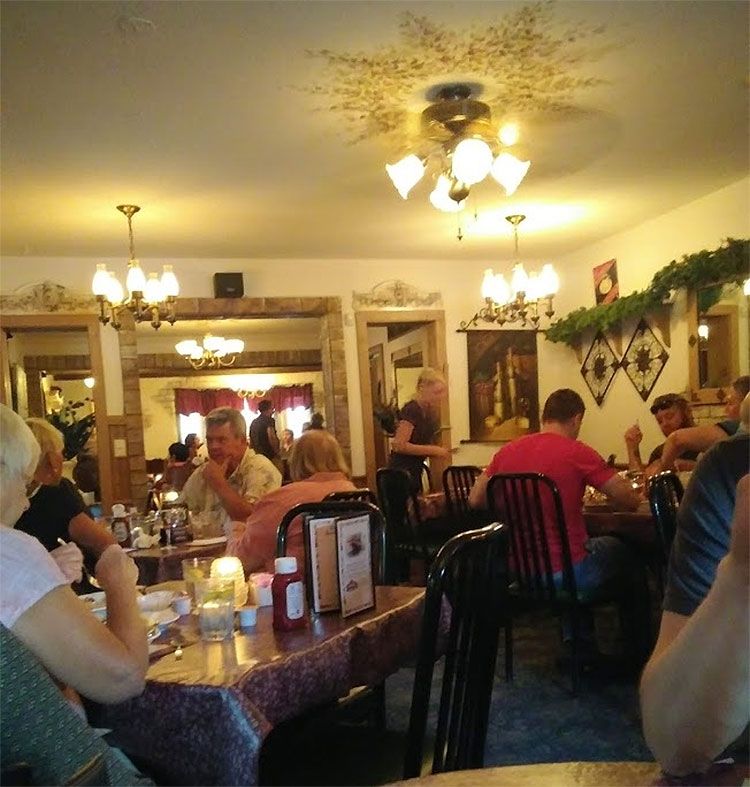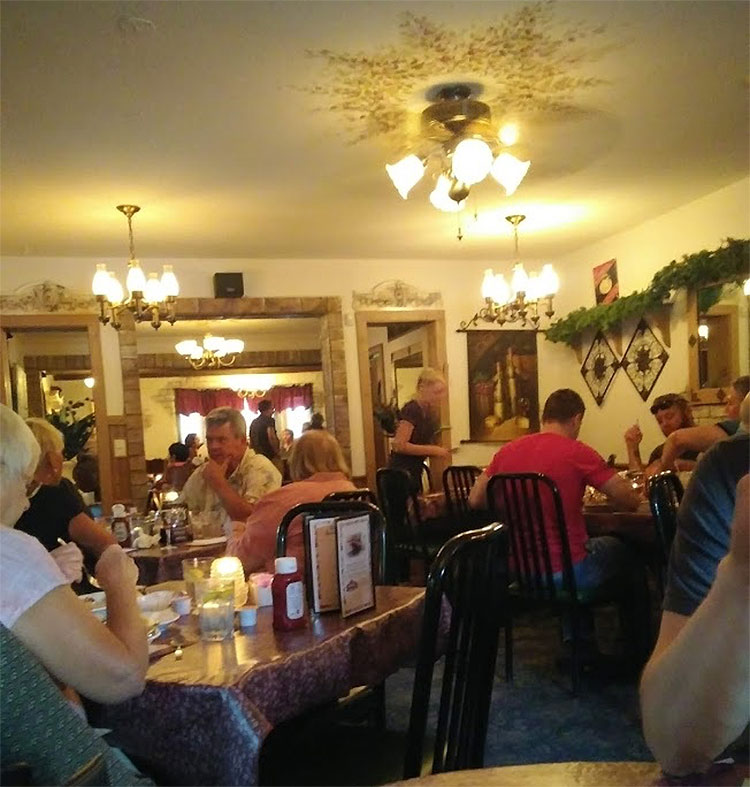 The fish fry at Stoneridge Inn is of decent quality, but nothing really sets it apart from ones you'll find at many other establishments, except perhaps that there are a few more fish options than usual. At $12.95, the three piece cod is reasonably priced, but at $19.95, the perch and cod combo seems a bit steep, approaching what I'll call "supper club pricing." What I did find particularly endearing, though, was the enthusiasm that emanated from the employees. It was apparent that they cared about their establishment and those visiting it, which gave the experience a familial quality. That's the kind of thing that keeps people coming back, and what is going to help save our supper clubs.
Takeaways: Top-notch non-muddled Old Fashioned; quality perch; pretty standard cod; no matter how confidently you order clam chowder, they don't have any, but you can get lobster bisque instead; you can order buckets of fish to go; the cod is available six days a week (they are closed on Mondays); fun staff who seem to be proud of where they are; Red Deacon is alive and well, but he retired—I hope he comes out of retirement and forms a fish fry/supper club super group with Tony from Pat's Oak Manor; I drove past Clifford's both after and before my meal—do you know how difficult it was to not stop?