Welcome to Food/Drink Week at Milwaukee Record, brought to you by Milwaukee's new favorite import, Bofferding. From May 13 through May 20, belly up and enjoy a fresh smattering of restaurant visits, beer articles, booze videos, deliciously arbitrary rankings, and some good old fashioned adventure food journalism.
Late last year, we traveled to all around the city in search of oversized Milwaukee beverage displays. After combing the town, we chronicled and subsequently ranked a total of six big-ass drinking vessels. Since that important piece of content was crafted, we've been wondering how many oversized food displays Milwaukee had to offer.
After weeks of searching, we've managed to find a bunch of enormous displays that are devoted to food items. From morbid sculptures of livestock and inflatable crustaceans to gigantic citrus fruits and a huge can of soup, here's a semi-detailed round-up and absolutely arbitrary rankings of the biggest and best Milwaukee food displays we could find.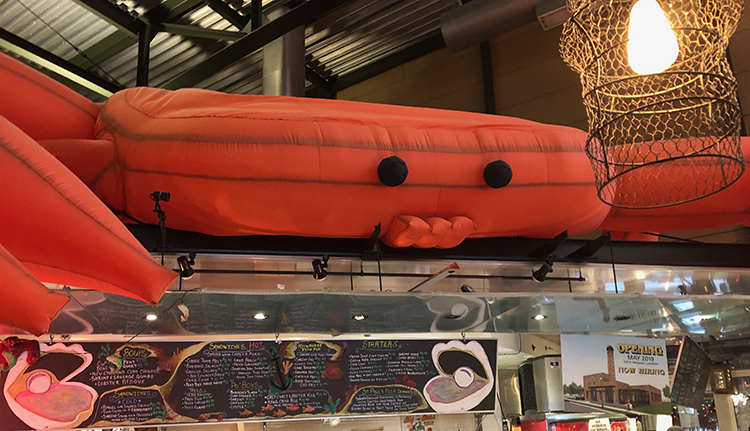 6. St. Paul Fish Company (Crab)
We all know St. Paul Fish Company as one of the anchors of Milwaukee Public Market. The restaurant's lobster roll is the stuff of legends, and the rest of their fresh and wonderful seafood lives up to the hype. Beyond being your visiting relative's favorite place to grab a meal in the bustling market, the fish company is also the host of two particularly huge food displays. The massive crab is the lower-ranked of the pair because it's basically just an inflatable shellfish. Plus, it takes up ton of space, which only adds to claustrophobic feeling that sometimes permeates the perpetually-packed Public Market.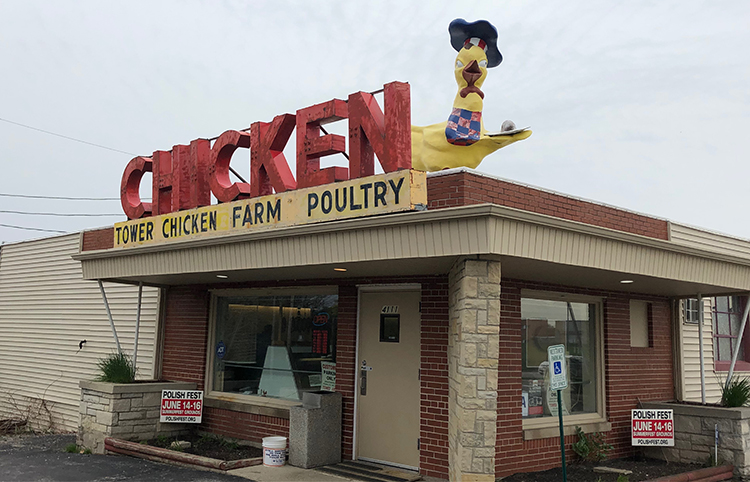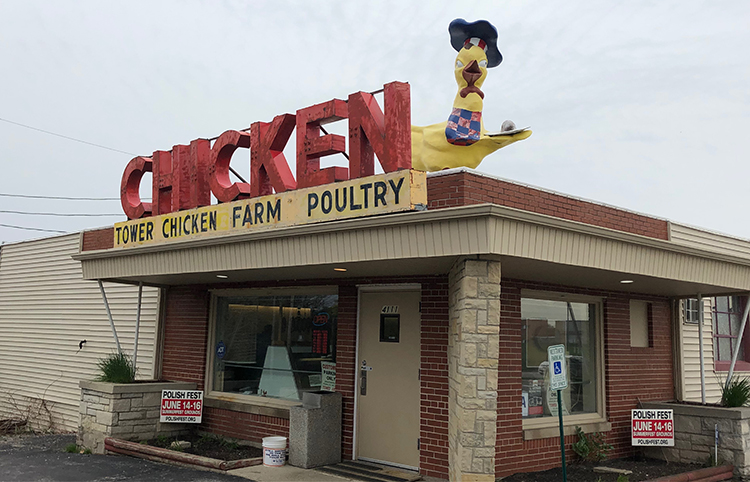 5. Tower Chicken Farm
Over on the south side, Tower Chicken Farm has been a trusted butcher for years. The beloved poultry purveyor exists in an otherwise subtle and low-key storefront that's small and somewhat tucked away. However, the big and, let's just be honest, straight-up-creepy chicken statue on its roof certainly elicits at least some attention.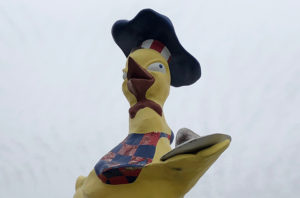 If you look closely, you'll notice the ceramic chicken in all its cock-eyed and vacantly-staring glory is wearing an apron and is carrying a platter. The food on that platter appears to be a drumstick that was harvested from another chicken. Weird! But if you want to see a display that depicts a demented chicken holding the severed and deep-fried limb of a member of its own species, Tower Chicken Farm has you covered.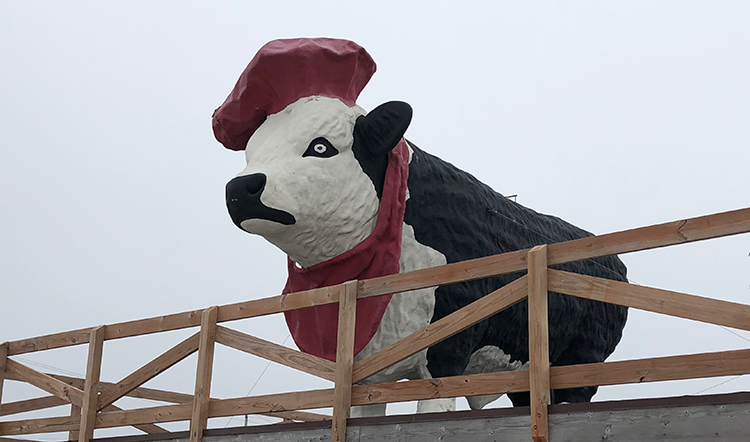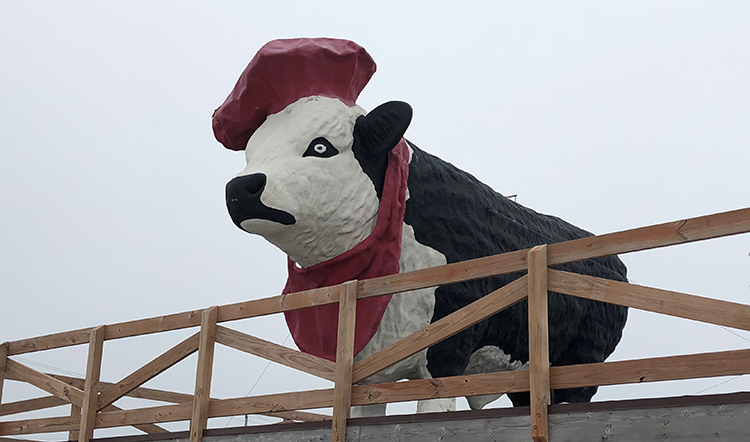 4. Puddle Jumpers BBQ
Out by the airport on Howell Avenue, Puddle Jumpers serves up barbecue and even offers drive-thru fish fry on Friday night. If the southern-inspired favorites aren't enough to warrant a trip, perhaps the gargantuan bovine statue on the roof of the restaurant's garage will get you there. Much like Tower Chicken farm, the noble creature is also sporting a bib and a chef hat, leading us to wonder what (of who) this cow is cooking. Underlying morbidity aside, it's one of the biggest and best-quality displays on this list.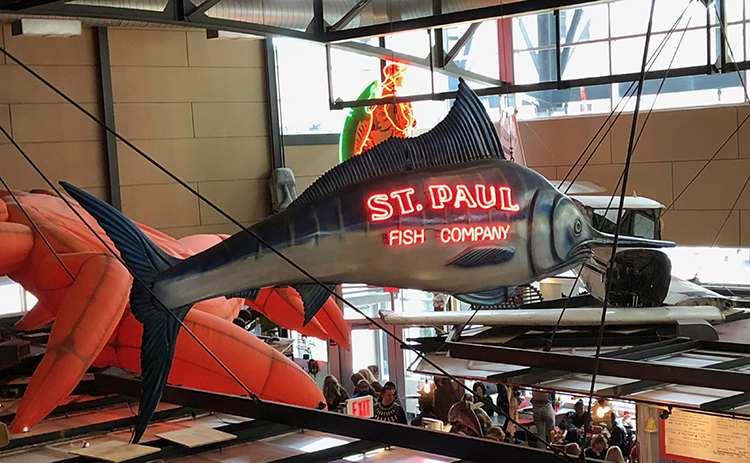 3. St. Paul Fish Company (Swordfish)
The second of such instance of an oversized food display at St. Paul Fish Company comes in the form of its iconic swordfish. The gigantic fish has become an unofficial symbol for the Public Market as a whole. Between its high-quality craftsmanship, the fact that it's suspended like 25 feet in the air, and the neon light incorporation, the swordfish earns pretty high marks.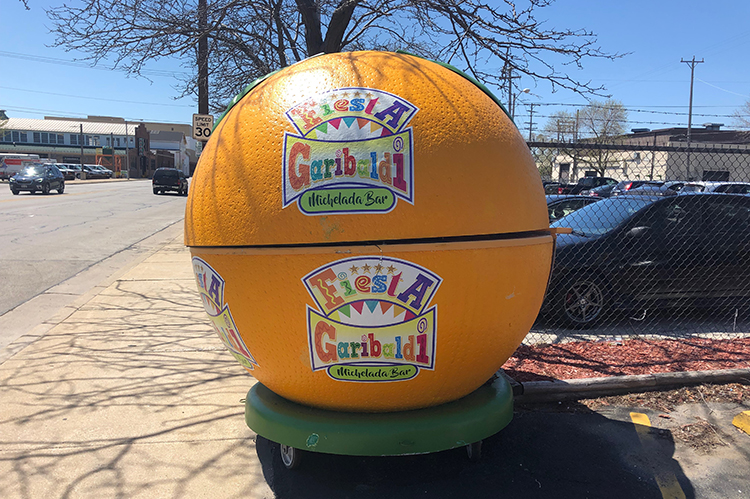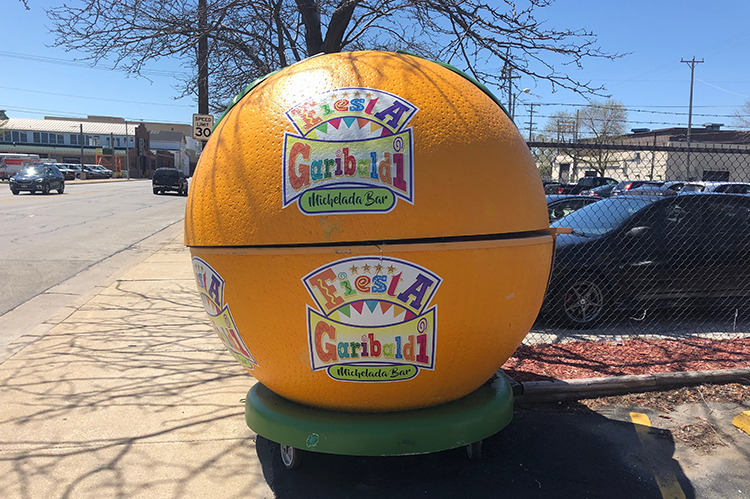 2. Fiesta Cafe
Harbor District newcomer Fiesta Cafe seems to be doing just fine in its first full year in business. Other than the delectable-looking menu and the prime location, Fiesta also stands out from the rest because there's a huge goddamn orange on wheels in the restaurant's parking lot. This one earns even more points because when you prop up the top of the citrus fruit, it transforms in a mobile michelada bar. Functional? Check! Big as hell? Check! Awesome? We think so. If you ask us, this city needs more pop-up bars encased in giant fruit.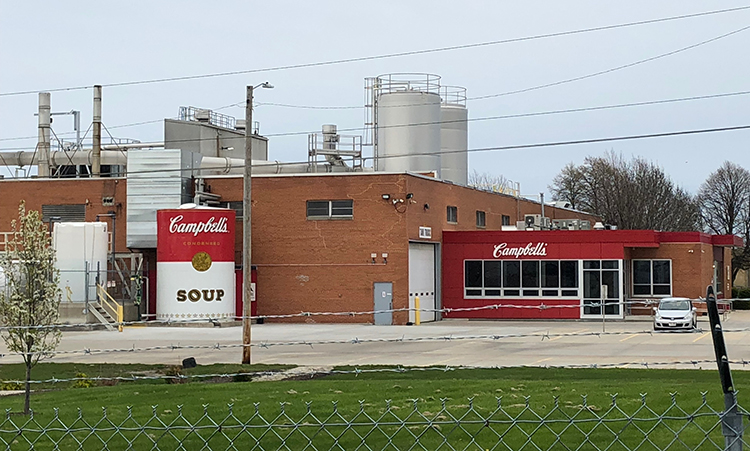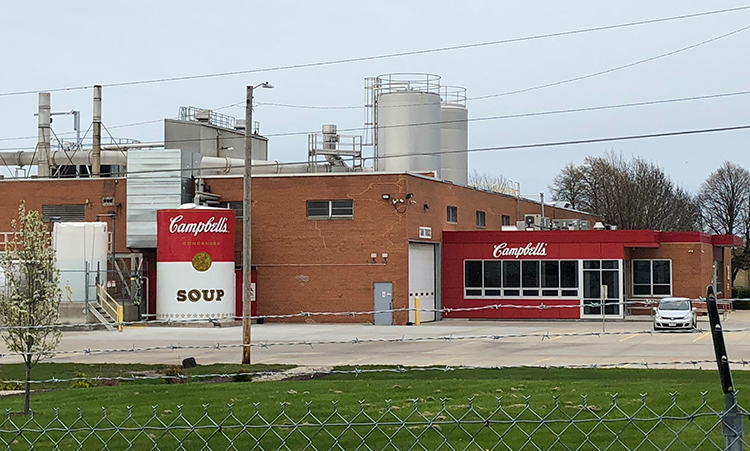 1. Campbell's Soup Company Spice Plant
Believe it or not, Milwaukee's south side has been home to a Campbell's Soup factory since the mid-1960s. The "Milwaukee Spice Plant" is responsible for making flavorings and other spices that are used in the soup juggernaut's recipes. The secluded factory is hidden away on Edgerton Avenue, just west of General Mitchell International Airport. The hard-to-find location and barbed wire fences seem to suggest they're fine existing in the shadows, but this hulking soup can that was added during a significant expansion about five years ago says otherwise. It's not flashy, but it's very big, which earns this display the top spot.
Bonus Displays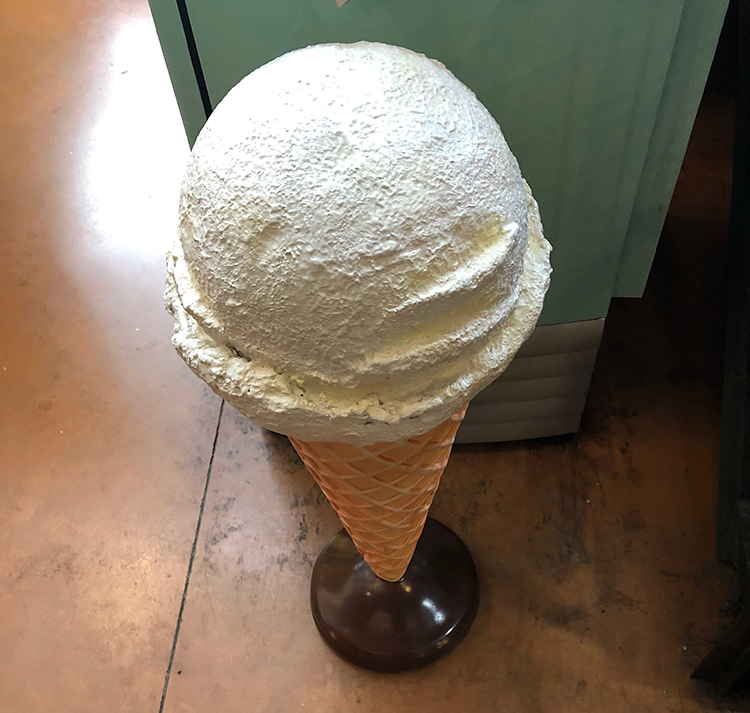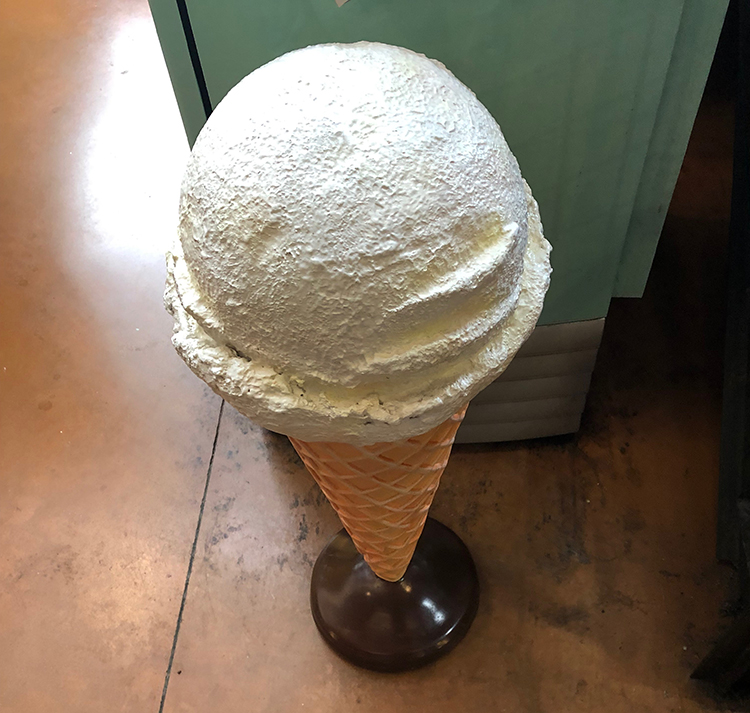 On The Bus
Want one more Milwaukee Public Market food display? You got it! This ice cream cone stands outside On The Bus' stand. Though we give the 100 percent vegan eatery props for going kind of big, we just didn't think this maybe three-foot-tall cone was large enough to include.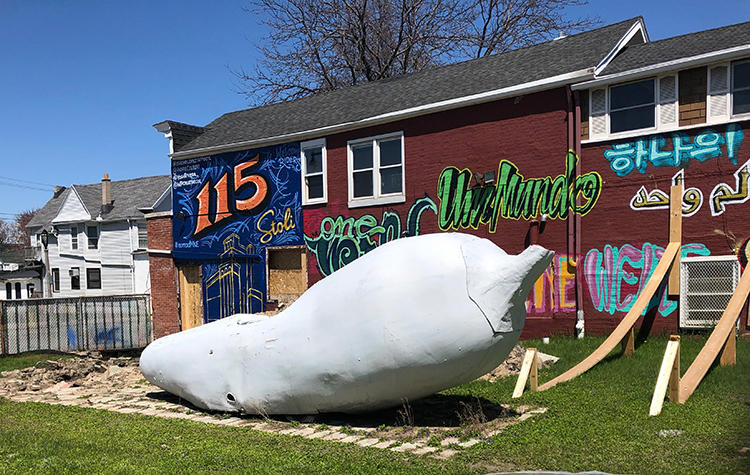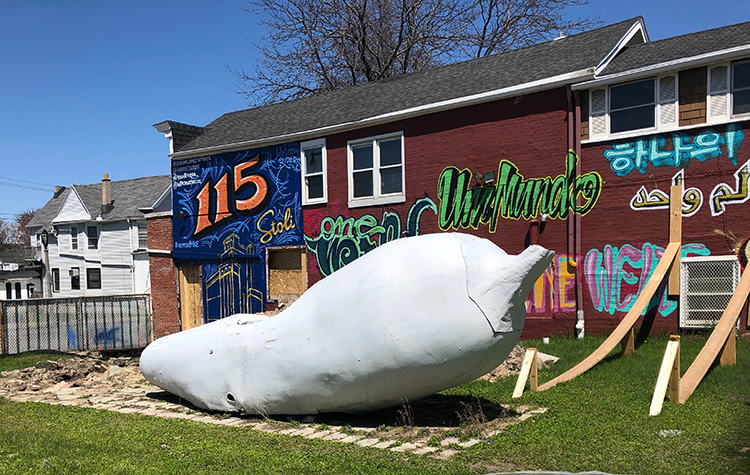 Zocalo Food Park
While we can't tell you exactly when Zocalo Food Park will be opening or which restaurants will have a presence there, we can tell you with some certainty that there's going to be a behemoth pepper at the forthcoming food truck enclave on the corner of 6th and Pierce. If you miss the big chili pepper at La Perla, this beast should scratch that itch in Walker's Point. Since it's not done yet, we didn't feel right including it, but we're expecting this one to rank high once it's finished.