Milwaukee is a city known for its drinks. Between our array of micro and macro breweries, our hundreds of bars, the various distilleries that have popped up in town in recent years, and our altogether impressive coffee scene, there's a great deal of pride in Milwaukee-made beverages. Sometimes, that pride is displayed in the form of a gigantic cup, glass, bottle, or mug display. Additionally, huge drinking vessels are relied upon to help lead in customers. On occasion, they're just remnants from previous businesses.
No matter the reason they exist, Milwaukee is a big drinking town with some even bigger drinks. For, uh, pretty much no reason at all, here are six recognizable oversized Milwaukee beverage displays, ranked. As always, feel free to dispute our rankings and tell us things we missed in the comment section.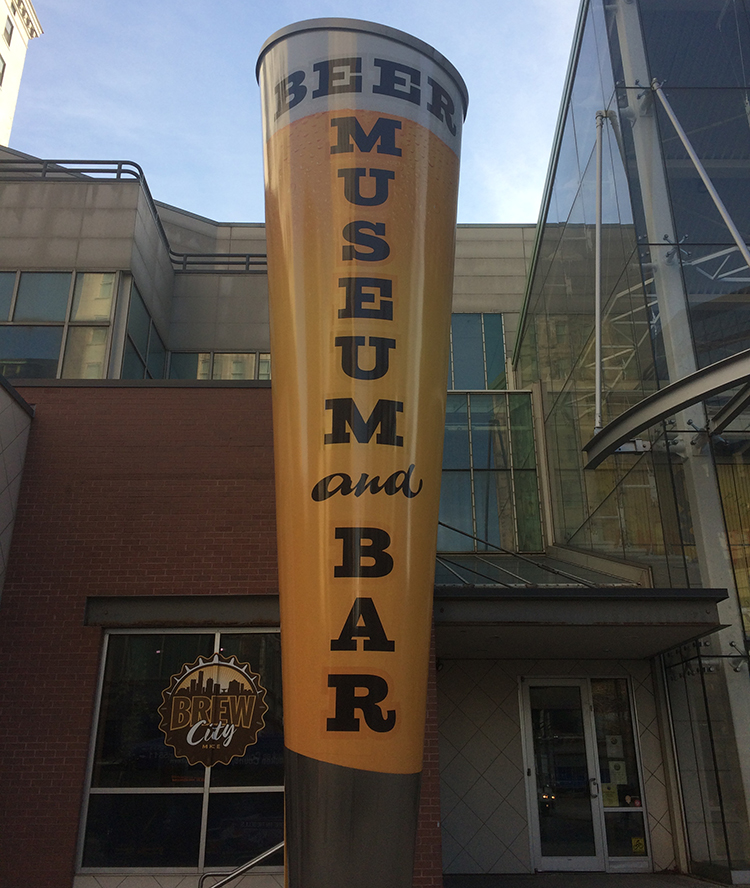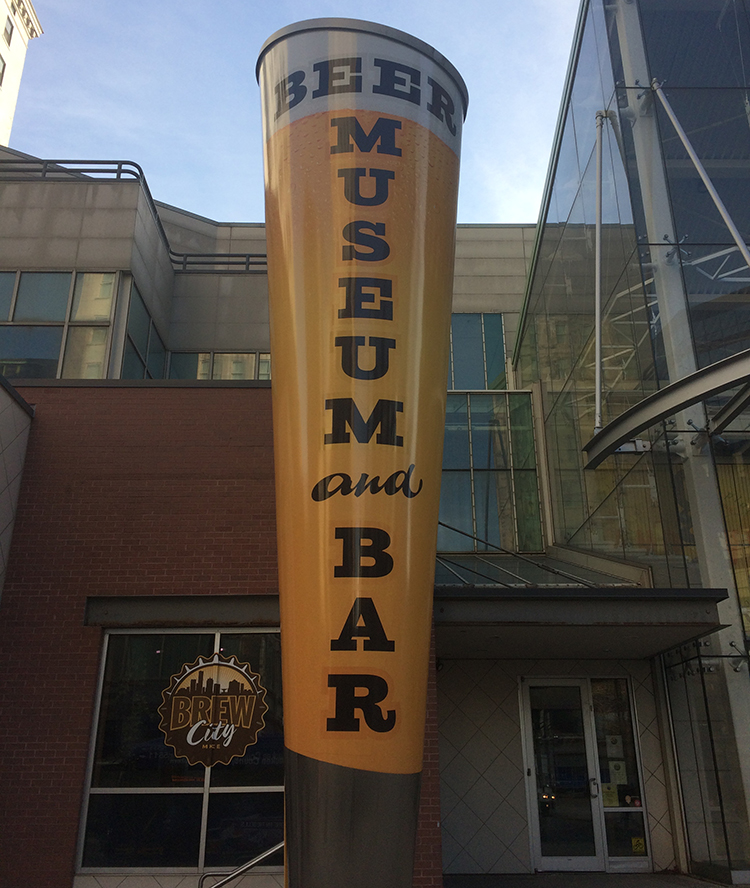 6. Brew City MKE
While we never got the opportunity to say goodbye to the Applebee's in The Shops Of Grand Avenue, its spirit now lives on with Brew City MKE. Last year, Milwaukee County Historical Society took over the space in the mall where people once ate good in the neighborhood, and they've since made the space into a full-fledged beer museum. The lesser-known museum features vintage brewery ads and photography, old bottles and other artifacts, and a beer bar that's stocked with an impressive selection of local products. Oh yeah, and Brew City also has a gigantic metallic beer "glass" that stands proudly in front of the museum on Wisconsin Ave. It's only speculation, but it looks like a pilsner or lager. Maybe a wit.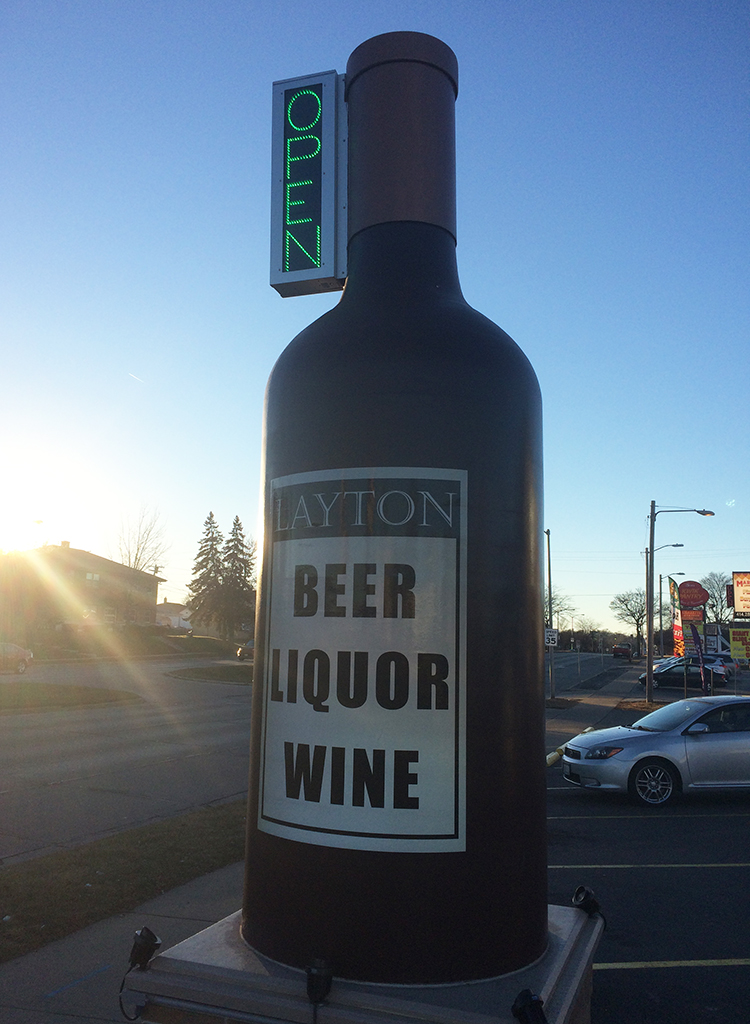 5. Layton Beer Liquor Wine
While it's simple in its execution, the enormous wine bottle displayed outside Layton Beer & Liquor absolutely serves its purpose. In virtually all other ways, the south side business is just another liquor store. The product sells itself. However, the approximately 20-foot bottle of red wine that's on a brick platform and facing out on a bustling segment of Layton Ave. sets the place apart. Bonus points are awarded for the lights that were installed at its base and the open sign affixed to the neck.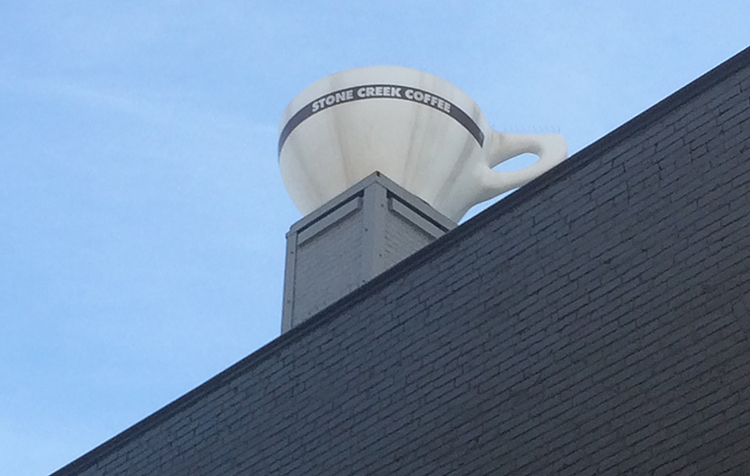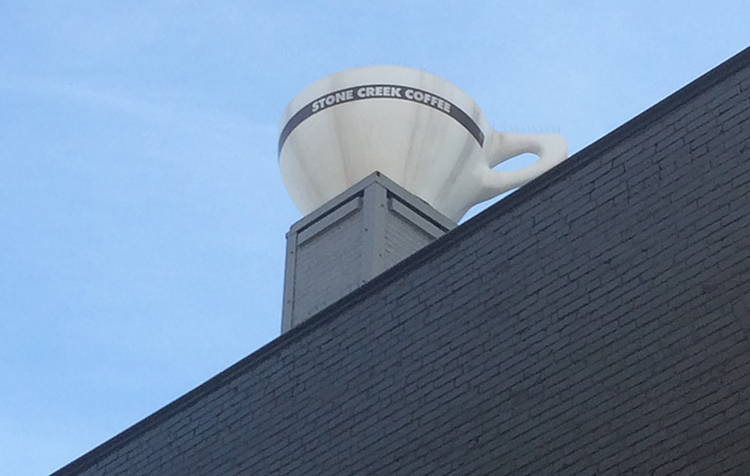 4. Stone Creek
Stone Creek has gone through lots of changes in the past five-plus years. The once-middling Milwaukee roaster has changed its branding for the better, significantly upped its presence of cafes (including one in Madison), and increased its number of shops in Milwaukee. Much of what's happening with the business now originally took root in 2012. That was the year Stone Creek turned its 5th Street Factory location into a bakery and an active cafe. Another thing that came with that "Factory Cafe" transformation was the installation of a big-ass coffee cup on top of the 5th Street Factory and cafe. The mug can be seen from the sidewalk, but it's also at a perfect sight line to be seen by motorists traveling on 794.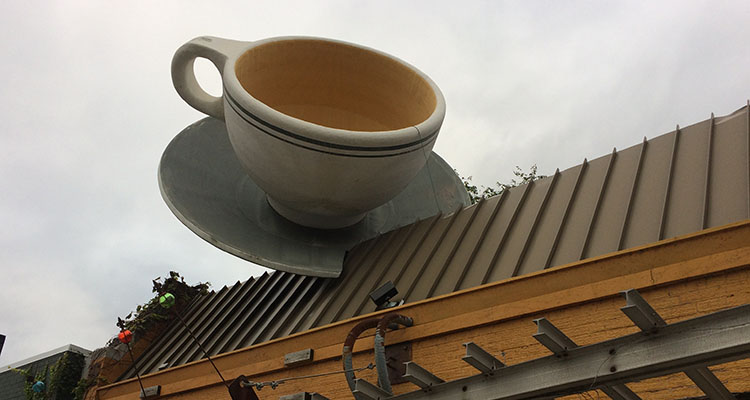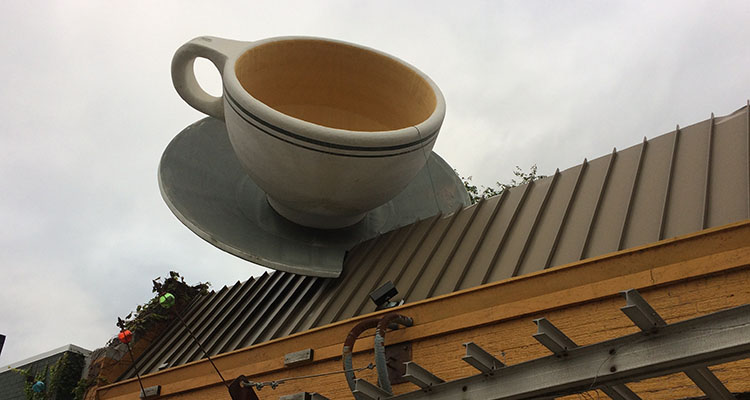 3. Caradaro Pizza Club
A few months ago, we found Milwaukee's original pizzeria in an unlikely place…under a massive saucer of coffee. Yes, local pizza originator, Caradaro Pizza Club, has survived a fire, growing competition, ownership changes, and countless adjustments in consumer tastes and trends over the course of generations. The restaurant lives on with a location in West Allis and in the aforementioned spot at 5010 W. Vliet St. Caradardo moved into the Vliet Street location in 2010. So why the coffee cup? It was left on the roof by a previous tenant, Milwaukee Coffee Co. Though the exterior decor has little-to-nothing to do with the interior offerings, Caradaro is a great pizza place with an odd and awesome architectural accent.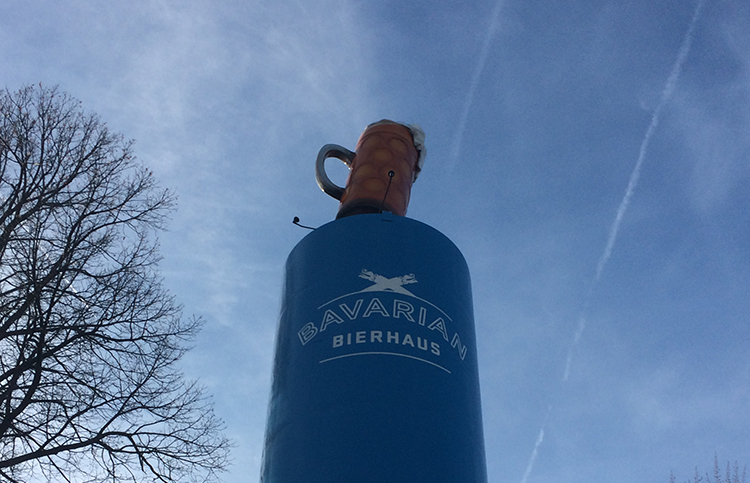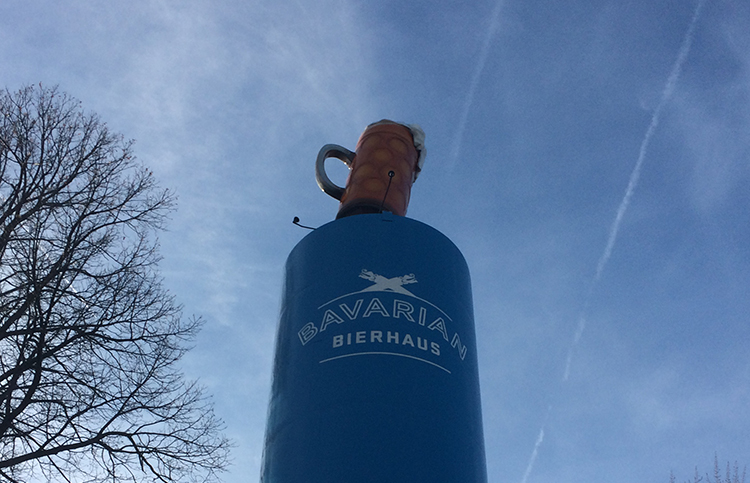 2. Bavarian Bierhaus
If you're headed to Bayshore or on your way into Milwaukee via US-43, perhaps your attention will be directed to a frothy beer stein towering above the highway. That captivating vessel belongs to Bavarian Bierhaus, a brewery and German restaurant. Though it loses some points for technically being in Glendale, the huge mug earns high marks for being atop a massive blue facade that stretches a few stories in the air. Best yet, the beer stein spins.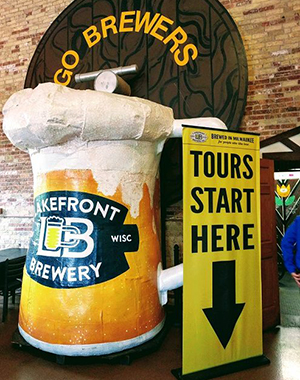 1. Lakefront Brewery
We all know and love Lakefront Brewery's mug. For years, the ceramic stein has been a fun, unique, and impressive part of brewery tours and an important part of Milwaukee history as well.
Prior to being a trademark component of the Lakefront Brewery experience, "The Mug" had an unforgettable presence at Milwaukee County Stadium. From 1973 until the Brewers' final season at the ballpark in 2000, Bernie Brewer slid down into the stein after every home run Milwaukee hit. When the Brewers moved to Miller Park in 2001, the beloved beer didn't come along.
Thankfully, Lakefront brewery had the foresight to purchase it from the Brewers at the end of the 2000 season. For just $18,000, Lakefront got the (approximately 10-foot tall) mug, Bernie Brewer's chalet, a "Go Brewers" beer barrel, and a set of Bernie's binoculars. Though it's far from the largest beverage on this list, Lakefront's historic mug is easily the best of its kind in Milwaukee. Cheers!