Between beloved and well-established local staples and a steady wave of new bars and restaurants popping up in and around Milwaukee almost every week, worthwhile dining and drinking gems can occasionally get lost in the shuffle. With Tucked Away, Milwaukee Record digs deep with the hope of unearthing some of these gems.
Last week, local pizza pundits were locked in an intense debate when a writer from The Takeout was bold enough to ask: "Is Milwaukee-style pizza a thing?" Much like "The Dress" or that sound that could be either "Yanny" or "Laurel," countless people wasted time, energy, and comment section real estate to make their case for or against our city having its own distinct style. In the end, there's no clear answer to the question and no minds are going to be changed. Instead of weighing in on this senseless argument, let's instead shift our focus to something we can say with certainty. As recently as 75 years ago, there was no such thing as Milwaukee-style pizza. In fact, there was no pizza in Milwaukee at all.
Back in 1945, John Caravello and Joe Todaro combined their pizza background and portions of their last names to open Caradaro Pizza Club. The Third Ward restaurant was Milwaukee's first pizzeria, and brought the thin crust delicacy to a city that had never properly indulged in the food before. Through the years, ownership changed hands, the original location was lost to a fire in the 1970s, new Caradaros came and went and moved, ownership changed hands again, and new owner Wally Kutch added a second location (5010 W. Vliet St., 414-476-7700) in 2010 to complement what was previously the last location on 70th St. in West Allis. Amid decades of change, there's only one thing that has stayed the same at Caradaro Pizza Club: the pizza.
While the rest of the region was embroiled in an unnecessary debate about the merits of "Milwaukee-style pizza," Milwaukee Record went to a small restaurant beneath a gigantic coffee cup to take a taste of the city's first pizza.
The space: Other than, you know, the huge saucer and mug on top of the building, the Vliet St. Caradaro Pizza Club doesn't really stick out to passersby. At least not as a pizza place. Those who aren't led astray by the confusing remnant from the building's stint as Milwaukee Coffee Co. will find a nondescript and casual Italian bistro. There are 10 tables situated into two rows along the classic black- and white-checkered floor. The walls are accented with hand-painted floral murals. Over the course of our visit, oldies played over the cozy restaurant's speakers.
It's an altogether comfortable spot to enjoy a meal, but it also seemed to be a popular carryout option. During our meal, a handful of what appeared to be regulars came by to pick up pizzas, including some police officers who were likely taking food back to the station across the street. Other than the one small flatscreen TV, the look and feel in Caradaro's could pass as a viable dining destination for any era within the last 75 or so years.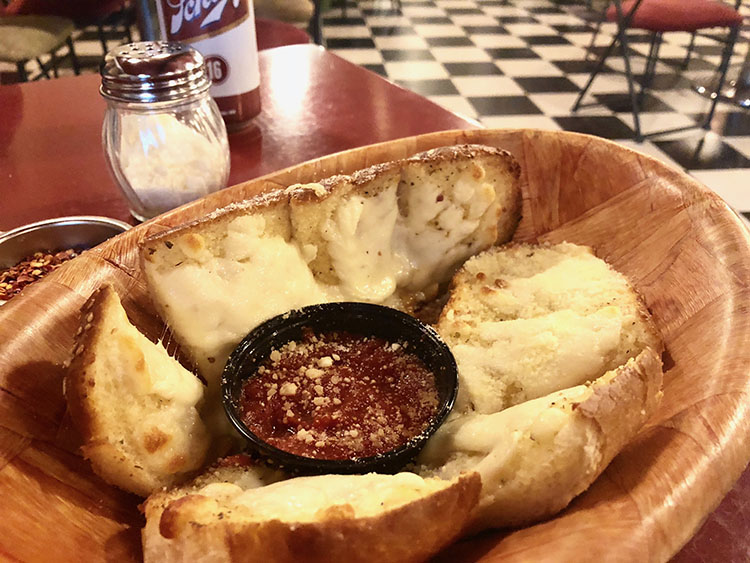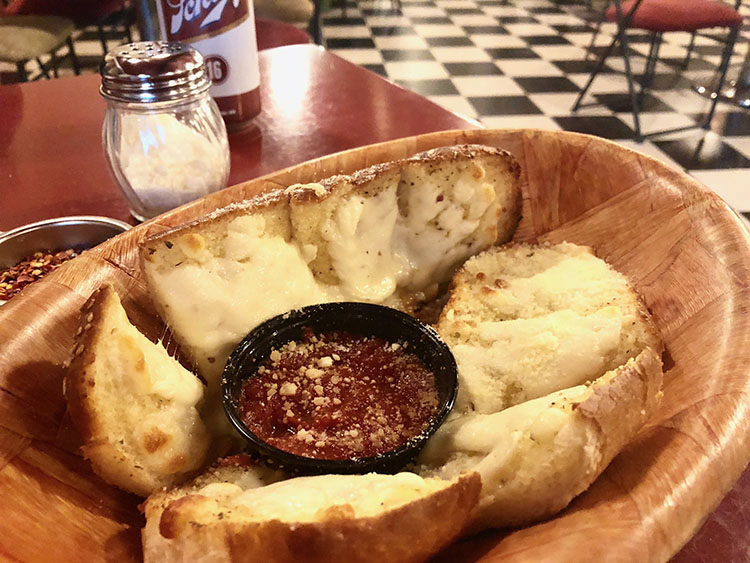 Milwaukee Record's food: Similar to the restaurant's classic decor and simplicity, Caradaro's menu focused on the time-tested basics that they've perfected through generations. In fact, when Kutch took over as owner in 2002, he actually whittled down the menu to just a few essentials. What's left includes a few domestic beers and house wines, a number of garlic bread preparations, meatball and sausage sandwiches, lasagna, chicken tenders, and six specialty pizzas. We started with a can of Schlitz ($3.50) and an order of Cheesy Garlic Bread ($4.25). The latter was a modestly-sized toasted baguette, slathered with garlic butter and covered in melted mozzarella cheese. There's not much more to it than that, but there doesn't need to be—especially when the pieces are dipped in the rich, flavorful, semi-sweet marinara sauce.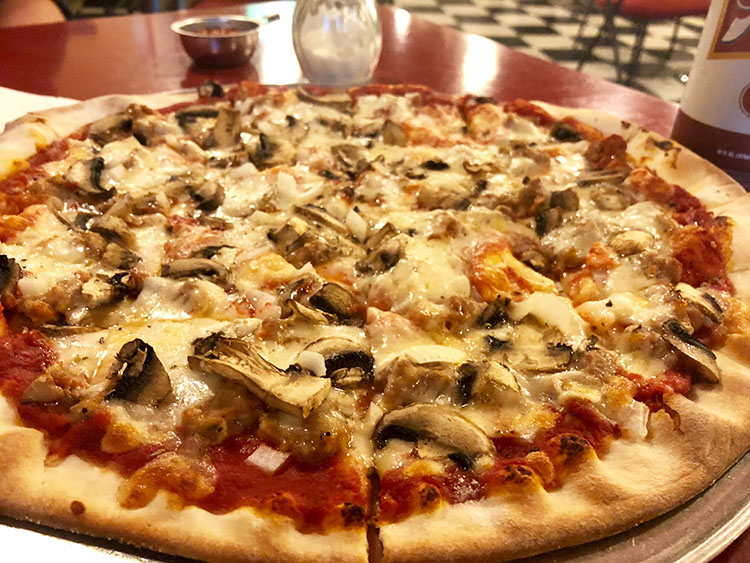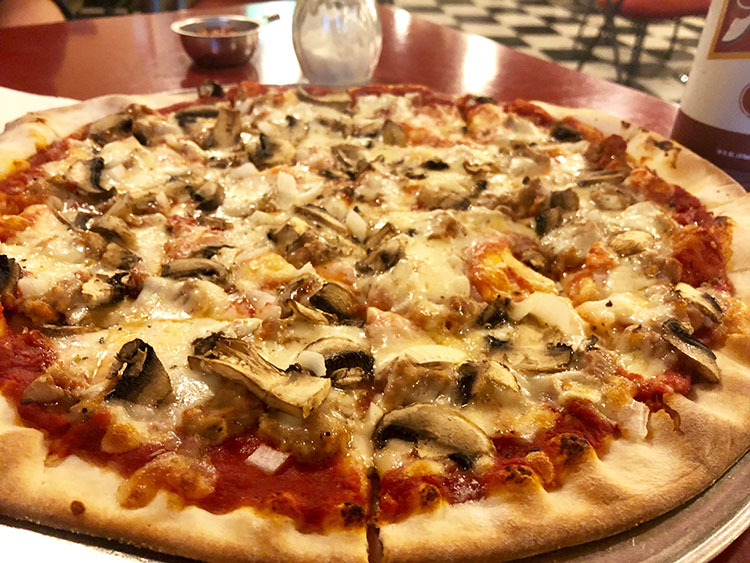 Thoroughly prepped with a salty and garlic-y appetizer and some cold beer, we moved our attention to pizza. Prices range from $9.70 for a 12-inch cheese to $25.90 for a loaded-up 18-inch specialty. The half dozen specialties range from standards like "The Works" and "The Special" (The Works without peppers and pepperoni), a veggie pizza, a "Pepperoni Special," and "The Kitchen Sink" (aka The Works with anchovies). Figuring we were eating Milwaukee's original pizza, we opted for a local favorite. The Classic ($15.35 for a 14-incher) includes the beloved Brew City combination of Italian sausage, chopped onions, and fresh mushrooms.
Adding to the familiar flavors of the holy topping trinity and gooey mozzarella was a light covering of Caradaro's thick and tangy sauce. In addition to the seasoned, almost paste-like sauce was a thin, crunchy, and flour-dusted crust. Caradaro's menu claims it's Chicago-style thin crust. Many would insist it's the same "cracker-thin" and "tavern-style" pizza that made Milwaukee famous. It doesn't matter what side of this pointless debate you're on. If you're eating a thin crust specialty from Caradaro Pizza Club, you've already won.
The verdict: You can worry about whether "Milwaukee-style" pizza exists or you can partake in the tastes and combinations that helped start Milwaukee's love affair with pizza way back in 1945. If you choose the second option, just head down Vliet and stop once you come to the big coffee cup.