Tomorrow, MobCraft Beer will host its fourth annual Weird Fest. The Walker's Point brewery's block party functions as a celebration of all things "weird." From noon to 10:30 p.m. on July 30, attendees can "get weird" by taking in a Mondo Lucha! performance, enjoying live music from the likes of Spare Change Trio and Ethan Keller Band, watching belly dancing and fire dancing demonstrations, browsing goods from a variety of local makers, drinking unconventional specialty beers from MobCraft, and partaking in totally normal food from area establishments.
Though lots of oddity awaits you outside of MobCraft this weekend, nothing quite compares to the weirdness of the super small intersection that's right outside of the brewery. At the risk of being Well Actually'ed by some pedantic weirdo on the internet, we're going to make an educated guess that this is the smallest intersection in Milwaukee. Let's take a closer look, shall we?
When traveling east on W. Virginia St., the Walker's Point causeway briefly turns into a one-way street between 6th and 5th. Shortly after passing by Conejito's Place, you'll reach a STOP sign. Okay, so there's nothing weird about that. But then…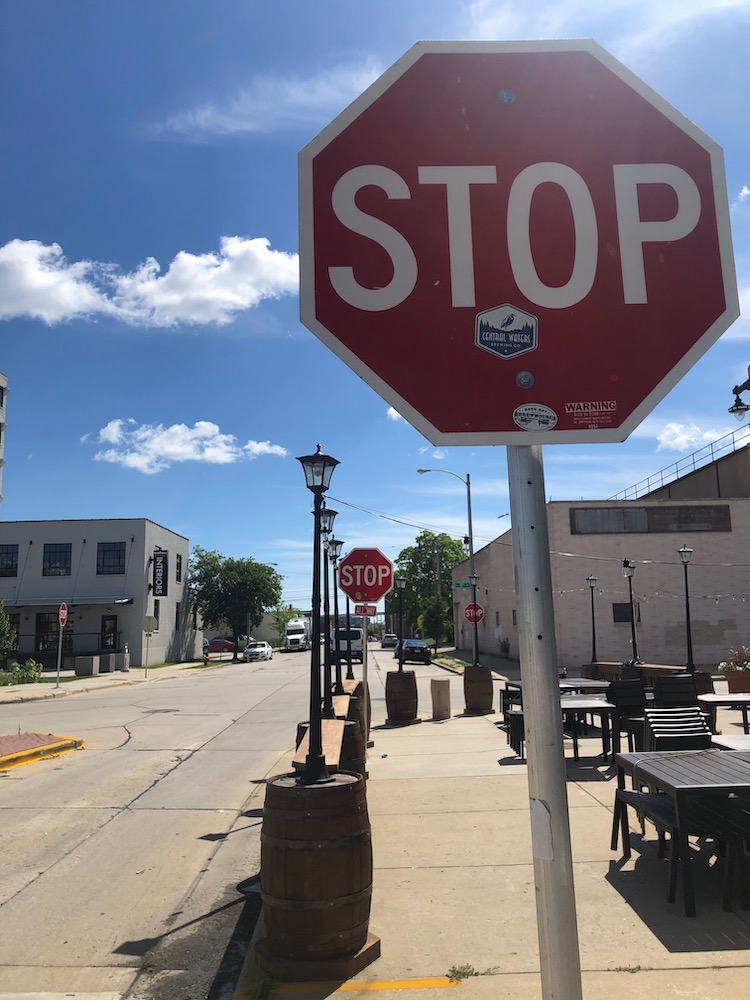 That's right! There's another STOP sign a few feet away. In fact, it's so close that motorists technically don't even cross a street before hitting the second sign.
We're no city planners, but we'd bet everything on this second sign being installed because of the nearby roundabout, which has given more than a few Milwaukee drivers problems through the years. You can see the STOP sign for the roundabout's 5th Street exit on the left side of the image above. Even with the overwhelming abundance of signs urging drivers to stop (regardless of which direction they're heading), we've seen people blow through one, some, or all of them with some regularity.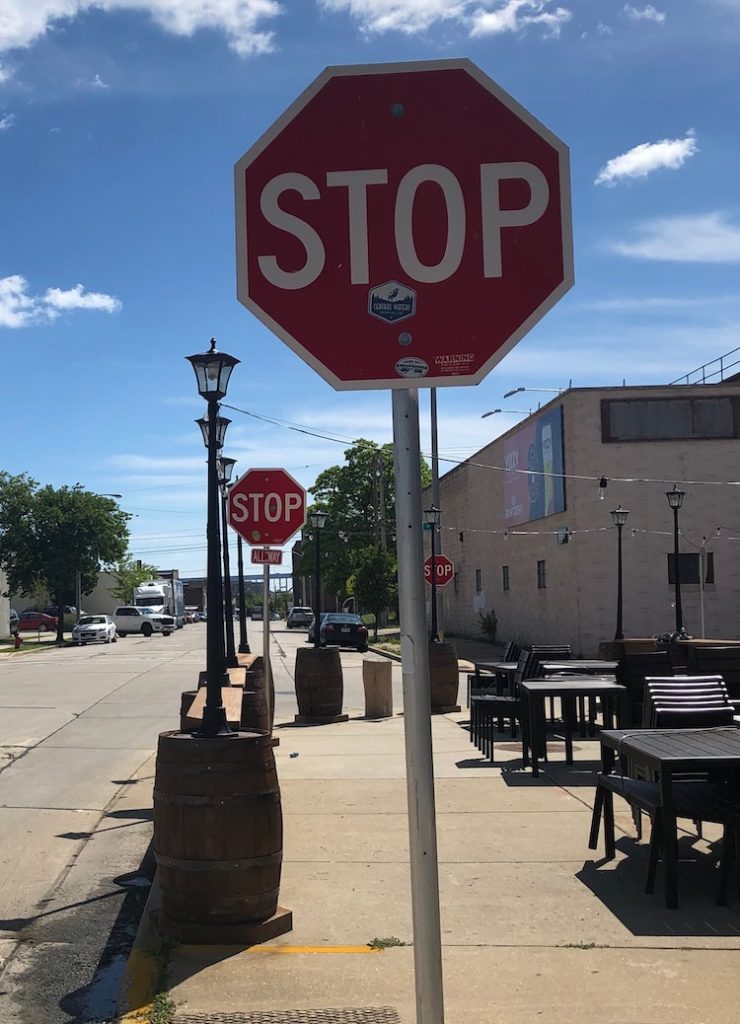 So I guess we've answered the "Why?" part of this article. Let's now move to the "How?" portion, as in "How close are these two STOP signs?" Good question! We lost our tape measure, so we used the next best method…using our size 13 shoes to walk foot-by-foot between the signs and count the steps. This SUPER SCIENTIFIC METHOD yielded a total of about 29 steps, which we're going to estimate is about 32 feet. Again, this is very official and important stuff, so definitely lob corrections our way because we care.
Anyway, let's break down just how short of a distance that is, but in honor of Weird Fest, let's do it in WEIRD terms of measurement. The distance between the two STOP signs in front of MobCraft is the length of:
• The combined wingspan of Giannis, Thanasis, Kostas, and Alex Antetokounmpo…plus two of the siblings holding 15-inch subs from Cousins in their outstretched arms.
• Two average-sized giraffes laid end-to-end.
• About 63 tall boy cans of MobCraft beer.
• 79.5 regular (12-ounce) beer cans of MobCraft.
• Most (~84 percent) of a school bus.
• About 11.3 of Christian Yelich's bats laid end-to-end.
• Roughly 52 VHS copies of Coven.
• Approximately five average-sized Lake Sturgeon.
• Just shy of 35 average-sized "Lightning Rod" mozzarella sticks from Alphonso's in West Allis.
• Milwaukee Record's staff laid end to end TWICE (if our ad guy Josh Hoppert had no legs).
So yeah, I guess what we're trying to say is that it's a pretty small intersection. Whether you're partaking in Weird Fest tomorrow or you just find yourself stopping twice in rapid succession on Virginia St. between 5th and 6th sometime, take a moment to think about exactly how truly weird this Walker's Point intersection is. Then think about how it's not even the weirdest intersection in Milwaukee.