It's great to have friends who collect old books and magazines, because that's how we found out about the 1994 Beef Sire Directory. With its home base in Shawano, Wisconsin, if you were looking for a hookup source for bulls and cows through artificial insemination, this was the mag you needed. These days, a lot of beef siring is done online, but back then, the masses lacked internet access. Even if they had it, nobody wanted to hear that awful home dial up noise when browsing for bull semen.
The agricultural practice of artificial insemination aims to maximize breeding with genetically proven bulls at a relatively low cost. The use of A.I. dates to 1780 and an Italian physiologist who produced puppies with inseminated assistance from a male dog who must have been shocked and appalled. Ever since then, it stands to reason that animals have liked humans less and less.
Regardless, most dairy cows are bred in this way, which means the Dairy State owes thanks to these bulls and their sell-able spunk. In the Beef Sire Directory, these bold, stout, and stoic creatures are touted with stats reminiscent of the back of a baseball card, and they have alluring attributes not unlike a suitor on Tinder.
Most importantly though, these bulls have fantastic names. From a robust list of 73 in this edition of the Directory, we took great pains in ranking the top 15. Really, it was fun, but some agonizing choices had to be made. Okay, who's got four hooves and a knack for inseminating cows? These bulls, that's who!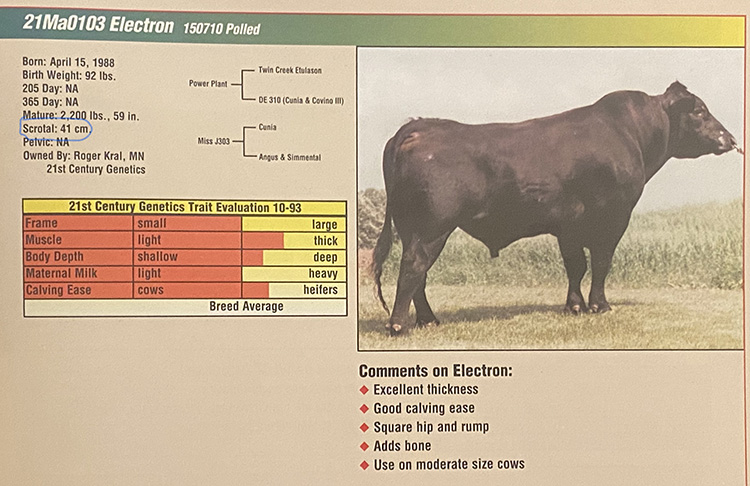 15. Electron: A lot of superlatives get tossed out there to describe Electron. "Excellent thickness." "Square hip and rump." Then we spotted the stat highlighted in blue, and okay, we've got to add "Scrotal of 41 cm."
Please note, this is the first of 20 times you might see the word "scrotal" in this article, and if that's a dealbreaker, then so be it.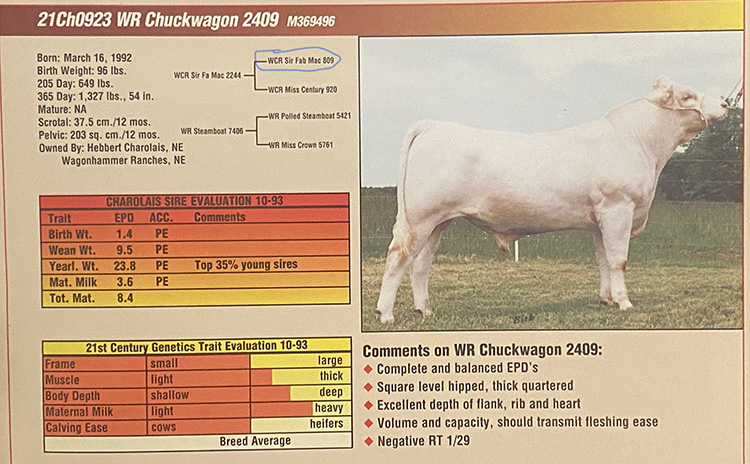 14. Chuckwagon: The maestro of passing along a heavy maternal milk output to his offspring, Chuckwagon also has a family member named "Sir Fab Mac" who deserves a shoutout. We hope to see Sir Fab Mac featured in the '95 Directory.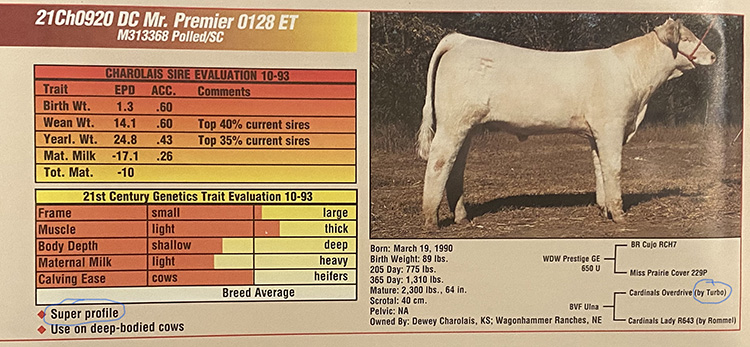 13. Mr. Premier: He boasts a "super profile" and an elite status, but hold up, what about that shallow body depth and light maternal milk rating, Mr. quote-unquote "Premier"? Still, you've got to admire his confidence and whatever a "Wean Wt." is.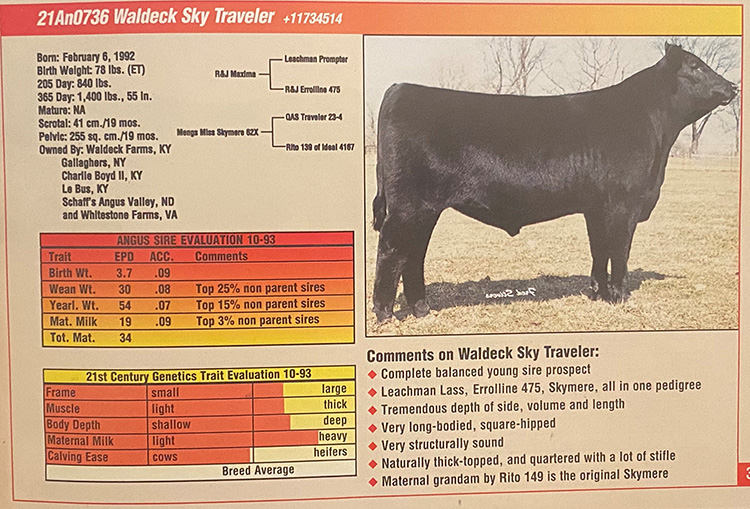 12. Sky Traveler: Man, you ever wonder what it'd be like to see a bull traveling the sky? If not, contact Sky Traveler's owners and ask them to hook you up with some of their edibles.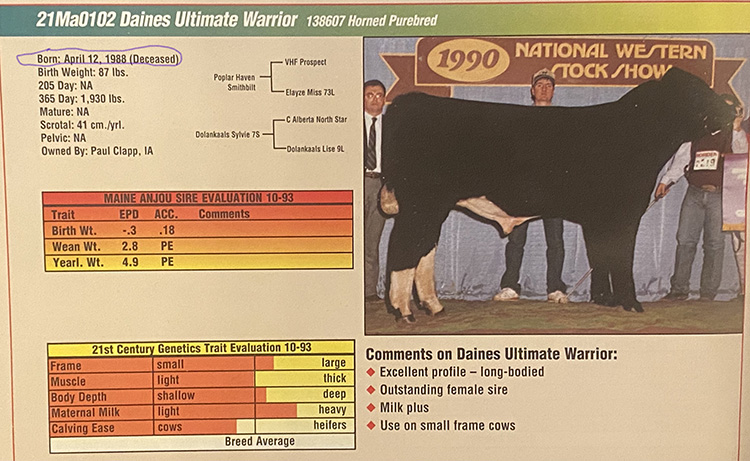 11. Ultimate Warrior: A standout from the 1990 Western Stock Show, Ultimate Warrior has some tremendous assets offset by the fact that he is deceased. Imagine our shock when we found out the Beef Sire Directory has an obituary page. Bummer. Should we have a moment of silence or say a prayer for him? This is some heavy shit. We're suckers for wrestling nostalgia, but not being alive at the time of publication kept Warrior out of the top 10.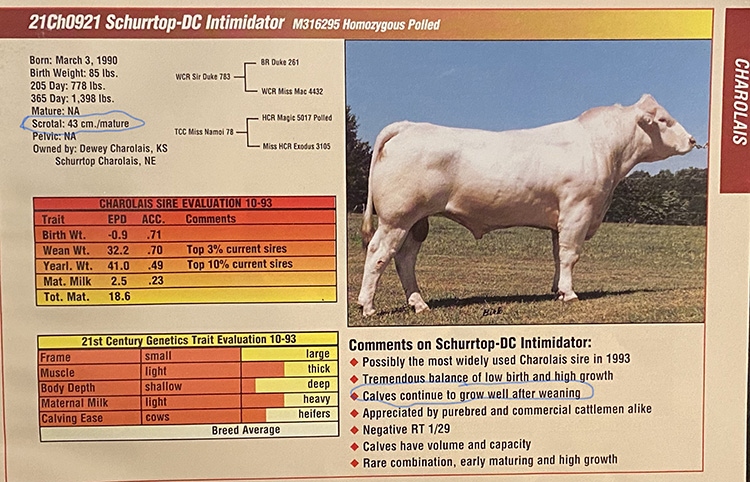 10. Intimidator: Possibly named after NASCAR legend Dale Earnhardt, we know that his calves will continue to grow in the post-weaning stage and that he deserves consideration for the Scrotal Hall of Fame, but did you know that the Intimidator has a sensitive side? He enjoys making product slowly to "I Will Always Love You" or anything by Dolly Parton, really.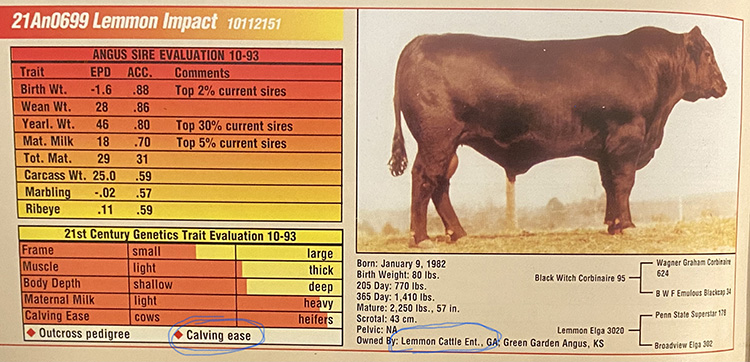 9. Lemmon Impact: He's proud to rep Lemmon Cattle Enterprises in Woodbury, Georgia. Some folks will tell you "Calvin' Ain't Easy," but they've never met Lemmon Impact.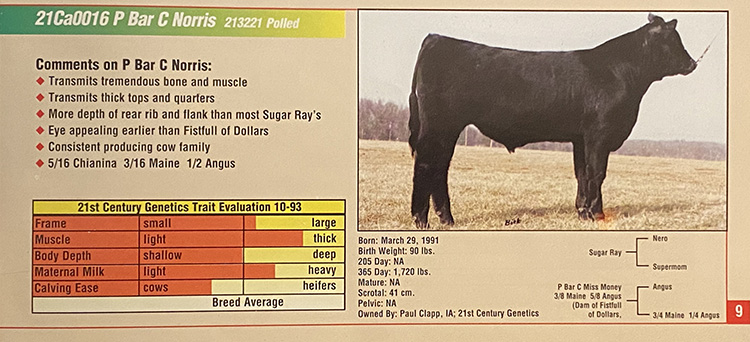 8. P Bar C Norris: The name is open to interpretation, but we like to think this moniker is short for PayDay Bar Chuck Norris. Hello, salty peanuts bound by nougat and caramel. Have you met this iconic action movie star? And it's like an explosion. Is there a more badass name to give a bull? Yeah, there actually is…but only like seven of them.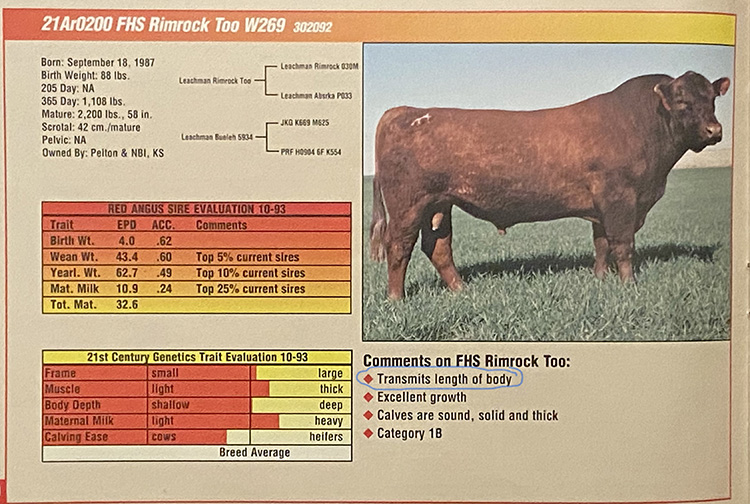 7. Rimrock Too: Length of body fans can count on Rimrock Too to deliver. Plus, he's been trained to use a very large litterbox. No bullshit.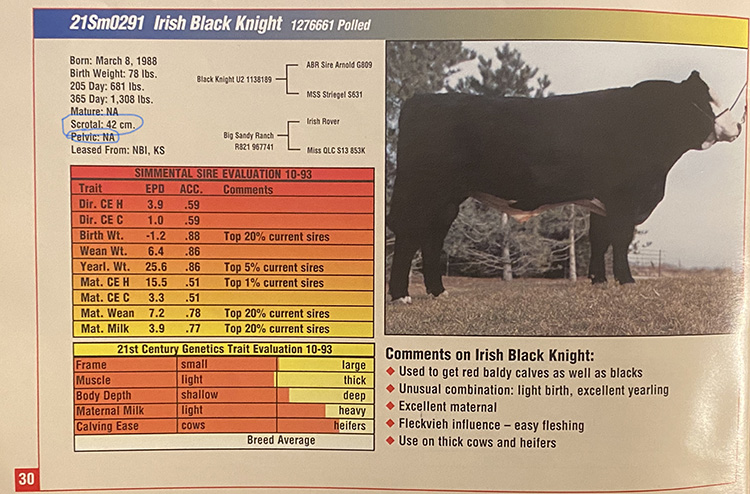 6. Irish Black Knight: Little is known about the pelvic measurement of IBK, but like Electron and Intimidator before him, he could be described as a "scrotalific" bull. Can you imagine those three beasts reigning supreme at the same ranch? That would be some form of "Scrotalitarianism."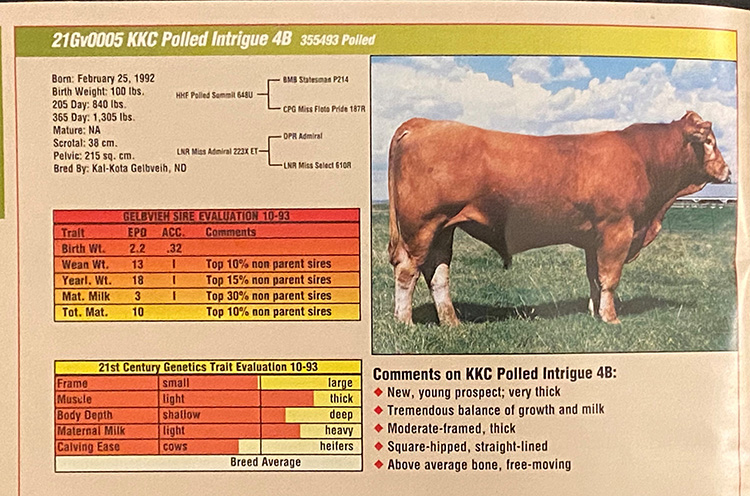 5. Polled Intrigue: Polled means "Lacking horns, either naturally or because they have been removed." This is the only moment of education in this entire article.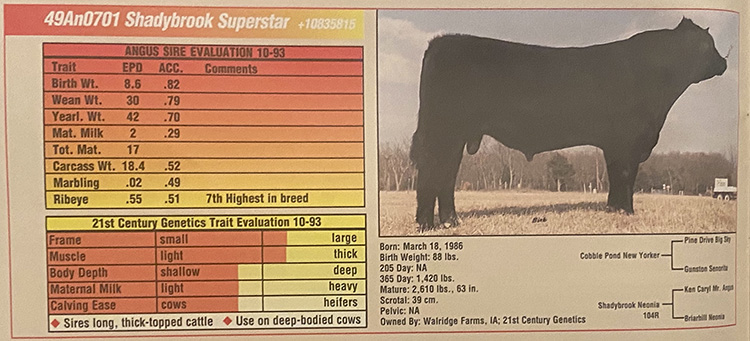 4. Shadybrook Superstar: We're hoping the sequel to Animal Crossing will feature a Beef Sire Directory, allowing us to name our very own Shadybrook Superstar on the Nintendo Switch and finally bring meaning to our lives.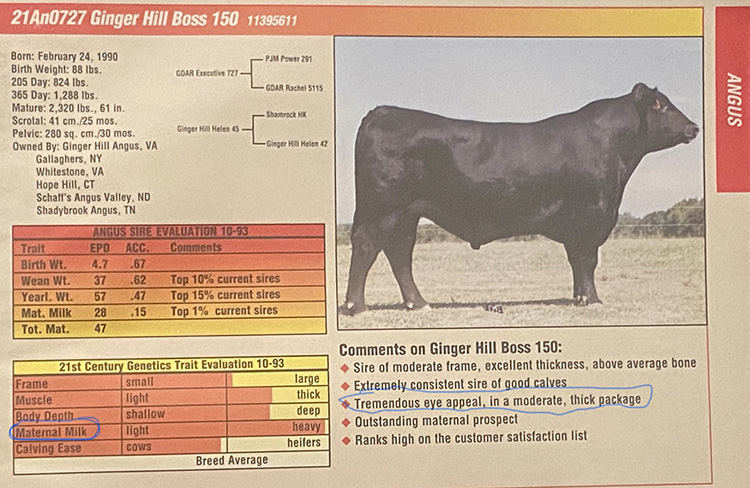 3. Ginger Hill Boss: If you've got the gall to scoff at this bull's maternal milk rating and "tremendous eye appeal, in a moderate, thick package," then step inside the office of the Ginger Hill Boss, cuz you're fired.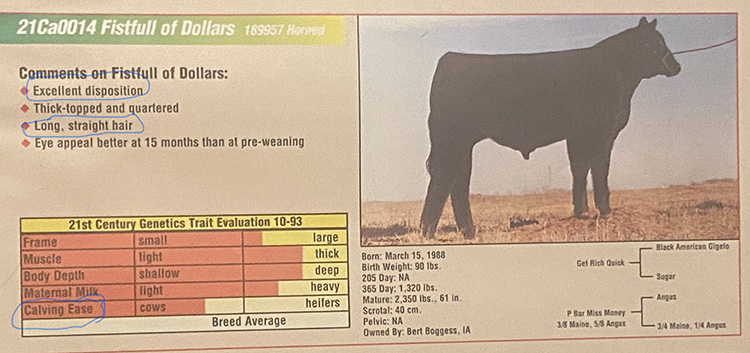 2. Fistfull Of Dollars: If Bovine University were a real place and not simply a joke from the "Lisa The Vegetarian" episode of The Simpsons, Fistfull Of Dollars would be very popular with the cows on campus. The bovine ladies don't exactly swoon over the lack of calving ease he transmits, but it's hard to turn down that "excellent disposition" and "long, straight hair." He calls anyone who doubts his muscle and body depth a "grade-A moron."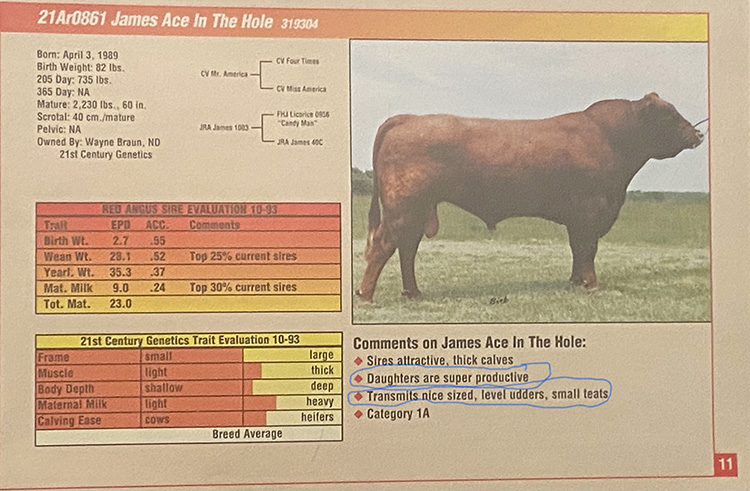 1. James Ace In The Hole: Sure, the name is a bit naughty and bawdy, but James Ace In The Hole appreciates the fairer sex with the gift of "super productivity" for the daughters born of his mighty semen. Oh, and do you desire some "nice sized, level udders" and "small teats"? James Ace In The Hole is happy to oblige. Cows he inseminates are welcome to call him Jimmy.
Honorable Mentions
Gator
Fernvale Extraordinaire
Colorado Stretch
Polled Hercules
Caufitime (The favorite of the owner of the 1994 Beef Sire Directory who made this story possible.)
How did we do in ranking these male bovines by name? Are you mad that we left out Polled Longitude, Maternal Power, and Boyd Role Model? Let us have it in the comment section.