Dan Shafer is the founder of The Recombobulation Area, an award-winning, reader-supported weekly column and online publication. Click here to subscribe.
The race for Wisconsin Supreme Court is the biggest one on the ballot in the upcoming primary.
That primary is this coming Tuesday, by the way (February 21! Vote!!!). It's a pretty big deal. The New York Times called it "2023's biggest, most unusual race." Politico called it "The most important election nobody's ever heard of." In The Guardian, the headline reads, the "Stakes are monstrous."
With the balance of the court at stake, the importance of this race cannot be overstated. Between the ultra-gerrymandered legislative maps and the court rulings approving those maps—along with so much of the Republican-passed legislation that those maps allow—the GOP is locked into power in Wisconsin, no matter how many statewide elections they lose. But with this election, the opportunity to change that dynamic in state politics is right there in front of us.
But that's not the only key race on the ballot this spring. Many communities across the state—Madison, Green Bay, Racine, to name a few—will elect a mayor. There are two seats for judges on the Wisconsin Court of Appeals up for election. There are three special elections for Milwaukee Common Council on the ballot (1st, 5th, 9th districts), and there are 20 candidates running for those three seats. There's a race for Derek Mosley's recently vacated seat on the Milwaukee Municipal Court between State Sen. Lena Taylor and attorney Molly Gena.
It's a Wisconsin election. There's always a lot going on.
But outside of the Wisconsin Supreme Court race, the biggest on the ballot might just be the race for the newly open seat in the State Senate's 8th District.
Republican Alberta Darling retired after the fall elections last year. She represented the 8th Senate District for nearly 30 years, and was first elected to serve in the Wisconsin State Legislature in a special election for Assembly in 1990.
This is important for a variety of reasons. First, three decades is quite a long time to be representing one place, and any change there following an especially notable Republican—she served for more than 20 years on the powerful Joint Finance Committee, including several years as the committee's co-chair—is going to be a pretty big deal.
But this race also became especially important after the midterms, which saw Republicans come up just short of gaining a full two-thirds supermajority in both houses of the legislature, but getting to that point in the State Senate—with Darling in office.
While a supermajority in the Senate, but not the Assembly, would not have the power of being able to override the governor's always-important veto, it's also not nothing—and could potentially open the door to some pretty egregious nonsense from Republicans.
In a post-election interview on conservative talk radio, Assembly Speaker Robin Vos said this about the GOP's supermajority status in the State Senate:
"The State Senate does have the ability now with the two-thirds majority, they can take out people who aren't doing their job. They have the ability to impeach officials if they are not following the constitution and the law. So that is a new power that we did not have a week ago."
When Robin Vos is talking about a "new power" that he could wield, you should be worried.
Once Darling retired, though, Republicans lost that "new power" because they no longer have a full two-thirds supermajority in the State Senate. So now, the voters of the 8th District have an opportunity to determine whether or not this absurd, anti-democratic option is available to GOP leaders like Robin Vos and Senate Majority Leader Devin LeMahieu—and have an opportunity to claw back another seat on this uber-gerrymandered State Senate map that ridiculously allows for a two-thirds majority in this 50-50 state.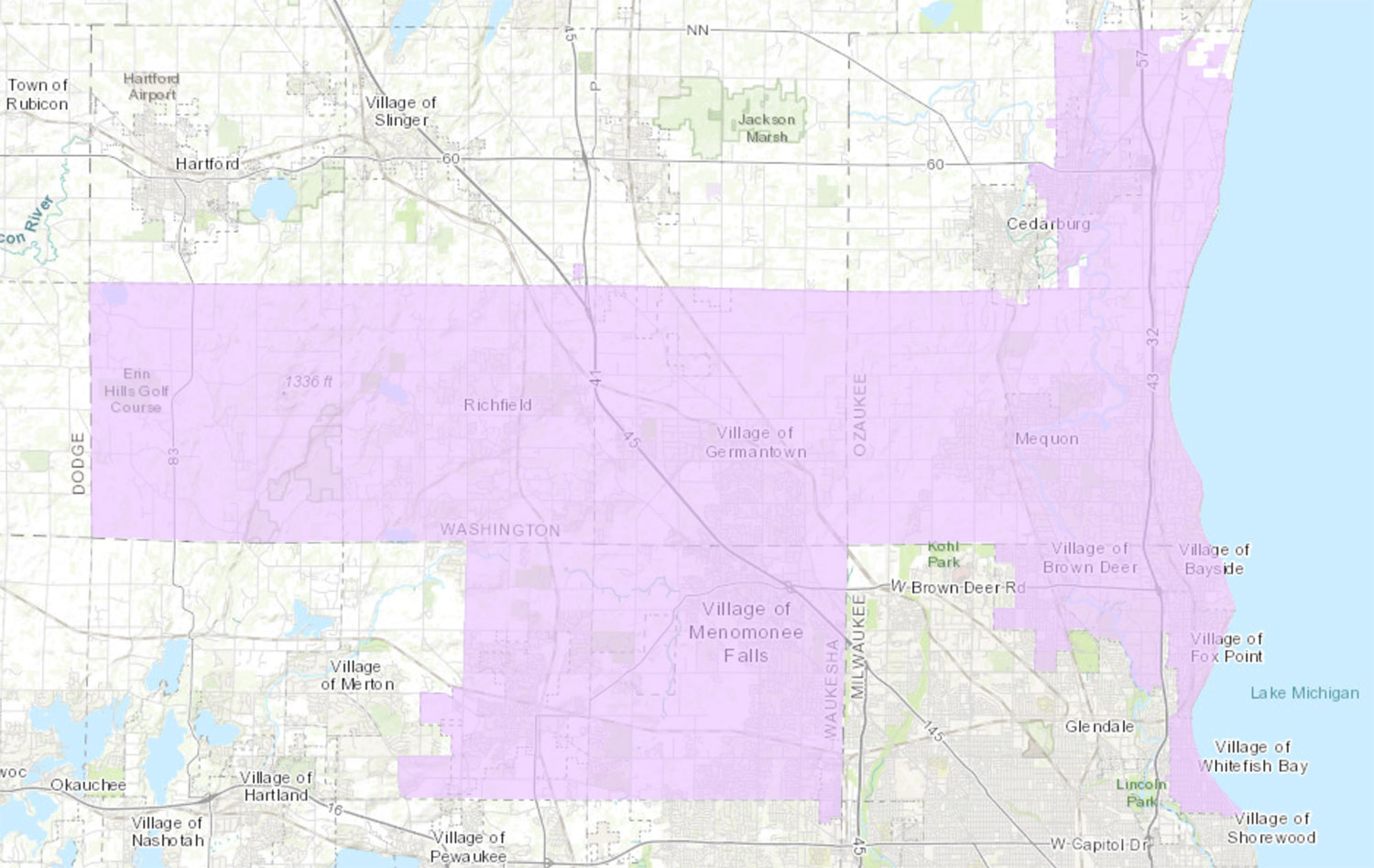 The 8th Senate District has some especially weird boundaries.
It includes parts of Milwaukee, Ozaukee, Waukesha, and Washington Counties. The southwestern corner of Washington County, out near the Rustic Roads that spread out between State Highway 83 and State Highway 164, are in the same district as Whitefish Bay and Fox Point along Lake Michigan. The village of Sussex, in north central Waukesha County, and the southern portion of the city of Port Washington, in eastern Ozaukee County, are both a part of this district. It's about a 50-minute drive from Sussex to Port Washington. It doesn't make much sense for all of this to be a part of the same district, and certainly doesn't appear to follow the redistricting criteria of being "compact and contiguous." But this is where we are.
As evidenced by Darling's eight successful re-elections there, this is a traditionally Republican stronghold, including pieces of each of the WOW counties. However, this poorly drawn district is emerging as the latest test case of one of the biggest trends changing the larger political landscape in Wisconsin: suburban voters are increasingly voting for Democrats.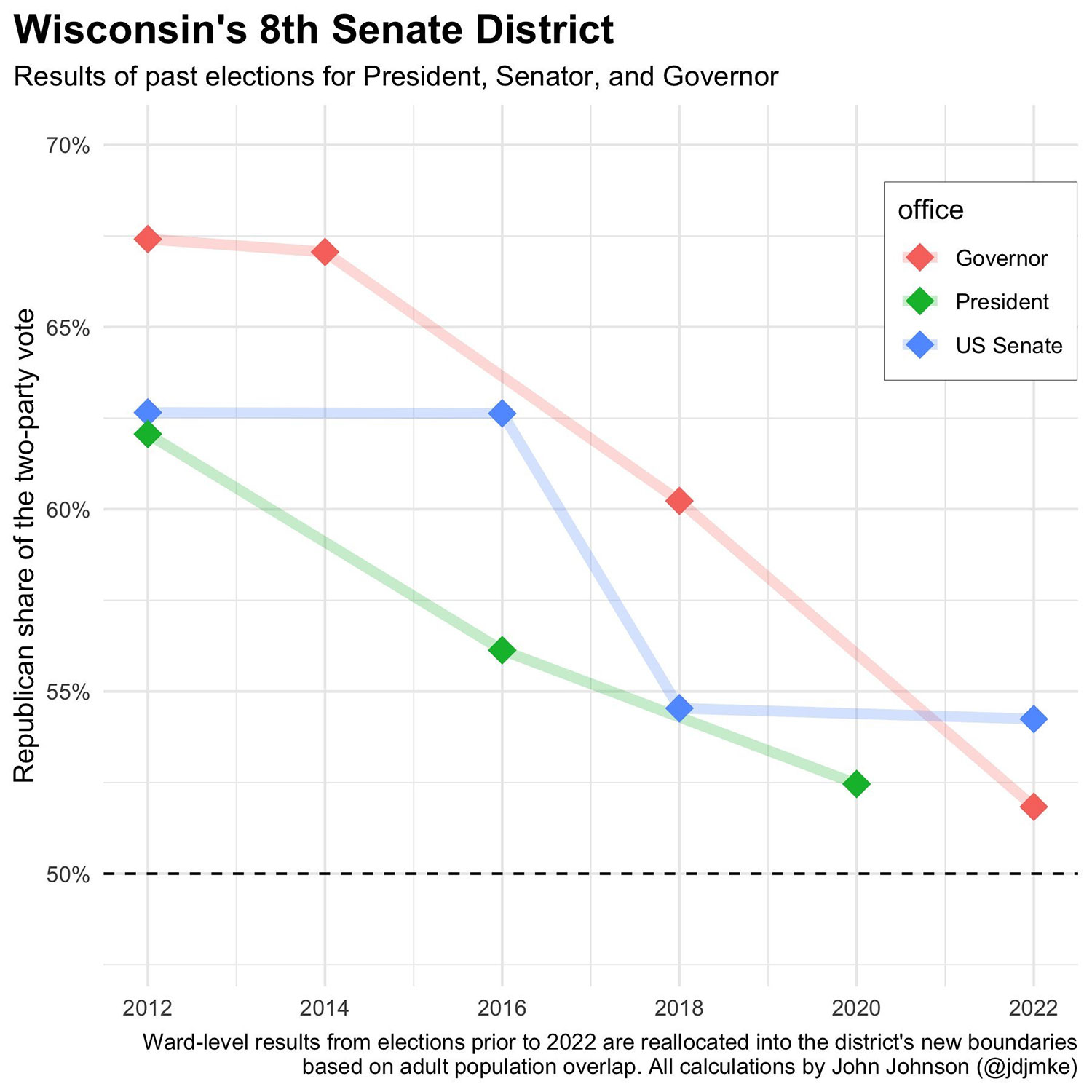 In the 2012 recall election, more than 65% of the votes in this district went for Gov. Scott Walker. But in 2022, Tim Michels narrowly won a majority of votes in the 8th Senate District.
Take a look at the village of Whitefish Bay—one of the prime examples of shifting suburban voting patterns in the Milwaukee area. Walker won there in 2012 with about 52% of the vote. In 2022, Tony Evers won there with more than 71% (!) of the vote. That's a huge, huge shift.

Menomonee Falls is another key city in this district. More than 70% of voters went for Walker in 2012, but less than 54% went for Michels in 2022. That's about an 8,000-vote margin in 2012 shrunk to about a 3,000-vote margin in 2022. These shifts make a huge difference in statewide races.
Republicans in the legislature clearly saw this suburban shift coming, and moved the goalposts in many suburban districts to give themselves more of an advantage. This is one of those districts. This went from a district that had a 7.5% Republican advantage to one that has a 12.5% Republican advantage*.
So, flipping this seat will be an uphill battle for Democrats. But there is reason to believe this is a winnable race.
Jodi Habush Sinykin is the lone Democrat running in this race and she seems to be a very strong candidate. She's an attorney who has specialized in environmental law, particularly on water issues (she was part of the group that sued over Foxconn's planned diversion of Great Lakes water). She and her husband own a textile manufacturing company based in Janesville. She's already gained endorsements from Sen. Tammy Baldwin, Attorney General Josh Kaul, and a host of organizations, including unions, environmental organizations, and abortion rights groups. She's also the daughter of Bob Habush of Habush, Habush & Rottier fame.
She won't be facing a primary challenge, so she will be the Democrat on the ballot for the April 4 election. But on the Republican side, there are three candidates competing in the primary. And that's where things get interesting.
Each State Senate district is comprised of three Assembly districts. In this case, those are the 22nd District, represented by Janel Brandtjen of Menomonee Falls, the 23rd District, represented by Deb Andraca of Whitefish Bay, and the 24th District, represented by Dan Knodl of Germantown. Andraca, a Democrat who flipped a seat in 2020, is backing Habush Sinykin in the race. Brandtjen and Knodl, both Republicans, are each running. Thiensville Village President Van Mobley is the third Republican running.
Brandjten is someone you might know as perhaps the most extreme anti-democracy representative in the state of Wisconsin. In the aftermath of Republicans' defeat in the 2020 presidential election in Wisconsin, she wrote that the election should be overturned and that there was "no doubt" that Donald Trump won. Robin Vos then made her the head of the Assembly's elections committee, where she held all kinds of outrageous, conspiracy-heavy hearings. She was even part of former state representative Tim Ramthun's crazed push to decertify the election (which is not a thing). She traveled to Arizona to see the (since-shut down) "Cyber Ninjas" conduct a widely discredited partisan audit of the 2020 election in Arizona.
Does @RepJanel want a group like Cyber Ninjas coming into Wisconsin? Are they really qualified to access our voting machines?

"We're not talking about the Ninja Turtles anymore, we're talking about truly the Cyber Ninjas." pic.twitter.com/3nXtFyd1jU

— A.J. Bayatpour (@AJBayatpour) August 20, 2021
She's so extreme that she's been kicked out of the Wisconsin Assembly Republican caucus. When you're too extreme for this group of Wisconsin Republicans, that really says something. Vos later said she was the lone "bad actor" among the Assembly Republican caucus, which is kind of hilarious to anyone who has followed this group for more than five seconds. (The reason he likely turned on Brandtjen is because she campaigned with his Trump-endorsed primary challenger).
And yes, Donald Trump endorsed Brandtjen on Truth Social on Wednesday.
In the key race for the open seat in the 8th Senate District in the Milwaukee suburbs, Donald Trump has endorsed fellow election denier Janel Brandtjen. pic.twitter.com/hVaXz5mWuS

— Dan Shafer (@DanRShafer) February 16, 2023
Knodl might not be on Brandtjen's level with election denialism—not sure anyone else in the state is, really—but he's pretty far out there, too. He was one of 15 Wisconsin Republicans who signed a letter addressed to then-Vice President Mike Pence, asking him to block the certification of the presidential election results on Jan. 6.
And Mobley boasts being the first Wisconsin elected official to endorse Trump during his presidential campaign back in 2015.
So it is quite the group.
And that's before getting into positions on taxes (Knodl and Brandtjen are favoring the Republican flat tax proposal that would overwhelmingly benefit the wealthiest Wisconsinites, and Mobley favors eliminating the state income tax entirely), and abortion (Brandtjen does not support any exceptions for rape and incest; Knodl backs Vos' proposal requiring a police report to prove rape or incest before allowing an abortion; Mobley backs getting rid of the 1849 ban and implementing something on time limits for an abortion).
Of those three candidates, Democrats have a clear favorite of who they want to be running against, and that is Brandtjen.
That's been clear in my reporting on the race, and it's abundantly clear now after Wisconsin Democrats have spent on ads attacking Brandtjen in a way that would boost her standing among conservative base voters.
This is a gamble. But it's a gamble that Democrats have successfully employed in a number of recent races. Elevating Brandtjen would give the Democrats their best chance of winning the race for the 8th Senate District, but it also opens up the possibility of State Senator Janel Brandtjen becoming a reality, which is a frightening thought.
The other top contender is Knodl, and the Republican State Leadership Committee is spending to back him as more of an establishment type of candidate. Former state senator Randy Hopper, who now lives in this district, was entertaining the possibility of making a run, but opted against it and endorsed Knodl.
Knodl has made it one of his main issues to repeal the personal property tax. This is an issue that has bipartisan support, and is now part of the tax reform portion of Gov. Evers' budget proposal. But the bill championed by Knodl that passed last year was drafted so sloppily that it could have created some potentially problematic unintended consequences. The bill was vetoed by the governor, and in the veto message, Evers said, "I am vetoing this bill because I object to the unusual and haphazard process by which the Legislature pursued the repeal of the personal property tax, which has created potential unintended consequences for railroad and utility taxes as well as the manufacturing and agriculture credit." Even the lobbyists at Wisconsin Manufacturers and Commerce opposed the bill because of those unintended consequences it would have created. It seems as if Knodl is more interested in the political posturing around this bill than actually getting something passed.
It's a group of deeply flawed candidates. Democrats are betting on the most flawed of those candidates in Brandtjen to set up a matchup between her and Habush Sinykin.
And though Republicans gave themselves an easier path to hold this seat through gerrymandering the district, the ingredients are there for the Democrat to pull off an upset and deliver a real blow to the state GOP as their WOW wall continues to crumble.
*That formula is calculated by our friend John D. Johnson of Marquette University, who averaged results from the 2016 presidential, 2018 gubernatorial and 2020 presidential election results to determine the partisan lean of each district on the newly adopted maps before the 2022 election.
Exclusive articles, podcasts, and more. Support Milwaukee Record on Patreon.
---
RELATED ARTICLES
• A down and dirty guide to voting in Wisconsin's 2023 Spring Primary, which is super important
• Wauwatosa is at the core of Republicans' ugly partisan gerrymander