Dan Shafer is the founder of The Recombobulation Area, an award-winning, reader-supported weekly column and online publication. Click here to subscribe.
One of the most important cities on the political map in the state of Wisconsin is Wauwatosa. The suburb on the City of Milwaukee's western border, home to about 48,000 people, is seeing big changes, politically speaking. What was once the home turf of two-term Republican governor Scott Walker is now turning into a Democratic stronghold.
'Tosa surged for Biden in the 2020 election, seeing more of a shift to the left than any other municipality in the entire state. A 4,500-voter increase in turnout from 2016 went almost entirely for the now-President. That's a pretty significant number, considering that Biden won Wisconsin by just over 20,000 votes. In 2004, George W. Bush won Wauwatosa by 8%; in 2020, Joe Biden won the city by a more than 34-point margin. The shift has been rather dramatic.
As Republicans have increased their margins in rural areas in the Trump Era, it's places like Wauwatosa that have balanced the equation in this ever-purple state. The Milwaukee area suburbs, once the strongest base for the GOP in Wisconsin, is now one of the swingiest regions in the state, and is becoming more and more of an electoral battleground, from the top of the ticket on down.
In the most recent spring election, Wauwatosa saw several firsts at the local level. Krista LaFave became the first woman elected as the City of Wauwatosa's municipal judge. Margaret Arney became the first Black woman elected to the common council, and Sean Lowe became the first Black man elected to the position (and he did so by literally one single vote!).
The emotional moment ONE provisional vote tipped the scales in a tied Wauwatosa comon council race in favor of Sean Lowe.

He's the first Black man elected to council in 125 years.

"This is Black history" he says. pic.twitter.com/pMHRMBGUUk

— Madalyn O'Neill (@newsmadalyn) April 8, 2022
Change winds have been blowing from Tosa Village to Mayfair. But there's one piece of the political puzzle where change has been made not by the people voting, but by those drawing maps.
This newfound political power in Wauwatosa has been greatly limited, at least as it applies to the Wisconsin State Legislature. Robin Vos and legislative leadership must know how important this community is to political power in the state, so they went ahead and moved the goalposts as much as they could in order to retain Republican control in several swing districts.
The fraught redistricting process in Wisconsin came to an undesirable end where the State Supreme Court ultimately selected maps introduced by Republicans, which took the most gerrymandered state legislature in the nation and made it even worse. (The Recombobulation Area covered those maps in-depth here, when they were first introduced.) The court adopted a "least change" approach to redistricting—a term seemingly pulled from the ether to help cement the Republican majority in the legislature—but that's hardly what happened in 'Tosa. These maps carved the city into four different Assembly Districts and three different Senate districts. It's not ideal.
One of those Assembly districts is represented by Robyn Vining. She was the first Democratic state legislator to flip an Assembly seat under the current maps, winning a nailbiter in 2018. This is what her district looks like now…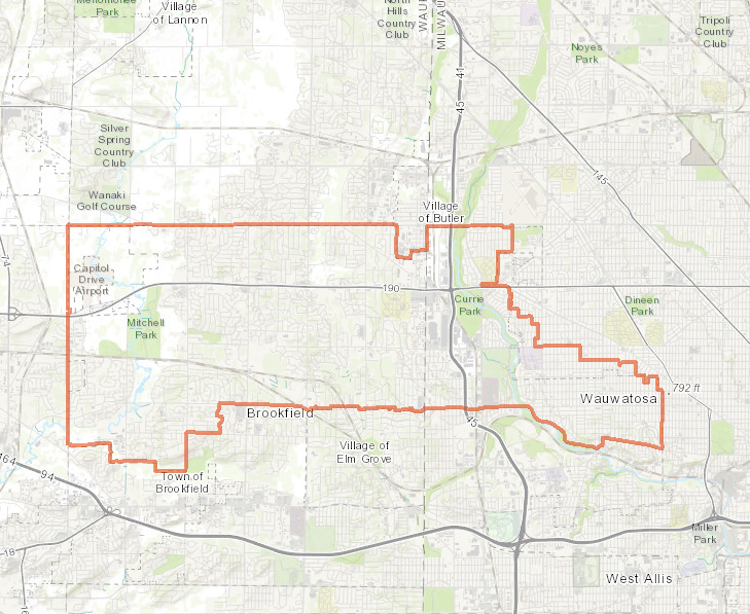 …and this is what that same district, where she'll be running for re-election this fall, will look like next year:
Obviously, this hardly qualifies as "least change."
"Wauwatosa and western Milwaukee County is really an interesting illustration that 'least change' doesn't actually mean 'least change,'" said Vining, in an interview with The Recombobulation Area. "What we were trying to point out over the course of the debate is that 'least change' has been adhered to in parts of the state where it's convenient, and where it's necessary to retain Republican majority, it's been abandoned."
Not only was Wauwatosa the key city in the 2020 presidential election in Wisconsin, it's been the standout for the shift happening in the state legislature, too. Along with Vining in 2018, now-State Rep. Sara Rodriguez flipped a seat in 2020, a win driven in large part by Wauwatosa voters. Looking ahead to 2022, the State Senate seat most likely to be in play for Democrats to flip is the 5th District, anchored by Wauwatosa, and currently represented by Republican Dale Kooyenga.
Kooyenga is now no longer seeking re-election—which was a bit of a surprise—but whoever runs in his place on the Republican side is going to have a much easier path to victory under this next set of maps.
According to research by John D. Johnson of Marquette University, shared with The Recombobulation Area, the 5th District will see a more than 8% shift in favor of Republicans. It would go from a district where Democrats would have a 0.5% advantage to one where Republicans would have a 7.7% advantage*.
"I think that when Republicans began the redraw, they began with Senate District 5," said Evan Goyke, Democratic state representative from the 18th District on Milwaukee's west side, in an interview with The Recombobulation Area. "I think that was the center of the universe from which they branched out."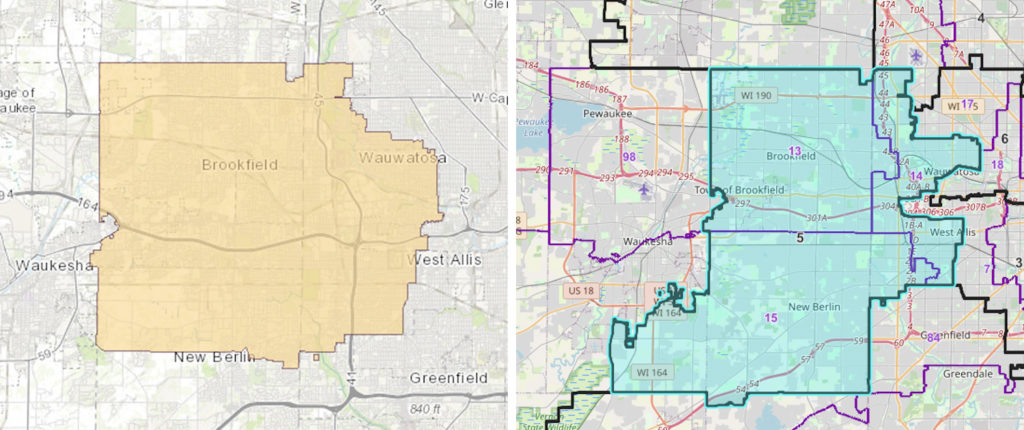 Goyke's district is changing significantly, too. The population in his district declined by about 4,400 people, he said, so some shift was inevitable. But instead of a minor shift to accommodate that, he said "about 8,000 (people) were moved out, and 14,000 were moved in." He will be representing parts of Wauwatosa for the first time, and said that "for the last 30 years at least," his district "has never included any neighborhoods outside of the City of Milwaukee." Now, more than 11,000 of his constituents will be from Wauwatosa.
Goyke said wards in eastern Wauwatosa, like the one that includes Tosa Village, were moved into his district in the 18th. Additionally, the five city of Milwaukee wards that Vining currently represents, including ones in Enderis Park, will be shifted to the 17th District, currently represented by State Rep. Supreme Moore Omokunde.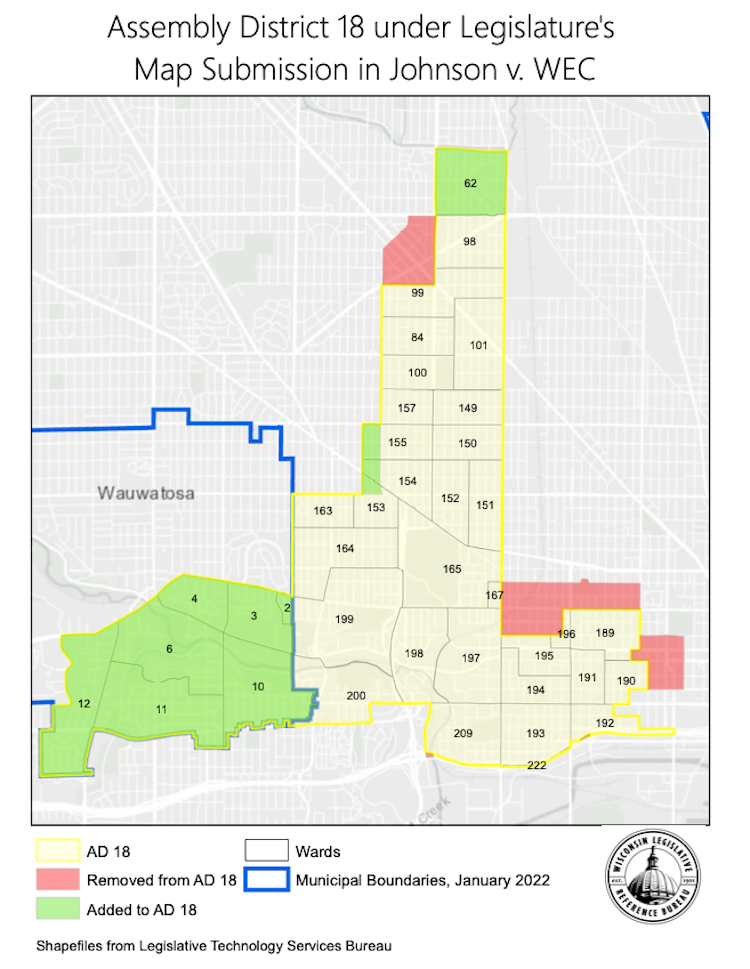 So, what does this have to do with that key 5th Senate District seat?
Each State Senate district is made up of three Assembly districts. So, in order to get that change necessary to create a more red 5th Senate District, some of the bluer parts of 'Tosa and western Milwaukee were moved into Goyke and Moore Omokunde's Assembly districts, which are part of the 6th Senate District, currently represented by State Sen. LaTonya Johnson.
"What the new maps do in the 5th Senate District (is) remove about 10 wards that are among the top Dem-performing wards, and then you add—to replace the population that moved out of that Senate District—population was added (from) Waukesha County in New Berlin," said Goyke. "That's a pretty clear, easy, textbook gerrymander—get rid of the high Dem turnout (wards) and add conservative Waukesha County."
So, to recap: Republicans moved neighborhoods like Tosa Village and Enderis Park out of the competitive 5th District to make it easier for them to win.
"I don't know what else you could do to discourage people from believing in their state government than manipulating the outcome and cheating the way they did," said Goyke. "I don't know what else they could do that would have a worse effect on our democracy."
Some graphics of the newly partisan-gerrymandered Senate District 5 and Assembly District 14, and what had happened on these maps to the cities of Wauwatosa and West Allis. 1/3 pic.twitter.com/KmE4taOlud

— Representative Robyn Vining (@RepRobynVining) April 19, 2022
What happened in Vining's Assembly district is indicative of what Republicans did to competitive districts around the Milwaukee region.
The 14th, which she represents, and the 13th, currently represented by Sara Rodriguez, flipped blue in subsequent elections. The 15th remains in Republican control, currently represented by Republican State Rep. Joe Sanfelippo, but his margin of victory has been shrinking—in 2014, he won by 26%; in 2020, he won by less than 10%.
Instead of all three of these districts projecting to being closely competitive going forward—and making up a very competitive 5th Senate District—Vining's becomes a "Safe Dem" seat with a 15% advantage (a 10-point shift to the left) and Rodriguez's seat goes from a 0.4% Democratic lean to a 15.9% Republican advantage, one of the biggest shifts of any district on the map. The Republican advantage in Sanfelippo's district goes from 5.5% to 19.2%. These shifts are what pull the 5th Senate District to the right. Again, not exactly "least change" here.
"The three Assembly seats constituting the 5th Senate District had become competitive over the past decade, thanks to the much-discussed blue shift in the suburbs," said Johnson. "Two of the districts leaned blue, and one leaned red. In the new map, the legislature converted those three competitive districts into three non-competitive seats—one blue and two red."
Look at the full picture of the shift in districts in the Milwaukee region, and you'll see that what is happening in Wauwatosa might be the most glaring example of these changes, but it's happening all over.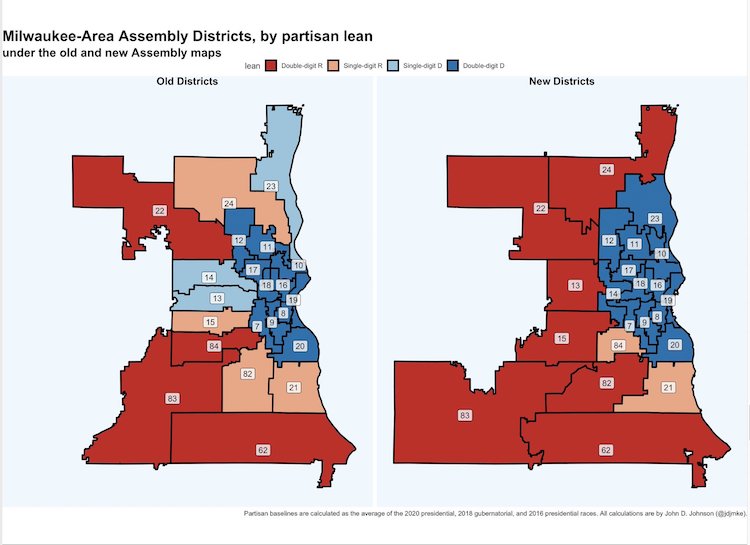 At a high level, added Johnson, "The Milwaukee metro sees a reduction from seven seats with a single-digit partisan lean to just two." So much for competition. And so much for "least change."
"'Least change' is a lot of change in the areas that have shifted blue in order to benefit Republicans," said Vining. She's right about that.
These new maps are shamelessly unfair, and what they've done to carve up a key city and limit its representation at the state level is beyond ridiculous. Republicans don't want to compete in swing districts. They want to eliminate them entirely—especially in the Milwaukee area.
So, under these maps, instead of projecting to be a dead-even competitive race in a key swing seat, the 5th Senate District will be favored for the Republican, no matter the candidate. Democrats like Tom Palzewicz and Jessica Katzenmeyer, who are both running for the State Senate seat, will be the underdog in the general election race.
Republicans are using the levers of government to make elections easier for themselves. In Wisconsin, the state legislature holds a whole lot of the state's governing power. Through these maps, they're making it so they don't face meaningful competition that would challenge their near-impenetrable majority. With that, Vos & Co. get to operate on easy mode, and essentially do whatever they want. As we've seen over the past decade-plus, that's bad news for Wisconsin, and even worse news for the Milwaukee area. Cities like Wauwatosa deserve better representation in their state government.
*Partisan lean indicated throughout this article is calculated by John D. Johnson as an average of the 2020 presidential election, the 2018 gubernatorial election, and the 2016 presidential election results in each district.