The long-running British sci-fi show Doctor Who has long captured audience imaginations with the adventures of an alien Time Lord known only as "The Doctor." Part of the show's longevity is held by the central character having the ability to "regenerate" instead of die, leading to a long line of actors who have portrayed the role in the original series (1963-1989), a TV movie (1996), and the rebooted series, which premiered in 2005 on BBC and is entering season 10, with The Doctor currently being portrayed by Peter Capaldi.
One constant villain that the Doctor has faced in all his regenerations is a race of shrill cybernetic villains from planet Skaro, the Daleks. They look like trashcans (or pepper shakers) with a cyclops eyestalk and a toilet plunger and laser-shooting eggbeater as arms. Their war cry, a metallic screech of "Exterminate!" has been haunting the show since its first 1963 season. The Daleks were an instant hint with British audiences, became a part of pop culture, and have remained show favorites.
None of this is news to Milwaukee's crew of enthusiastic crew of Whovians (as Doctor Who fans are known). The Milwaukee Time Lords were founded in 1989, produced a newsletter, and had screenings way before any of this was cool. They still hold monthly meetings to talk Who and other sci-fi programming. A younger fan base of Whovians fills Turner Hall for cosplay, EDM music, and Doctor Who-themed cocktails every year at 42 Lounge's Time Lord's Ball, held December 26 last year.
But now Milwaukee is gearing up to smash a Doctor Who-related world record: "Most Amount of Daleks Assembled in One Place at One Time." Jon Hughett, who helped found a group called Dalek Asylum Milwaukee, says the British currently hold the title, with a paltry 95 assembled Daleks. He points out that only 44 were full-scale model Daleks, and that the rest were "people in Dalek costumes."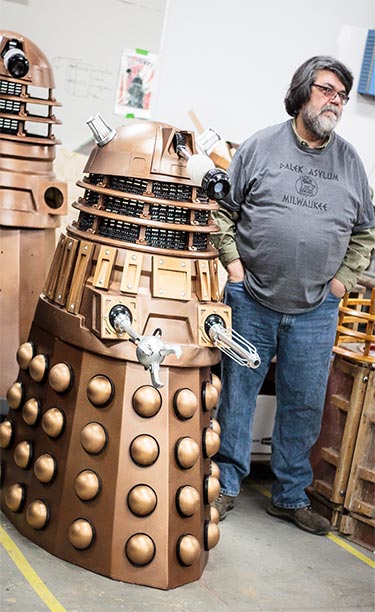 The dream of winning this obscure honor started when Hughett was searching for a project for his spare time and met Dalek builder Dave Duca of Oconto, Wisconsin. Duca has singlehandedly built 16 Daleks, developed plans and fiberglass molds, and has helped many Whovians make their Dalek dreams come true. Duca got Hughett's wheels spinning on Daleks.
"He has a dream that America should win the Guinness Book of World Records for the most assembled Daleks and take it away from the British. That's an achievable goal," Hughett says. After seeing one of Duca's Daleks in person at a 2014 comic convention, Hughett decided there was only one sane thing to do: start a Dalek-making assembly line and claim the world record for Brew City.
"We've set ourselves as a cooperative Dalek-building group. As far as I know, we're the only Dalek-building collective, which also makes us the oldest and the biggest," Hughett laughs.
The collective, which includes a growing number of builders, has two almost-complete Daleks, and a start on several more. Trial and error has helped perfect what methods and materials make the ideal Dalek, but they're getting the hang of it. The end results look spectacular—"screen accurate," as a good-looking Dalek is known, one that would blend in perfectly on the set of Doctor Who.
Hughett has found enthusiasm and helping hands at Milwaukee Makerspace, a huge space in Bay View equivalent to a shop nerd's wet dream, with stations dedicated to woodworking, metal, jewelry, fabric crafts, 3-D printing, and electronics. It's a space where anything you can imagine can probably be assembled, and Dalek Asylum Milwaukee has a station set up filled with whiteboards, stacks of plans, heaps of Dalek parts, and a couple of small lanes taped off for Dalek parking.
The goal is to have the group of record-breaking Daleks assemble and storm Maker Faire Milwaukee in 2017 or 18, all rolling together and crying "Exterminate! Exterminate!" It'll be a challenge to outpace the British Dalek-building community, but Hughett notes that Dalek Asylum Milwaukee can put out a call to the region for all Daleks to assemble and join them to beat the record.
"There's a large amount of Daleks in the Midwest. There's a map on Project Dalek. You can see where the concentration of Daleks are, what they're named, and who owns them."
Hughett says the collective has an open door policy and that potential Dalek builders should contact the group through their Facebook page or stop by a Milwaukee Makerspace open meeting (Tuesdays at 7 p.m.) to inquire further. And what about after the record is broken?
"We will make Daleks until we're tired of making Daleks," Hughett says.