The Cleveland Browns are bad. That's the no secret, though. Since returning to the NFL as an expansion team in 1999 (following a heartbreaking move to Baltimore after the 1995 season), the franchise has managed only two winning seasons and one playoff appearance. A total of 28 starting quarterback have ducked under center for the Browns in that span—including the likes of Spergon Wynn, Ken Dorsey, Thad Lewis, Connor Shaw, Charlie Frye, and Austin Davis—and Tim Couch is the only one of them to start an entire season…which he did just once. Since the turn of the century, Cleveland has cycled through nine head coaches. This decade has been especially brutal for the team, as the Browns have 29 wins since 2010 to 95 losses. It's almost impossible to stay that bad for that long in this day and age.
The Browns look to put an end to their winless season on Sunday afternoon when they host the Packers. While much of Milwaukee will be pulling for Brett Hundley and the Pack to avoid being the first (and maybe only) team to lose to Cleveland in 2017, a small-but-passionate group of local fans will be pulling for the Browns. Flannery's is sure to be packed with Brew City Browns Backers, and three local musicians will be pulling for Cleveland, too. Before Sunday's game, we asked Northless singer-guitarist Erik Stenglein, Piles drummer Drew Gricar, and Moon Curse guitarist Matthew Presutti why they still love the Cleveland Browns.
How long have you been a Browns fan? How did it start?
"As long as I can remember. You know the usual; my family is from Southwestern New York & Cleveland area. So there is definitely a regional connection, but I grew up in southeastern Ohio watching mostly Browns games and some Bills games with my dad." — Matthew Presutti

"I grew up outside Cincinnati, but my dad and my older brothers were all diehard Browns fans. My dad was born and raised on the west side of Cleveland. Growing up, I had Browns stuff everywhere. I had little TV dinner trays with kids dressed up as Browns players on it. I remember having those tackle buddy pillows. I had an Ultimate Warrior one and a Bernie Kosar one. A lot of my family still lives near Cleveland, so it was mostly because my family was into the Browns." — Drew Gricar

"I have only been watching football actually for a few years. My wife watches a lot of it—her favorite team is the Giants—so I kinda got sucked in. As a new football fan, why would I choose the Browns? Admittedly, I like to root for the underdogs in most situations in life, because I've been one myself throughout most of life, and I can relate to the burning desire to succeed in the face of overwhelming adversity. I also really like the aesthetics of their uniforms. Brown and orange are two of my favorite colors." — Erik Stenglein
Favorite Browns players?
"Obviously, I really liked Bernie Kosar when he played. More recently, I was a big fan of Joe Hayden, who as released this year and was signed by the Pittsburgh Steelers, a longtime rival. I don't think that rivalry really exists anymore [Laughs]. I really like Myles Garrett, one of the guys we picked up this last draft. There haven't been a lot of players to get excited about." — DG

"Probably Bernie, but more recently, [Brian] Hoyer 'The Destroyer.' Those were good days." — MP

"Joe Thomas, the OT. He studied at UW-Madison, and his snap streak I believe is still a record in the NFL. I also have high hopes for DeShone Kizer. I think if he continues with the Browns and matures a bit as a player, he might elevate the team. He's off to a good start, all things considered." — ES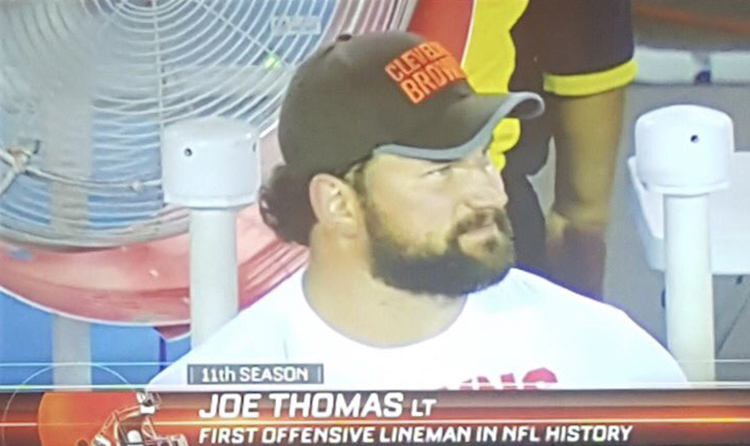 Favorite Browns memories?

"It wasn't any single win win, but I really liked when we had Brian Hoyer. He's a backup now [with New England], but he was our starting quarterback and he got us to first place in the division for the first time in like 10 years. He had one bad game and they benched him. I remember watching some of those Brian Hoyer-era games with Matthew at Flannery's, where we started calling him 'Hoyer The Destroyer.' They've gone through so many quarterbacks. I remember reading an interview with Joe Thomas where he said there was one game where he met the quarterback who was playing when they were in the huddle." — DG

"I remember watching the famous 'Fumble' by the Browns at Broncos in 1987 with my dad. He was folding laundry and as the Browns slowly crumbled, he very quickly turned to screaming and throwing balled up socks at the television. I'm pretty sure this is a classic '80s Browns fan family memory." — MP
Why have you stayed a Browns fan?
"I guess, I've been able to stay a fan by sweeping all my emotions under the rug and just letting it fester there until enough time has passed for me to regain a false sense of hope for next season." — MP

"A lot of people root for the underdog and having that family tie with the Browns all my life, I want to see them win. I want my family members who are still around to see a winning season." — DG

"It's kinda like having a friend who is a hot mess but with a heart of gold who means well: you want them to succeed and you support them however you can. At the same time, you still have a laugh or five when they repeat the same actions and expect different results, but they end up falling into familiar circumstances. Some might call that mean spirited, but I would disagree. To me, it's more about celebrating the absurdity of life. I look for the absurdly hilarious angle of everything in life. Maybe it's a coping mechanism, or maybe I just have a dark sense of humor. You decide." — ES
What's your short-term or long-term Browns outlook?
"Objectively, the Browns are a business, and by all measures they appear to be a failing one. They have their diehards like all teams do, but you can only be excited about something that is not producing tangible results for do long. I predict that if they continue to repeat the mistakes of the past—changing up coaches and players frequently, not allowing the team time to bond, not prioritizing talent acquisition—they will eventually fold." — ES

"I've pretty much given up. Maybe next year." — MP

"I feel like this was the first draft in a long time that the Browns didn't completely screw up. They picked up Myles Garrett and they didn't just shoot their wad on a quarterback in the first round. Do I think they'll ever get back to the Bernie Kosar and Earnest Byner era? Probably not. It's going to take a lot. But lately, I've been saying this [Sunday vs. Green Bay] is going to be the Browns' only win this season. It will probably be 12-9 or something. A lot of field goals." — DG