In Search For The Perfect Packers Bar, Milwaukee Record contributor and Green Bay native Maggie Iken sets out to find the best Packers viewing experience Milwaukee has to offer. Catch up with previous weeks here.
Honestly, before this past Sunday, I had never seen a Cleveland Browns fan in real life. Browns fans were rumored to exist only by game day photos and Johnny Manziel jersey sales. I don't even think I could name more than two or three athletes who have played for the Browns. As far as I've been concerned, the Browns and their followers are mythological figures referenced by the media.
But at around 2:45 p.m. yesterday, I saw a young man in brown and orange gear. Then, an older gentleman in a Browns sweatshirt, two grungy Riverwest-looking dudes wearing Browns T-shirts under their flannel, and even an older couple with various articles of team-affiliated clothing. It was like waking up in the middle of the night on Christmas Eve and catching Santa before he flees to the next home, except way less exciting. Alas, this rare race of humans does exist, and they congregate at Flannery's for game day.
They occupy one of the two bars within the establishment, claiming the room's TVs for their viewing pleasure. There's even a huge banner above the bar. From time to time yesterday, I would venture over to observe these individuals in their seemingly natural habitat. Aside from their awkward cheer of, "Here we go Brownies, here we go!" I must report that they seem to be understanding of the fact that their team is irrelevant, especially in Packer country.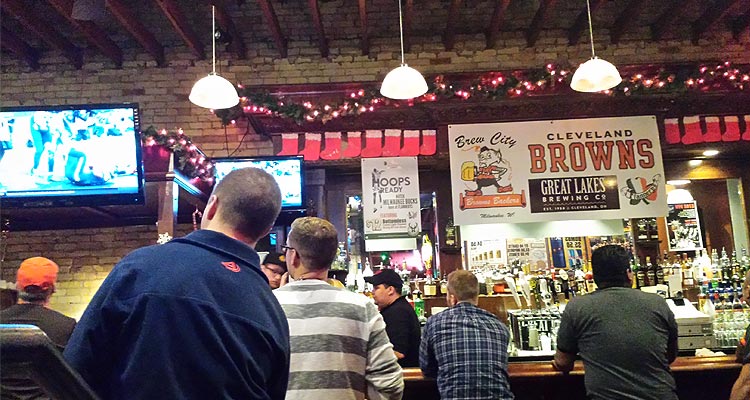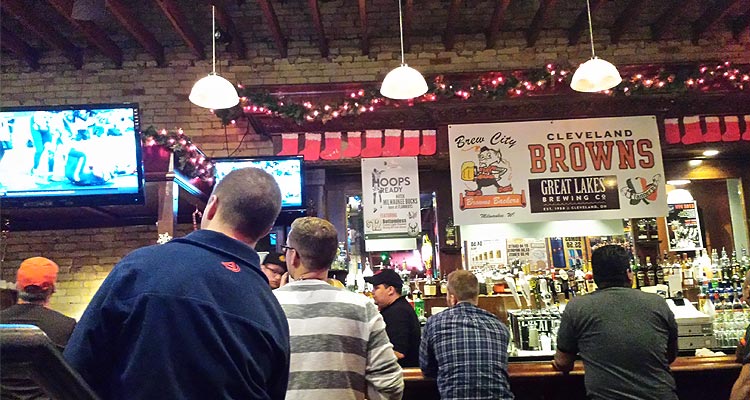 That being said, the majority of the space at Flannery's was dedicated to Packers fans. I nabbed a table in prime viewing position of one of the massive flat screens instead of standing in the sea of green and gold by the bar. This crowd, while definitely Packers-affiliated, seemed to be more interested in the social aspect of the game. People were not getting rowdy for an impressive first down. The only people consistently clapping and cheering were me, a bunch of older guys sitting near me, and bartender Alex, a.k.a. @vodkalemonades, who may be Milwaukee's fastest tweeting Twitter user. This isn't a bad thing, and in fact makes Flannery's a destination for viewing the game with friends who might not be that into the sacred ritual of consuming mass amounts of football on Sundays.
It's also good for people watching, even beyond the Browns fans. The table next to mine had two young lovebirds who only stopped holding hands to eat their food. They seemed oblivious to the fact that sports were on, and it was painful to watch. To top it off, they were being served by a guy with a now-relevant Jedi braid. You do you, dude.
My waitress for the evening, Brianna, was very courteous and attentive. After being seated, she thought she took too long to get drink orders and bought the first round for my viewing partner and me. Did she take a touch too long? Maybe, but I sure as hell wasn't going anywhere. The gracious gesture put me in a fantastic mood and set the bar high for service into the foreseeable future.
The game day drink specials are $3.50 tall boys and $5 bloodies. Naturally, I started with the bloody, which came with my choice of chaser (Fixed Gear, duh). Topped with two massive green olives and a pickle spear, it rivaled the deliciousness of last week's bloody at Leff's. It was so spicy I needed to eat the free self-serve popcorn to save my mouth. (Just to clarify, this is a good thing.) Plus they're $5. I totally recommend.
Flannery's has a fairly full bar menu including apps, burgers, sandwiches, and wraps. Feeling particularly ravenous, I opted for the California Egg Stacker burger ($10.50), which came topped with bacon, cheddar, avocado (a healthy portion, I might add), lettuce, tomato, and a fried egg. I upgraded my side for $1 to get sweet potato waffle fries, which might be my favorite thing on the menu. I managed to eat most of my order, and still have not needed to eat since—it was a TON of food. My partner got an appetizer order of 12 grilled buffalo wings as his main course ($9.50), and he could barely finish his as well. The wings were juicy and tasty, but could have used a tiny bit more spice. As I've said before, I have a particular affinity for tear-inducing spiciness, so they are probably perfectly acceptable for the general population.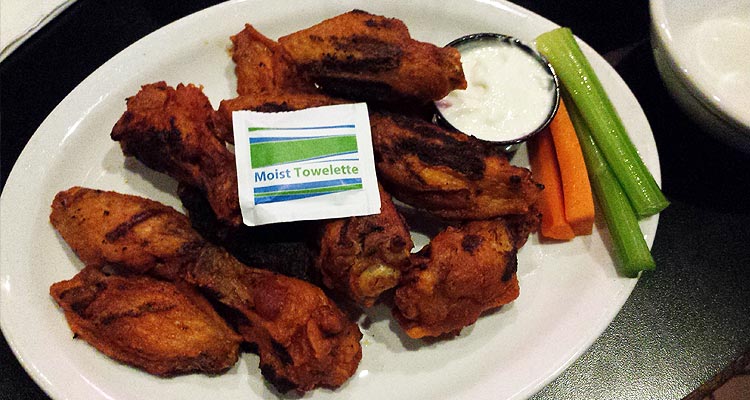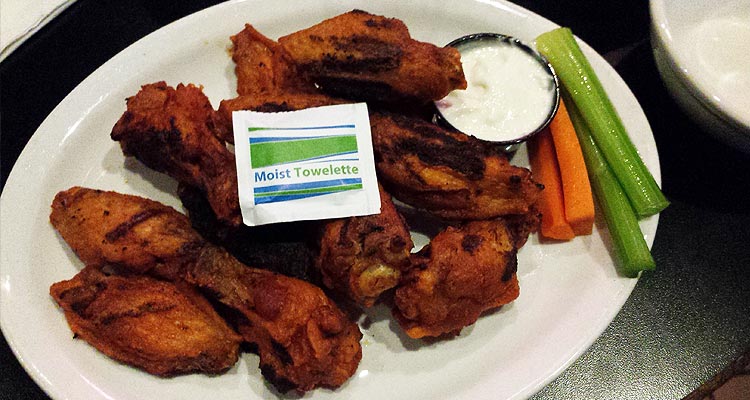 I enjoyed watching the game at Flannery's, despite the relatively boring game. John Kuhn (KUUUUUUUUUUHN) started the game off with a five-yard rushing touchdown, and received an unsportsmanlike conduct call for excessive celebration. This was fine because it was Kuhn and he gets few opportunities to act like a dingus in the end zone. Directly after, Damarious Randall intercepted the ball and ran it back 43 yards for a touchdown. The Packers weren't going to lose to the Oakland Raiders, but their shortcomings offensively and defensively were well defined by the end of the first quarter. The Raiders' saving grace (not game-saving, but perhaps dignity-saving) was Amari Cooper, who had two touchdowns and several tricky catches. Still, they were no match for the Pack and James Jones' hoodie. (I'd like to make a motion to have the hoodie be our new mascot.)