In Search For The Perfect Packers Bar, Milwaukee Record contributor and Green Bay native Maggie Iken sets out to find the best Packers viewing experience Milwaukee has to offer. Catch up with previous weeks here.
My original viewing plan for Week 17 was to head over to Bounce Milwaukee for its insane "guaranteed win" deal: if the Packers lose, your food and drinks are on the house. I neglected to look at Bounce's hours, however, and it closes at 8 p.m. on Sundays. (In hindsight, this was a good business decision.) I called an audible and trekked over to Riverwest to my old stomping grounds, Bremen Cafe.
If you've never been, Bremen is what I consider a standard Riverwest bar. There's music most nights of the week, several pinball machines, and Ian MacKaye-related bathroom graffiti. I have spent many hours in this bar, and there is a certain level of comfort I feel when I see Liam and Britta, two of my favorite bartenders, holding down the fort.
Despite being an avid Bears fan, Liam always prepares food for the games. For the season's finale, he went all-out with sausage, pasta, meatballs, and garlic bread. As soon as all of the evening's fare was set up next to the Game Of Thrones pinball machine, a line formed. I loaded up my plate and sat back down, only find that all of the food would be gone in a matter of minutes. Lesson learned: get in the huge line that wraps around the back room.
The beer selection is one of my favorite things about Bremen. The taps are the usual suspects of Lakefront brews and Old Milwaukee, but the bottle selection is superb for a bar of its size. Ranging from $3-$6, there is no shortage of affordable craft beer. While the bottles change on a regular basis, I can always find a handful I want to try. I feel it's my duty to inform you that Bremen currently has Dogfish Head's 90 Minute IPA ($6), one of the best IPAs on the market. To ensure that I could drive home, I opted for the lower-ABV Hamm's tall boy ($3).
When the assembled crowd finally did get a touchdown shot, I was surprised to see that it wasn't Pucker. There's only so much Pucker a self-respecting adult can consume, and over the past several months I have surpassed my limit. It was some sort of grasshopper shot, which was a refreshing change of pace. My lactose intolerance wasn't too pleased about it, but at least it didn't taste like a Jolly Rancher.
As far as game viewing options go, there are two TVs above the bar and a projection screen in the back room (usually where bands perform). All tables and chairs were accounted for by the end of the first quarter, but if you're a true Packers fan, you'd be at the bar at kickoff.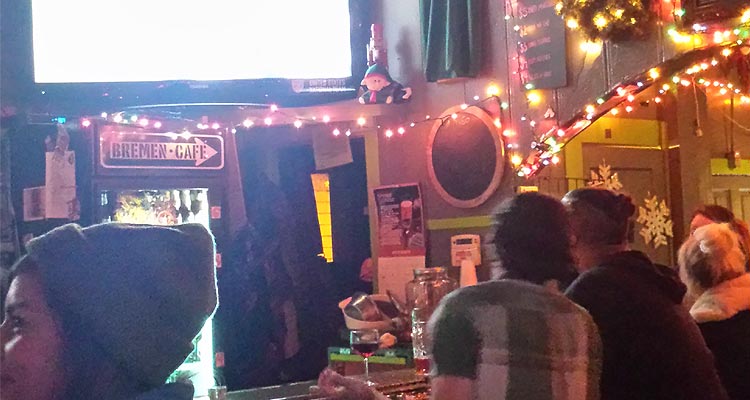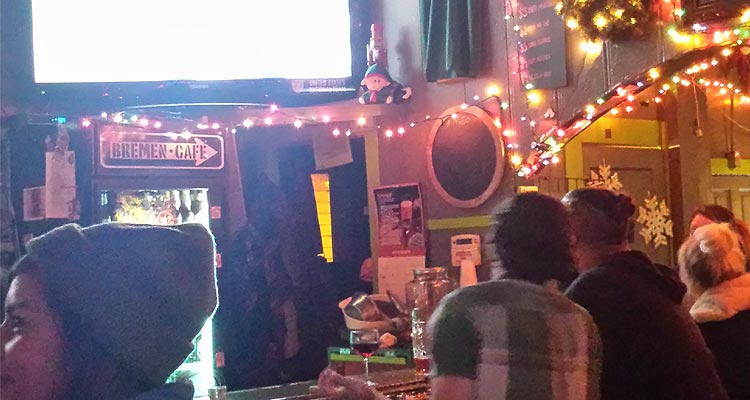 Folks, the Vikings won the division. My mom grew up in northwestern Wisconsin, so her disdain for Minnesota is akin to Milwaukee's hatred of all Chicago sports (excluding Blackhawks bandwagoners). These feelings of hostility have been instilled in me since the last time the Vikings were a threat during Randy Moss's 1998 rookie season. The past 15 years have been lackluster for their team, and I had deemed them a non-threat. Well, fuck.
Game highlights for the Packers this game were sparse. James Jones racked up over 100 receiving yards and Micah Hyde had that lovely albeit strange baseball-esque interception. There was some questionable reffing (it was a goddamn forward pass). This was not the most entertaining game.
Did the Packers deserve to win the division? Their performances after the bye week says "no," not even against a lackluster team like the Vikings. But, as any diehard fan recounts, last time the Packers lost the division, they won the Super Bowl.