It's been said that the internet is written in ink, not pencil. Nothing ever truly disappears, even (and some might say especially) the embarrassing stuff. Thanks to handy tools like the Internet Archive's Wayback Machine, present-day explorers can visit long-dead websites and fondly remember the days when we signed guestbooks, joined Buffy The Vampire Slayer webrings, and announced our sites were "under construction" via animated GIFs of little workmen digging.
So join us as we hop aboard the internet's virtual DeLorean, fill it with ripped-off plutonium, crank it to 88 m.p.h., and visit six (mostly) dead websites from Milwaukee's past. (Check out our previous visits HERE and HERE.)
1. MKE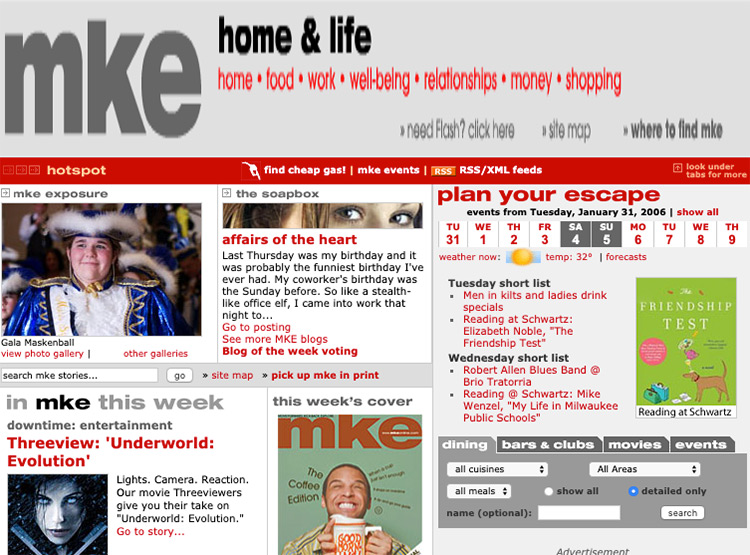 Times are tough for the Milwaukee Journal Sentinel. Circulation is down. (Way down.) A downsized headquarters is coming in 2020. JS owner Gannett was just sold to GateHouse Media. Ugh. But things weren't quite as dire in the early- to mid-aughts. That's when the paper was printing a free weekly lifestyle/A&E sister publication called MKE. Beginning in October 2004, Milwaukeeans were treated to local band profiles, restaurants, and more, all courtesy of a paper that looked and acted like a sexed-up alt-weekly, but was actually a Journal Sentinel joint. The final issue hit the streets in July 2008.
2. Massive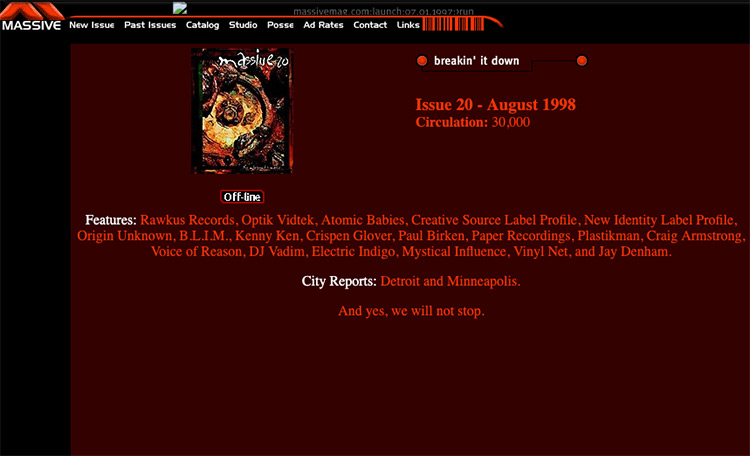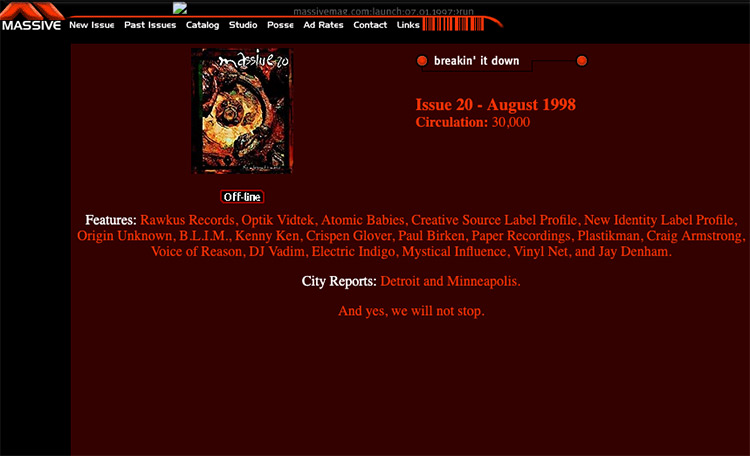 Head over to massivemag.com right now and you'll find oodles of merch featuring the company's iconic upside-down Adidas logo. (You'll also find that always-great "We Eat People" shirt.) But travel back to, say, 1998, and you'll find the early web rumblings of the influential Midwest rave/electronic bible. Massive started out as a zine in 1993 (founded by Matt Massive, natch), but eventually grew to a national publication with a print run of 35,000. Not too shabby for something that can trace its deep roots to Mayville, Wisconsin.
3. Do414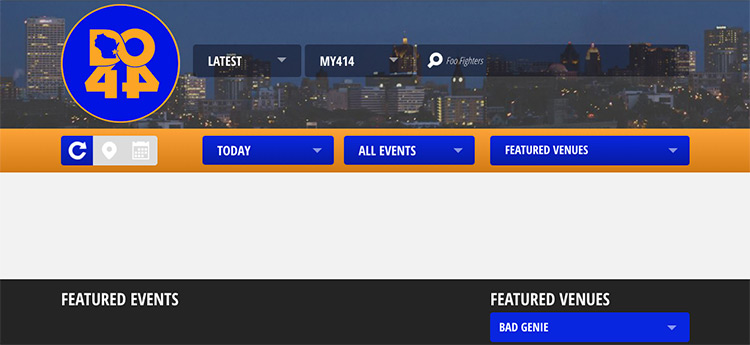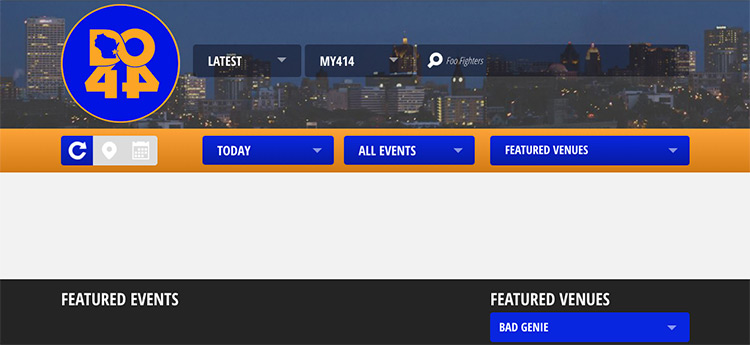 If you were looking to "do stuff" in Milwaukee and/or Bad Genie in the early part of this decade, you could do worse than Do414. The events-heavy publication was pretty ubiquitous for a while (didn't they have an office on the East Side?), and it seemed like a quarter of the events going on in town were sponsored by the Do crew. Sadly, even though the brand still thrives in other area codes (Do617! Do312!) Do414 is done. (The site says "This isn't goodbye, it's see you later…we'll be back!" however.)
4. The New Milwaukee Journal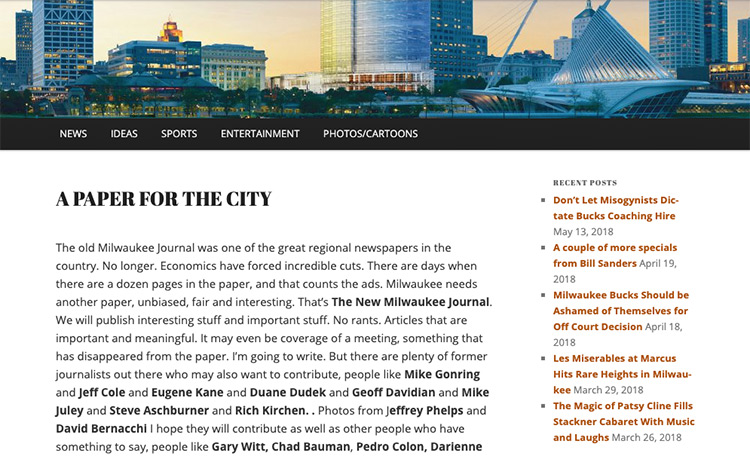 Back in 2018, former OnMilwaukee scribe and lifetime strip-club aficionado Dave Begel gave the ol' Milwaukee Journal Sentinel a run for its money with the New Milwaukee Journal. "Milwaukee needs another paper, unbiased, fair and interesting," Begel wrote. "That's The New Milwaukee Journal. We will publish interesting stuff and important stuff." One of the site's first pieces? "Welcome to Milwaukee! Look at all Our Crap!" The whole thing lasted about two months.
5. Wassup!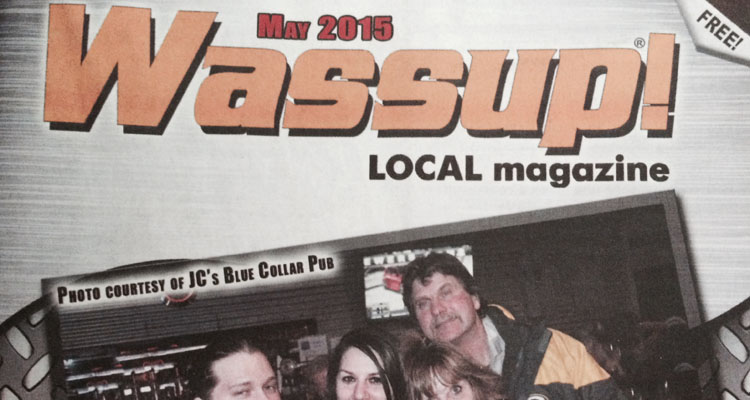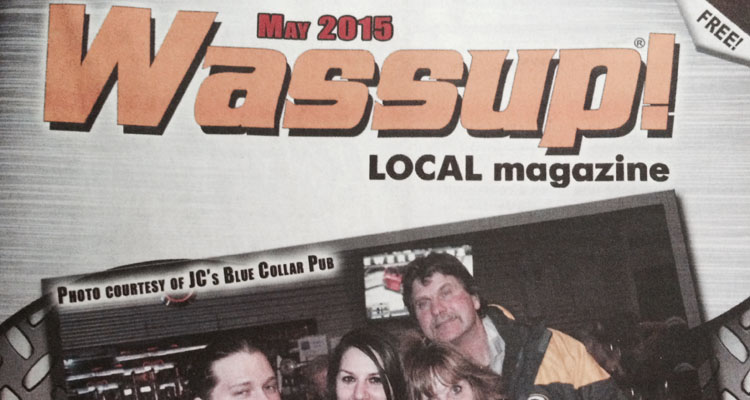 Good grief, remember the (south) Milwaukee edition of Wassup!? We can't seem to find any of the old issues we grabbed back in the day, and the site seems impervious to the Wayback Machine, but still. Wasn't there a wildly offensive "Ask A Wino" column? And is the Northern division of the Wassup! empire still for sale for a cool $190,000?
6. A.V. Club Milwaukee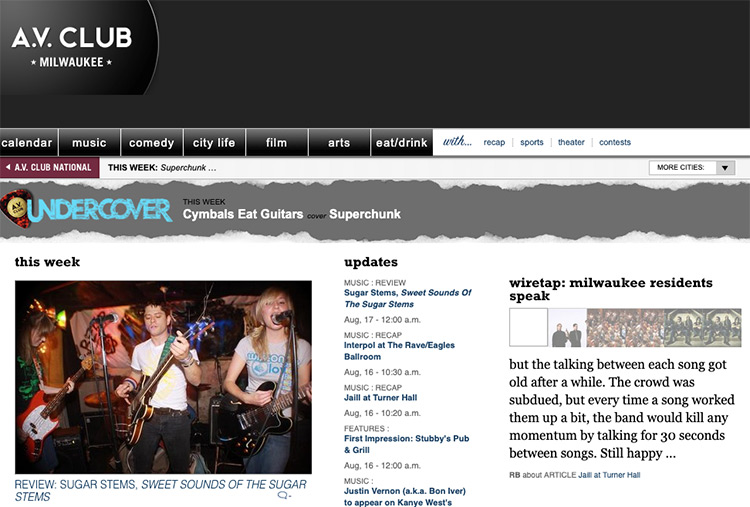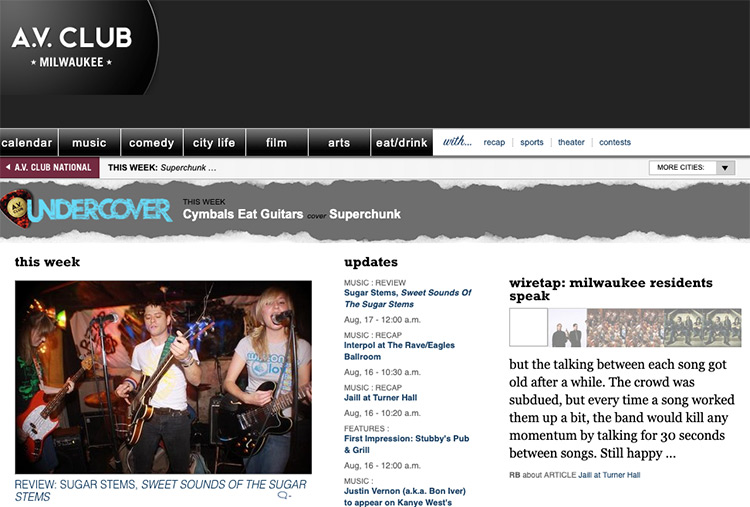 The site whose death in December 2013 gave birth to Milwaukee Record in April 2014. What a crazy four months that was. Also: it's deeply weird reading some of this old AVCMKE stuff. R.I.P.
BONUS: Milwaukee Rocks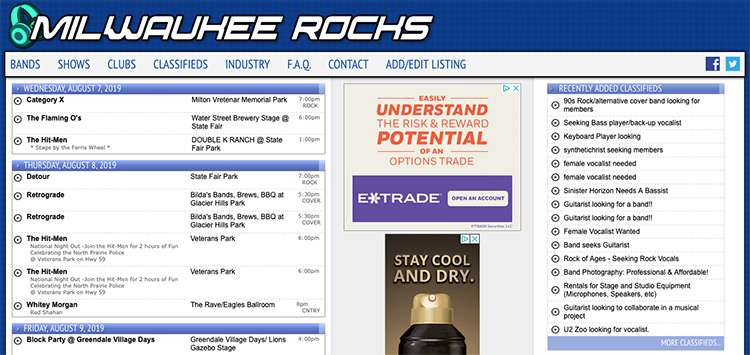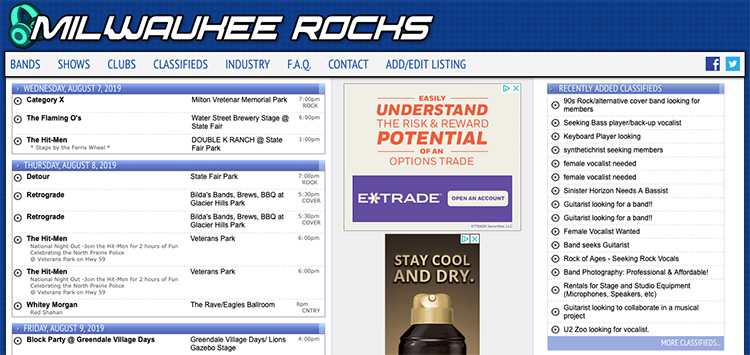 Way back in…wait. This site still exists?! Like, it's still being updated?! Wild.