It's been said the Internet is written in ink, not pencil. Nothing ever truly disappears from the ol' World Wide Web, even (and some might say especially) the embarrassing stuff. Thanks to handy tools like the Internet Archive's Wayback Machine, present day explorers can visit long-dead websites and fondly remember the days when we signed guestbooks, joined Buffy The Vampire Slayer webrings, and announced our sites were "under construction" via animated GIFs of little workmen digging.  So join us as we hop aboard the Internet's virtual DeLorean, fill it with ripped-off plutonium, crank it to 88 m.p.h., and visit eight (mostly) dead websites from Milwaukee's past.
1. American Movie
Date visited: October 13, 1999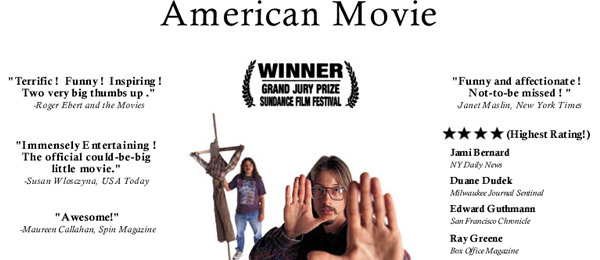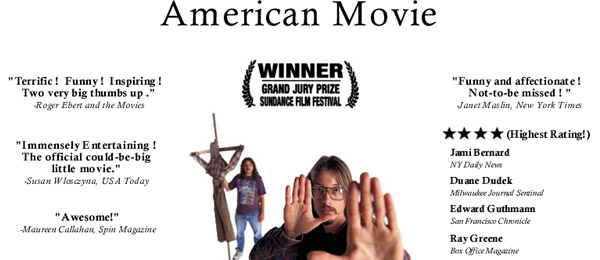 The website for Chris Smith's 1999 documentary on the trials and tribulations of Milwaukee filmmaker Mark Borchardt still exists, but back when the film was new and garnering glowing reviews from Roger Ebert and Janet Maslin, it was a much stranger beast. Borchardt's frequently updated personal journal was still available (sample entry: "Shouldn't Have Went Out Last Night"), and adventurous visitors were encouraged to call Mike Schank at his listed home phone number. ("If he's home and he feels like it, he'll pick up.") Call it today, man, and see what happens. Jesus told you so.
2. Harry W. Schwartz Bookshops
Date visited: May 17, 2001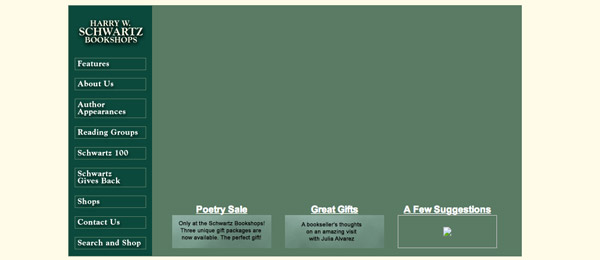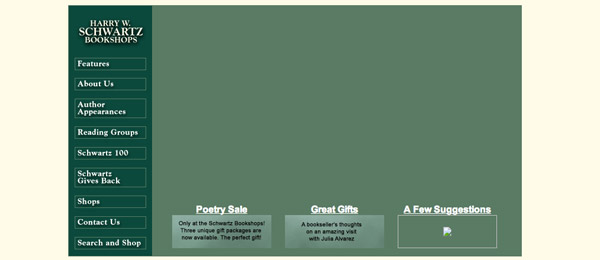 Harry W. Schwartz Bookshops closed their four remaining Milwaukee-area locations in 2009 after a stunning 82 years in business. Happily, Boswell Book Company has been keeping the Schwartz spirit alive on Downer Ave., while the magic of the Internet allows readers to travel back to 2001 when the stores were preparing for author appearances from Bruce Campbell, James Patterson, and—for some reason—Terry Bradshaw.
3. Milk Magazine
Date visited: May 23, 2002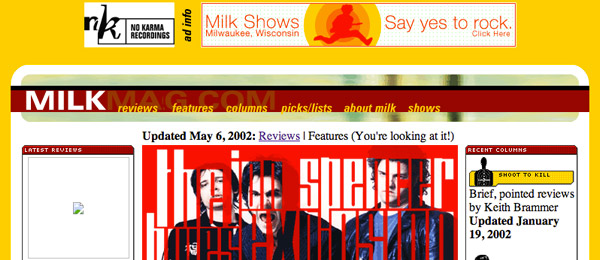 Long before moving to Chicago and becoming The A.V. Club's General Manager and Editor in Chief, Josh Modell was an Atomic Records employee and publisher of local music 'zine Milk Magazine. So what was on Milk's mind 12 years ago? An interview with Jon Spencer; info on the latest albums from Superchunk and Tenacious D; and hilariously pithy, pre-Twitter record reviews from Die Kreuzen bassist Keith Brammer. (Saves The Day, Stay What You Are: "If this is the sound of young America, then God help us all.")
4. The Globe East
Date visited: April 9, 2003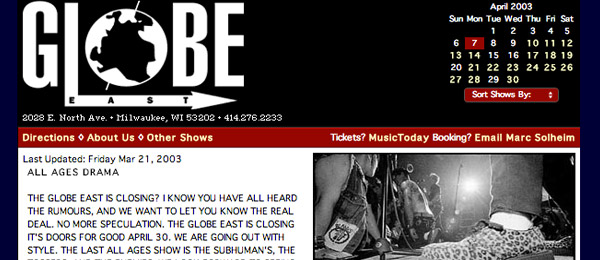 The Globe East will forever be remembered by aging Milwaukeeans as one of the city's best music venues, and a rare place that had the stones to put on awesome all-ages shows. The final update to the site in 2003 confirmed that yes, The Globe was indeed closing, and its final show would be April 30 with The Buzzhorn, Big Dumb Dick, and OnASun. Other shows leading up to the final night: Alkaline Trio, Mark Mallmen, and The Mistreaters.
5. Atomic Records
Date visited: April 2, 2004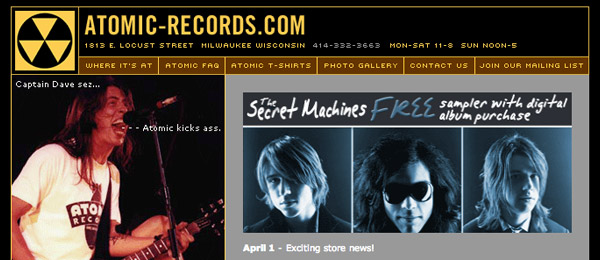 On March 15, 2009, the East Side's beloved Atomic Records closed after more than 20 years in business. Five years earlier, however, the indie record shop was still doing brisk business. A midnight sale for Modest Mouse's Good News For People Who Love Bad News was being touted on Atomic's site back in 2004, as were new releases from Casino Versus Japan, Sigur Rós, and, um, Aerosmith. Plus, Dave Grohl was prominently pictured rocking an Atomic t-shirt.
6. Muzzle Of Bees
Date visited: November 6, 2006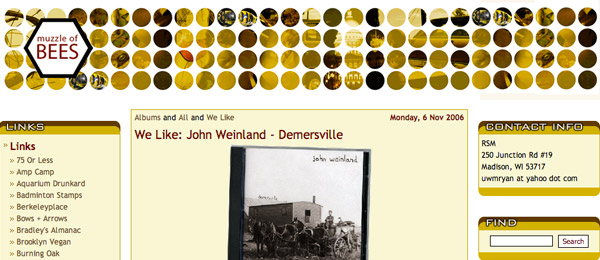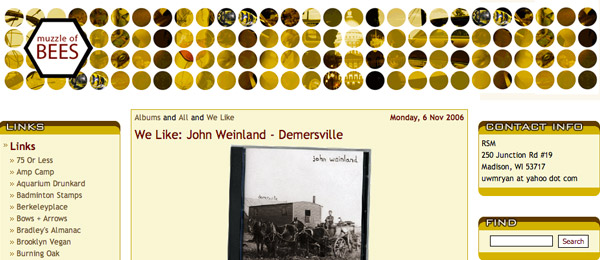 Ryan Matteson's Muzzle Of Bees blog was a terrific resource for anyone interested in quality writing on national and regional indie music. Matteson moved to Austin, Texas a few years back, but a 2006 peek at his now-defunct site reveals a review of a Frank Black solo show in Madison, a review of the latest Beach House record, and a self-explanatory entry entitled "Another reason Kanye West is a tool."
7. Vital Source
Date visited: December 7, 2007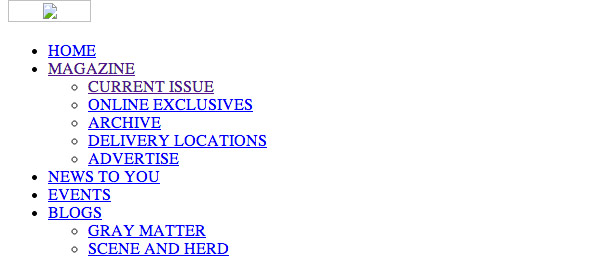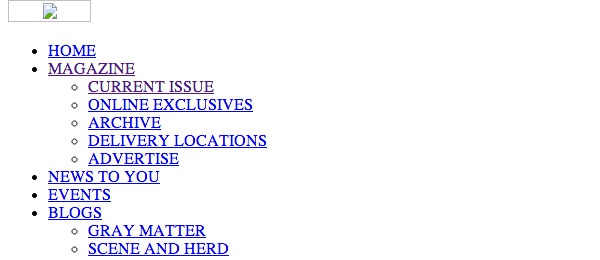 Before it transformed into Third Coast Digest Daily Urban Milwaukee Dial, the Vital Source was a monthly entertainment and lifestyle magazine published out of Riverwest. The bare-bones website for the December 2007 edition boasted a "holiday fun guide," an interview with The Response, and a column by some local dipshit detailing the time he nearly lost his hearing after his brother shot a gun near his ear while duck hunting.
8. Seizure Chicken
Date visited: October 6, 2009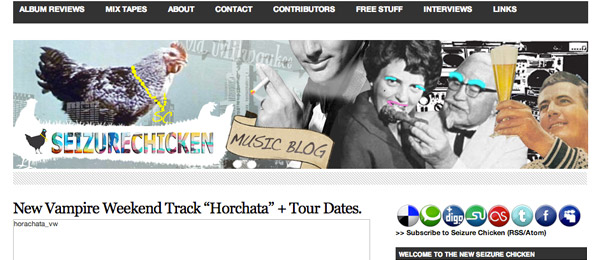 Visit seizurechicken.com these days and you'll come across a baffling blog with entries like "The Advantages Of Online Grocery Shopping" and "We all have braces now." But a few years ago, Seizure Chicken was a wildly entertaining music blog based out of Milwaukee and Chicago. A new Vampire Weekend track was the big news back in October 2009, as were new songs from Phoenix, Wild Nothing, and Milwaukee's own Trusty Knife. Memo to Milwaukee: Start more music blogs.