In Miscellaneous Milwaukee, we take a stroll through the aisles of Antiques On Pierce and unearth curious, strange, or valuable Milwaukee artifacts.
TEM: UECKER'S RIDE FOR THE ARTS POSTER (with 1963 baseball card reprint)
YEAR: 1988
PRICE: $25
Bob Uecker is the best. We love Bob Uecker. So let's enjoy this poster for the 1988 edition of Bob Uecker's Ride For The Arts! The ride was a benefit for the United Performing Arts Fund (UPAF). Uecker, the poster reminds, was (and still is!) Milwaukee's biggest card: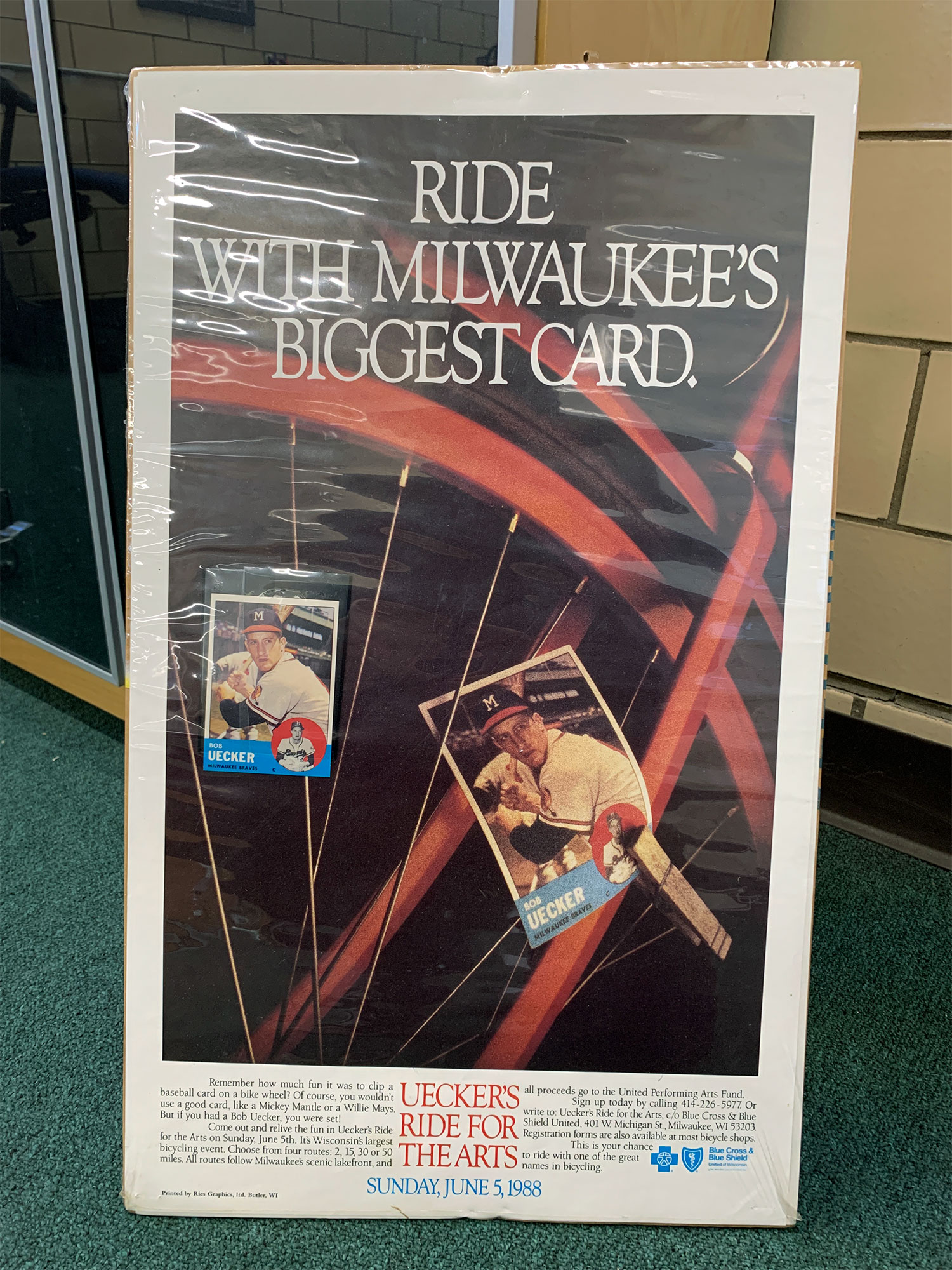 We recently picked this beauty up for $25 at Antiques on Pierce. And yes, we would have easily paid $100.
"Remember how much fun it was to clip a baseball card on a bike wheel?" the poster reads. "Of course, you wouldn't use a good card, like a Mickey Mantle or a Willie Mays. But if you had a Bob Uecker, you were set!"
Classic stuff. Speaking of cards, the poster comes complete with a reprint of Uecker's 1963 Milwaukee Braves baseball card. The back of the card has plenty of info on the big bike ride:
EVENT: Bicycle ride for the United Performing Arts Fund.

PLACE: Begins at Blue Cross & Blue Shield United, 401 W. Michigan St., Milwaukee. Routes end at the Summerfest grounds for a post-ride festival, which includes free entertainment, exhibits, food, and beverages.

TIME: Riders leave at intervals from 8:30 – 10:00 a.m.

ROUTES: 2, 15, 30 and 50 mile routes through Greater Milwaukee's lakefront area.

HISTORY: Uecker's Ride for the Arts has raised over $315,000 for the United Performing Arts Fund since it began in 1981. Over 6,600 riders participated in the event in 1987.

UECKER: Ride with Milwaukee's biggest card! As the honorary chairman of the ride, Milwaukee Brewer's announcer Bob Uecker, also known as "Mr. Baseball," will greet riders at the start of the each of the four routes.

FOR MORE INFORMATION, CALL (414) 226-5977
You can find photos of the 1988 ride HERE. Also, no one picked up when we called the number, which we assume is Uecker's personal landline.
Uecker's Ride For The Arts ran from 1981 until at least 1989. These days, the ride is simply known as the UPAF Ride For The Arts (presented by Miller Lite). The 2022 edition is set for June 5. Someone tell Bob he should totally make a surprise appearance. GOD BLESS YOU, BOB!
Exclusive articles, podcasts, and more. Support Milwaukee Record on Patreon.
---
RELATED ARTICLES
• Six degrees of separation between Bob Uecker and the most followed celebrities on Instagram
• A Milwaukee Day ode to Bob Uecker
• Saturday, September 25, 2021 is officially Bob Uecker Day in Wisconsin and Milwaukee
• There's a petition to replace Joe Buck with Bob Uecker for the World Series broadcasts
• Let's watch Bob Uecker sing "Take Bob Uecker Out To The Ballgame" for 10 minutes
• Exploring the kid-friendly, animated voice-over work of Bob Uecker
• A brief history of Bob Uecker bobbleheads and all-fan giveaways
• Bob Uecker survived a deadly spider bite and he has pictures of the open wound on his phone
• Bob Uecker once wrecked his buddy's new car, and it was glorious
• Remembering the time Bob Uecker crushed an old man's pitch for his first homer
• The man who made mediocrity famous: Bob Uecker's 'Catcher In The Wry' still delights after 35 years
• Watch Bob Uecker talk drunk driving, "falsies," on 1976 episode of 'Johnny Carson'
• We uploaded some Bob Uecker photos to Google's "Deep Dream" network