Over the weekend, Milwaukee Brewers fans streaming into Miller Park were treated to a particularly delightful all-fan giveaway: a Bob Uecker Talking Bottle Opener. Finally, the time-honored act of cracking open a cold one could now be accompanied by Mr. Baseball zingers like "Get up, get off the couch, bring me another one of those," "Last call! Just kidding. I'll be here all night," and "They always said I had a face for radio. I must have a face for bottler openers, too!" Incredible.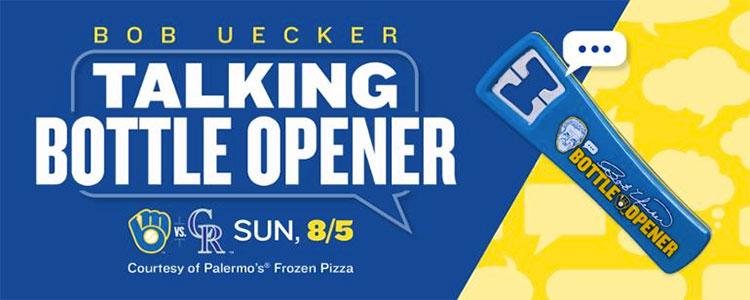 The bottle opener is far from the first Uecker-themed giveaway, of course—for the Brewers and other teams. Here, then, is a quick round-up of some Ueck-centric goodies throughout the years.
2001
Bob Uecker Bobblehead
Miller Park's opening season saw the release of this gimmick-free but Fonzie-esque Uecker bobblehead, featuring the legendary broadcaster holding a microphone and sporting a leather jacket and blue jeans. Forget simply melting down the Bronze Fonz—let's melt that sucker down and replace it with a real hometown hero.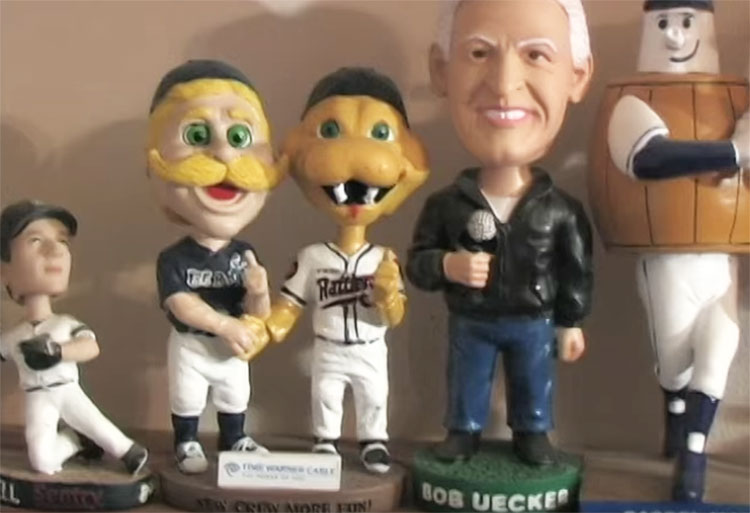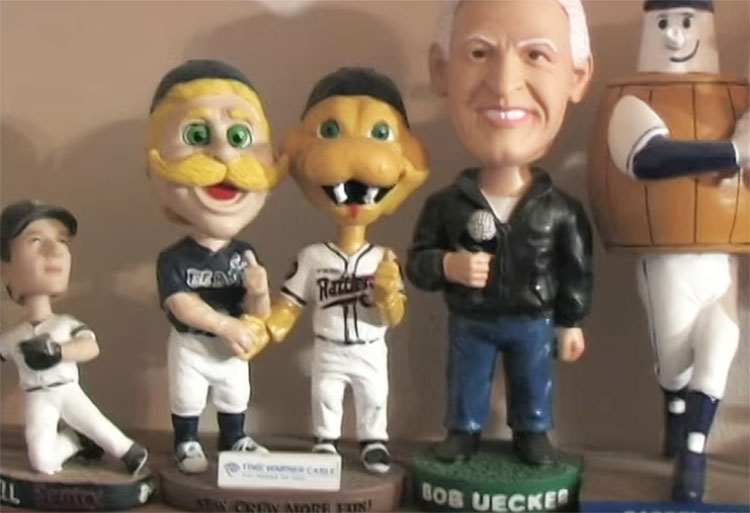 2004
Bob Uecker Indianapolis Indians Bobblehead
This handsome depiction of Uecker was handed out by the Indianapolis Indians minor league club in June of 2004. As Greg The Bobblehead Guy notes in this video, Ueck is seen here with gray hair, meaning he either ages wonderfully or terribly. (The answer is "wonderfully," despite the occasional run-in with a deadly spider.)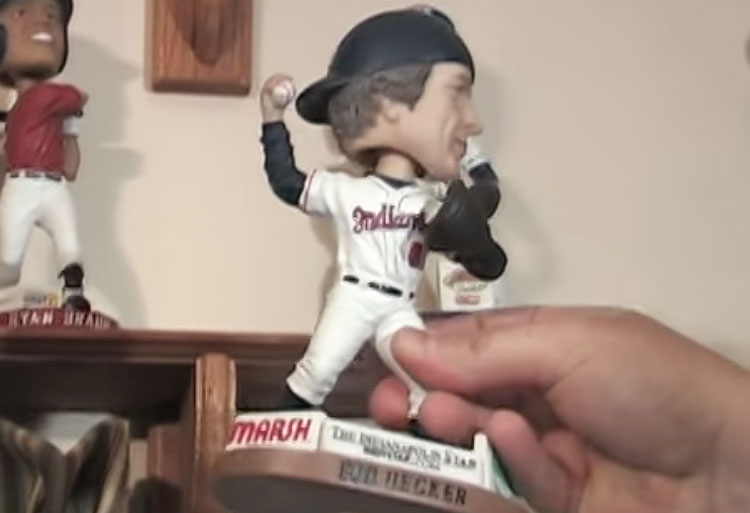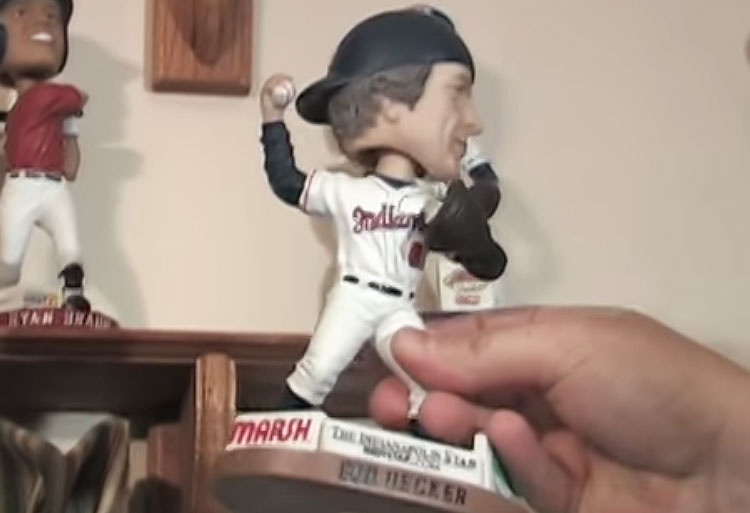 2010
Bob Uecker Admirals Bobblehead
Uecker's commercials for the Milwaukee Admirals are almost as legendary as his spots for the Brewers. (His plugs for Usinger's are pretty weird/memorable, too.) Straight outta those old Admirals ads is this Uecker bobblehead decked out in Mr. Baseball's signature plaid sportcoat. Someone get Carson on the horn!
2012
Bob Uecker Catcher Bobblehead
Here's Ueck in his full catchers getup from his days as a player for the Milwaukee Braves. It also doubles as a reminder that his 1982 autobiography, Catcher In The Wry, is a must-read. (Primaries are August 14, by the way.)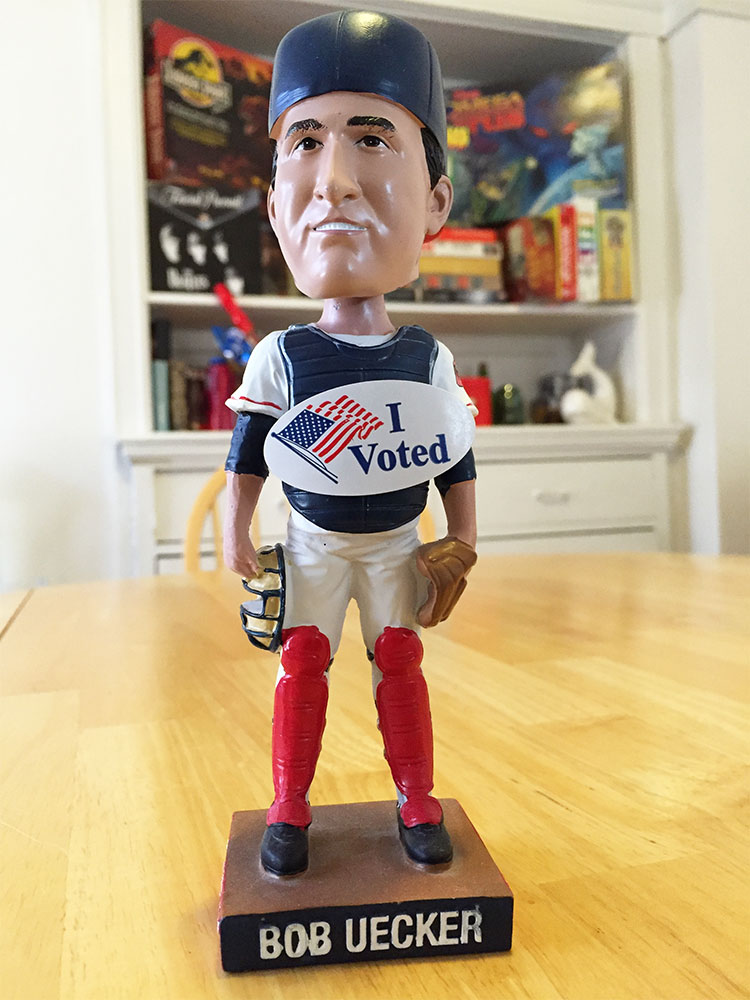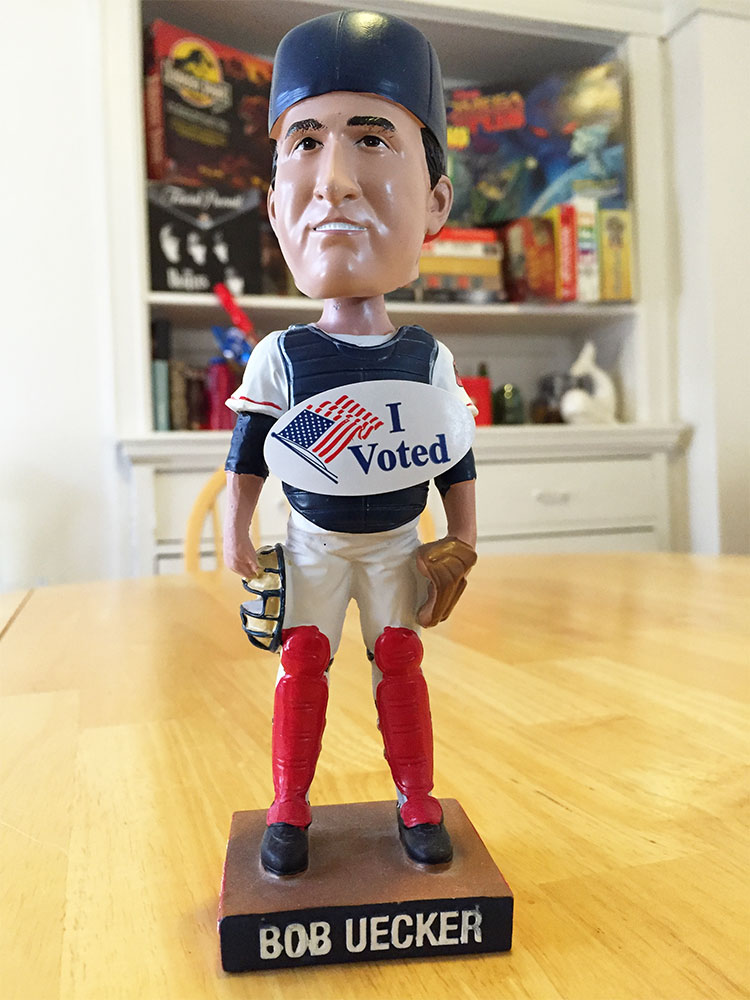 2014
Bob Uecker First Pitch Bobblehead
The long-running friendship (don't call it a "bromance") between Uecker and former Brewers superstar Robin Yount is a thing to behold. Remember when Uecker would give him endless shit about Robinade? Anyway, the two buddies are also part owners of the Mequon-based Lakeshore Chinooks, and this bobble commemorates the collegiate team's first ceremonial pitch (from Uecker to Yount) on June 4, 2012.
2015
Bob Uecker Last Row Bobblehead; Bob Uecker Talking Harry Doyle Bobblehead
Miller Park is home to not one, but two Bob Uecker statues. A bronze visage stands outside the stadium, while a reclining Ueck can be found in the last row of section 422 in the upper deck. The 2015 Last Row Bobblehead pays tribute to the second of those statues—which, in turn, pays tribute to Uecker's "I must be in the front row!" ads from the '70s and '80s. The Talking Harry Doyle Bobblehead, meanwhile, was a special, 4,000-run giveaway at 2015's "Major League Night." (That's all they made? Four-thousand goddamn bobbleheads?)
2016
Bob Uecker Talking Alarm Clock; Bob Uecker Fishing Bobblehead
"Get up…get up…get outta bed! It's late! Hurry up! Go! And turn me off," cries the Bob Uecker Talking Alarm Clock, which is probably the pinnacle of human ingenuity and imagination. This is where the wave finally broke and rolled back, folks. The Fishing Bobblehead is no slouch, either; it was given away by the Chinooks as part of a Uecker/Yount/Gill (the Chinooks mascot) "gone fishin'" set.
2017
Bob Uecker Magic 8-Ball; Bob Uecker Tailgating Bobblehead
Similar to 2016, 2017 saw the release of an incredible talking Ueck gadget courtesy of the Brewers ("Odds worse than my batting average,") and a one-in-a-set trinket from the Chinooks. The former is an oft-consulted oracle that has some thoughts about the changing face of Milwaukee's East Side; the latter includes Gorman Thomas holding a hot dog.