Even though it's now March, it's still technically winter. In Wisconsin. During a pandemic. Hell, even in "normal times," winter is a long, arduous, dark, isolated, uncomfortable, and boring period of time that has the uncanny ability to take an emotional toll on even the most upbeat Wisconsinite among us and make us wonder why we live here. And without things like group gatherings, the occasional concert, and seasonal events like Mitten Fest to help break up the monotony, it requires even more resolve and creativity to get through winter in one piece.
In addition to throwing myself into recording interviews, shipping shirts, writing, and all the other stuff required to keep this business barely afloat as we wait for this nightmare to end, I've kept busy this winter by watching movies (my current tally stands at FIFTY so far in 2021, which I know is extremely sad), working out in an effort to undo the damage of nine-plus months of coping via food and alcohol in 2020, shoveling again and again (and again), and doing whatever other activity I can safely and responsibly do to break up the winter in any way. After recently partaking in some winter disc golf, I wanted to take advantage of another wintertime amenity Milwaukee County Parks offers.
Last year, the COVID-19 crisis caused South Shore Terrace—the beer garden at South Shore Park—to delay the start of its summer season until July 6. With new safety protocols and dozens more tables spread out far beyond the vicinity of South Shore Pavilion, the beer garden managed to operate responsibly until its season ended on November 9. The conclusion was short-lived, however, as the Terrace debuted a resourceful new wintertime offering the following month.
On December 17, South Shore Terrace opened its Winter Chalets. The private shelters offer people a way to enjoy the beer garden atmosphere from the comfort of a heated and socially distant shelter. Once the Packers finished their annual tradition of losing the NFC championship game to free up my Sundays and after the extreme February cold snap was over, I made plans to fight the winter blues by spending part of an afternoon in one of these chalets.
Winter Chalets can ONLY be booked in advance either online or over the phone (414-257-5616). No walk-ups are permitted. The 90-minute blocks are available to groups of up to six people from the same household or two people from different households. The chalets, 10 in total, are open from Thursday evening through Sunday night.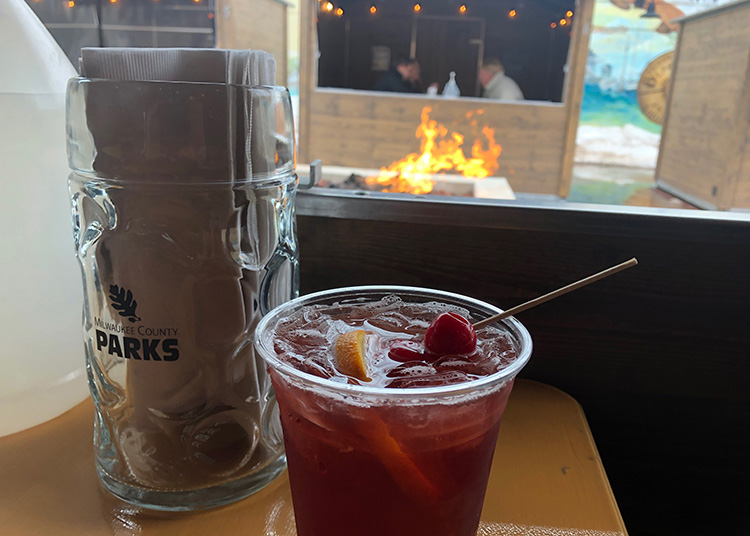 I booked one for me and my girlfriend (the only other member of my household and the only person in my so-called "bubble") this past Sunday afternoon. With a printed receipt for the $75 reservation—which includes a food and drink credit up to $50—we checked in at the entrance of the Terrace and were direct to Chalet 4, our own private beer garden for the next hour and a half. Though the structure (the equivalent of a nice, modernized ice shanty or shed I'd estimate was 12′ x 12′ in size) was ours, we did have a server check in on us occasionally from the window outside the chalet, almost always at a distance of more than six feet. She wore a mask. We wore masks when interacting with her as well, as both basic human decency suggests and Winter Chalet rules requested.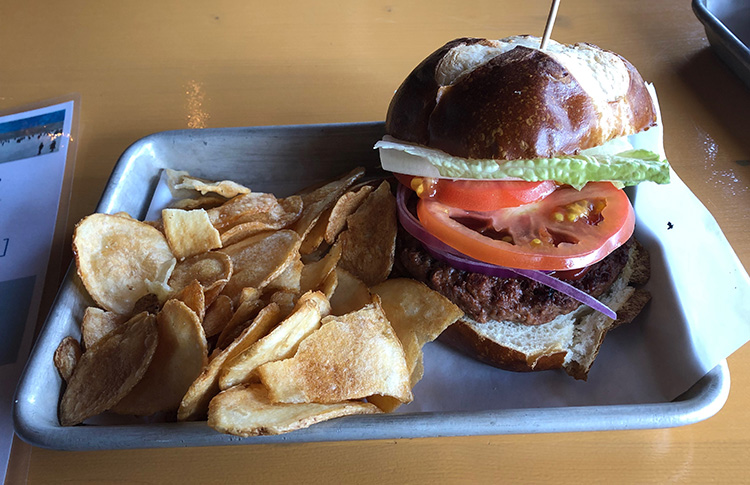 We both started the experience with a Brandy Old Fashioned, which went down quickly in the toasty fireside structure and was a nice complement to the music in the beer garden and the rare conversation taking place outside our residence for a change. The next time our server came past, I got an a beer (and Atwater Porter) and the Ultimate Burger (a delicious veggie burger with spicy ketchup, onion, tomato, and lettuce on a pretzel bun) with a side of house chips.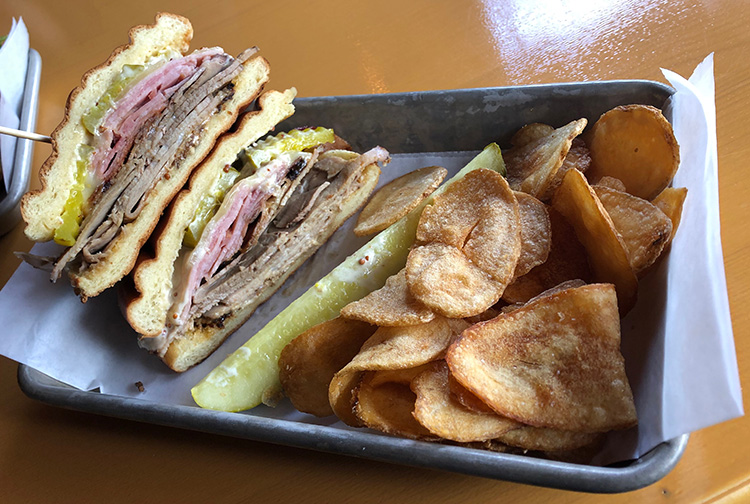 My better half landed elsewhere on the food menu, getting a Terrace Cuban sandwich that was even better than my burger, along with some chips.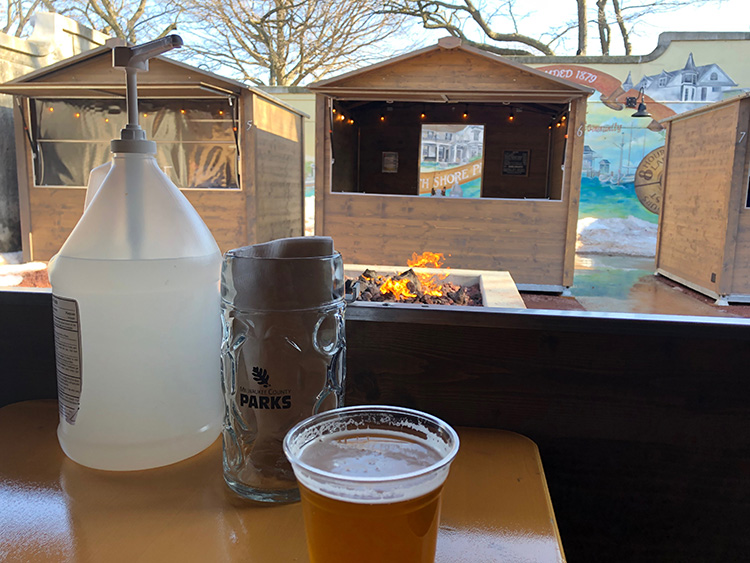 Though I could have stayed all day, I honestly felt as if 90 minutes was a more-than-acceptable block of time to relax, have fun, eat a meal at a natural pace, and get a couple drinks…or three drinks in my case. As someone who has completely shifted to carryout and delivery since mid-March of last year, it was great to have that momentary hint of normalcy, to be kinda-sorta be outside for an extended time in winter without needing to have a jacket on, and to support Milwaukee County Parks in the process.
Winter is ending soon. Days will continue to get warmer. There are better things on the horizon…or at least reason to believe there might be. And as I wait for all of that to happen, I was happy to spend part of a day in a chalet and soak in some summer beer garden vibes in the dead of winter.
There are only three more weeks to reserve Winter Chalet spots, so if you need a winter pick-me-up, you know what to do.