Despite being around since 1985 (and formally taking root in Walker's Point in 1997), Latino Arts Inc. is only becoming more relevant with age. Recent seasons have brought Grammy-winning musicians and the work of respected contemporary artists to the space, which also makes sure to showcase the talents of area creatives on its walls and on its stage.
Latino Arts released its fall schedule of performances yesterday. This segment of the cultural and artistic hub's 37th year looks to be equally impressive, including a solo exhibit by Richie Morales, a Day Of The Dead concert with Son Rompe Pera, interactive discussions and art activities, and a performance from Milwaukee's own Carlos Adames Group. Here's Latino Arts' full schedule of autumn events.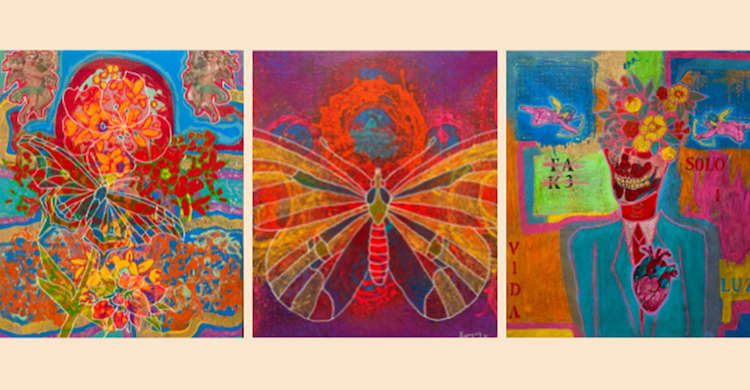 Los Efectos del Tiempo en la Memoria by Richie Morales
September 2 to October 7
"Solo Exhibit by Richie Morales: The Effects of Time on Memory."
Noche de Gala 2022: Passport to the Arts
October 1
"Let your senses explore a journey through Latin America as we celebrate Hispanic Heritage Month with an elegant evening of Latin cuisine, art, music and dancing to benefit the Latino Arts Strings Program! Journey to Latin America by trying a tequila tasting, enjoying delicious tapas, and dancing to the beat of Salsa, Cumbia and more with N'Samble Latino! The evening is full of authentic cultural experiences that will take you away for the night!  Support our community of young artists and you may even win a custom-themed raffle basket, one of our featured auction items, or perhaps, both!"
Pinto Con Tinto: Felted Sugar Skulls
October 20
"Celebrate Day of the Dead by enjoying fresh tapas, delicious wine, and crafting a felted sugar skull! Join us as put a twist on the Mexican folk art tradition of Sugar Skull by trying your hands at FELTING and creating your very on 2-D felted sugar skull."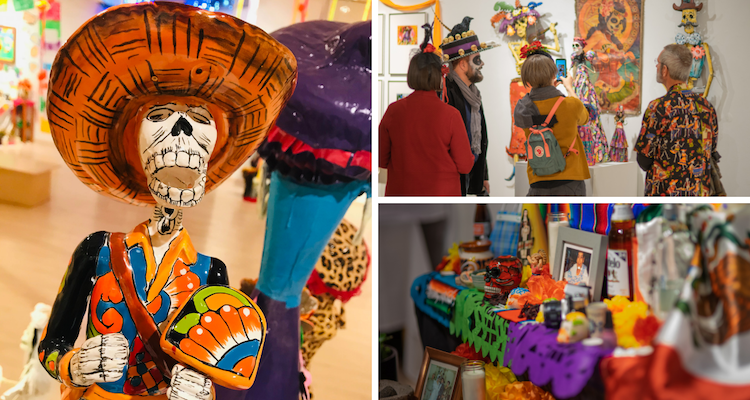 Day of the Dead Ofrendas
October 20 to November 18
"Our Día de Los Muertos Ofrendas exhibit will feature installations from The Mexican Consulate, University School of Milwaukee and other schools and local artists!"
Day Of The Dead Concert: Son Rompe Pera
October 28
"Born and raised in the outskirts of Mexico City, the Gama brothers are keeping the legacy of Marimba Music strong through their latest project, Son Rompe Pera! Their fresh and forward take on the Marimba genre pushes its limits into the 21st century with a garage band/ punk vibe that is planted in 21st-century music mixing urban sounds with cutting edge cumbia rhythms and beats."
Lunch & Learn: From Miquiztil to Vita Aeterna
November 4
"As part of our Lunch and Learn series, Latino Arts invites you to join the conversation as we discuss Dia de Los Muertos traditions in Mexico and Central America. Our expert panel will explaining elements of syncretism that have contributed to the fusion of cultures throughout the celebration's evolution that has expanded hundreds of years. In-person tickets are $10 and include a light lunch."
Entre Ayer y el Adonde, La Magica de Macondo
December 2 to February 17
"Between Yesterday and Where, The Magic of Macondo is an exploration of the idea that personal identity that can occupy a physical or figurative space informed by cultural heritage and external forces. Artists participating in this exhibition are part of the Macondo collective that shares the idea that place of origin is a duality between geography and cultural heritage. And it spreads with the exodus of individuals on its way through life and the world. In other words, the mythical village that Gabriel Garcia Marquez created in the pages of 100 Years of Solitude is a universal village shared in the collective Latin American legacy that exists in our cultural practices and lived experiences beyond the geographical location of our birth.
Carlos Adames Group Concert
December 9
"The Milwaukee-based Carlos Adames Group follows in the footsteps of great Latin Jazz innovators, combining both traditional and modern Latin rhythms with dynamic jazz harmonies to create an exciting new sound. Panamanian-born Carlos Adames leads the group, drawing from his vast knowledge of world rhythms, demonstrated both in his compositions and performance. A talent on the congas, bata, and drum set, Adames has played all over North and Central America dazzling audiences with his explosive solos and intricate patterns!"
(All descriptions come courtesy of a Latino Arts press release)