Today is Wisconsin's birthday. Yes, on the 29th day of May way back in 1848, the land that was previously in the Northwest Territory (and briefly part of Massachusetts for some reason) became the 30th state admitted into the union.
Exactly 173 years later, it's a little more difficult to celebrate Wisconsin than it used to be. But instead of focusing on negative things—such as the financial hardship and national shame our petty, vindictive state legislature and a conspiracy-spreading senator are bringing to Wisconsin these days, for example—we'll shine a light on just one of the many things that makes the state special…its flag!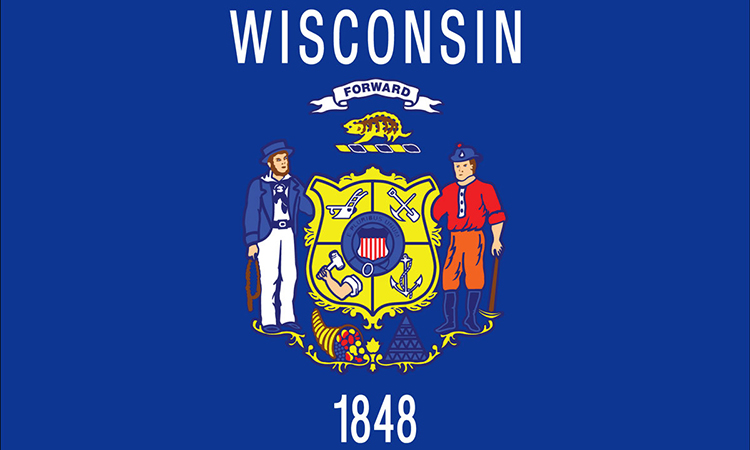 Much like the awesome official flag of the state's biggest and best city (that's Milwaukee, for those of you scoring at home), the Wisconsin flag has a lot going on. It features the name of the state on it, which is helpful, and it also has the year Wisconsin achieved statehood present. You'll also see a badger (the state animal) and the word "Forward" (the state motto). There's a miner and another guy (a sailor?) flanking an official-looking seal with stuff that's symbolic of the Wisconsin's farming, mining, nautical, and manufacturing identity at the time of statehood: a plow, mining equipment, an anchor, and a disembodied arm clutching a hammer.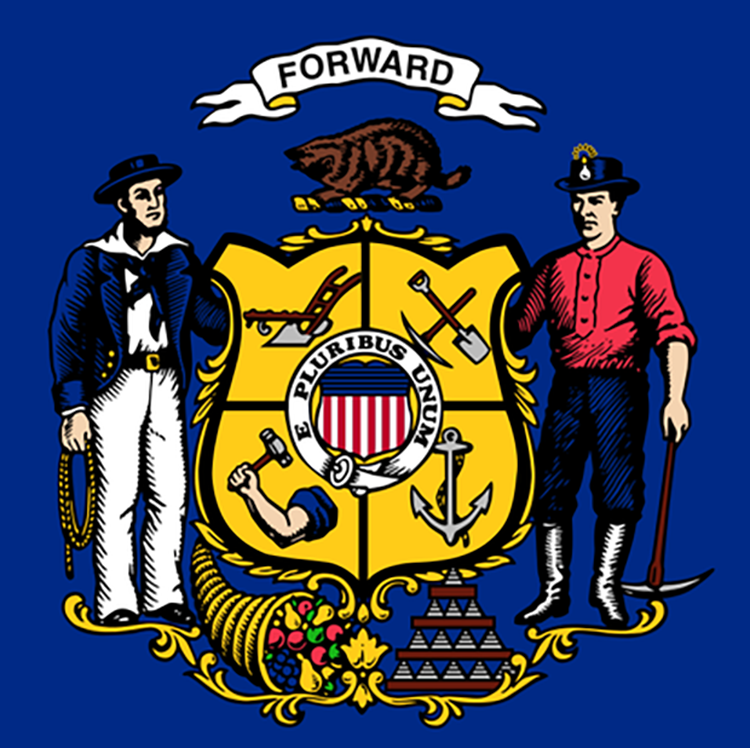 Below that seal, you can see a triangle that's apparently "a pyramid stack of 13 lead ingots" to nod to the state's then-reputation as a mining hub. Directly beside that sits a cornucopia (or a "Horn Of Plenty") to help display the territory's agricultural riches. The cornucopia is straight-up packed with fruit. Strangely, the types of fruit appear to differ on a flag-to-flag basis. Notice how the one you see directly above doesn't match the other versions in the article?
In 2019, Matt Blessing (the director of the Wisconsin Historical Society's Division of Library, Archives and Museum Collections) broke down everything on the state's admittedly-quite-busy flag with Wisconsin Public Radio. Of course, the fruit was referenced.
"The cornucopia is central to Wisconsin's agricultural history. Overflowing out of that cornucopia you have grapes, apples and what look like oranges," Blessing told WPR. "Now I don't think oranges have ever grown in Wisconsin; so that might be something that needs to be corrected."
Other flag versions—whether alternate versions or the result of updates by some designers—seem to have pears, as well as both green apples and red apples. Rather than getting into a heated debate on what the "real" fruits are in Wisconsin's horn of plenty or draw attention to the strange decision to omit cranberries (the state's largest fruit export) from the flag, we'll just list AND RANK every type of fruit we've ever seen on a Wisconsin flag. Here you go!
5. Green Apples
4. Grapes
3. Oranges
2. Red Apples
1. Pears

Happy birthday, Wisconsin! You don't look a day past 165. Though it's a very complicated relationship right now, we still love you. Hopefully there are happier, better, and more fruitful days ahead.