For the past eight years, Burnhearts has curated a winning wintry mix of live music, rare and delicious craft beer, tasty food and barrel-aged cocktails, locally-made goods, and charity that all came together outdoors to form "Mitten Fest." Last February's installment was one of the biggest and best iterations the Bay View bar has ever hosted, and it was also one of the last large-scale events to take place in Milwaukee before the COVID-19 crisis made its presence known in the city.
With a pandemic still in full swing, Mitten Fest—which would have taken place this coming Saturday in "normal" times—will not be happening. Since Milwaukee's favorite winter party won't be gracing the city streets this weekend, we decided to ask some folks who have played a big part in past Mitten Fests to share some of their favorite memories and talk about some things they're going to miss this year. We'll (hopefully) see you next February, Milwaukee.
Shane Hochstetler, Call Me Lightning
Easily one of the most memorable shows I've ever played! So glad we did it, but I'd never do it again. I kinda thought I was gonna die. I was soaked in sweat while playing, so my head was beet red and pounding. Friends said I looked like I was on fire with my so much steam coming from me. My body would stay kind of warm while playing, but between songs would instantly drop to freezing. My legs were so cold as I sweat through my pants—gross!—and I remember them feeling stiff as they froze to me. I've never felt three different extreme temperatures run through my entire body at the same time. It took a couple days to feel normal after that show. All that said, it was a fucking blast! But yeah…never again.
Mike McLaughlin, Beechwood Sales & Service On-Premise Sales Manager

There was the year that it was so cold all the beer lines froze and we had to keep running pitchers of warm water out to keep the beer flowing. There was the year that the padlock got stuck on the door to the beer caddy right before the start time and it had to be sawed off with an angle-grinder so kegs could be tapped and beer could be poured. There was the year I accidentally locked two reps in the beer caddy for 45 minutes, not realizing until I went into the caddy to change kegs and no one could hear them knocking and yelling over the music and crowd noise. There was the year it really took off from the few hundred that attended in the past to a few thousand and we ran out of beer at four different points throughout the day. I'm really going to miss it this year.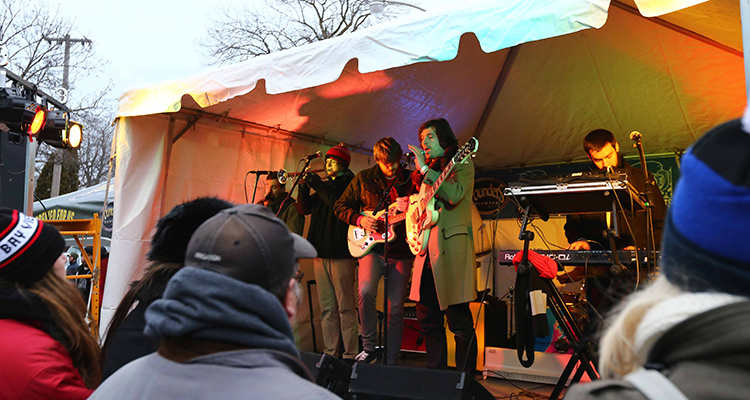 Andy Kosanke, Paper Holland
My yearly Mitten Fest schedule is pretty consistent: put on two pairs of socks, watch some bands, have a couple brandy old fashioneds, pop into Vanguard for some warmth and food, and then head back for more music. The year that we performed, Chris Schulist was DJing and I remember us all eating a ton of his brandy gummy bears, which was a nice nod to my normal Mitten Fest routine. That year was exceptionally cold and our horn players were having a lot of trouble keeping their instruments in tune, but they powered through. About halfway through our set, I bent down to change a setting on a pedal and ripped a hole straight across the knee of my pants, which made things a bit more chilly. Cold weather aside, we had a blast and would do it again in a heartbeat.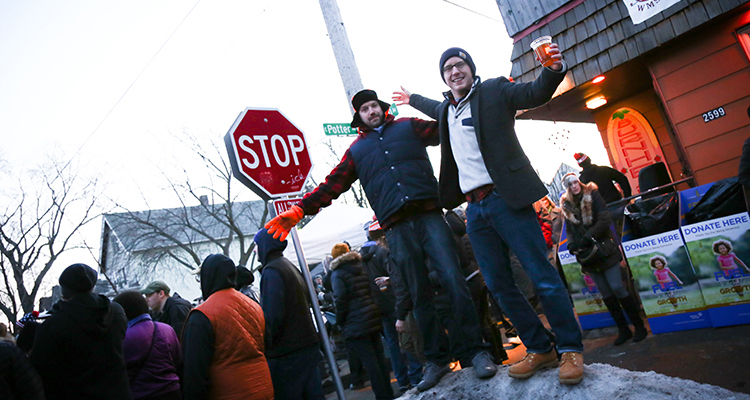 Sid McCain, WMSE and Mitten Fest Emcee
I love Mitten Fest! Here's one of my favorite moments. In 2017–I think by far the coldest of all Mitten Fests—Chris Porterfield is on the bill. Now anyone who listens to my show knows I love Chris Porterfield. So I am all giddy that I get to introduce him, but I am freezing because, once again, I've chosen my footwear poorly. So hopping from foot to foot. I pop on stage and yell, "Ladies and gentlemen, Chris Porterfield of Field Report." I leap off the stage, turn around to watch Chris and he's playing a Dobro Guitar–a guitar made of metal–in the freezing cold, thus making me feel like a complete baby for complaining about my frozen toes. Chris Schulist also kills it every year on DJ decks.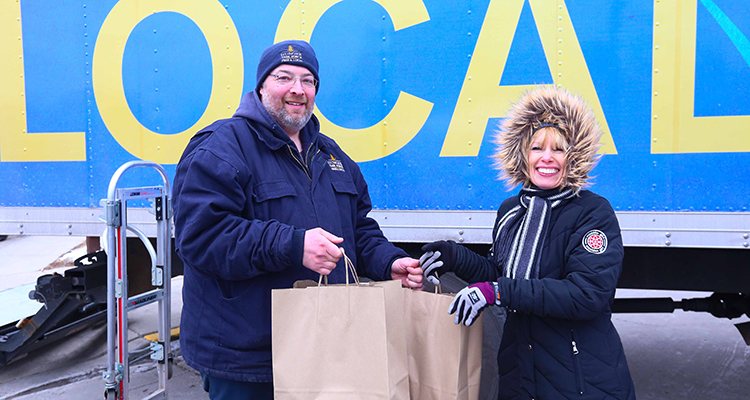 Michael Jonas, Hunger Task Force Food Bank Director
BJ and Jess are just the best! Incredible Burnhearts staff members are like a family! Positive vibe of the community who participate. People's thoughtfulness—newly purchased children's hat and mittens; handmade mittens and hats—and generosity. Seeing so many friends there! Great food & drink options! Cool stuff to buy! So many dogs! Hunger Task Force volunteers love working this event!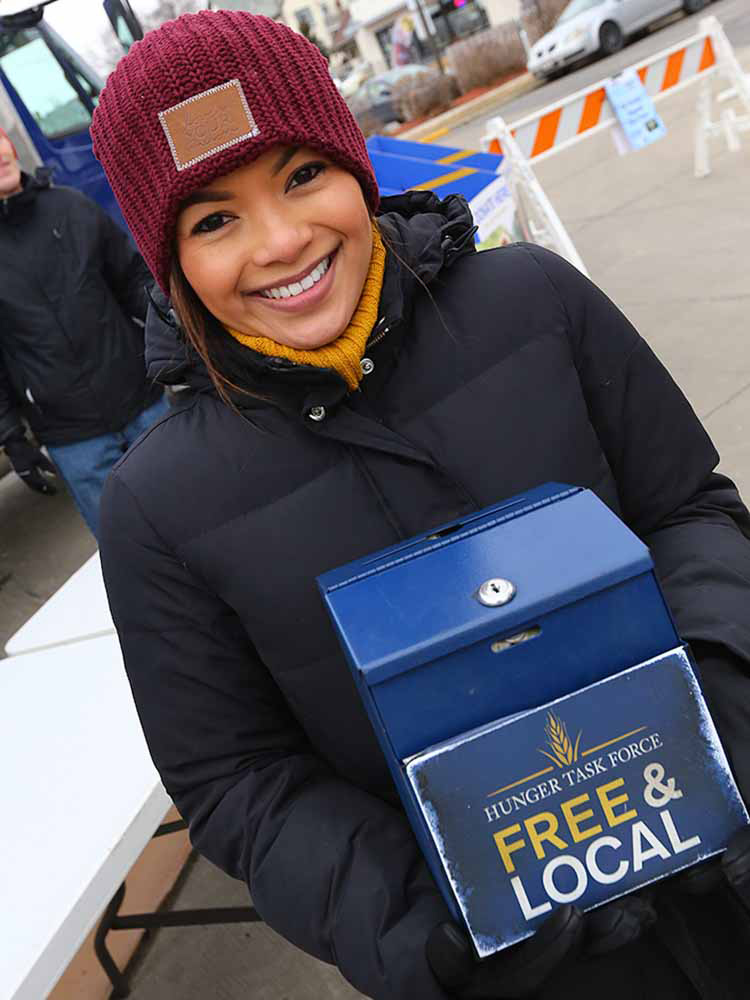 One of the first years of the event, I received a frantic call at Hunger Task Force on the Tuesday morning following Mitten Fest from a young woman who had donated one of her husband's overcoats, only to find that his passport was still in the coat and he had to travel for business on the next night. The prior morning, all the clothing had been delivered to four or five pantry sites who operate clothing banks. I notified all the site managers, describing the coat and the search began. A few hours later, I received a call from Miss Emma at The Helping Place, who informed me that a gentleman who had been trying on the coat for size discovered the passport in the breast pocket. When I phoned the young woman, she couldn't believe we had found it. In fact, we couldn't believe it either! The couple went to The Helping Place that evening and picked up the passport and the husband made his flight. I believe the couple made a cash donation to Miss Emma for her assistance. All's well that ends well.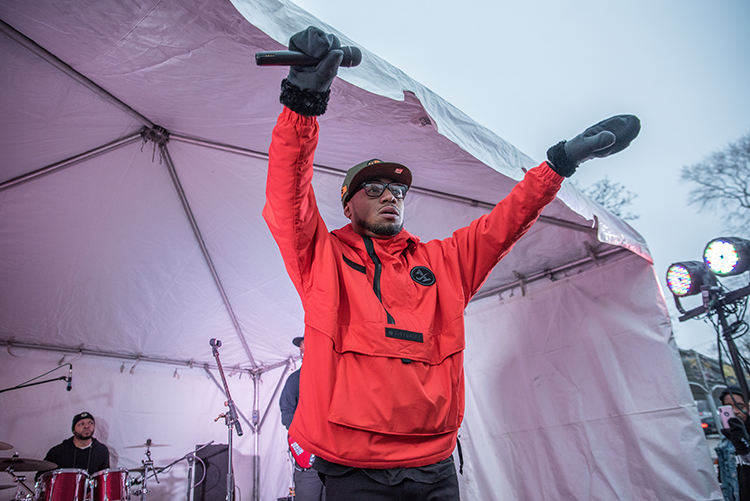 Vincent Van Great, Rapper and Producer
Back in 2019, I recall the days and weeks prior to Mitten Fest being extremely cold. It was cold like below zero cold for multiple days in a row. But for some reason, the day of Mitten Fest it wasn't as cold as pervious days. Still cold as shit but not below zero cold. It was one of the nicer winter days around that time. This was my first time performing outdoors in the winter time. Abby Jeanne and I were the last two acts of the day, so the sun wasn't bringing any extra heat, but the awesome Mitten Fest staff had the stage nice and heated for the performers, so that was a major plus.
That day being the eve of my February 3 birthday, the highlight of the night for me was that packed crowd singing happy birthday to me during my set. Another big highlight for me was the crowd energy and participation. Performing outdoors in the middle of winter, but the energy was as if I was performing at a packed festival in the summer. The crowd even yelled encore at the end of my set and you know the band and I gave them an extra song on the encore note. I Definitely had a few shots of bourbon and an old fashioned or three after my set to warm back up. It was definitely a Mitten Fest to remember for me. My band Ninja Sauce and I had a great time performing and being part of the action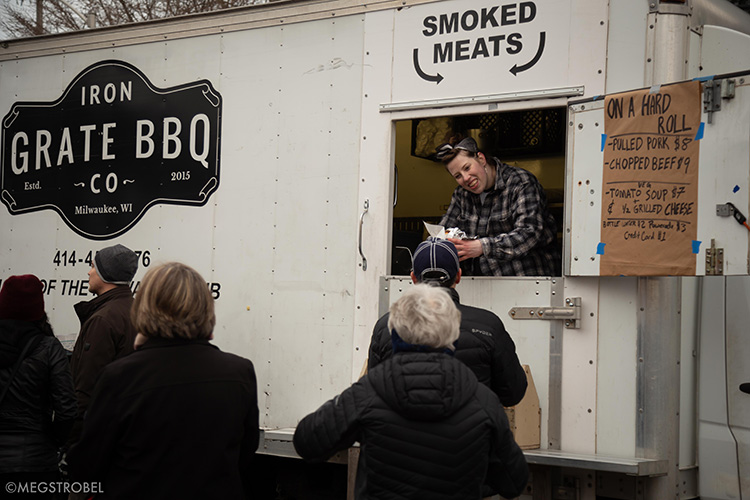 Aaron Patin, Iron Grate BBQ Co. and Mitten Fest Food Vendor
Do good things and good people will come. Mitten Fest explains Milwaukee on so many levels. First and foremost, the partnership with Hunger Task Force made possible by the support and following and a very important family and neighborhood bar. It brings together a city longing for the weather to snap, but embracing what we've all signed up for. It's an event that slays the winter blues. Mitten Fest brings community, charity, small business support, local producers, local music, and cultural influences at a time when we all need it. I for one cannot wait to toast you all again soon.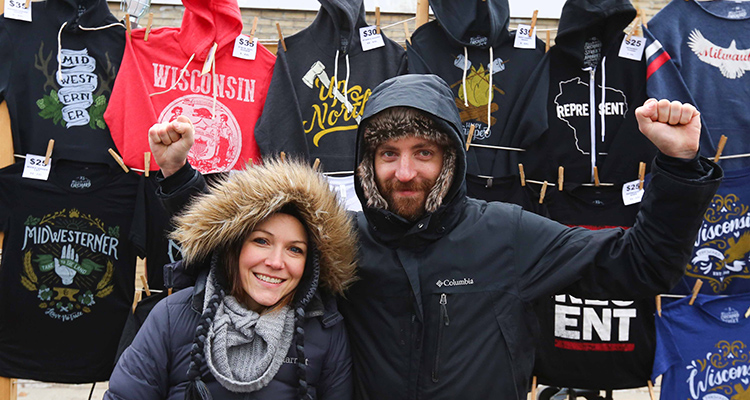 Cortney Heimerl, Mitten Fest Craft Vendor Organizer 

I have to say, I love Mitten Fest. If you look at my Facebook timeline, you can find a yearly post where I declare the best day of the year has arrived. And it's true. BJ and Jess Seidel have the ability to bring the best people together—they always have! But Mitten Fest, in particular, brings the best people together doing what they love. The whole day vibrates from sampling the best craft beers or bourbon barrel-aged old fashioneds, a handful of some of the best food trucks in the city, an awesome local craft selection, and there's always an amazing music lineup. Anyway, I'm glad BJ asked me to be a part of organizing all those years ago and I'm glad we all trusted in his vision. It really is an amazing day.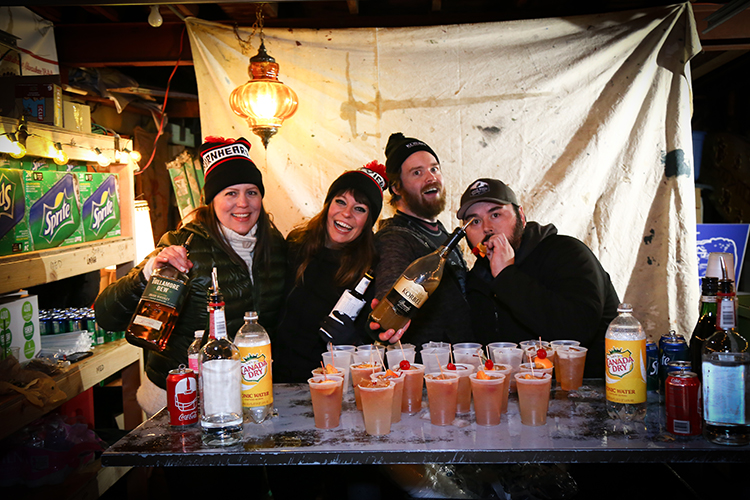 Ryan Findlay, Central Waters Sales Manager
Mitten Fest is hands down one of my favorite days of the year. I mean, why wouldn't it be? Great beer and cocktails, awesome food, killer music. What's not to love? I'm humbled ever year that Central Waters gets to be part of such an amazing event. But above all, a couple things stand out to me year after year. First, how cool it is to see the community come together to make it all happen. It's obviously a huge day for Burnhearts, but it's also generally one of the busiest—if not the busiest—day of the year for many other businesses in the neighborhood. I live in Bay View, so it's great to see the neighborhood-wide support. The other is all the money and donations collected for Hunger Task Force. Those folks do such amazing work and I think we should all strive to give more to places like that when we can.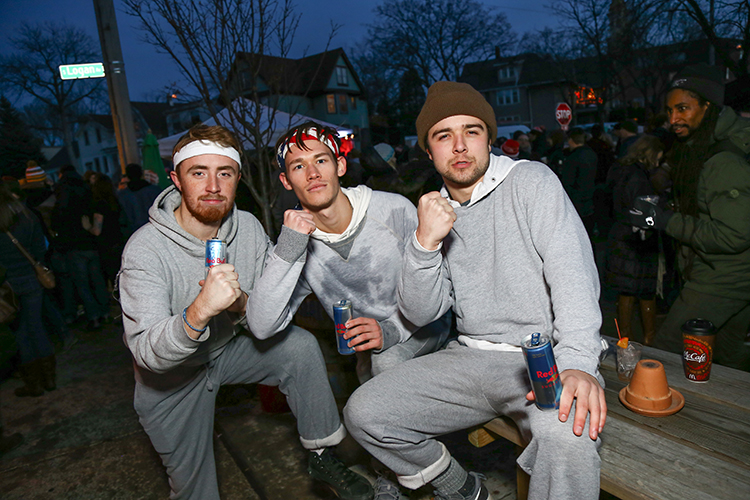 Chris Schulist, Mitten Fest DJ
Mitten Fest is my favorite festival of the year because nothing says Wisconsin like partying outside in the snow and freezing temps. I've DJed every single one and had a fantastic time at all of them. I love DJing for Mitten Fest because I can play stuff you wouldn't normally hear at a street fest. It's really fun playing Pissed Jeans or Freddie Gibbs super loud on the street. I remember last year I played Sleep's "Marijuananaut's Theme" in the afternoon and these toddlers were headbanging and feeling it. It's also fun blasting local bands to the enormous crowd. But honestly, my favorite part of the day is when I get to close out the party.
At the end of the night, people are brandy-sloshed, cold, and ready to go bananas. So the last hour is me being a sellout wedding-style DJ trying to make drunk girl heads explode by playing Whitney or Beyonce. And the minute I do, usually a bunch of people freak out, jump on the stage and Jess Seidel of Burnhearts has to politely ask them to get off so they don't kill themselves. Jess really ends up babysitting the dance party a lot. But It really is my favorite watching everyone lose their minds in the street and in the snow. It's tradition that I close out the night with Katy Perry's "Firework" and last year it was snowing hard and the crowd threw their hands up and went apeshit. It was the last place I DJed in public aside from being on WMSE. No Mitten Fest this year is truly heartbreaking and I really hope I will be DJing the 2022 Mitten Fest. Love to BJ and Jess and everyone at Burnhearts! I'm gonna miss it so much.
BJ Seidel, Burnhearts Co-Owner and Mitten Fest Founder
I think my favorite moment was during the middle of the very first Mitten Fest, looking out at a sea of people having fun in the cold, slushy weather, and being blown away that the crazy idea of a winter street party actually worked. Until that moment, we truly believed only a few faithful customers would brave the harsh weather, but then, all of a sudden, the whole neighborhood was buzzing with life in the dead of winter.
There are many people who are important in making Mitten Fest a successful reality, but Mike McLaughlin from Beechwood Sales & Service and Anello Mollica from Central Waters have both been there since day one and have always gone above and beyond, lending not only a hand during the festival itself, but emotional and logistical support before and afterwards. One memory I will always cherish happened during an early Mitten Fest, we ran out of ice in the middle of the day and Anello and I jumped in my truck and emptied out the Goodkind ice bin before hitting all the neighborhood bagged ice stations to stock back up. As we drove around, we were in pure amazement of how many cars and people were out and headed to our humble, little, packed corner of the world to party in the icy cold.
I think what I'll miss most this year is the "last call" DJ spin when Chris Schulist plays his Katy Perry jam and hundreds of hardcore Mitten Festers go crazy in the dark, cold street. It happens every year and makes it feel like all the hard we put into organizing the event pays for itself in those last few minutes of pure Mitten Fest bliss. That energy gives us a reason to return every year. Big thanks to all the dedicated festival staff, courteous attendees, our corporate sponsors and especially our local media sponsors Milwaukee Record and WMSE for their continued support. SEE YOU NEXT YEAR!