What can we say about Bob Uecker that we haven't said 8,000 times before? The Milwaukee Brewers radio broadcaster is a living legend, a national treasure, an absolute delight. He's been behind the Brewers mic for 51 years (!). He's been in all three Major League movies. He was on Mr. Belvedere. He was flummoxed by a furry convention. He's the best.
And now he has his own day! Yes, Wisconsin Governor Tony Evers and Milwaukee Mayor Tom Barrett have declared Saturday, September 25, 2021 to be Bob Uecker Day throughout the State of Wisconsin and the City of Milwaukee, respectively. The proclamations coincide with a celebration of Uecker's career at Saturday's Brewers home game. Here are the details of that celebration, courtesy of the Brewers:
Uecker's Anniversary will be celebrated before the Saturday, Sept. 25 game with a tribute video and a ceremonial first pitch, tossed to Brewers Hall of Famer Robin Yount. Special messages will appear from Uecker's friends throughout the game on the stadium video board, and the field will include special décor honoring the legend.

Fans purchasing the WWE Night theme night package presented by Chevrolet on that Saturday will receive a limited-edition WWE® Bob Uecker Bobblehead. On Sunday, Sept. 26, fans can further enjoy highlights of some of Ueck's best calls with the Bob Uecker Talking Bobblehead, available to the first 35,000 ticketed fans, courtesy of Newsradio 620 WTMJ.
And here are the proclamations. We're not sure, but these may be the first gubernatorial and mayoral proclamations in history to contain the phrase "iconic 'Miller Lite All Stars' advertising campaign." God bless you, Bob.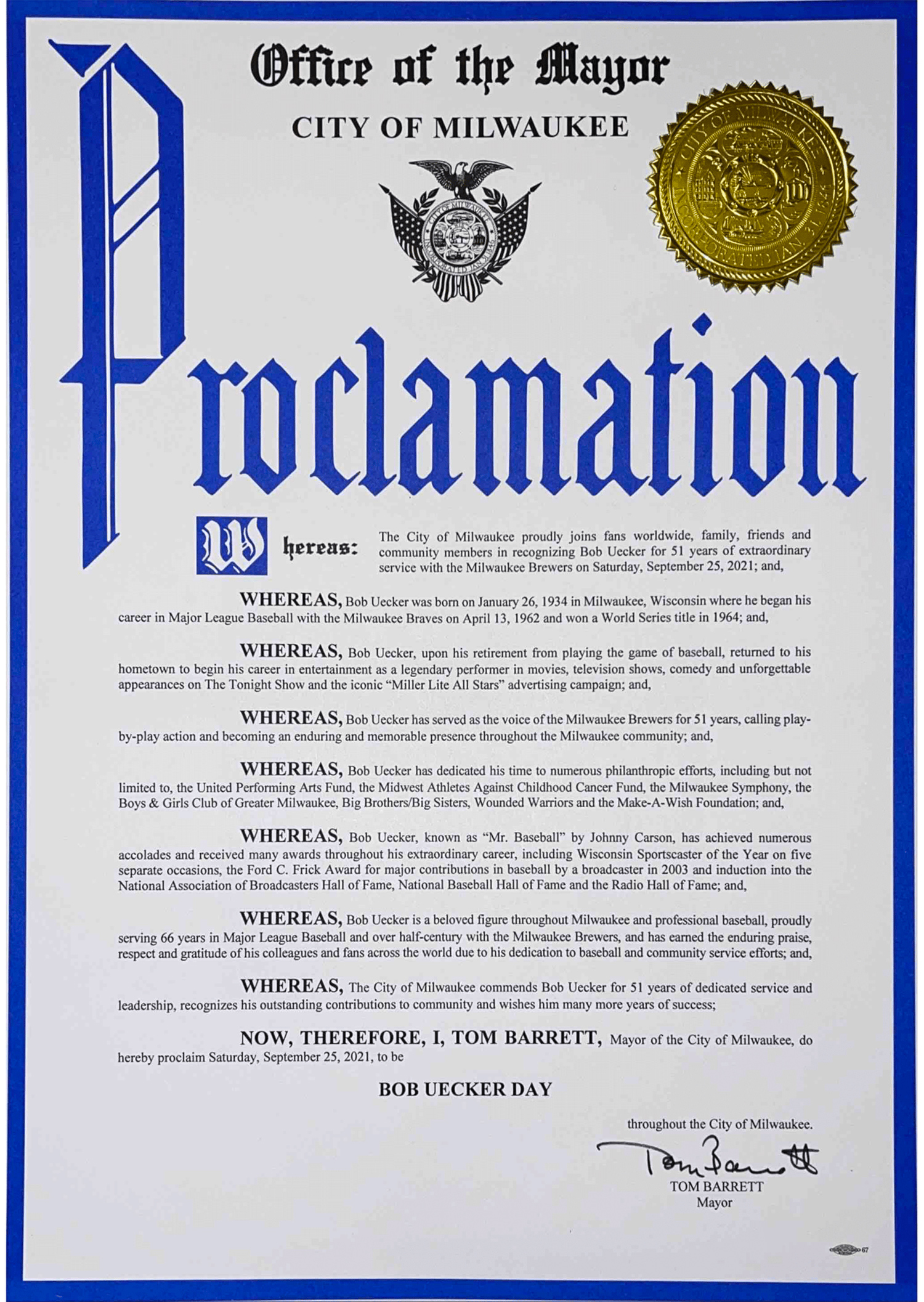 Exclusive articles, podcasts, and more. Support Milwaukee Record on Patreon.
---
RELATED ARTICLES
• A Milwaukee Day ode to Bob Uecker
• There's a petition to replace Joe Buck with Bob Uecker for the World Series broadcasts
• Let's watch Bob Uecker sing "Take Bob Uecker Out To The Ballgame" for 10 minutes
• Exploring the kid-friendly, animated voice-over work of Bob Uecker
• A brief history of Bob Uecker bobbleheads and all-fan giveaways
• Bob Uecker survived a deadly spider bite and he has pictures of the open wound on his phone
• Bob Uecker once wrecked his buddy's new car, and it was glorious
• Remembering the time Bob Uecker crushed an old man's pitch for his first homer
• The man who made mediocrity famous: Bob Uecker's 'Catcher In The Wry' still delights after 35 years
• Watch Bob Uecker talk drunk driving, "falsies," on 1976 episode of 'Johnny Carson'
• We uploaded some Bob Uecker photos to Google's "Deep Dream" network