Everyone knows the story of how Milwaukee's most famous folk/punk/weirdo export Violent Femmes were "discovered" playing outside the Oriental Theatre by members of The Pretenders in 1981. So what would happen if the Femmes—Gordon Gano, Brian Ritchie, John Sparrow—came back to the Oriental in 2019? We now have the answer in the form of a new video for a new version of "I'm Nothing."
"I'm Nothing" originally appeared on the Femmes' 1994 album New Times (the first to not feature founding drummer Victor DeLorenzo). The new version appears on the band's 2019 album, Hotel Last Resort, which comes out tomorrow.
The video, meanwhile, features a cast of Milwaukee all-stars—hi, Amelinda, Tarik, Lex, Black Cat Alley, and more!—as well as skateboarder super-fan Stefan Janoski. (Janoski even has his own Femmes-inspired shoe.) It was shot in June while the band was in town for the "Cheers to Milwaukee" show. It was directed by Josh Adams of St. Francis-based company Mindpool. Neat!
Also, here's Gano in an old episode of The Adventures Of Pete And Pete: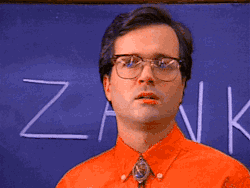 ---
RELATED STORIES
• Violent Femmes played a free "Cheers to Milwaukee" show at the Riverside and it was good
• The Killers, Violent Femmes, Fiserv Forum shine at first Fiserv Forum show
• In Defense Of: Violent Femmes
• Things we learned from Violent Femmes' Nerdist Podcast episode