In 2004, The Obsoletes released their one and only album. That record, Is This Progress?, is a collection of timeless tracks that straddle the line between alt-country and power-pop. A year after the Milwaukee- and Fox Cities-based trio—which featured current and former members of Limbeck, Yesterday's Kids, The Midwest Beat, The Benjamins, Screeching Weasel, Bash & Pop, and many more in its ranks—released their debut on CD via 1-4-5 Records, they decided to call it quits.
Last year, The Obsoletes marked the 15th anniversary of Is This Progress? by releasing a remastered version of the album, complete with a few unreleased demos and versions of songs that haven't been heard in years (if ever). Today, the band will embark on another first by making the album available on vinyl. The Is This Progress? LP will feature 12 of those remastered songs, along with new album art by Patrick Carrie of Limbeck.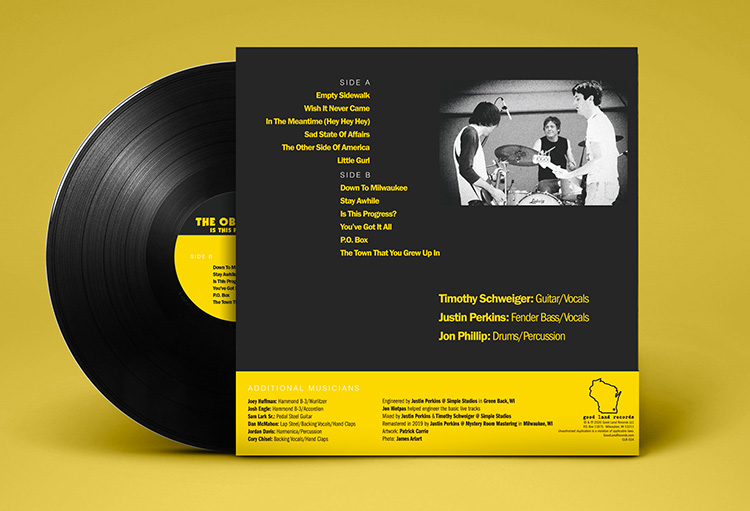 The LP is available for pre-order now on Obsoletes drummer Jon Phillip's Good Land Records label, with pressing limited to just 100 hand-numbered copies on black vinyl.
"Honestly, the biggest catalyst for this happening was, recently, I was driving my car and some songs from the record came up on shuffle. It really bummed me out that this record never saw the light of day on LP because it's one of my favorites to have ever been a part of recording," Phillip says. "For us recording and producing it ourselves at the ages of 22 and 23, I think it's a great achievement and we're really proud of how it came out sounding, even to this day."
This rare release is expected to ship out next spring. You can pre-order it here and listen to it below.