Wednesday marked the beginning of yet another Summerfest, the 49th iteration of a classic Milwaukee event that has evolved over the years to become what's accurately referred to as "The World's Largest Music Festival." By opening night's end, dozens of acts had performed, including legendary talents like Willie Nelson and "Weird Al" Yankovic, contemporary superstars like Selena Gomez, and even a few local acts. At least I assume everybody went on as scheduled. By the time live music was starting at Henry Maier Festival Park, I was already long gone. I'd seen everything I needed to. Or more accurately, I'd heard everything I needed to because there was nothing for me to see. The music I came to review was pre-recorded.
This would be the third consecutive year in which I kicked off my coverage of the massive music festival by eschewing anything live in favor of evaluating the first "Taped Music" block at JoJo's Martini Lounge. Formerly an amphitheater-adjacent performance space that played host to some of stand-up comedy's biggest names, the partially covered pavilion on the south end of the grounds now offers up a steady stream of cover bands and $11 spirits dispensed from vertical glass tubes. Before the cover songs come, though, all 11 days start with a one-hour helping of music. Though it wasn't my first radio-ready rodeo in the martini lounge, I'd actually learn a lot during my latest trip to the tent.
As usual, I made sure to arrive early in order to get my pick of the perfect spot amid the vast plain of plastic chairs and tables. There was a guy walking around with a mic and singing a Neil Diamond song, no doubt checking the levels for when it was time for a performer to take the stage. Figuring I had 20 minutes to kill, I opted to take a lap around the grounds to see what was new. After years of congestion-causing lines in the festival's main walkway, the Lakefront tent moved to a larger and more secluded spot that offers double the tap lines. A Leinie's kiosk took Lakefront's former spot. Thankfully, Rockstar was back on the grounds to hand out free energy drinks. For some reason, the gutter and shower vendors were back, too. For the first time ever, I seriously considered getting a foot massage from one of those electric barrel chairs.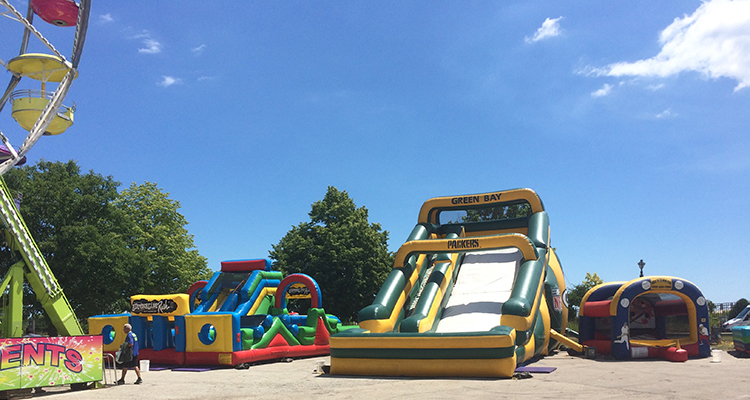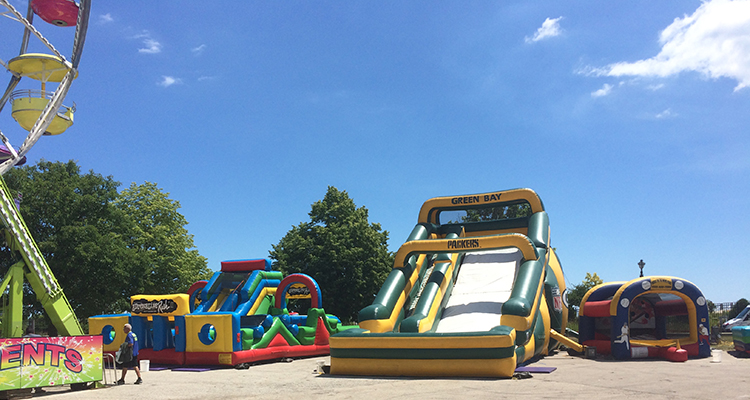 Oh, and the KNE New Music Stage was replaced with an inflatable slide. Don't get me wrong, I'm glad kids have a new place to play at Summerfest, but I'm really going to miss that stage. Next year, there should be a compromise that allows bands to play shows on the slide. I'd kill to see Braid play on that thing. However, there simply wasn't time to think about live music. I was on a mission. I walked back a couple minutes before noon, just in time to take a seat in the still-empty lounge and prepare for an hour of mixed and mastered music.
Noon – Silence
Evidently, the sound engineers didn't share my sense of urgency. I waited a couple minutes, then decided to christen nearby Louise's with that I was told was their first beer sale of Summerfest. Hero? Degenerate? The line was too thin to tell. By 12:08, I was back in the vicinity of JoJo's and there was still no music. I strolled over to Solo Pizza, which was well within earshot, to grab the first slice of its brand new Deep Fried Mac Bottom Pizza sold on the grounds this year. There was still no music to be heard. I–still the only non-employee in the tent–took a seat, set on serving out my self-imposed sentence no matter what I was (or was not) to hear.
12:20 – More silence
Confused, but strangely relieved to not hear music (knowing how the past two years went), I nursed my heady cup of IPA and struggled through the viscous 'Za-bomination I'd just spent $7.50 to acquire. All of a sudden, the silence was dashed when a guy behind the sound board said "Hey, JoJo!" I was shocked to learn the Wauwatosa martini magnate was actually a real person. I figured he was a fictional beverage impresario, like the Santa Claus of highballs or the Cupid of cocktails. My attention immediately went to the direction of JoJo, a stocky guy who looked to be in his 60s. He was shuffling over to the sound engineer to ask when the music would start, and motioning at me, the loner sipping beer just after 12 and wiping grease on his jeans. His one-man crowd. The subordinate assured JoJo he had two hours of Top 40 music loaded on his iPod. That seemed to please JoJo, who slowly shuffled back behind the bar. Then there was more silence.
12:24 – The last half of "Lover In The Night" by Toto
Finally, the Taped Music set started, in less-than-spectacular fashion. A Shazam inquiry revealed this was the last 90 seconds or so of Toto. I honestly didn't know they had a song that wasn't "Africa."
12:26 – "We Made It" by Toto
It turns out they have at least two songs that aren't "Africa." Talk about "Toto recall," am I right? "We Made It" is no "Africa," but, really, what is? At least it was narrowly more pleasurable than no music at all and proved to be great at masking the sound of synthetic cheese product quickly making its way through my system.
12:31 – "Renegades" by X Ambassadors
Though I was hoping for "Africa" by this point, the Toto motif was set aside for something more modern and tailored to be the soundtrack for a maple-flavored whiskey commercial or some shit.
12:35 – "Dancing On My Own" by Robyn
Man, Robyn has come a long way since her mid-'90s hit "Show Me Love." This driving and synth-y number was offset by sad-sack lyrics about the world-class talent being alone and passed over by someone. I wondered who would ever deny Robyn? I looked up her age and discovered she's six years older than I am. That doesn't matter. "She'd be Robyn the cradle," I thought, as I sat alone in a tent bumping a club banger by a woman I'd never meet. I finished my beer.
12:39 – "Run Away With Me" by Carly Rae Jepsen
I'll admit that I don't really know much by Carly Rae Jepsen. This song was fine. It was certainly better than the next song I'd hear.
12:43 – "How Deep Is Your Love" by Calvin Harris & Disciples
This video has more than 568 million views on YouTube. That's almost twice the population of the United States Of America. It's astounding I'd never heard it before. By this point, there were 15 other people sitting in the tent.
12:46 – "Good Day Sunshine (Remastered 2009)" by The Beatles
A cookie cutter dance song seemed like a strange lead-in for a Beatles cut, but there we were. Did JoJo approve this mix? Speaking of the mix, I'd overheard Taped Music came from an iTunes mix. So one of the 11 stages at one of the world's largest entertainment undertakings wasn't paying for the rights to the Taped Music? HOW DEEP DOES THIS STORY GO?! With Rockstar cocktails running $12 and tubes upon tubes of spirit sales in his future, surely JoJo can afford to pay musicians residuals. Do the right thing, JoJo! Toto's gotta eat.
12:50 – "Love's Theme" by Barry White
Still pondering how JoJo could possibly sleep with himself after not paying royalties to Michael Jackson's estate for that Beatles song somebody in his tent just played, my grumpiness started to subside with this warm, summery Barry White instrumental and, more so, the realization I was on the home stretch.
12:54 – "Delirious Love (featuring Brian Wilson with Brian Wilson)" by Neil Diamond
I wonder if Brian Wilson was in any way involved with this song. We may never know.
12:57 – "Scotch On The Rocks (Original Demo)" by Neil Diamond
I was beginning to sense a pattern. This was the second Neil Diamond song in a row, and if you recall, my Martini Lounge experience started with a Neil Diamond song serving as the mic check some 90 minutes prior. I didn't mind. With the possible exception of that Carly Rae Jepsen song, the last three songs were the best I'd heard to that point. As 1 p.m. approached, I wondered how the Taped Music block would end.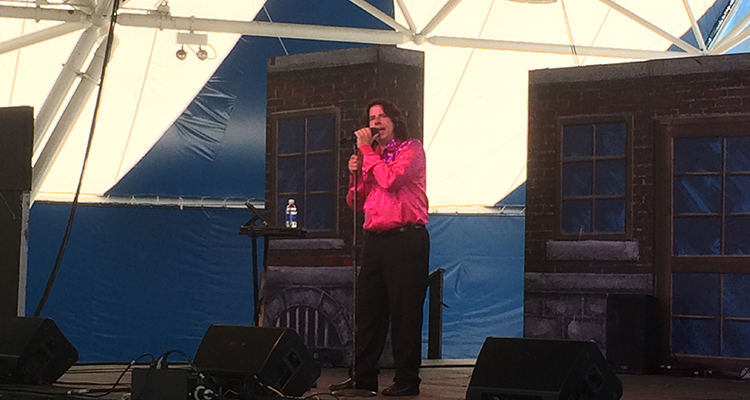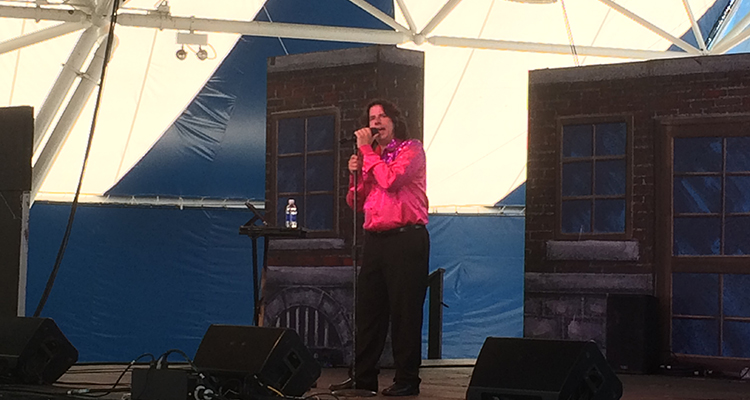 1:00…
Surprise! It ended with a recorded intro track about a guy from Milwaukee named Eric and his transformation into…Eric Diamond. The same guy who was mic checking earlier had changed into a pink silk shirt and was launching into a rendition of Neil Diamond's classic "Shilo." And with that, Taped Music's opening day ended almost as quickly and unceremoniously as it had started.
After his opening song, Eric Diamond said he would be performing for two more hours. I wouldn't see any more of it. On my walk out, I bumped into Molly Snyder and Carolynn Buser, both from OnMilwaukee. After Molly and I compared our new tattoos, I asked what brought them to the grounds. Molly said she was excited to see Willie Nelson. Carolynn was getting ready to see Selena Gomez. Enticing as those shows sounded, they didn't start for hours. Meanwhile, I'd heard some of the world's most popular songs, saw a guy who sort of sounded like Neil Diamond, and was heading home at 1. I'm not going to say which of us had a more enjoyable first day at Summerfest, but I will tell you he listened to "Africa" in the comfort of his home that afternoon.