There's a sublime moment in the first season of Twin Peaks where Special Agent Dale Cooper and Sheriff Harry S. Truman walk into the Double R Diner. "Harry, I'm going to let you in on a little secret," Cooper says. "Every day, once a day, give yourself a present. Don't plan it, don't wait for it. Just let it happen."
If you're looking to give yourself a present on Sunday, October 16, might we suggest "Inside A Dream: The Music Of David Lynch" at The Cooperage? The show will feature an eight-piece pop-up band that will "sonically venture into the mind of one of the greatest auteurs of our time." (That would be Lynch.) And while planning to attend this event may go against Cooper's sage advice, the show will surely be a gift to any and all Lynch devotees.
"Inside A Dream" is the brainchild of Milwaukee musician Aidan White. The Milwaukee High School of the Arts alumnus previously played guitar in Dead Man's Carnival and Sweet Sheiks, and currently plays with Western swing group The Westerlees and '40s swing and rockabilly group The Door Stoppers. White also happens to be a self-described "crazed Lynch fan."
"I fell in love with Twin Peaks back in early high school," he says. "I also remember a copy of Blue Velvet sitting in my mom's VHS collection growing up, so it's always kind of been a part of my life in some ways. I started writing and directing films when I was younger, and Lynch has been one of the biggest influences for me in recent years with the work I've done."
White has been plotting "Inside A Dream" for some time. His show comes a year after a Twin Peaks costume contest and concert packed the Cactus Club. Milwaukee, it seems, is loaded with Lynch fans.
"I had been toying with the idea of putting on some sort of a theatrical-type music show involving David Lynch's work for over a year now," White says, "and in conjunction with the recent passing of Julee Cruise, it seemed like the opportune time to put it together. Lynch is an incredibly visual director and is a craftsman at creating abstract stories, but in my opinion the music he constructs for his work is just as iconic as the stories themselves."
So what can folks expect from "Inside A Dream"? White won't spill all his secrets, but he does promise a music/multimedia event that will cover all of Lynch's work—not just Twin Peaks.
"I've brought together eight incredibly talented musicians from Milwaukee [White, Nicolas Buendia, David Brady, Paul Westfahl, Allen Russell, Ousia Moon, Troy Leisemann, Luis Solis-Trinidad] to perform live renditions of songs featured in everything from Twin Peaks to Inland Empire, and perhaps a few surprises thrown in there as well," he says. "I want the show to feel as visceral and moody as possible, so along with a 'deconstructed' Twin Peaks Red Room stage design, we will also be projecting accompanying video which uses more abstract moments from Lynch's work to create a dreamlike atmosphere."
The owls may not be what they seem, but "Inside A Dream: The Music Of David Lynch" is definitely set for Sunday, October 16 at The Cooperage. Doors open at 6 p.m. The show begins at 7 p.m. Tickets are $15, and are available HERE.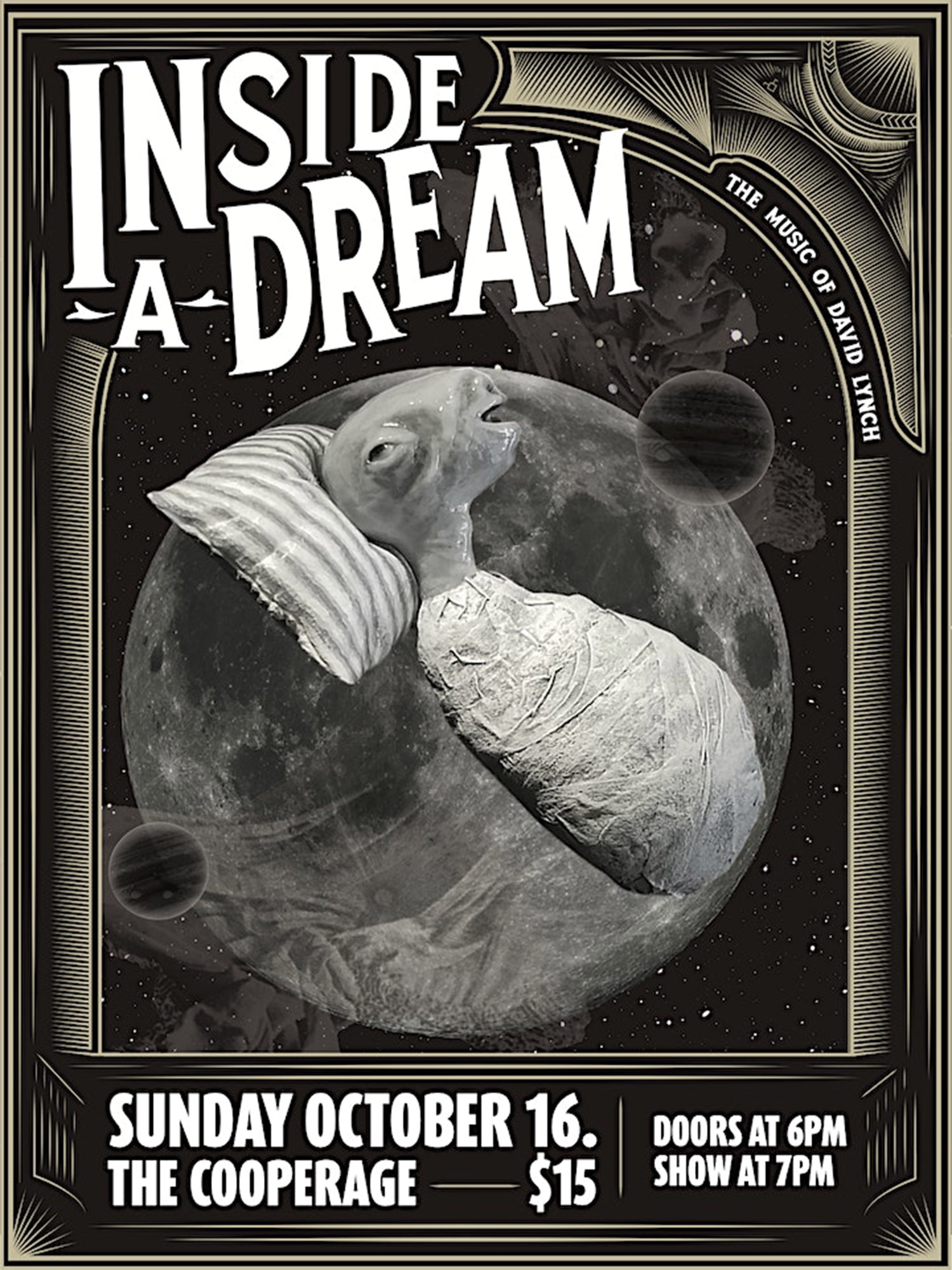 Exclusive articles, podcasts, and more. Support Milwaukee Record on Patreon.
---
RELATED ARTICLES
• Diane, a 'Twin Peaks' gallery show, costume contest, and musical performance is happening October 8
• On The Record Episode 108: Let's just talk about 'Twin Peaks'