Some fun facts: An entire generation of music fans has come of age since Beck last played Milwaukee in 1997. The city has built a ton of new shit, the country has elected three different presidents, and the end is probably nigh. But, more importantly, Beck has released seven albums in the two decades since his last Milwaukee visit. Leading up to his sold-out show at Riverside Theater Wednesday night, there was clearly some catching up to do.
Bursting on the scene as a stream-of-consciousness slacker messiah via "Loser" (from 1994's Mellow Gold), Beck quickly moved on to hip-hop pastiche (1996's Odelay), sexed-up funk (1999's Midnite Vultures), acoustic soul-baring (2002's Sea Change), and Grammy Award-winning acoustic soul-baring (2014's Morning Phase). His latest single, "Wow" (from the upcoming Colors), continues his wild-and-wooly evolution. So, following a hilarious 30-minute set from opening comedian Alex Edelman (items discussed: being Jewish, coming out at every Thanksgiving but not being gay, the Brewers, Victor's), the question on everyone's mind was likely this: Which Beck would Milwaukee get?
Turns out, all of them. Boldly kicking things off with "Devil's Haircut," Beck and his seven-piece band finessed their way through a flawless 90-minute set of hits ("New Pollution," "Girl"), more hits ("Mixed Bizness," "Black Tamborine"), even more hits ("Think I'm In Love," "Sexx Laws"), and the occasional deep cut ("Go It Alone," "Blue Moon"). The 47-year-old (!) looked eternally boyish and dapper in his Bob-Dylan-by-way-of-Children-Of-The-Corn black hat and jacket combo, and seemed pleased as punch to be playing "Loser" for the 8 billionth time. He touched on nearly every era of his career. He repeatedly thanked Milwaukee ("It feels so good to come up to Milwaukee and find some friends"). He also made several references to it being a Tuesday night, even though it was a Wednesday night.
Weirdly, beyond the well-earned adulation of the crowd, there was little of note about Wednesday's show. Which was a good thing: Everything was performed live, obviously, with minimal backing tracks, yet each song was unnervingly faithful to its recorded counterpart. "Devils Haircut" sounded exactly like "Devils Haircut," and barn-burning encore-closer "E-Pro" sounded exactly like "E-Pro." Sure, "Lost Cause" was a little embellished, proper-set-closer "Sexx Laws" came off as a little messy, and Beck seemed to be fiddling with his earpiece a lot, but the show's overall fidelity was unwavering—and sometimes downright creepy. Hell, Beck even spoke the "That was a good drum break" sample from "Where It's At." Somewhere, Milwaukee's own The Frogs were smiling.
Not that there weren't standout moments. The Sea Change and Morning Phase songs were welcome additions to the proceedings ("Say Goodbye" was particularly lovely), "Wow" came to life as the double-rainbow stoner anthem it was always meant to be, and the new-ish "Dreams" kicked all sorts of ass. Also, Beck's bandmates were given adorable introductions, with each member playing a slice of a famous song (the lead guitarist took on David Bowie's "China Girl," the drummer pounded out the fill to Phil Collins' "In The Air Tonight," etc.).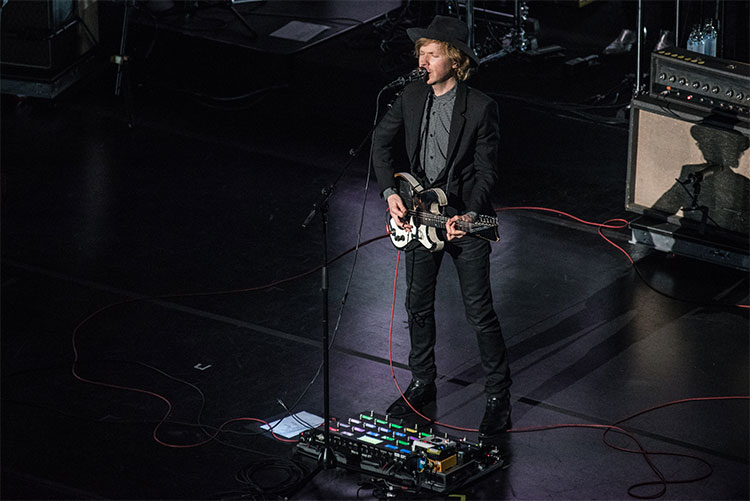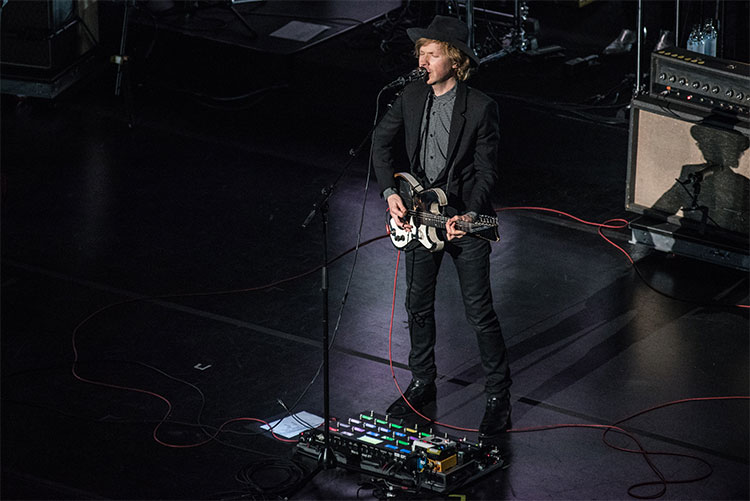 So was this a case of a show being too good? If you were looking for an adventurous set stuffed with adventurous twists, turns, and Dylan-esque reinterpretations, maybe. If you were looking for two-decades'-worth of your favorite songs (along with a few of the "Oh shit, I forgot about this one!" variety), you were in luck. Beck put on an impossibly slick, impossibly flawless show Wednesday night, leaving little room to ponder the fact that a song like "Loser"—which may or may not have scored your misspent high school days—has become a 23-year-old song where the crowd supplies the chorus, or to wonder how everything changes and withers away, yet the artist on stage seemed to be eternally young. There was only room for Beck, playing a perfect show in Milwaukee, making up for lost time.