Between beloved and well-established local staples and a steady wave of new bars and restaurants popping up in and around Milwaukee almost every week, worthwhile dining and drinking gems can occasionally get lost in the shuffle. With Tucked Away, Milwaukee Record digs deep with the hope of unearthing some of these gems.
As the oft-maligned south shore suburb of Cudahy continues its identity shift, there remains one question that shrouds the misunderstood city as it becomes a more appealing place to spend time: what's there to eat? That's not to say there aren't viable options. You just need to know where to look. Cursory searches are sure to unlock a wealth of absolutely accurate rave reviews of Lala's Place on Layton Ave. If Mexican food isn't what you're craving, the fish fry at Joe's K Ranch is nothing to scoff at. Want a good burger? Well, there's two Cudahy businesses embroiled in a burger beef about whose is the best (and they're both good, for the record).
Adding to the subtly solid reputation of Cudahy dining is Filis Cafe (5018 S. Packard Ave., 414-585-9576). Though it's located on the main drag of revitalized Packard Ave., the unassuming storefront of the diminutive diner could be missed if you're not looking for it. Despite its size, the small suburban diner packs a world of flavor in the dozens of items listed for breakfast, lunch, and dinner in its voluminous menu. Almost more impressive than the food itself is that fact that everything is dirt cheap. With trendy bites currently holding firm in nearby Bay View and Oak Creek opening its borders to any chain restaurant that comes knocking, we happily took a trip to Cudahy for a familiar breakfast feast at an overlooked establishment.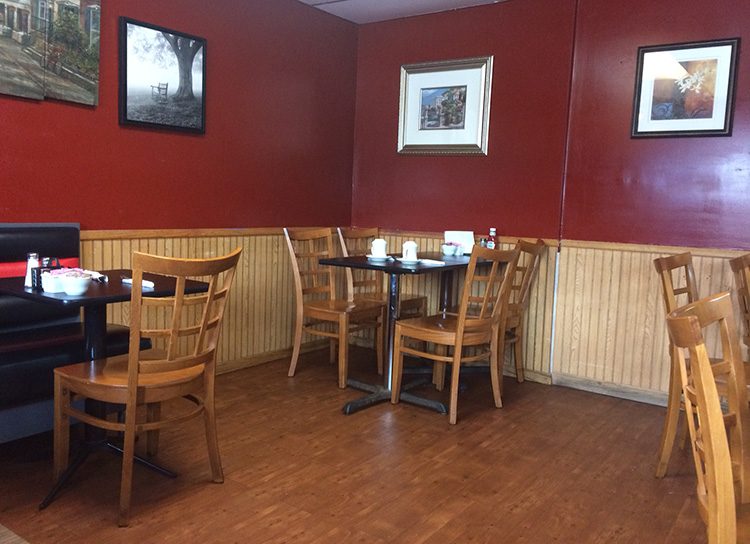 The space: Like we said, this place is tiny. The dining room is a few hundred square feet and consists of four red and black vinyl booths, a quartet of four-top tables, a TV (which provided the restaurant's soundtrack via audio from a game show), and three video poker machines. The spacial constraints don't impact the level of comfort, however. In fact, it was downright cozy being among the select few patrons enjoying a late morning breakfast. The lack of seating also paid positive dividends in regard to our service, as our server was close by and ready to check in on us. After leaving, we realized our coffee never dipped below the half-full mark.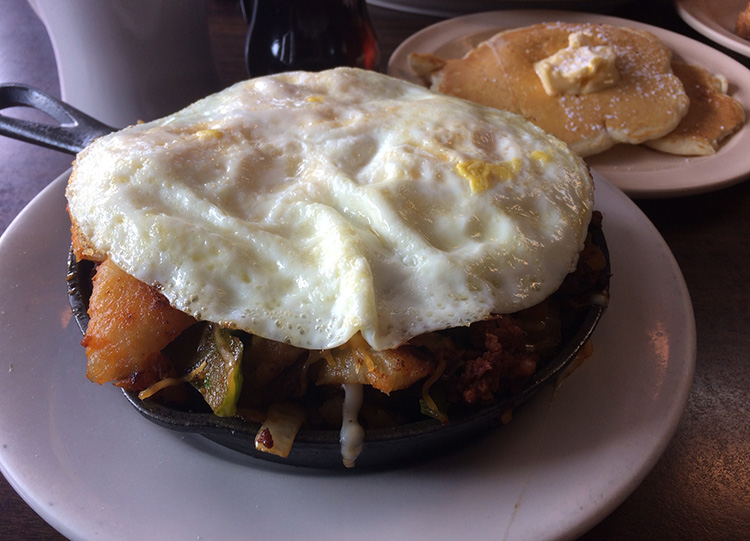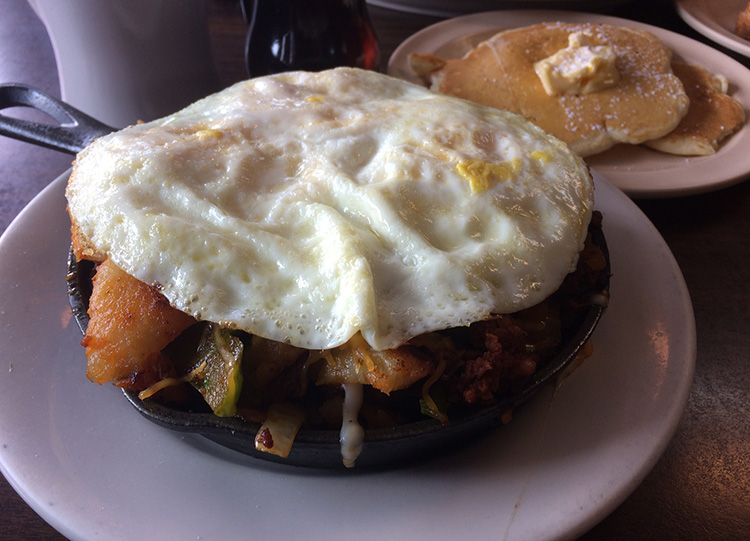 Milwaukee Record's food: Filis Cafe opens each day at 6 a.m., likely to feed third shift workers clocking out at the nearby ATI Ladish plant and other early-risers in the quiet community. The breakfast offerings occupy two pages of the tome of tastiness that is the diner's menu. There, you'll find all the usual suspects—eggs, pancakes, omelettes, skillets, and more—as well as an underlying-but-undeniable Mexican influence that shows itself with numerous offerings that feature chorizo, and unconventional Milwaukee greasy spoon specials like their breakfast quesadilla.
We took the hint and opted for a Mexican Skillet ($8.49), which was a cast iron pan piled high with tender chunks of fried potatoes, a generous covering of two types of cheese, sauteed onions and green peppers, tomatoes, ample hunks of spiced chorizo, all of which was topped with three eggs prepared to our specifications (we asked to have them over hard…come at us!). It was goddamn glorious and more food than we could've hoped to receive. Still, we ate every last bite…not to mention the pair of fluffy, butter-soaked flapjacks that accompanied it. Each entree comes with toast or two sizeable pancakes, by the way. Between that dynamic duo and the cup of crappy coffee that somehow accentuates a meal at a diner, we left satisfied, caffeinated, and full for just $10 before tip.
Though breakfast seems to be the main focal point, Filis is open all day and offers patrons lunch staples like burgers and sandwiches, a dinner menu that alternates from American standbys like pork chops and steak, an array of Italian and Greek mainstays, and (mostly) traditional Mexican entrees. Save for a select few seafood dishes, nothing tops the $10 mark. From malts and meatloaf to mole and biscuits & gravy, Filis has you covered all day long.
The verdict: Next time you're weighing the pros and cons of waiting to eat brunch somewhere in Milwaukee proper, consider spending that time taking a short drive down Packard Avenue to enjoy a big breakfast at a tiniest little diner in Cudahy. You'll be glad you did.