If the city's curbs seem less clogged and its snow piles less curiously adorned, there's a reason for that. Yes, it appears that the 1,350 dockless electric scooters that either delighted or angered Milwaukeeans this past summer—scooters owned by companies Lime, Spin, and Bird—are officially hibernating for the winter. Somewhere, Milwaukee Journal Sentinel columnist Jim Stingl breathes a sigh of relief.
Fire up the Lime app and this is what you'll see: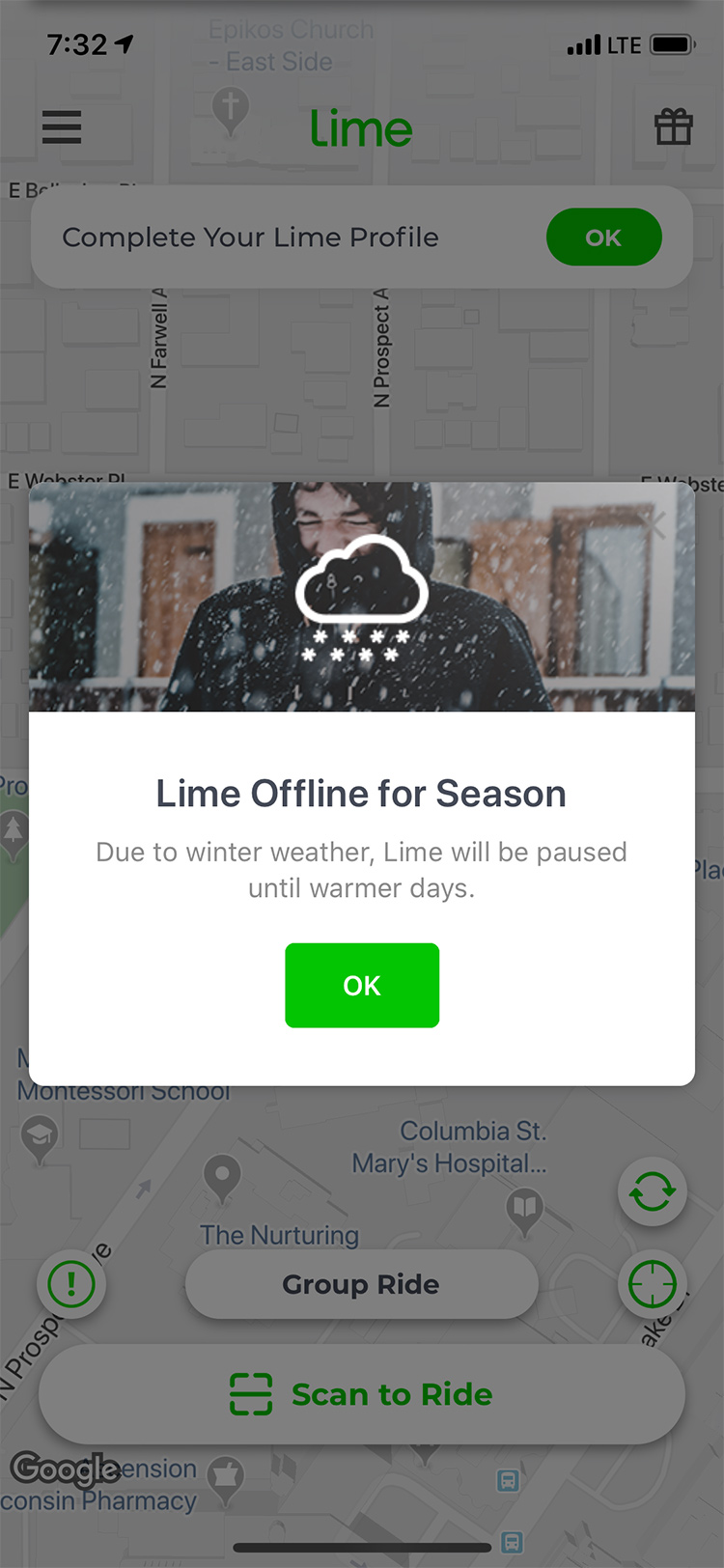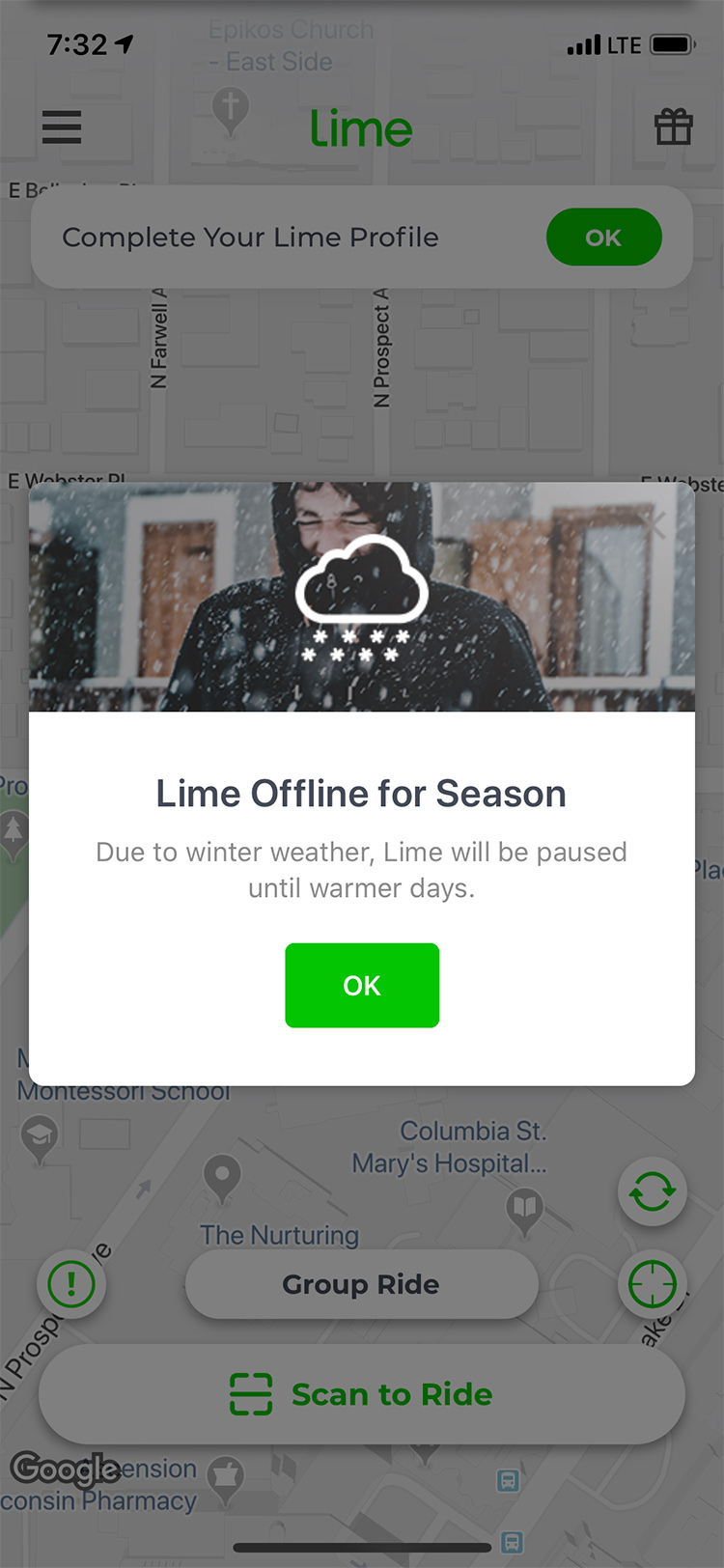 Fire up the Spin app and this is what you'll see: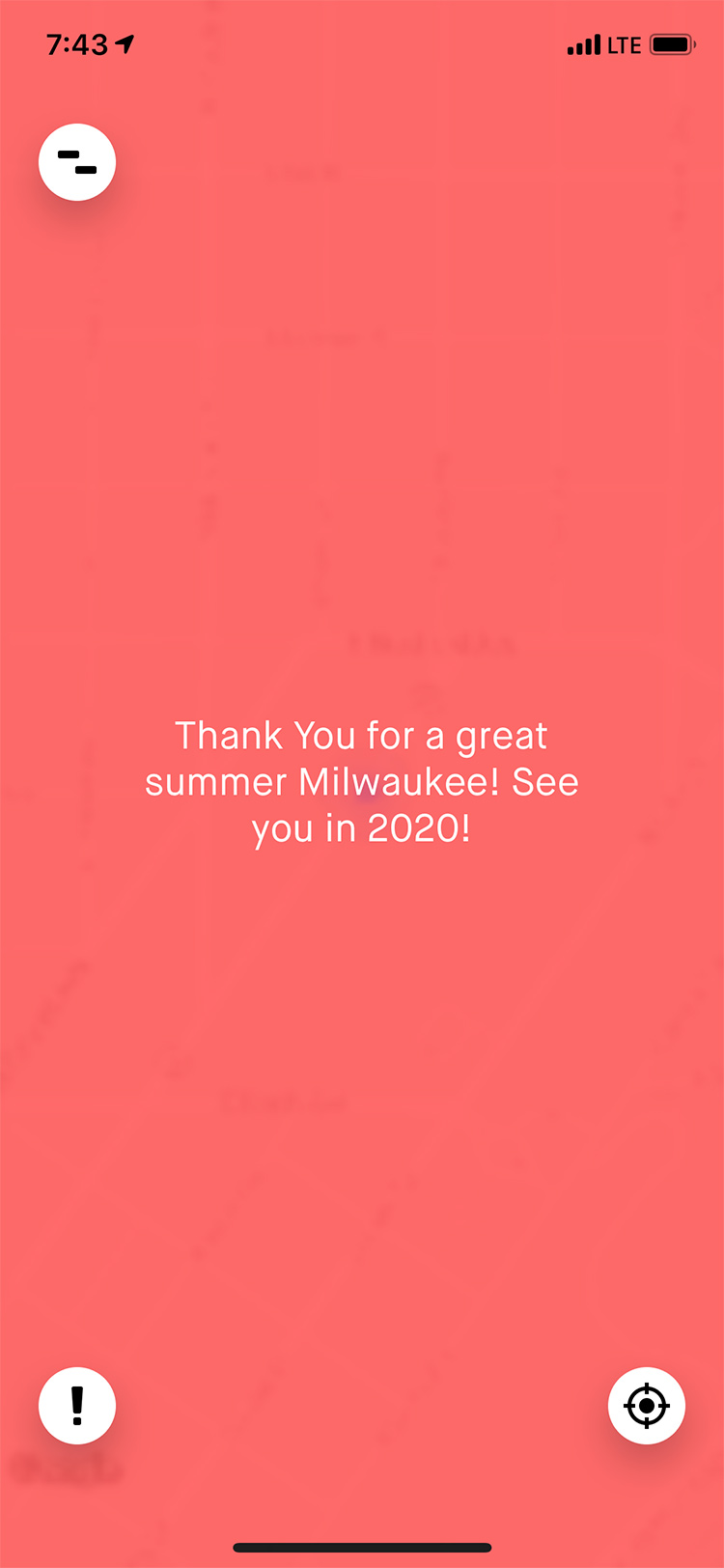 Fire up the Bird app and you won't see much of anything, though on Wednesday, Reddit user flopsweater reported seeing this message:
Milwaukee, we had a good ride.

Milwaukee's shared electric scooter pilot is officially over. Bird will no longer operate in the city.

Thank you for believing in our vision of a world with fewer cars and cleaner air. We're working hard to see you again soon.
"Yes, we ramped down our operations in mid November to prepare for colder weather in Milwaukee," says a Spin spokesperson. "Whether our scooters are deployed or not, we remain committed to supporting safer infrastructure on our streets. That's why this weekend we are partnering with Saris to bring a festive pop-up protected bike lane to the annual Santa Cycle Rampage event hosted by the Wisconsin Bike Fed. Our local staff will be onsite offering safety scooter demonstrations to those interested. Over the past few months, we've enjoyed working with the City and servicing the community. We hope City Council will consider extending the pilot next year."
We've also reached out to Lime and Bird. Milwaukee's Department of Public Works has issued a statement confirming the cold, currently scooter-less Milwaukee HERE.
"DPW is continuing communication with stakeholders including operators, City and County departments, elected officials and community groups and is comprehensively evaluating the pilot data and input," the statement reads. "Upon conclusion of this comprehensive evaluation, DPW expects to make a recommendation in regards to future dockless scooter operations in the City of Milwaukee in early 2020."
In November, the Journal Sentinel detailed what would become of the scooters during the 8,000 months of winter:
Staff from Bird, Lime and Spin will monitor the forecast and decide to take scooters off the roads during storms or when they determine it is unsafe. Local scooter-chargers, who typically collect them nightly to refuel, will return them the next day or when it becomes safe again.

If Lime staff removes the scooters, they'll give users an in-app message letting them know, a spokesman said.

Spin plans to "slowly ramp down operations as ridership becomes less frequent in colder markets." Bird and Lime spokespeople did not mention removing scooters permanently for winter.
A (mercifully) brief history of scooters in Milwaukee: Bird was the first electric scooter company to enter the market back in June 2018. Days before Summerfest, hundreds of the vehicles suddenly appeared downtown. Then all hell broke loose: Milwaukee sued Bird and kinda-sorta banned the things. The city settled the lawsuit soon after, and Bird voluntarily removed its scooters and vowed to work with city officials to bring them back. That led to the creation of a city-sanctioned pilot program designed to study demand, safety, and the future of scooters in Milwaukee. Lime was the first company to show up for the program, followed by Spin and Bird. Lime and Spin were allowed fleets of 500 scooters each. Bird was allowed 350. The pilot program ends December 31, 2019.
Just last month, following a summer of Milwaukeeans either loving or loathing the scooters, Alderman Robert J. Bauman called on the city to share any scooter horror stories it might have. "Over the course of this year's scooter pilot program, my office has received reports of injuries to scooter riders ranging from broken legs to broken arms," Bauman wrote. "However, our information is anecdotal since there is no central clearing house for the reporting of these injuries. Accordingly, I am calling on citizens of Milwaukee (and health care providers) to contact our office about scooter related injuries they may be aware of so we can begin to document these incidents."
The city's public survey is still open through the end of the year. It can be found HERE (English) or HERE (Spanish).
Until the scooters return/don't return, ride the bus.