Of all the gin joints in all the towns in all the world, one of the best is in Walker's Point.
There is also a piano and a man named Sam, but we don't need to keep going down the 1940s pop culture reference road, nor do we need to be clever and talk about "gintrification" in Walker's Point. Instead, let's focus on how Tin Widow is quietly becoming a premier gin bar here in Milwaukee.
Depending on when you were last on South 2nd St., you might remember Ten Bells or the early stages of what Tin Widow is now. Both were fine bars, somewhere you might have stumbled into if Sabbatic was too busy or too loud, the MKE Brewing token in your pocket was burning too hot to make it any further, or you needed that really private basement bathroom. All that has changed with the enhanced decor, evolved menu, and expanded spirits selection.
The relaxed elements have remained, but the ultra lounge vibe has been replaced with more wood, bourbon barrel tables, and muted lighting. It's the kind of bar you would build in your basement. There is still the elevated area at the front of the establishment to watch the goings-on of the bustling neighborhood thoroughfare as well—that is if you don't get completely enthralled in reading the bar's extensive menu.
The menu's top pages are house cocktails, gin cocktails, premium mixers, and the like. That's all fine and good, and probably all tasty, but the main event is the 120-plus gins that follow. A mere dozen gins on a menu should be impressive to the average consumer, but this one goes above and beyond. A know-it-all gin enthusiast could easily walk in and be embarrassed for even thinking their home collection could be worth mentioning to the barkeep.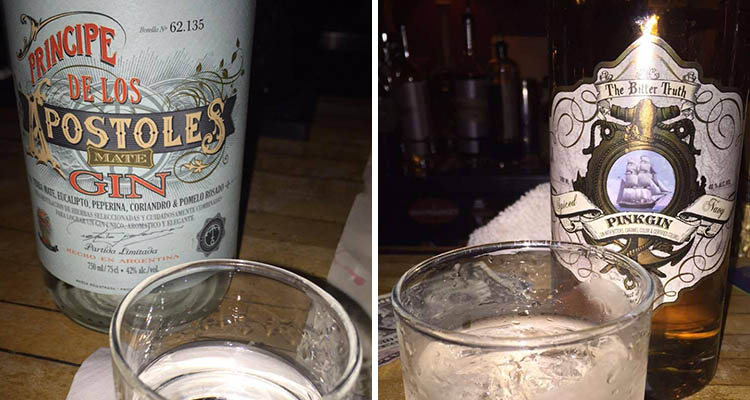 Even if you have a favorite gin in mind, the better course of action would be asking the bartender for the "best" or "most unique" gin of their choosing. Always helpful, and almost as frequently resulting in a different answer, this process can lead to trying some of the very unique offerings that include the heavily peppered Uncle Val's, Argentinian gin with yerba mate, no fewer than 10 offerings from right here in Wisconsin, and a wonderfully smoky gin from California. Barreled, London Drys, Old Toms, Sloes, and Genevers are all on hand and waiting to be tried on the rocks, sipped neat or stirred into a cocktail. And the staff is more than ready and able to make you a Negroni.
If you haven't caught on yet, the gin selection is amazing, but if you're part of the 99.75 percent of the population that isn't infatuated with all things gin (you damn Philistines!), there are more than 100 whiskys (or whiskeys) to sample. From Old Grand-Dad bourbon, all the way up to Balvenie 30-year-old single malt Scotch, not to mention ample beers and ciders, all drinkers should be at home here. Whatever your flavor, checking out or revisiting the Tin Widow is worth your time. Let the bar staff guide you, try something new, and buy a few cherries—seriously, they're worth the dollar.
The standouts from the menu—all served on the rocks—are: any gin. It's flavored vodka for adults! Bone Dry Gin provides smoky goodness. Martin Miller's is grassy with an undertone of cucumber, like a leveled-up Hendrick's. There's an abundance of spirits from in-state distilleries. Oh, and there's St. George Reposado. Oh lordy lord, the St. George Reposado!