Love it or hate it, it's safe to say Record Store Day is here to stay. What started as an honest-to-goodness movement to encourage listeners to get out and support independent music retailers who were suffering in the advent of Amazon, streaming services, and the industry's stark shift from physical to digital formats has quickly mutated into a halfhearted "holiday" with its fair share of icky elements.
Amid the ugliness of desperate novelty records and greedy "collectors" re-listing rarities on eBay while they're still waiting in line to pay, some Milwaukee record shops, local bands, and other area businesses are doing their part to make this happening a worthwhile occurrence for all. On Saturday, April 21, the consumer event will take the form of a full-fledged local holiday, complete with new releases from beloved Milwaukee bands, sales, new shirts, limited goodies, in-store shows, and more.
1. Acme Records & Music Emporium
For this year's festivities, Bay View's Acme Records promises food, beer, fun, live music, and both new and used records. As far as the live music aspect is concerned, the free all-ages show features eight hours of music provided by the likes of Red Stuff, Soda Road, Sweet La La, Nastos, a Steve Gunn solo performance, and DJs playing between sets.
2. Bullseye Records
Bullseye blew it out last year with a sidewalk sale and $5 Bullseye shirts. This time around, the independent East Side record retailer will apparently be offering a number of rare Record Store Day releases and "a pretty massive" section of sale-priced LPs.
3. Exclusive Company
With more than 60 years in business, Exclusive Company is far older than this newfangled holiday, so there's no concern the independent franchise will be ready for Record Store Day. The Milwaukee location is opening at 7 a.m. and will have sales and WMSE DJ's spinning until 3 p.m. At 6 p.m., Abby Jeanne will perform the same day she releases her Record Store Day 7-inch (more on that below). She'll be followed by Christopher Porterfield at 7 p.m.
4. Guerrilla Ghost lathe-cut 7-inch
Last January, Guerrilla Ghost released "Make AmeriKKKa Great Again" as a digital single on inauguration day. Roughly 15 months later, Rush-Mor Records and Triple Eye Industries are joining forces for an extremely limited and incredibly unique release for the protest song. This Record Store Day, Rush-Mor will sell 18 copies of a lathe-cut single's run of just 25 records. Each hand-cut single costs $15.
5. Mini Meltdowns debut 7-inch
Last month, we introduced you to Mini Meltdowns and debuted the band's first single. On April 20, the Nashville/Milwaukee punk project that features members of The Promise Ring, Limbeck, Dashboard Confessional, The Benjamins, and Sherbert will officially release its new 7-inch on singer/drummer Jon Phillip's Good Land Records label. The four-song release is also available on CD.
6. New music from Brain-Bats, Nastos, and Red Stuff
The Acme Records show will double as the record release show for two Milwaukee bands. Both Nastos and Red Stuff will have brand new albums available on-site on Saturday. A few blocks down KK, Rush-Mor will be selling a very limited Brain-Bats/Super Sonic Space Rebels (Chicago) split 7-inch that's exclusive to the store and available on "bubblegum-blood" and "spacesnot green" vinyl.
7. Off The Beaten Path
The former East Side record retailer and repair shop isn't holding back during its first Record Store Day in its new Bay View location. Outside, the shop will be lined with bins of records that will be $1 from 9 a.m. to noon, 50 cents from noon to 3 p.m., and just 25 cents from 3 p.m. to close. Inside, Off The Beaten Path will offer 20 percent off LPs. There will also be some rare titles ownership has been throughout the year.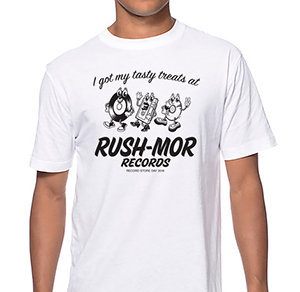 8. Rush-Mor Records
Obviously, Milwaukee's longest-running record shop is celebrating Record Store Day. They'll be stocking holiday exclusives from nationally-known artists, like Trust, Led Zeppelin, Celtic Frost, Too $hort, Black Moth Super Rainbow, and the Latin Playboys. There will also be lots of new local releases on hand.
Rush-Mor will offer the new WMSE seven-inch (more on that below), the Mini Meltdowns 7-inch, and that "very limited exclusive" Brain-Bats/Super Sonic Space Rebels split. Owners also hint at unearthing some "choice metal collectables" and putting some interesting old titles back into circulation. Best of all, Carl Steinhagen designed a brand new Rush-Mor shirt for the occasion.
9. Vinyl Potluck at Riverwest Public House
Once you're done shopping, bring your Record Store Day haul to Riverwest Public House's Vinyl Potluck. The Public House will provide vegetarian chili. If you feel so inclined, they recommend you bring records you'd like to play and a dish to share.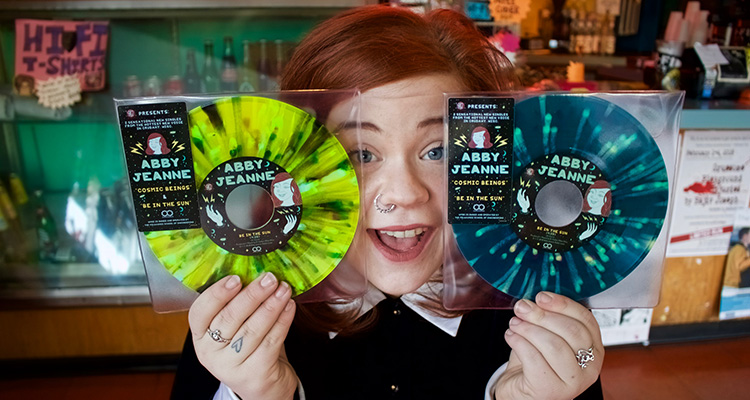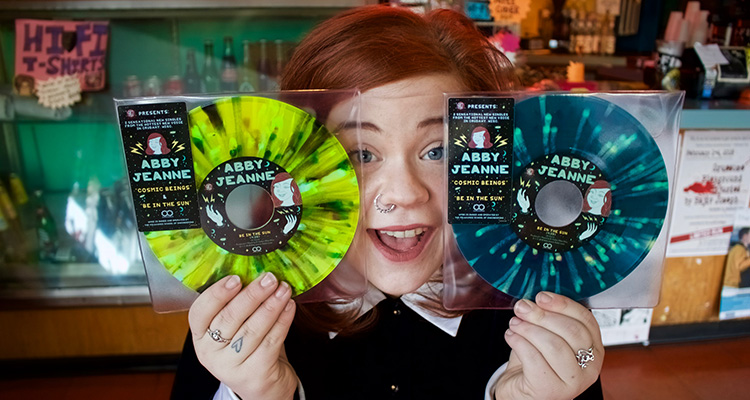 10. WMSE to release Abby Jeanne 7-inch
Since 2015, local radio institution and chili competition curator WMSE has helped spread the good will and wonder of Record Store Day with a limited-edition release of a 7-inch from a Milwaukee (or Milwaukee-related) artist with national appeal. The inaugural vinyl release was a live performance by Field Report. The following year, the station quickly sold all 250 copies of its Sylvan Esso 7-inch. Last year's 45 was, a two-song release from Milwaukee pop-punk phenoms Direct Hit! This time around, the station will ring in Record Store Day with a 7-inch from the incomparable Abby Jeanne.
WMSE Presents Abby Jeanne features two singles—"Cosmic Beings" and "Be In The Sun"—Abby Jeanne recorded at Wire & Vice. It's the first WMSE Record Store Day release that wasn't recorded live at the station. It's also the first to be offered on two versions of colored vinyl. They'll be available at Milwaukee's Exclusive Company, Rush-Mor Records, Acme Records, and Bullseye Records.