Originally started as a pop-up concept by Laura Maigatter and Nathan Heck during the pandemic, Hot Dish Pantry quickly made a name for itself as an early tenant in the 3rd Street Market Hall. With a steady customer base along with a growing buzz built around its unconventional and inventive takes on Midwest comfort food, the young venture decided to exit the downtown food hall earlier this year in order to take on the tall task of filling the south side property that was the longtime site of Iron Grate BBQ.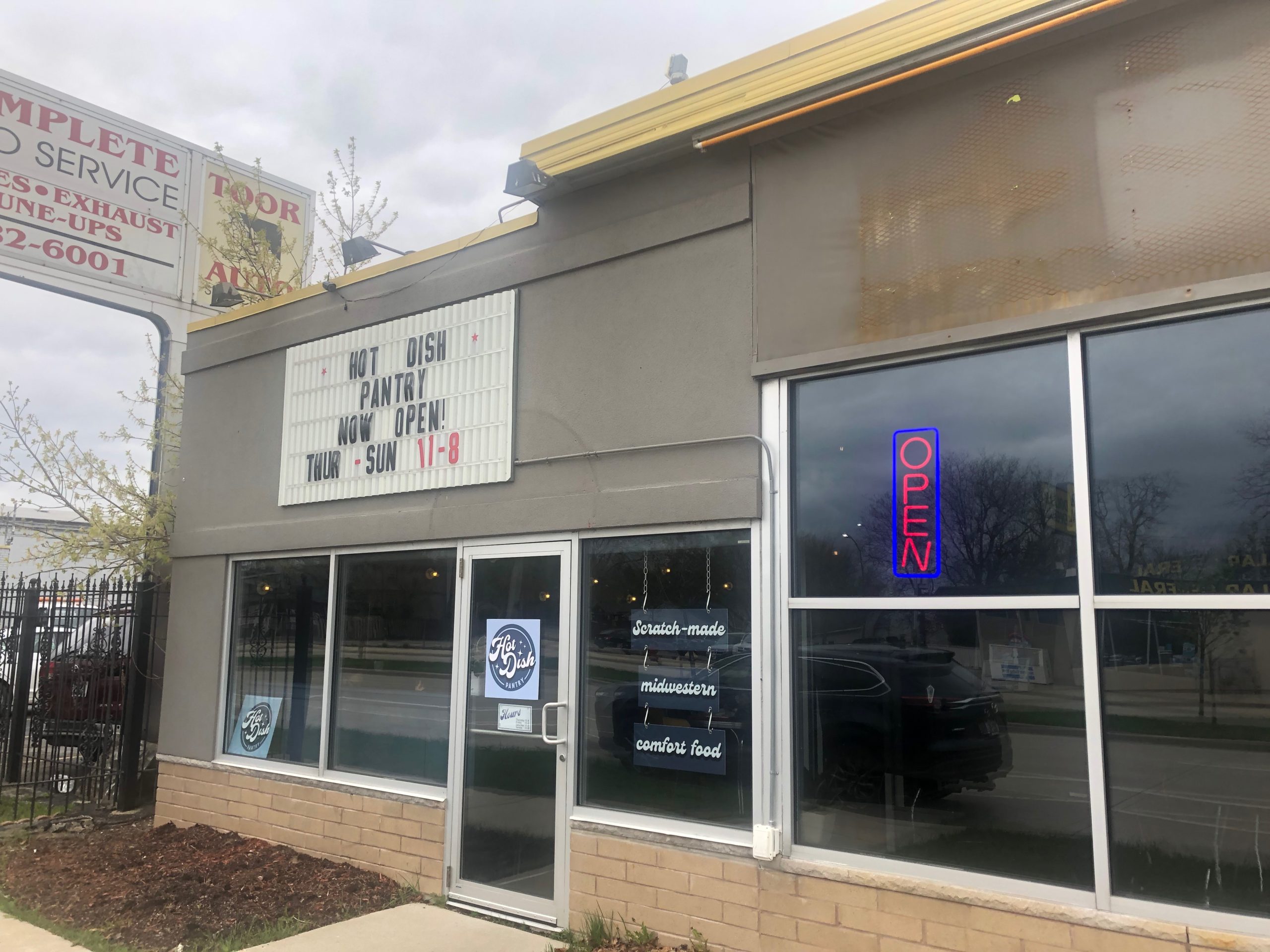 Hot Dish officially opened its brick and mortar location at 4125 S. Howell Ave. on April 13. You probably already knew that, though. By this point, you've likely seen oodles of opening announcements, a handful of profiles on the endeavor and its founders, and glowing reviews by dedicated food writers who are far more qualified than me. As late and as lacking in new information as this might be, I feel it's necessary to offer what might be the final piece of new, local content related to this new chapter of Hot Dish Pantry because, well, it's awesome and I want people to know as much.
I first had Hot Dish Pantry last summer while dining at the 3rd Street Market Hall. When it opened its own location just outside Bay View in the Tippecanoe neighborhood last month, I stopped by on opening weekend…and then again the following weekend. Hell, I actually intended to get it again this past Sunday, but a temporary need to shut down for repairs (which was remedied later that day) caused me to adjust my lunch plans and halt the Hot Dish weekend streak at two in a row.
By now, I've made a minor dent in the menu, and I've loved everything I've had to this point. The first Hot Dish item I've ever ordered—and a repeated selection in subsequent visits—is the Aloo Chaat Pierogi. Even a baseline Pierogi stuffed with only cheese, potato, or kraut is excellent, but this eastern riff that's topped with a rich mint cilantro, crispy lentils, and red onion is divinity in the form of a dumpling.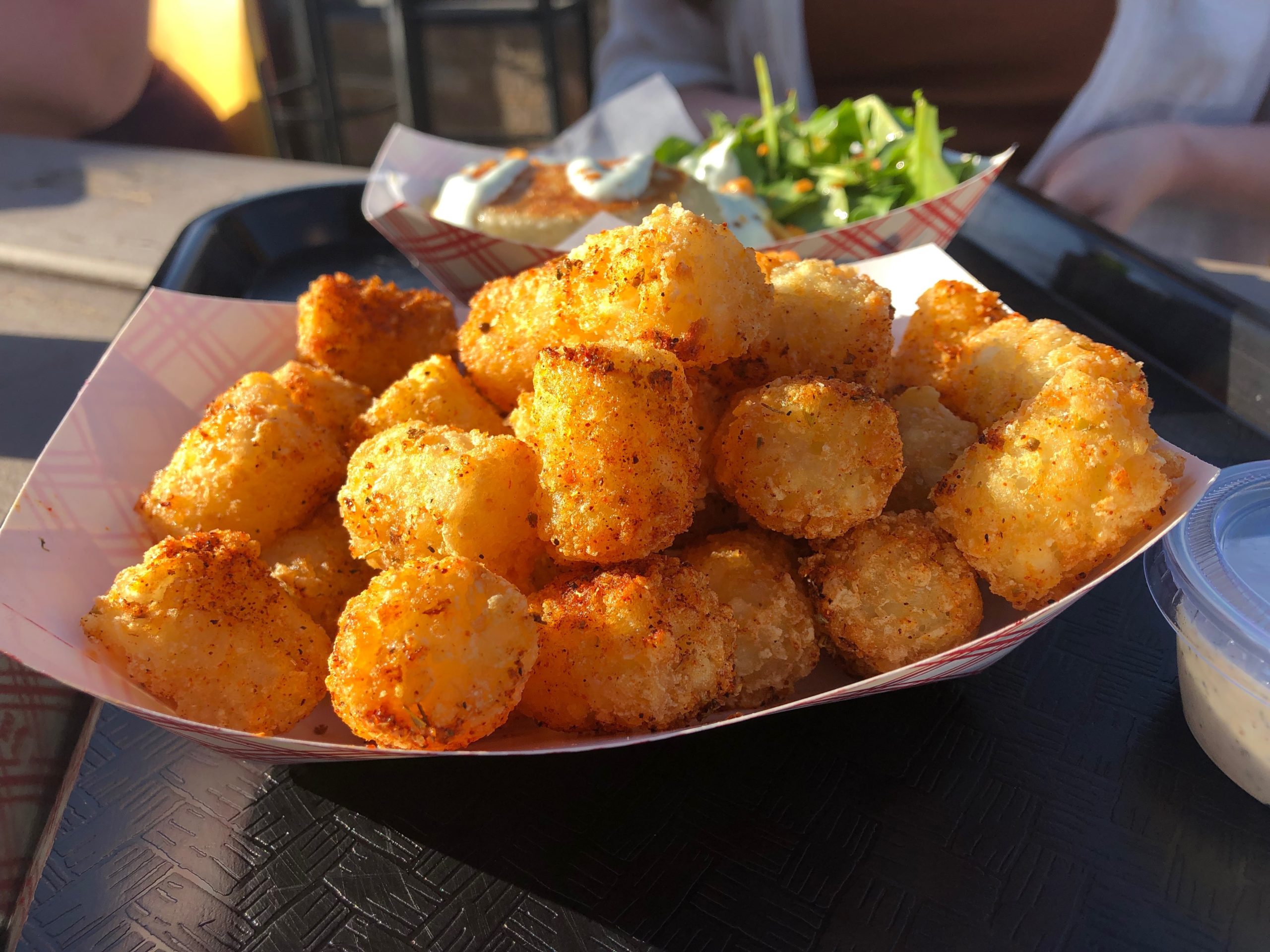 The Side Tots are another recurring part of my Pantry pilgrimages. Not only is this traditional side dish a decent value at just $3.50, it can also be procured with a choice of Taco or BBQ seasoning. Even though Taco John's can (finally!) now be picked up in the Milwaukee area, the taco-seasoned Side Tots are strikingly similar to Potato Olés, except they're not medallion-shaped and they can accompany more elevated takes on comfort cuisine than TJ's.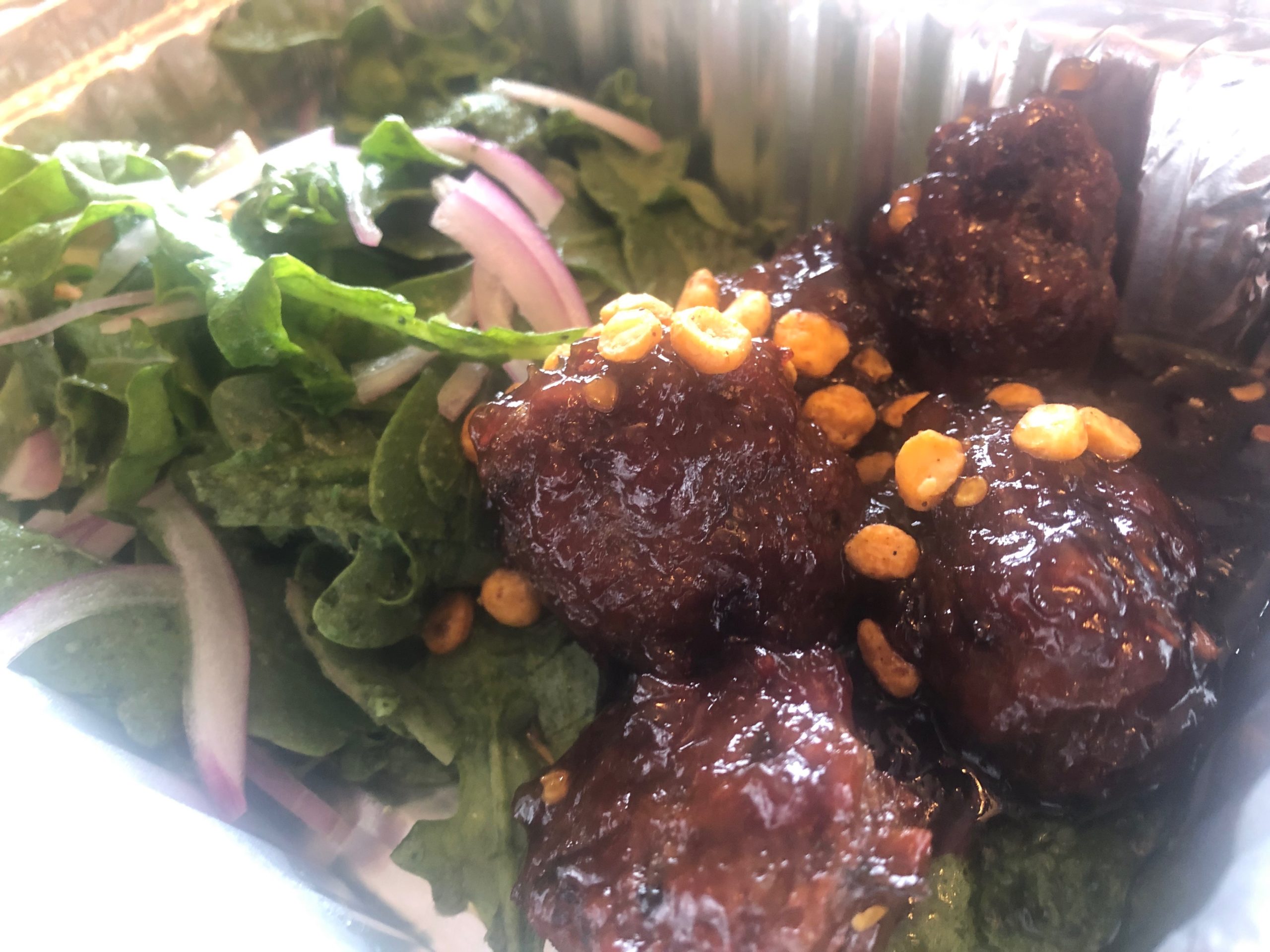 Speaking of just that, the Lamb And Beef Cocktail Meatballs are a tasty, gourmet turn on the canned cranberry sauce-incorporating Crock-Pot meatballs your favorite aunt brings to the family Christmas and Packer parties. The blend of meats is brought together in perfect harmony by curry, a chutney cocktail sauce sourced from Milwaukee's own S.A. Braai, raw red onion, and crispy lentils all set atop a bed of fresh arugula. Damn! For the record, these meatballs are listed under "Sharables," but I didn't take the menu's suggestion.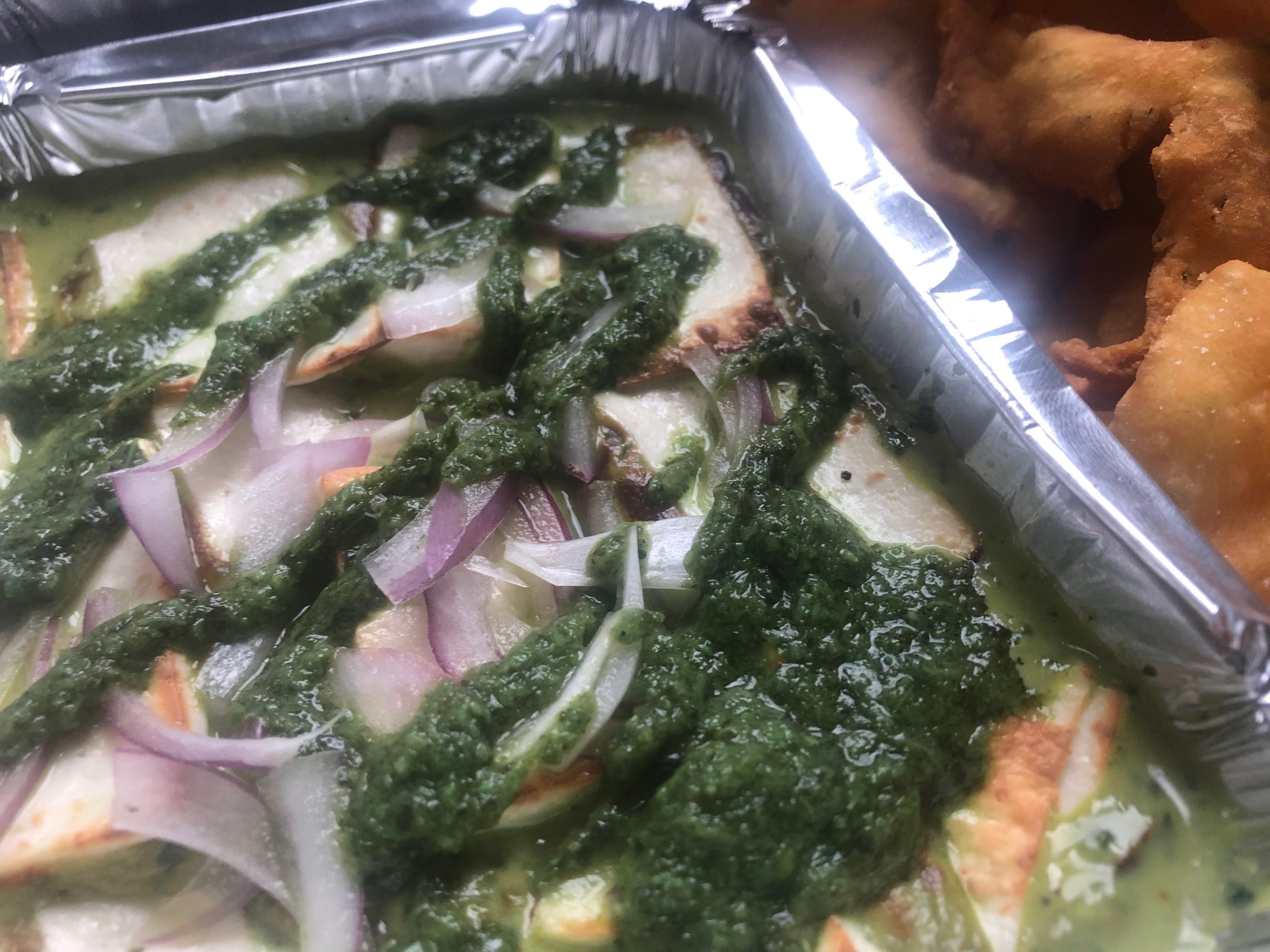 Another "Sharable" I've sampled is the Saag Paneer Dip, a thick and creamy spinach-based appetizer that's anchored by an abundance of broiled cheese that's topped with the winning menagerie of red onion, mint- and cilantro-forward chutney, and crispy lentils. It also features tamarind and a side of fried dough to help sop up the decadent dip. In terms of size, the Saag Paneer Dip could serve as a meal on its own, but I wouldn't advise casting something that dense in the role of main course. This one is meant to be shared…or enjoyed alone over two or three sittings.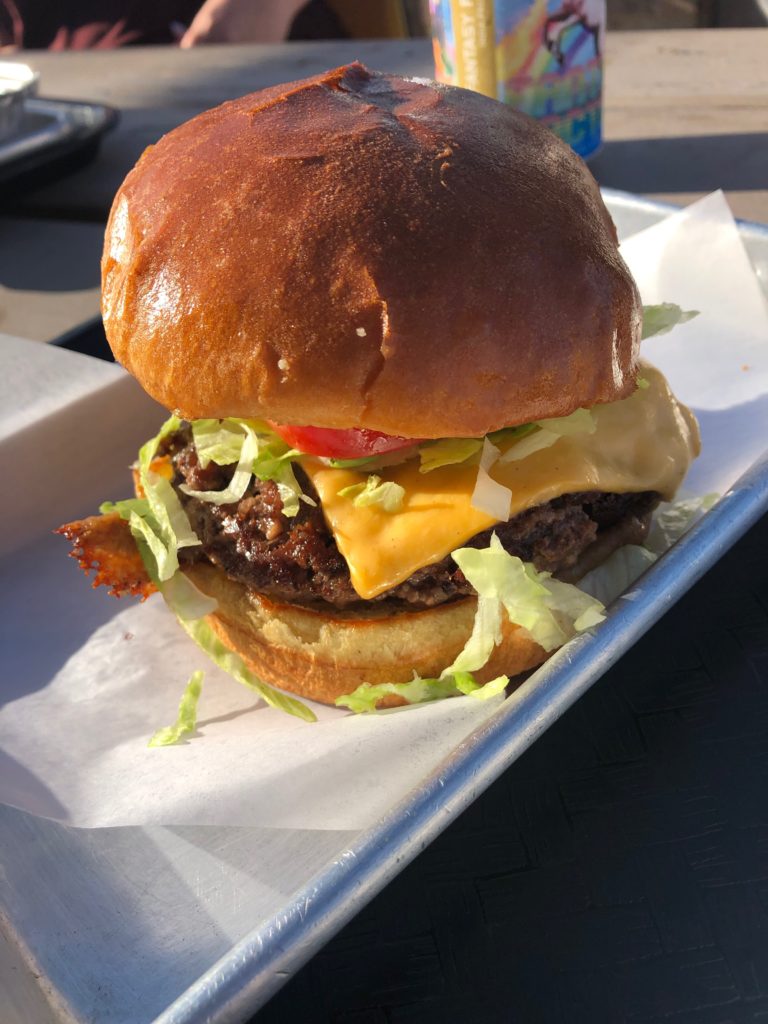 Last and certainly not least in my personal assessment, we come to the Lucy Goosey Burger. This interpretation of a Juicy Lucy doesn't go out of its way to be fancy. Instead, it leans on the sturdy pillars of a classic cheeseburger: a beef patty (stuffed with cheddar cheese and topped with a slice of gooey American), fresh shredded lettuce, diced raw onions, a couple thick tomato slices, pickles, mayonnaise, and yellow mustard on a toasted bakery bun.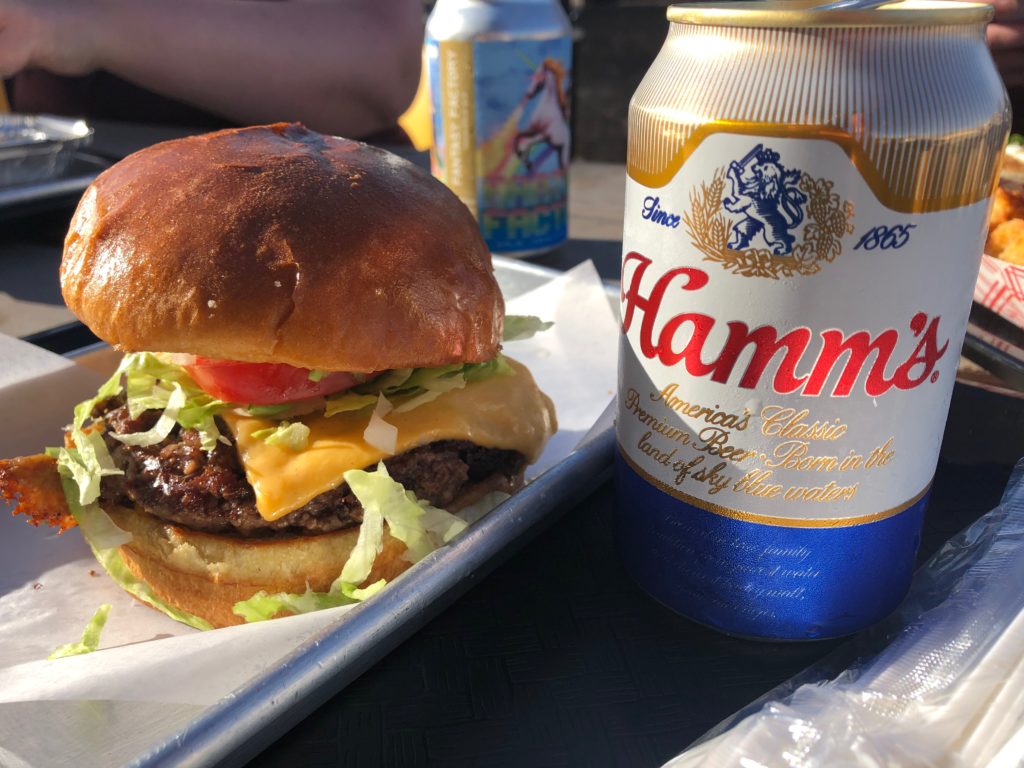 It was an absolutely top-notch execution of a type of burger—aside from the Minnesota-nodding "Loosey" elements—you've undoubtedly had before. Familiar and unflappable in its construction, it helps to put the "comfort" in comfort food. The $2.50 can of Hamm's I washed it down with also didn't hurt the mood. For what it's worth, Hot Dish also makes a Pizza Lucy Goosey Burger, which I need to try soon. (Sorry, Supreme Pizza-Burger, but I need to see what else is out there!)
In fact, there's a ton of menu items at Hot Dish Pantry that I intend to try soon. The "Fancy Taco Dip" will be had before summer. Same goes for the Fried Pickles and Cheese Curds. There was a special (which sold out before I could smash the "order" button recently) that featured fried bologna topped with all the accoutrements commonly found on a Chicago-style hot dog, served on a toasted poppy seed bun. I'd eat the hell out of that. And of course, I plan to eventually clear my calendar, don some sweats, and enjoy the restaurant's eponymous Hot Dish casserole when the mood (and hot dish-suited weather) permits.
Hot Dish Pantry is currently open for dine-in (including some patio seating), carryout, and delivery via DoorDash. Its hours of operations are currently 11 a.m. to 8 p.m. from Thursday through Sunday. You heard it here last, but I'm telling you nonetheless: Hot Dish Pantry rules and you should go there.