Some places come and go, while some places become icons. Mandatory Milwaukee is all about the latter. This week: Shah Jee's! (The following article is an updated version of a 2016 article.)
Downtown Milwaukee offers an array of dining options for both upscale power players (Bacchus, The Capital Grille) and folks who just can't quit the old Grand Avenue mall (3rd Street Market Hall). Then there's Shah Jee's (770 N. Jefferson St., 414-271-5354), a lunchtime Pakistani restaurant that occupies a unique place in Downtown Milwaukee's dining scene. Symbolically, that place is the blurred line between fine dining and fast food; physically, that place is the basement of an unmarked and unremarkable office building.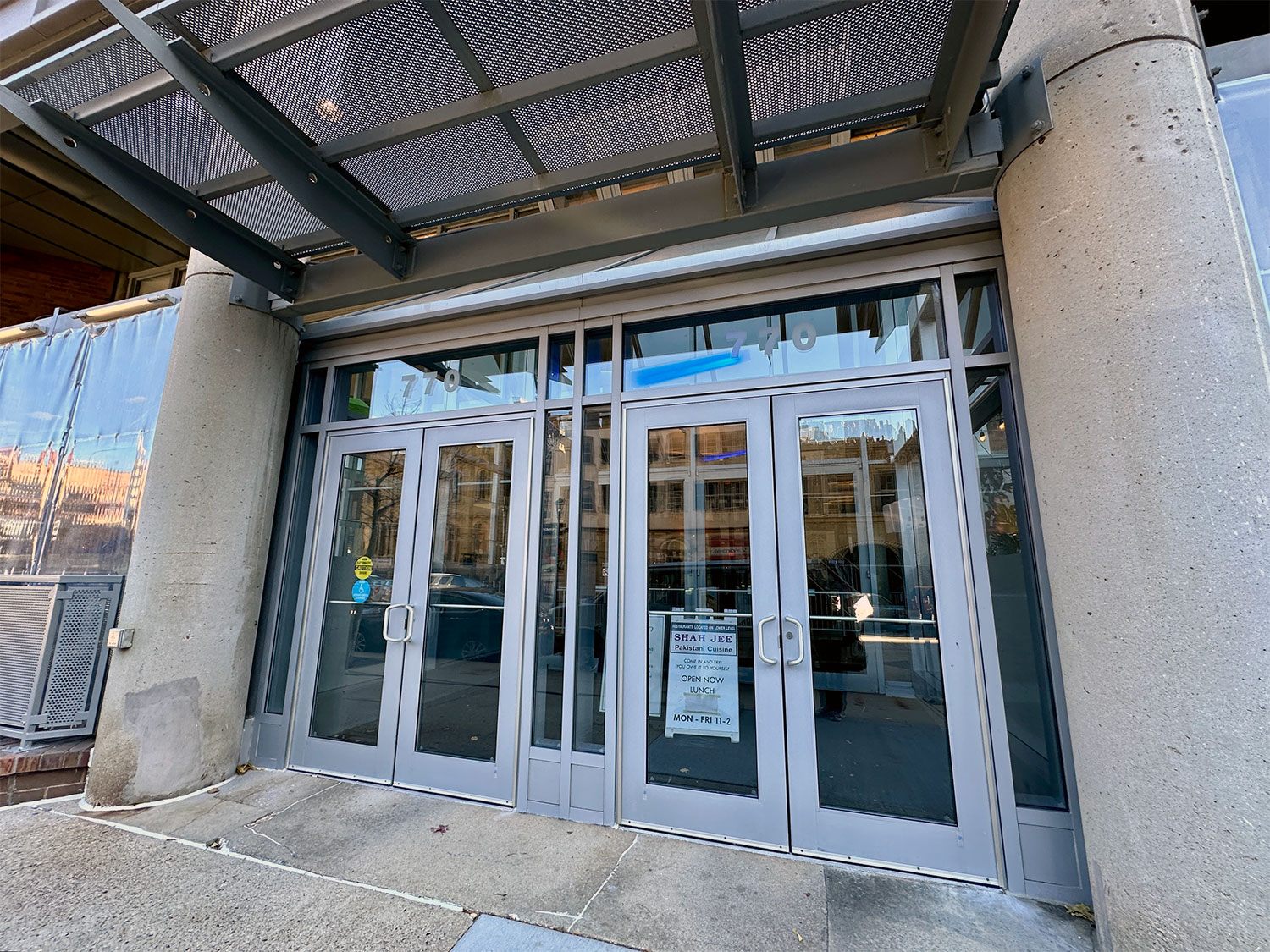 In business since 1995, Shah Jee's is hardly a secret (it was once featured on the Travel Channel, after all), but it still feels like a secret. Enter the doors of 770 N. Jefferson, give a nod to the back entrance of SportClub, head down a staircase, and behold a space that possesses all the charm and panache of a high school cafeteria. Random tables and chairs dot the floor. Darkened storefronts and hallways line the room. Voices echo. But tucked away in the far corner stands an intriguing, if similarly unadorned, beacon of hope and olfactory delights: Shah Jee's. (Note: Shah Jee's briefly expanded to four locations in the pre-pandemic days; these days, only the original location remains.)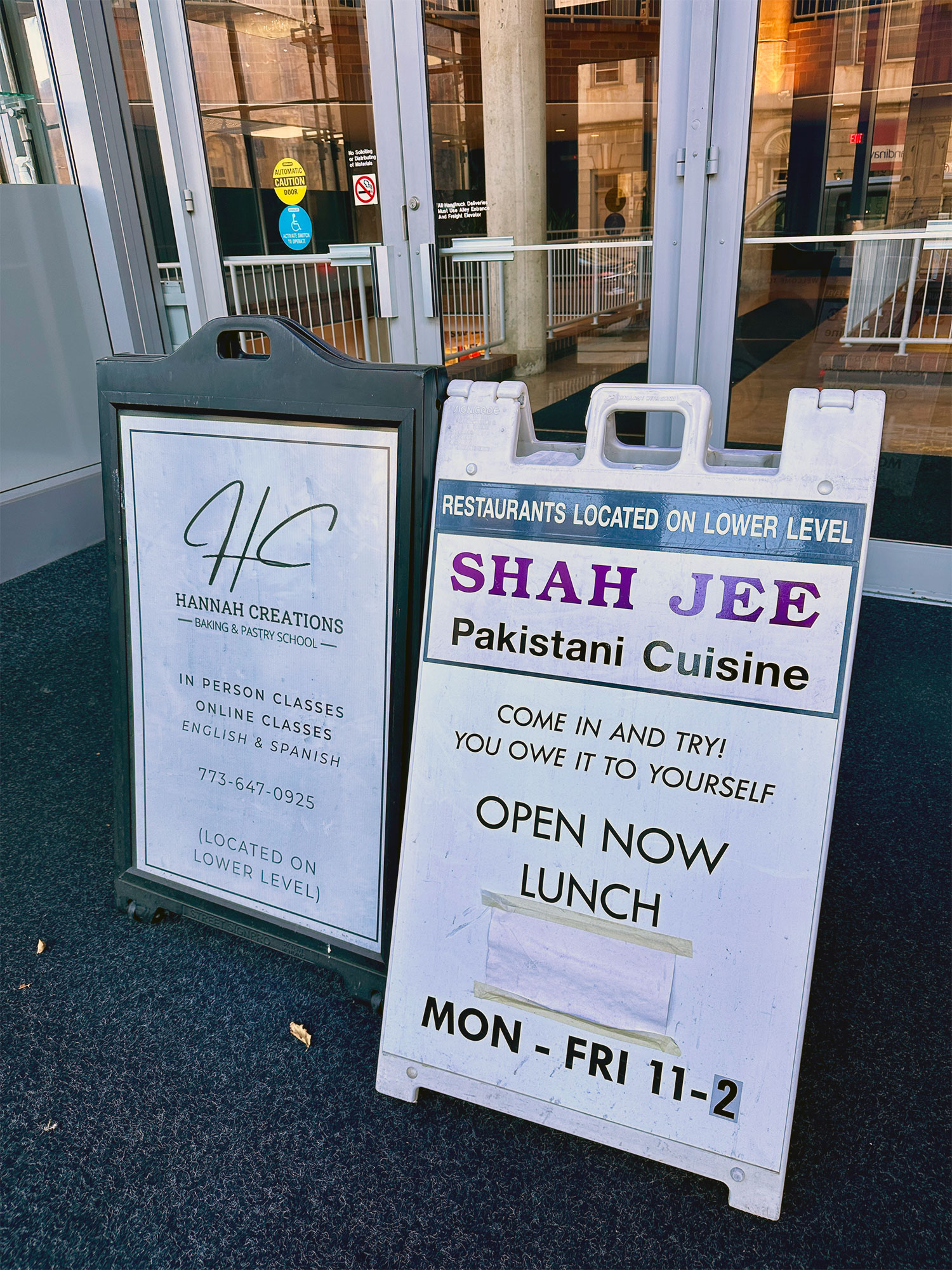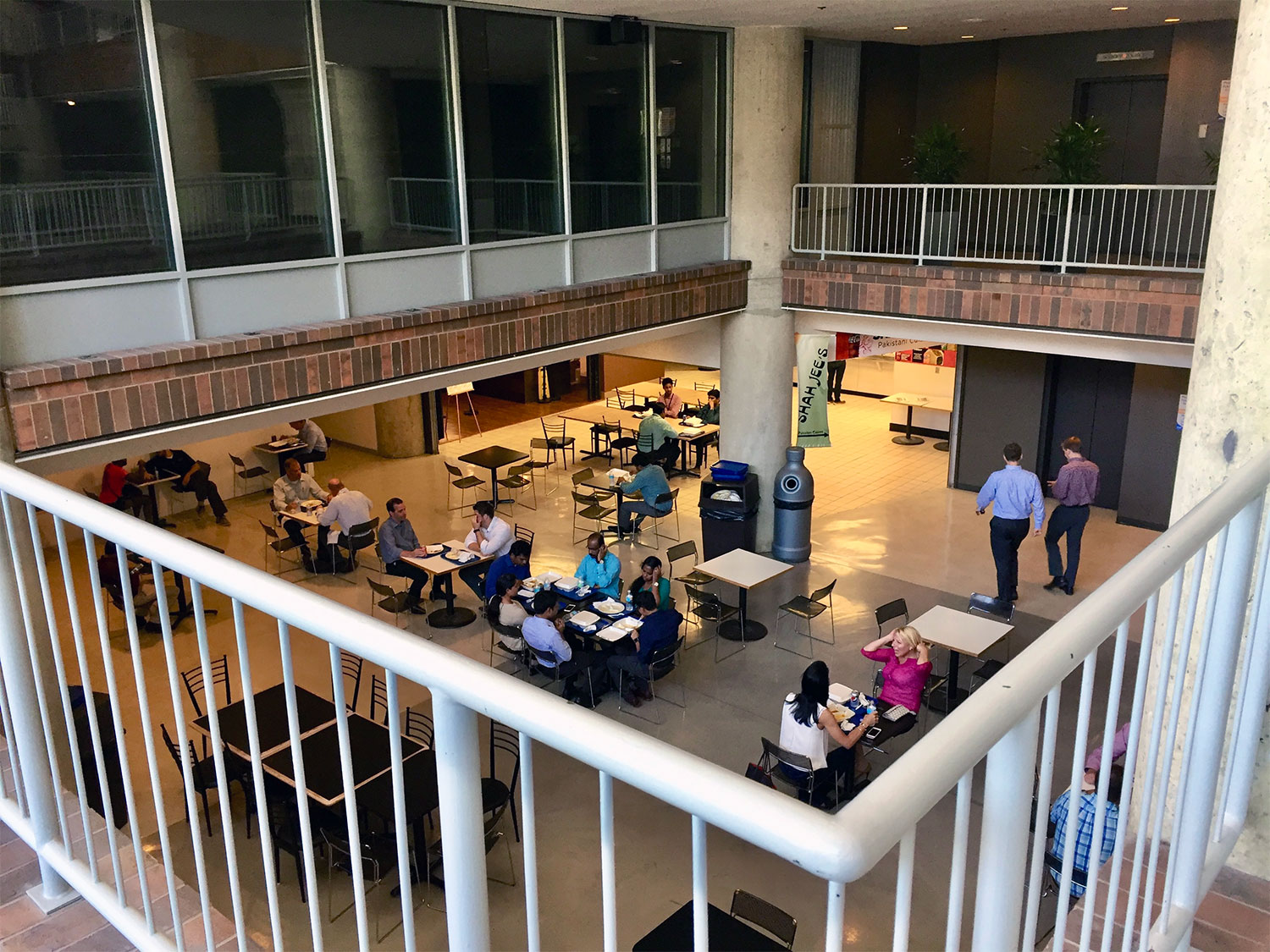 Shah Jee's website offers some history and behind-the-scenes action:
Located in the heart of Milwaukee, Shah Jee's is a popular downtown lunch spot that serves Pakistani food. The restaurant was founded in 1995 by founder and owner Azhar Shah, who created Shah Jee's to bring "quality food for a low price." Twenty-four years later, after local appraisals, expansions, and being graced with a visit from actor and television personality, Adam Richman, Shah Jee's continues to serve their customers to the best of their ability.

As a family operation, the company creates each dish by scratch. Every day, when the sun rises, Shah Jee's starts preparing their signature dishes by whipping out fresh authentic ingredients to garnish with their traditional spices. A lot happens in the kitchen, from soaking chickpeas to rice steaming to the art of cheesemaking. Shah Jee's promises its customers a unique experience by letting them create their own masterpiece—when the clock strikes 11:00 AM, the cafeteria-style restaurant starts serving lunch with a variety of choices to suit the taste buds of each and every customer. Pick and choose to customize a plate to your liking and create a mouthful sensation like no other!
Long lines are the norm around the noon hour on weekdays (Shah Jee's is only open from 11 a.m.-2 p.m., Monday through Friday), and it only takes a few visits to recognize a bevy of familiar faces dutifully tucking into their dishes, served styrofoam-plate-on-plastic-lunch-tray-style.

Shah Jee's menu is delightfully simple: Chicken masala is the main entree, and it can be combined with aloo palak (boiled potatoes and spinach), chana masala (chickpeas), saag paneer (spinach), and daal masoor (lentils). Basmati rice rounds out the typical dish, as does a can of soda (because if you're going to go straight-up cafeteria, you might as well go all the way). A green chutney sauce also awaits those who find Shah Jee's distinctive spice just not spicy enough. Get there early, and you'll get a fresh batch of everything; get there after the lunch crowd has decimated the inventory, and you're simply out of luck.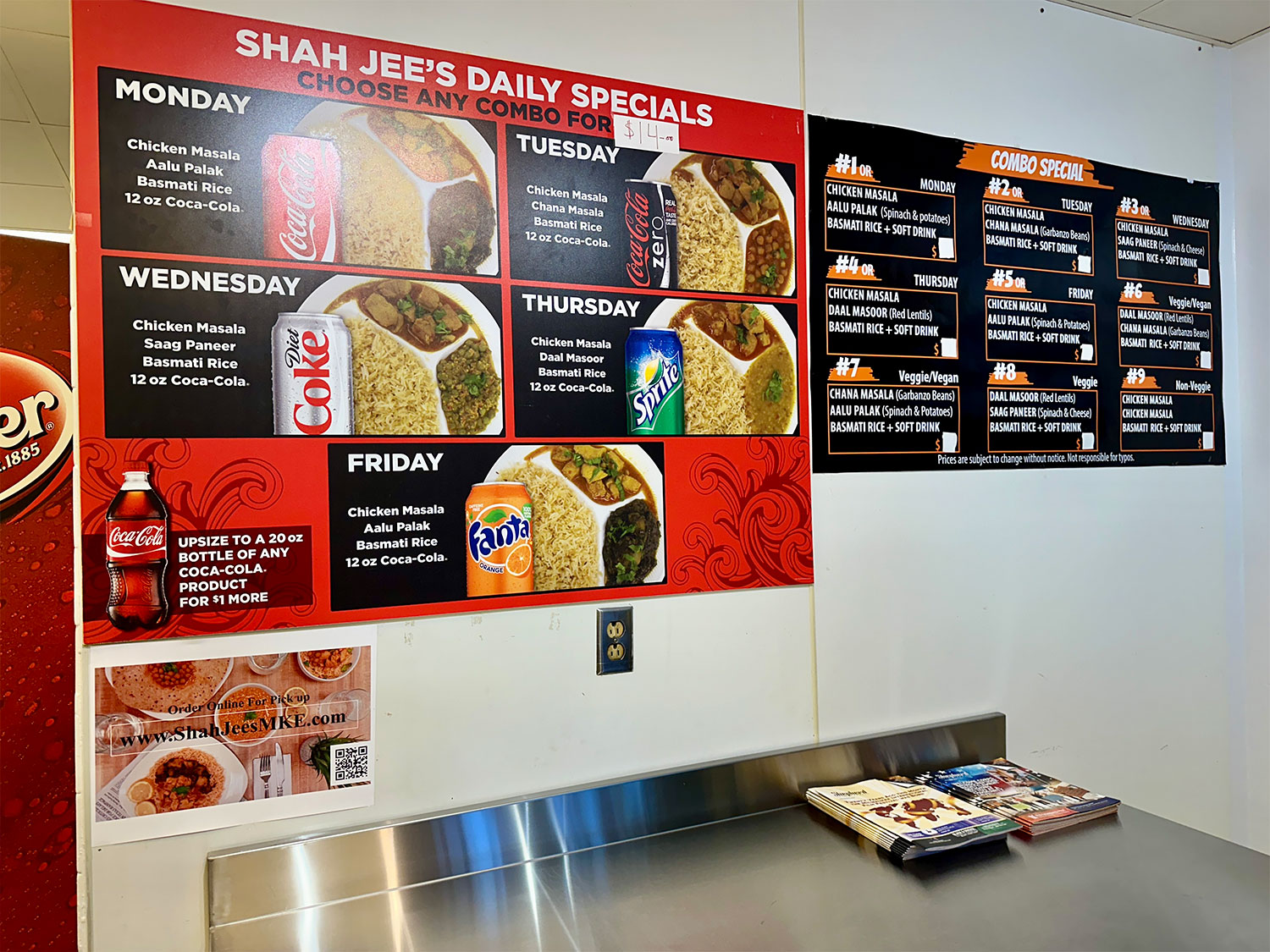 Oh, and one more thing: Shah Jee's is really, really good. Boasting no-frills, light, just-spicy-enough, and robustly flavorful Pakistani cuisine, there's a reason for the long lines and repeat customers. Like the sign says: "COME IN AND TRY! YOU OWE IT TO YOURSELF." Long live Shah Jee's!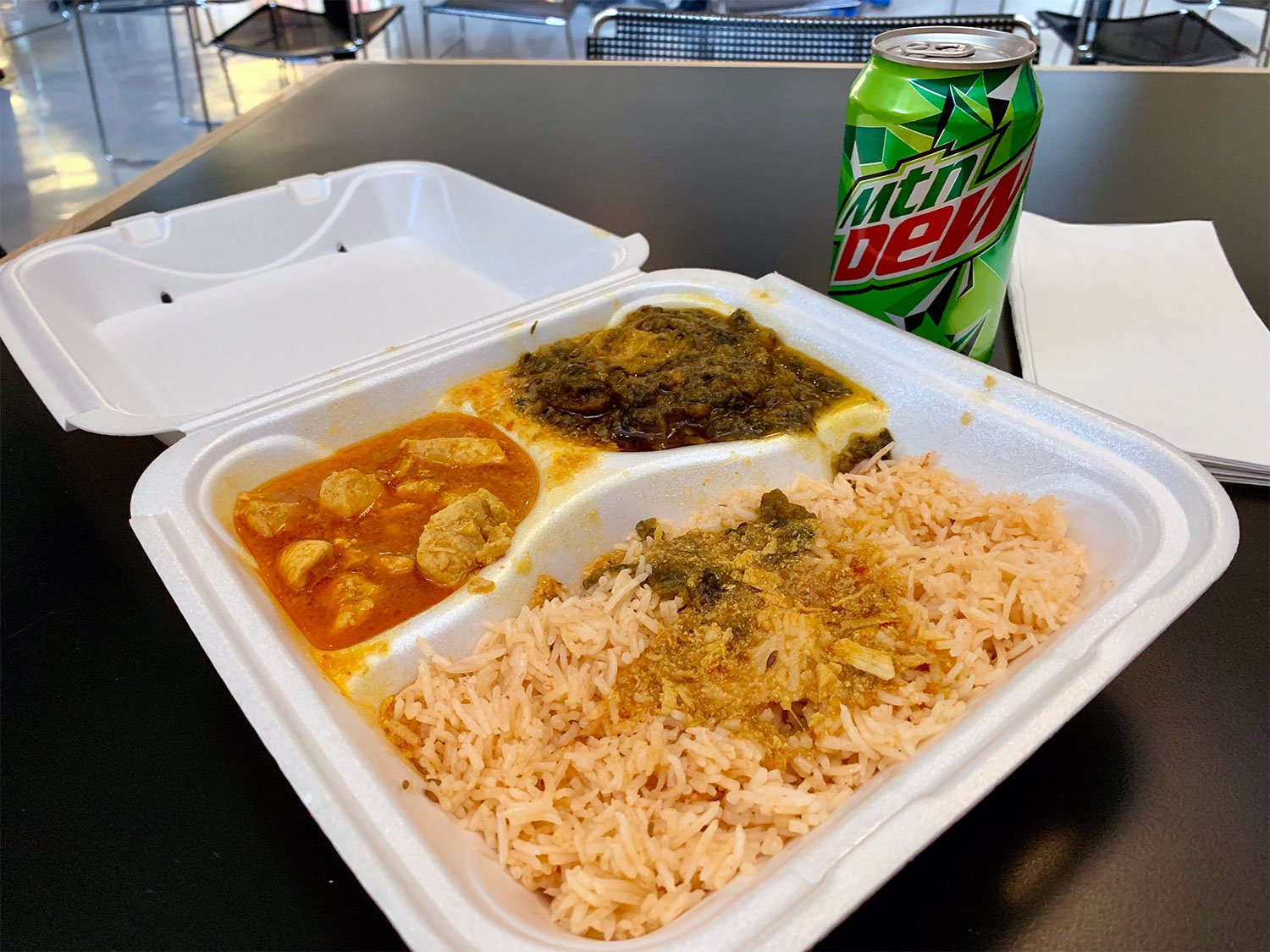 Want more Milwaukee Record? Subscribe to our free weekly newsletter and/or support us on Patreon.