And just like that, another Milwaukee festival season is officially in the books. Though summer is on its waning days, the season's final weekend was a far-from-quiet one. On Saturday alone, Country In The City came to Cathedral Square, Hannibal Buress was killing at Riverside Theater, and Global Union was roaring in Bay View's Humboldt Park. A few blocks from the eclectic world music festival in Humboldt Park's band shell, Bay View Bash brought a vast array of music, food, retailers, thousands of people, and a shit-ton of dogs to Kinnickinnic Avenue. As difficult as it is to say goodbye to summer, Milwaukee Record co-founder/editor Tyler Maas and contributor Phil Martinez couldn't miss the opportunity to take in one last festival before fall's arrival. Here's our minute-by-minute recap of Saturday's Bay View Bash.
12:50 p.m. – Yeah, yeah, we're late. With nine more hours of drinking, live music, and standing upright ahead of us, our tardiness is more of a strategic move than anything else. We browse the selection of $1 CDs, movies, and records outside Rush-Mor and seriously consider buying a copy of Orgazmo on VHS, despite already owning it, before ultimately deciding against toting the NC-17 cult classic around the rest of the day.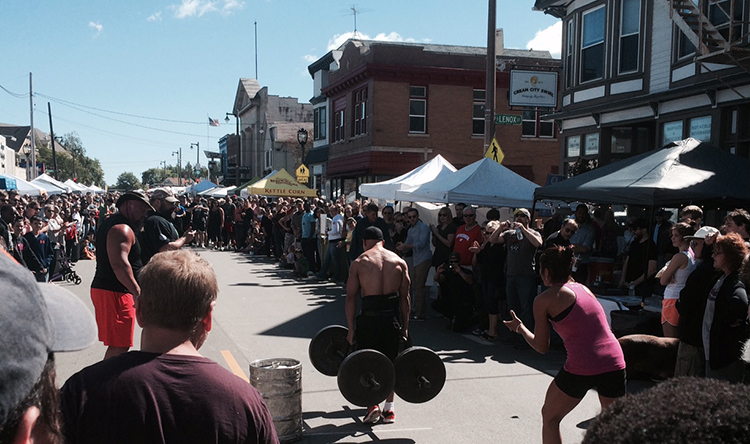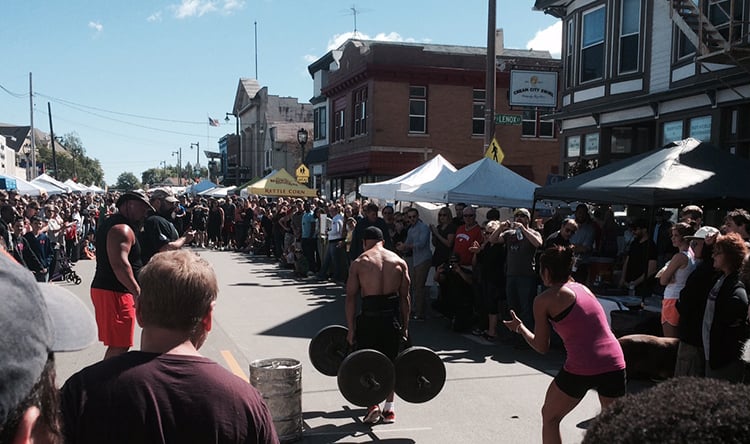 12:56 p.m. – Our attention is drawn to the strongman competition that has congested KK. As a crowd cheers on a dude lugging huge weights, we overhear Brewgrass covering Beastie Boys' "Girls." We're off to a really fucking weird start.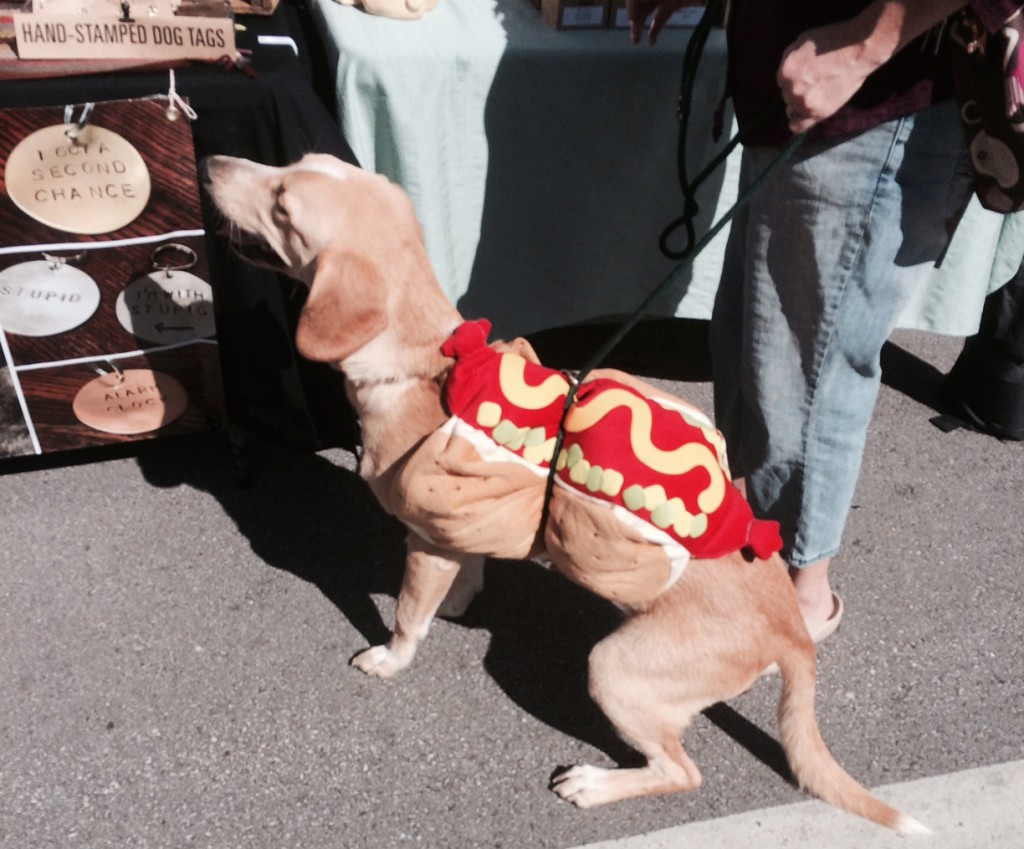 1:10 p.m. – "Bay View has so many dogs!" – Some guy. This anonymous guy is right on the money, though, as the already-crowded early afternoon turnout features dozens of furry friends of all breeds and sizes. Some of them have cruel owners who forced them to wear embarrassing costumes. No animal deserves to be treated like that.
1:14 p.m. – We make it to the center of the festivities and reward ourselves with a Lakefront IPA. First, we're IDed and asked who the president was in 1994. We ace the single-question quiz. Unfortunately, our answer of William Jefferson Clinton doesn't give us extra credit in the form of a free beer.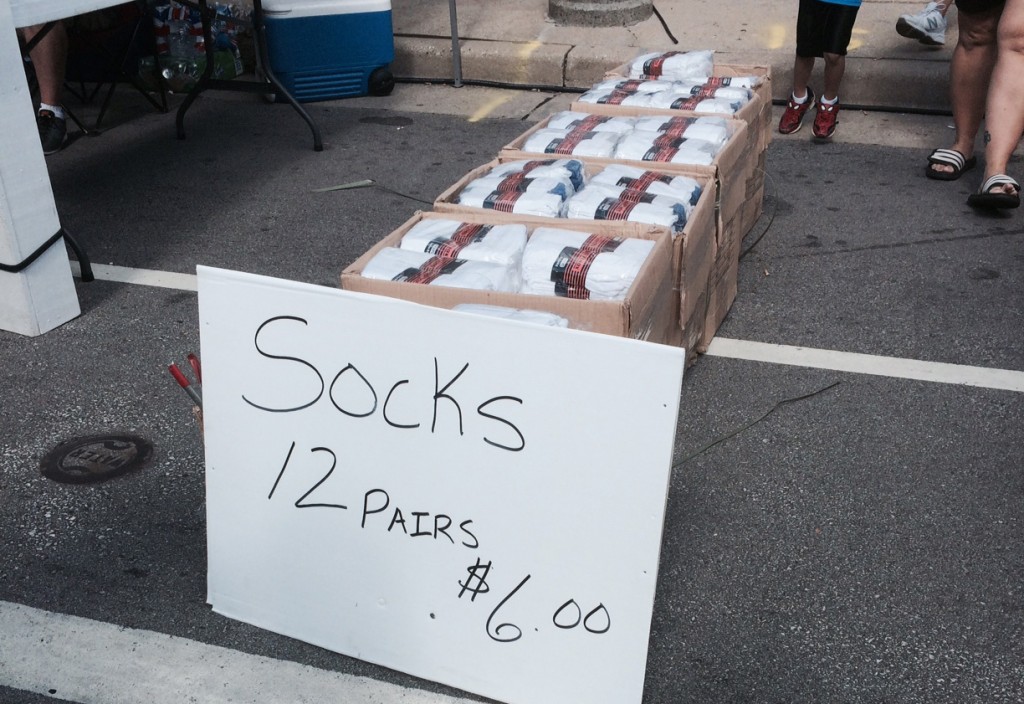 1:27 p.m. – Beer in hand, we browse some of the local retailers on hand. There are the usual suspects like MilwaukeeHome and Wiskullsin, nonsensical vendors pushing fire place installation and socks (which are actually quite affordable), and a bunch of food stands. We bump into Vanessa Andrew of Madam Chino and get some more details on this year's Hover Craft, the awesome annual local retail event she co-founded.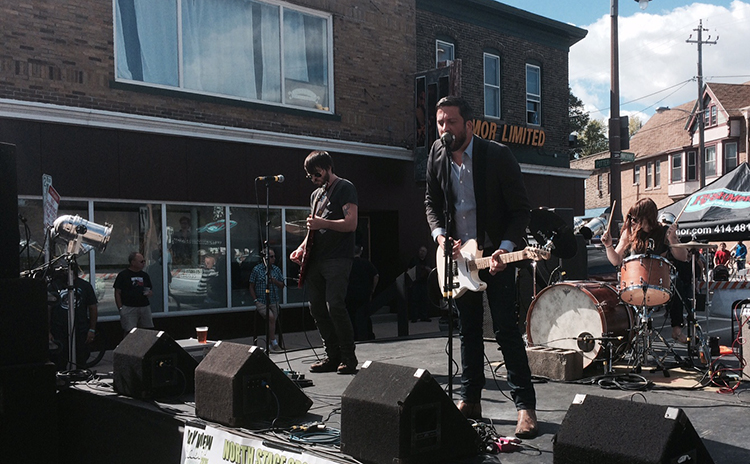 1:45 p.m. – We get to the Rush-Mor stage as Gallery Night is sound-checking. Levels set, the unGoogleable guitar-and-drums trio whips through a six-song, 15-minute performance that finds Kelsey Kaufmann—who, minutes earlier, was slinging drinks at the Sprecher stand—pummeling her drum set, Chris Brook doling out blistering rock riffs on his baritone axe, and singer Jim McCann shouting into an old fashioned microphone.
2 p.m. – The short, sweet, and satisfying set sees opposing waves of people either attracted to or fleeing from the sounds emanating from the Rush-Mor stage. As quickly as it began, Gallery Night's set ends as McCann spikes his guitar on the stage and the band leaves without a word.
2:18 p.m. – On the opposite end of the Bash, we happen up local comedian/mad genius Ryan Lowe. While discussing his upcoming puppetry projects, we see none other than David Gruber walking past the ever-present Gruber Law kiosk. We remark that he's much taller than we expected him to be. "So tall, that's all," Lowe quips before, moments later, directing our attention to a dog with remarkably large testicles.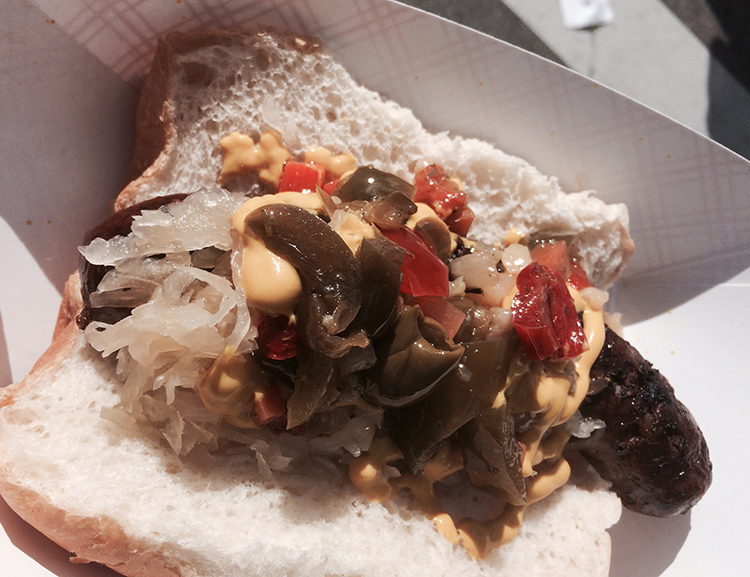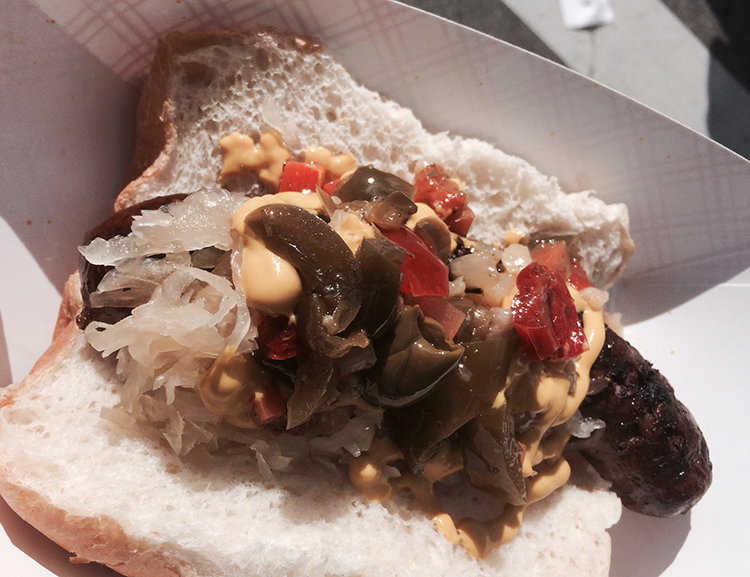 2:48 p.m. – We bravely forego our 5,000th Dirty Burger from Vanguard in favor of a Hot Italian Sausage from Groppi's stand that, astoundingly, is priced somewhat affordable at just $4. We pile that fucker high with kraut, giardiniera, and yellow mustard. It's no dirty Burger, but what is? We have no regrets.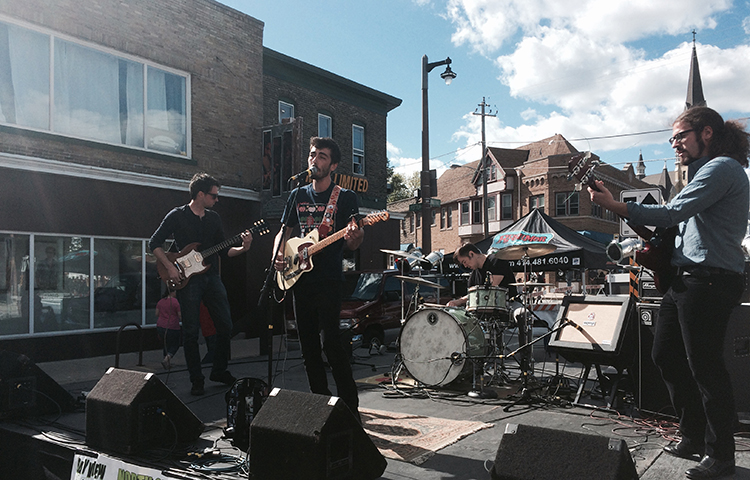 2:55 p.m. – Myles Coyne and his all-star band featuring members of Calliope and I'm Not A Pilot are finishing up a solid set almost (if not entirely) composed of new material. Coyne has reigned in his vocals and really developed as a songwriter since putting out Take Things As They Come. We anxiously await the next record.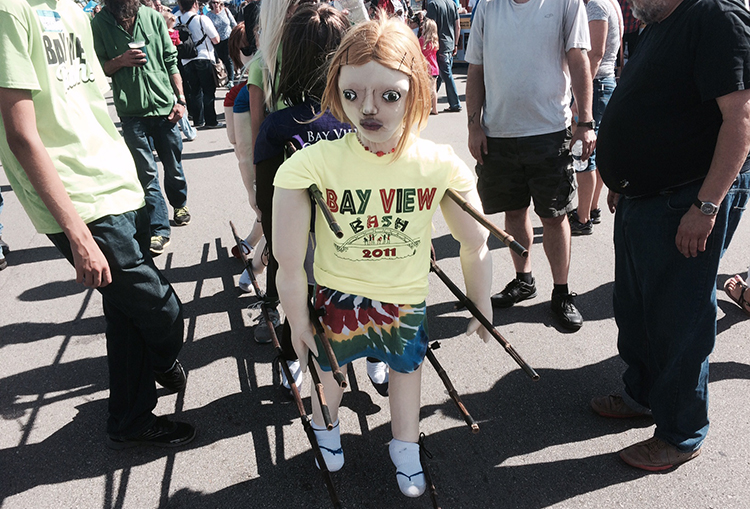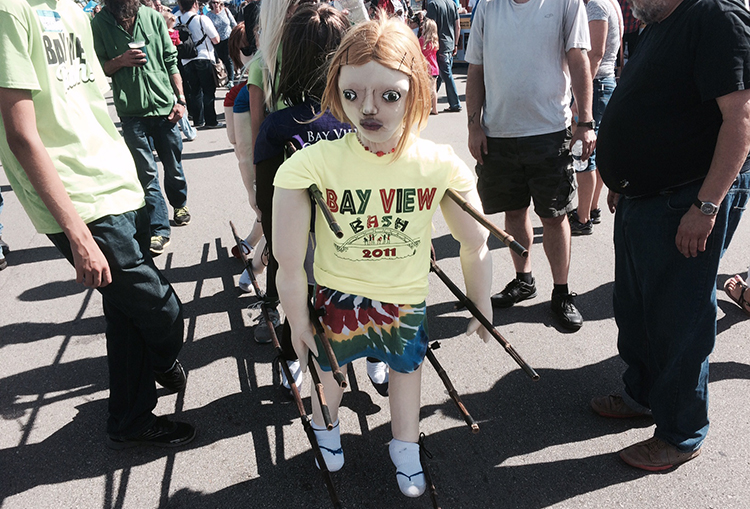 3:16 p.m. – Jesus Christ.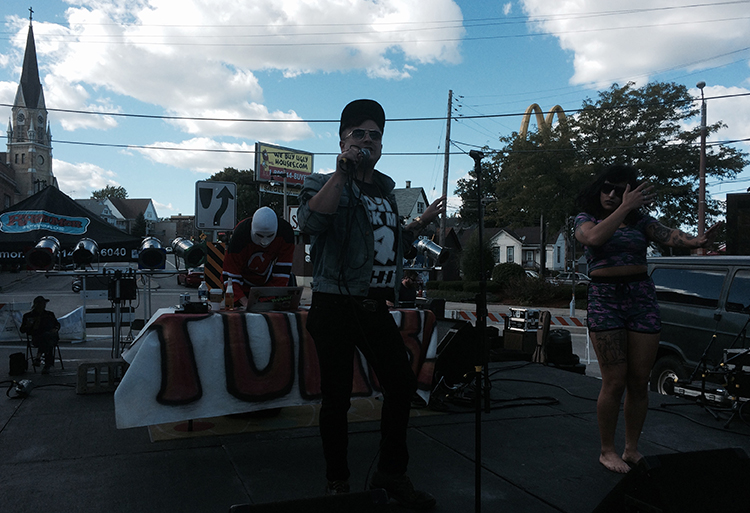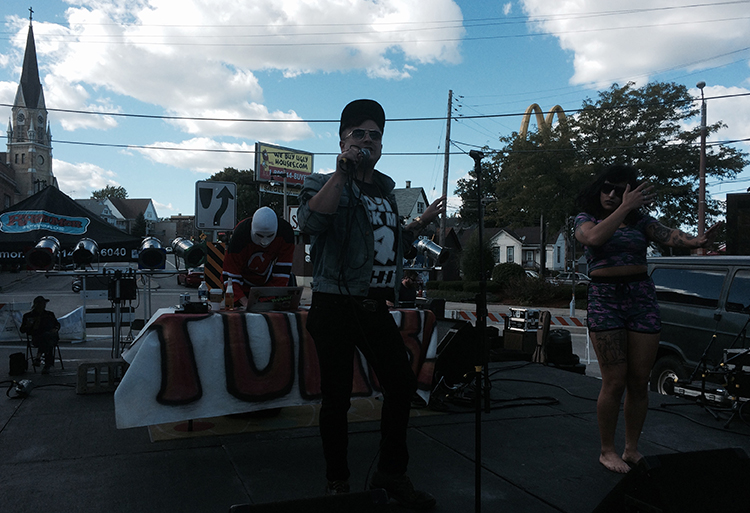 3:49 p.m. – A true testament to the diversity Rush-Mor put into its stage, Rio Turbo unofficially signals the Bash's transition into odd spectacle. With the help of a ski-masked DJ and two Turbettes (NO/NO's Cat Ries among them), frontman Joe Peterson sends families south down Kinnickinnic with greasy party-pop ditties. The set is especially well-received by a shifty 40-something we dub "Cudahy: The Person" who is shouting and, uh, we'll generously call it dancing between drags of his cigarette and sips of the canned beer he illegally brought. "That's my dad!" Peterson claims.
4:03 p.m. – Rio Turbo finishes its set lip syncing to Roy Orbison's version of "Unchained Melody." Holy shit, this is strange. This is awesome.
4:24 p.m. – We get a Gruber Law shirt because why not?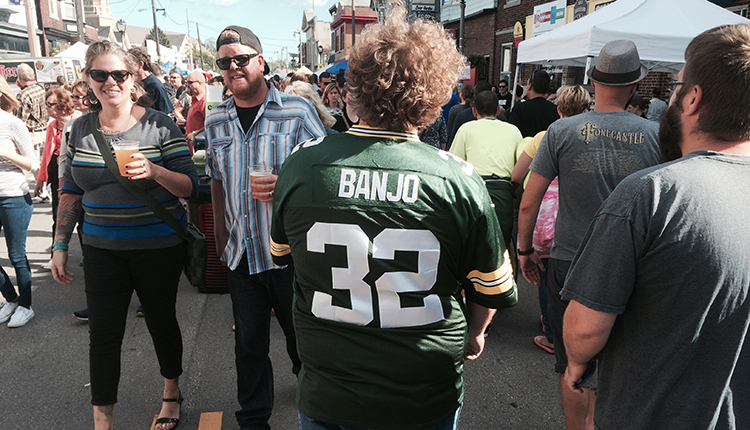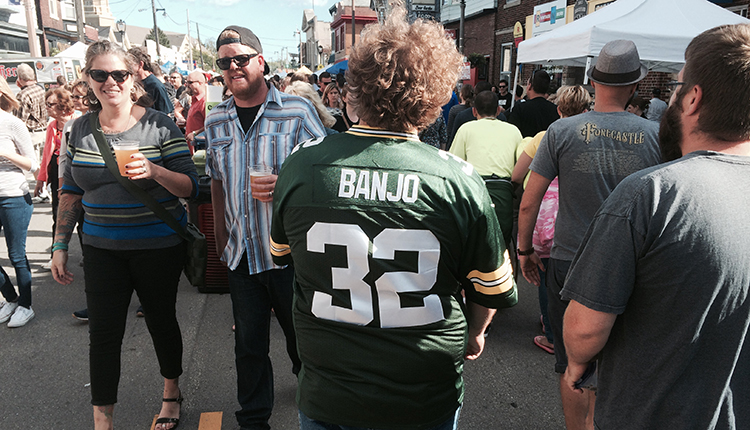 4:33 p.m. – Chris Banjo jersey sighting.
4:50 p.m. – At this point, our laziness is trumping our beer-snobbishness. We've decided Sprecher's Hometown is consumable. On this, our fourth trip to the stand, we try to convince bartender Ryan Bollis that his old/incredible band Galactic Cannibal should reunite this winter when singer Peter J. Woods returns from Harvard. "This actually piques my interest," Bollis says. YOU HEARD IT HERE FIRST, MILWAUKEE! GALACTIC CANNIBAL IS REUNITING FOR SURE!!!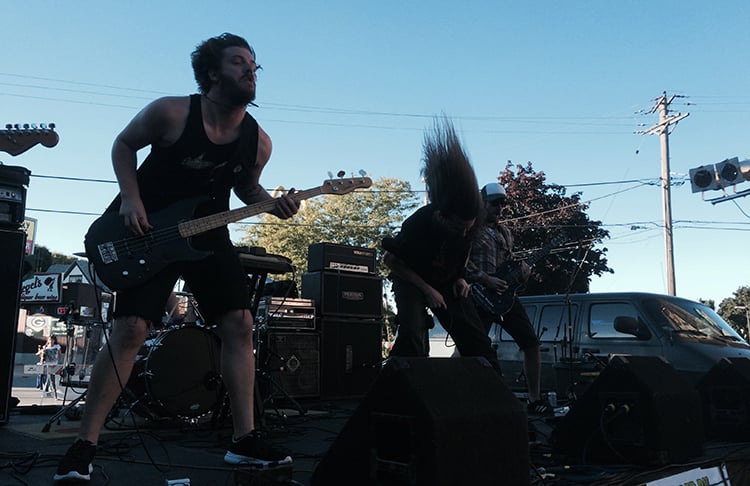 5:12 p.m. – Bill Rouleau of Rush-Mor welcomes Cold Blue Mountain to his stage, assuring us they'll be our second favorite export of Chico, California—trailing Aaron Rodgers—by hour's end. After 40 or so minutes of melodic music punctuated by brutal metal screams, we're inclined to agree. We're also happy to see a young man of maybe 13 years beaming and openly cheering. As lacking as Milwaukee is for all-ages shows, festivals can be a good gateway for youngsters.
5:37 p.m. – It's our first eagle sighting of the day. Not the bird, but some dude wearing a large eagle head. Some high school is most likely missing an important part of their mascot's costume.
5:56 p.m. – Midnight Grove is performing a cover of "Brick House" and there is one solitary dude dancing. It's kind of sad, kind of funny, but pretty funky as well.
6:06 p.m. – We approach the South Stage sponsored by David Gruber and see Joe 2.0, an electric string quartet that rocks. It's pretty cool. They're covering The Beatles' "The End" and it's pretty solid. "The End" is their end and we trek it back north.
6:10 p.m. – Our journey north is slow-paced, and we run into a woman dressed as a statue. She has a sign she will come to life if you give her money. People are giving her money. She moves. We leave.
6:20 p.m. – It is pretty crowded at this point, and the amount of dogs and strollers are making our journey back north on KK quite the task.
6:55 p.m. – Back to the Rush-Mor/WMSE stage, and it's now on the ground in preparation for Yonatan Gat, featuring former members of Monotonix.
7:05 p.m. – The power-trio came, went wild, and left it all on KK as they blistered through their set that coupled the raw energy of punk rock with many world influences that included Middle Eastern, Spanish, Brazilian psych, and many more things we can't quite put a finger on.
7:30 p.m. –  There are confused looks as well as piercing stares as some of the crowd is wondering what the hell is going on while others are entranced by the intricate guitar playing from one of the best young guitarists in rock.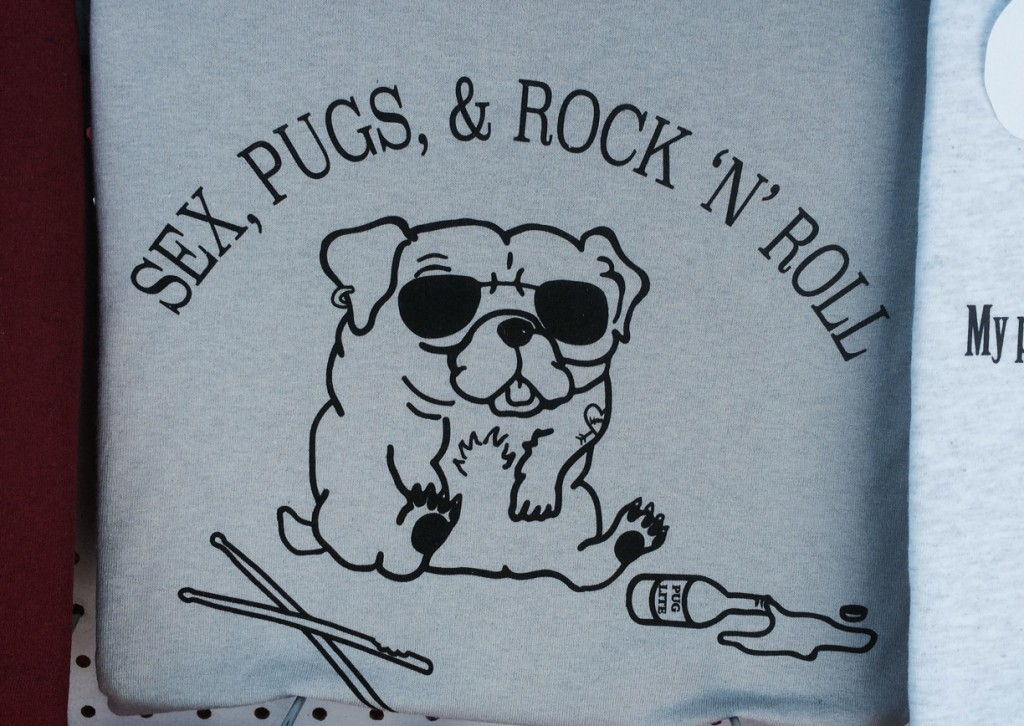 7:52 p.m. – This is disgusting.
8:01 p.m. – We soldier back toward the southern grounds, and check out Dead Man's Carnival. A man is getting a nail hammered into his nose. There needs to be a pilot hole put in first with a power drill. This is ridiculous. Like a car crash, people cringe but will not look away. The stapler has now come out, and we need another beer.
8:18 p.m. – Another round trip with a fresh beer in hand, and we're arriving back at the Rush-Mor stage in anticipation of Space Raft.
8:40 p.m. – Drinking and waiting.
9 p.m. – Space Raft time! They begin playing their psych-tinged power-pop that both brings to mind Elvis Costello and Big Star. The set starts with "Anything is Possible," and it's the perfect end of summer song. The rest of the set does not relent and good times are had.
10 p.m. – Fireworks cascade in the September sky. Another Bay View Bash is in the books.