Depending on which news sources you follow, Milwaukee is going through either a "renaissance" or a "reinvention." Or maybe it's a "reboot" or a "reimagining," like that crappy Tim Burton version of Planet Of The Apes. However you want to define it, it's safe to say that Milwaukee is currently building a lot of new and wonderful things.
• St. Mark's Episcopal Church near Downer Avenue —located across the street from Cafe Hollander, at 2618 N. Hackett Ave., to be exact—wants to sell its grass/parking lot to developer Michael DeMichele and have him build a four-story, 55-unit apartment building there. St. Mark's would also like DeMichele to demolish its existing parish hall, and replace it with a new, smaller facility. "I'm going to build a quality project and I'm going to own it for a long time and I'm going to be proud of it," DeMichele told Urban Milwaukee. "We're doing everything possible to provide the best solution in a historic district."
The church was built in 1911, and is part of the Downer Avenue Commercial Historic District. The parish hall was built in 1948, and is not part of that historic district. [Urban Milwaukee]
• New Land Enterprises wants to build a six-story, 86-unit apartment building at 1000-1010 S. 5th St. in Walker's Point. The $13 million mixed-use development would be called "VIA," and would be located just across the street from New Land's existing "Element" apartments. [Milwaukee Journal Sentinel]
• Developer Westminster Capital wants to build a new industrial building at 841 W. Canal St. Cool! Who would occupy the building? No one knows! [Urban Milwaukee]
• The Urban Ecology Center wants to convert one of its Riverside Park warehouses into an education and special events hall. The converted building, to be known as the Riverland Event Hall, "would host up to 300 seated guests, and include a catering kitchen as well as a smaller meeting room. It also would have 89 parking spaces on surface lots, as well as nine street parking spots." [Milwaukee Journal Sentinel]
• Oh yeah: Speaking of Downer Avenue, the Downer Theatre finally has a new marquee! Here's what the north side of the marquee looked like in January, following some wind damage…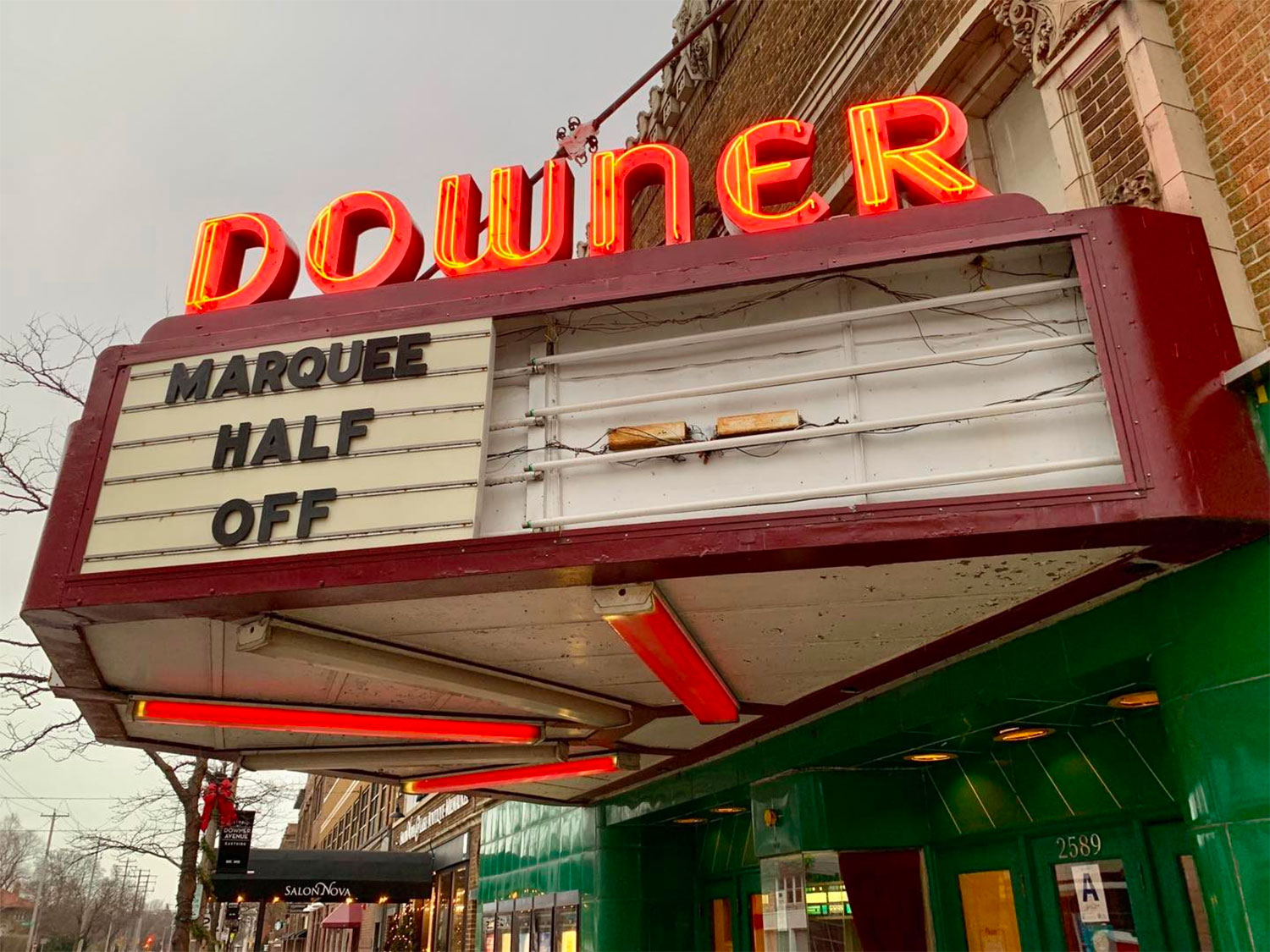 And here's what it looked like earlier this month…
• In non-marquee news, they might raze the Marcia P. Coggs Human Services Center at 1220 W. Vliet St. [Urban Milwaukee]
• A new developer is taking over a pandemic-delayed project to build 24 "tiny homes" for veterans at 6767 N. 60th St. The project is set for completion in 2024. [Milwaukee Journal Sentinel]
• Officials gave the first thumbs-up to creating a new tax incremental financing (TIF) district to subsidy the affordable apartment complex that will be part of the upcoming "Iron District." The new district is the one that will also include a soccer field and a music venue. [Urban Milwaukee]
• Yep, they're still chugging along on that $420 million expansion of the downtown Wisconsin Center. [Urban Milwaukee]
• And what did we learn this week? Well, they're always building something. Isn't that right, old song from my old band?
Exclusive articles, podcasts, and more. Support Milwaukee Record on Patreon.
---
RELATED ARTICLES
• Full "New And Wonderful Things" (formerly called "New Sh*t") archives