The strangest thing about the changing face of Milwaukee's East Side is that I should love it. I'm 39 years old, married, a father, and a longtime East Side resident who has long outgrown the beautiful dream of getting shitty at the Landmark five days a week. The neighborhood's gradual (yet still sudden) transformation from bar-heavy, college-crowd nightspot to luxury apartment-heavy, young-professional haven should be right up my alley. No more throngs of 21-year-old goofballs stumbling around North Avenue at 2:30 a.m., their plaintive "WOOOOO!"s and impassioned barfing sounds drifting through my bedroom window. Goodbye, "dive bars"; hello, "upscale cocktail lounges." Finally, a neighborhood that, like me, has "grown up."
And yet I've struggled with this change. The recent wave of North Avenue closings (sigh: BBC, Hotel Foster, Rosati's, Yield, Rascals, Winchester, Hotch, Nick's House I guess) has left the area feeling anonymous and lifeless. It's kind of fucking dead. Yes, many of those shuttered spaces have new tenants—and the rest won't stay empty for long—but North Avenue no longer feels like a "destination." It used to be a place where you could spend an entire night, drinking at different bars, hopping from place to place, bumping into friends old and new. Now, it feels like a "one-and-done" Uber stopover.
It also feels hopelessly wannabe-trendy. Nowhere is this more evident than in the sudden influx of ramen joints. If you extend your definition of "North Avenue" to a few blocks up Farwell Avenue (which, for the purposes of this story, I'm going to do, dammit), the area is home to three—count 'em, three—ramen joints: Red Light Ramen, Yokohama, and Kawa Ramen and Sushi. Is this really the future of North Avenue and the East Side? Thirteen-dollar bowls of ramen? I ate three $13 bowls of ramen in one night to find out.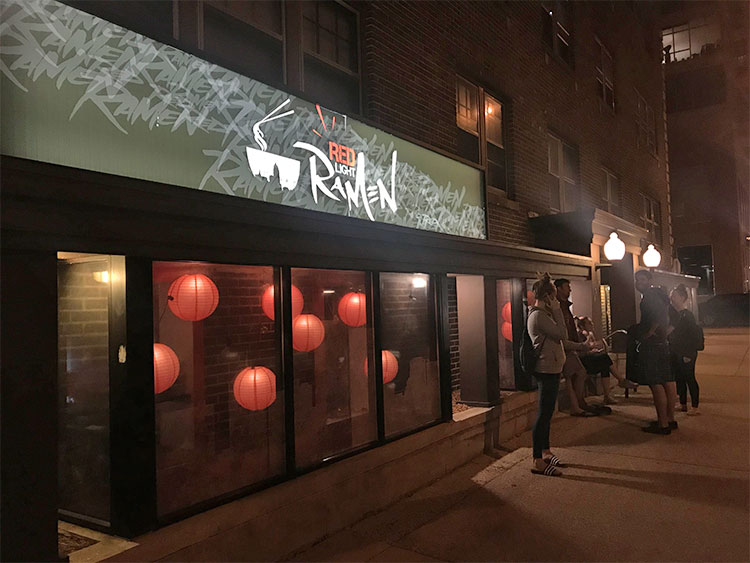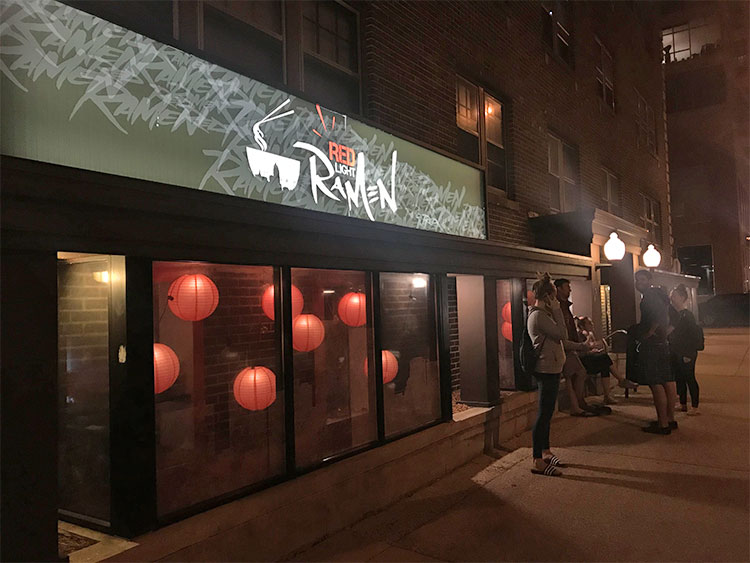 Red Light Ramen
Like a real-deal psychic or those dogs that can sense when an earthquake is coming, Red Light Ramen anticipated the East Side's current ramenpalooza by several years. The popular noodle emporium began life as an after-hours weekend pop-up restaurant inside Ardent. In the summer of 2016, Red Light moved to a permanent space next door. Since then, it's common to see folks waiting outside as early as 7 p.m., caught between the aroma of piping-hot ramen and the temptation of affordable Lord Of The Rings DVD box sets at the nearby Mega Media Xchange.
I hadn't been inside Red Light since the summer of 2016, and I had forgotten just how tiny it is. Only five tables and five bar seats populate its cozy confines, making those outside lines all but inevitable. I managed to snag a bar seat at 6:30 p.m. on a Wednesday, however (Red Light is only open Wednesday through Saturday, and doesn't take reservations). I got comfy, soaked in the agreeably loud De La Soul and Beastie Boys blasting from a stereo, and tucked into my go-to dish for the night: a bowl of Tonkotsu ramen ($13).
Another thing I had forgotten: Red Light is really, really, really good. Perhaps owing to its pop-up origins, Red Light feels less like standard restaurant fare and more like a home-cooked meal. The noodles, pork, and mushrooms were all excellent. The word "fresh" kept popping into my head after every slurp. I was pained when, halfway through, I realized I had two more bowls of this stuff in my near future. I had to get moving.
"How was it?" my server asked, handing me a to-go bag. "Really fucking good," I replied.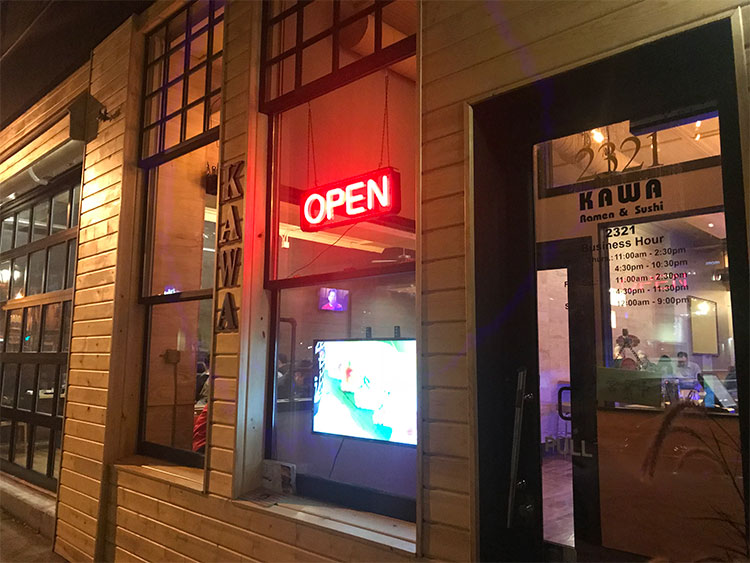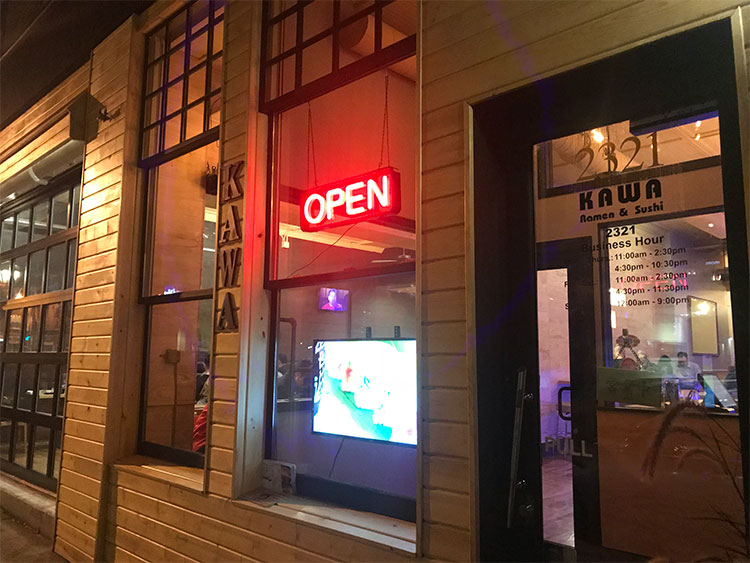 Kawa Ramen & Sushi
It's unfair to call Kawa—the newest entrant in the Great East Side Ramen Boom of 2016-17—simply a "ramen joint." Owned by LinJin Xiao, it's a full-fledged Japanese restaurant complete with all the authentic entrees, appetizers, and sushi you'd expect. Newly installed on the East Side in the old Winchester space (there's a second, original location in Whitefish Bay), it's a bright, airy, and modern restaurant that stands in sharp relief to, say, the "You just passed good Mexican food" walk-up vibe of nearby Mr. Señors.
As for Kawa's ramen…it's good! Really good! My Tonkotsu ($12) scored big on a spicy aroma, flavorful and chewy cuts of Berkshire pork, and two terrific soft boiled eggs. I sat at the bar, quietly wolfing down half my bowl as a "We'd like to speak to your manager"-type couple next to me grumbled about the amount of mushrooms they had in their dish. Buckle up, Yelp! These folks were peeved!
As I was leaving (and contemplating bailing on the whole thing, because, damn, three bowls of ramen in one night is a bit much), I bumped into a good friend who was eating in the adjoining dining room. I explained what I was up to. "Oh, I'm sorry," she said. "I feel like when you Milwaukee Record guys do your weird eating things you probably don't want to be seen."
She was right. I hung my head and walked off into the North Avenue night. Next door, Izzy Hops Swig & Nosh (a new bar/restaurant in the old Rascal's space) was blasting "Funky Town."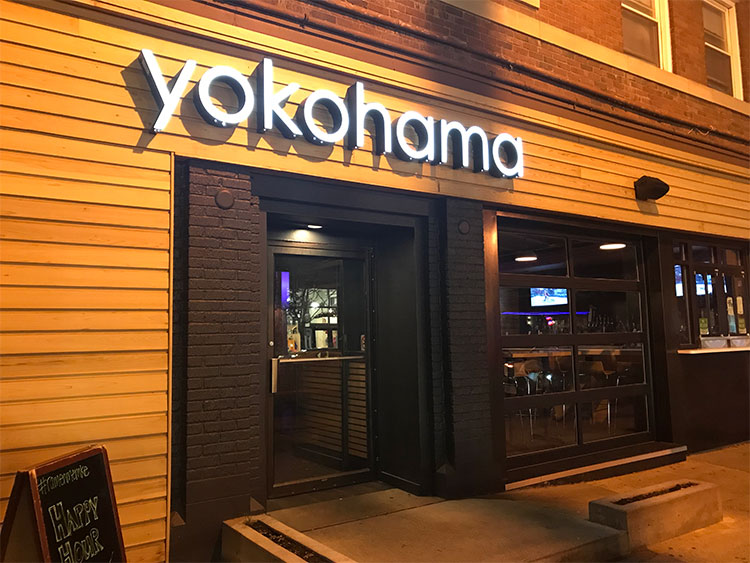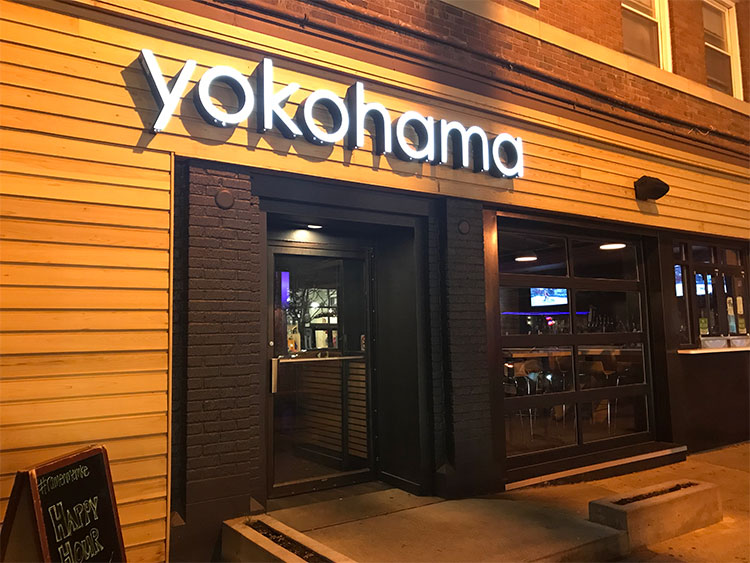 Yokohama
I checked out Yokohama back in June. I liked it. I've been back a few time since. I still liked it. But as the third stop on my Wednesday night tour, hot on the heels of two bowls of excellent to pretty-excellent ramen, it came up a little short. My Tonkotsu ($12) was less flavorful and more broth-y than my previous versions, the eggs were a bit runny, and there was a certain "snap" to the dish that was missing. It was still a fine bowl of ramen, mind you (the Chashu pork was great), just a step below the competition.
And yet I was still taken with Yokohama, which set up shop in the old Yield space this past summer. Here's what I said in my original review:
Yokohama is all about levels. Step inside the Kenilworth doors—past an elevated patio, past a two-booth street-level "parklet" patio—and you're greeted by a bar/karaoke space on your right, and a upper-level dining area to your left. Once ensconced in that dining area—all blonde wood and dim lighting—you can choose from the usual assortment of booths and tables, plus bar-level seating or low-slung "noodle bar" stools. The latter seems perfect for tucking into a bowl of ramen solo, though it does result in the peculiar feeling that the bartenders and servers are looming high above you, Andy Kaufman talk show-style.

More than anything, the revamped space gives off a distinctly "downtown" vibe. Yeah, Kurosawa's Seven Samurai may be playing on the flatscreen TVs, but Busta Rhymes (!) is blasting over the sound system. The bar/karaoke stage oozes with late-night drinking spot potential. Servers sport shirts that say things like "One Hot Momofuker." Gone is Yield's seven nation army of '90s and '00s dorm room posters; in its place is an aesthetic that marries club with candlelit cuisine.
Seven Samurai wasn't playing Wednesday night, but the Bucks game was. I found myself eating slowly, watching the game. More than any other stop on my impromptu noodle tour, Yokohama felt like a place where I could hang out, enjoy the night, and catch a whiff of the East Side of old. Flyers in the bathroom tout Packer games and Tuesday night karaoke leagues. It's not all that different than Yield, really.
Did I mention eating three bowls of ramen in the span of three hours is a dumb idea? And that it makes you never want to eat ramen again? And that as I grabbed my third to-go bag I struggled to remember what I was trying to accomplish with my little mini-stunt? Oh well…
Fuck it, I'm going to Landmark
I love the Landmark. I've always loved the Landmark. The Landmark is 90 years old. The Landmark can never die. I felt like I was going to die as I trudged down its steps, a no-frills rum-and-coke and a new Ghostbusters pinball machine beckoning me ever downward, ever downward.
Here's the thing: the Landmark was kind of hopping. On a Wednesday. As I took a seat in the main bar I realized other places I had passed throughout the night had been busy, too: Comet, Vintage, Colectivo. Von Trier was kind of quiet, though. (An aside: WHY AREN'T YOU PEOPLE DRINKING AT VON TRIER MORE OFTEN?) It was a far cry from the Tuesday-night North Avenue shit-shows of my past, but who has time for those anymore? I certainly don't, and maybe no one else does, either. Still, the area was hardly dead or dying.
All that and more rattled around in my head as I grabbed my leftover ramen and made a pit stop in the Landmark bathrooms. If so much of the East Side has changed in the past few years, the Landmark bathrooms haven't. I took comfort in that, even as Aladdin's "A Whole New World" inexplicably piped out from the bathroom speakers. It seemed about right.