Dedicated followers/drinkers of Milwaukee County Parks beer gardens may have noticed that Juneau Park, 900 N. Prospect Ave., is missing from this year's Traveling Beer Garden schedule. That's because the downtown-ish park is getting its very own, non-traveling beer garden that will be on-site all summer long! Fun!
Yep, the new Juneau Park Beer Garden will open for business on May 24, and stay in business through August 20. A Grand Opening celebration will kick off at 4 p.m. on May 24, with a keg tapping and ribbon cutting ceremony to follow at 5 p.m. There will be free beer and root beer from 5-5:30 p.m.
Seasonal operating hours will be 4-9 p.m. Tuesday-Friday; and 11 a.m. – 9 p.m. Saturdays, Sundays, and holidays.
"Summer in Milwaukee would not be the same without the Juneau Park Beer Garden," says District 3 Supervisor Sheldon A. Wasserman in a press release. "Although it's called a beer garden, sodas, snacks, and other refreshments will also be on sale for Milwaukeeans of all ages to enjoy. Come enjoy the wonderful weather while supporting our parks."
Features of the Juneau Park Beer Garden will include 12 draft beer lines (plus soda and NA selections); seating for more than 250 people; rotating food trucks Friday nights and Saturdays; sausages, brats, hot dogs, and Milwaukee Pretzel Company soft pretzels; and live music (sponsored by Third Space Brewing) on Fridays and Saturdays from 5-8 p.m.
Find the drink menu HERE. Find the food menu HERE.
"Parks could not be happier to add another beer garden to our wonderful summer in Milwaukee," says Executive Director of Milwaukee County Parks Guy Smith in a press release. "Due to the popularity of Juneau as a Traveling Beer Garden stop and the engaging community around it, we are excited to offer another location for folks to enjoy this summer."
Here's the live music lineup: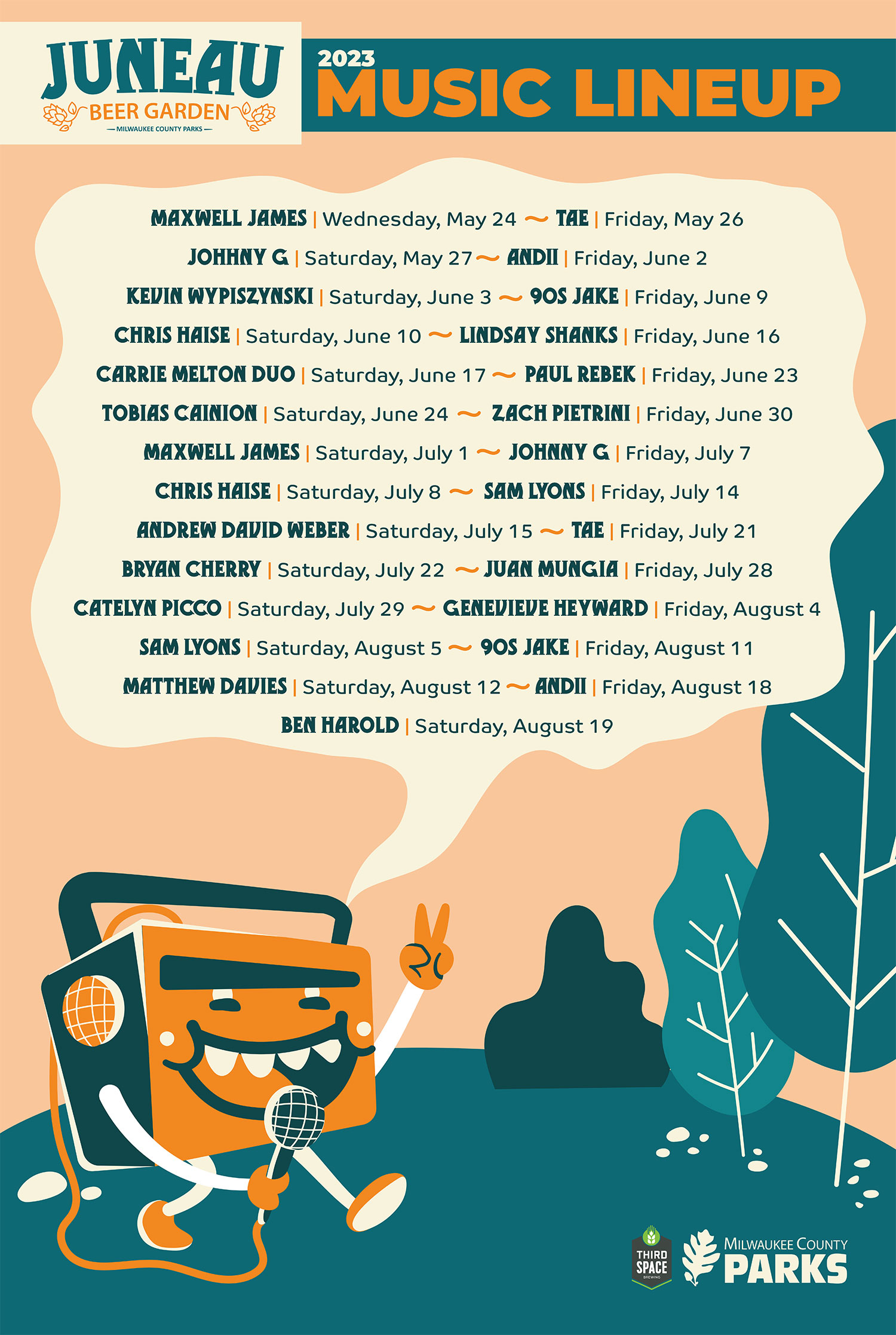 Exclusive articles, podcasts, and more. Support Milwaukee Record on Patreon.
---
RELATED ARTICLES
• Hey! Here's the schedule for the 2023 Traveling Beer Garden