After hosting 12 years worth of ivory iterations that ran the gamut from popular songs to timeless bar standards to any other requests bachelorette parties and your mom could muster after a few fishbowls, Lucille's Piano Bar played its last note back in October. Depending on who you ask, the piano lounge either ended its downtown residency far too early or it took a dash of tourist-tailored cheesiness out of Milwaukee's downtown to make room for something better. Within a month, Matador Taco + Tequila Bar (1110 N. Old World Third St., 414-897-8137) staked its claim on the sprawling Third Street spot. By year's end, the new endeavor with ownership ties to Oak Tavern in the Third Ward was open for business and set its sights on bringing, as the name suggests, tacos and tequila within stumbling distance of Turner Hall and the Bradley Center.
The space: Matador's overnight—at least by restaurateurs' terms—opening is pretty astounding, yet the speed of the transition becomes abundantly clear upon entering the site. The 5,000-square-foot space wasn't exactly in disrepair when it was Lucille's, and surely the same kitchen that was capable of churning out chicken strips and what generously passed as nachos is equipped to sustain street tacos and churros. Signage notwithstanding, not much has changed between tenants.
The minor modifications that have occurred in the partially-remodeled establishment are for the best, though. The vast street level interior borders on drab due to its unfinished cement floors, ominous pillars, and unfinished wood slat walls has a sudden dash of warmth conveyed by colorful chairs and bright booth cushions. While the decor is lacking, massive windows give a glimpse of the Old World Third activity, for better or worse. About 10 mounted flatscreen televisions tuned to ESPN more than justify Matador's secondary sports bar identity. The pianos are long gone, with extra seating and a DJ booth residing in their place. With no DJ on during our weekday afternoon visit, a steady diet of club songs by Lady Gaga, The Weekend, and Andy Grammar served as the soundtrack at an evident-but-inoffensive volume. Some things never change.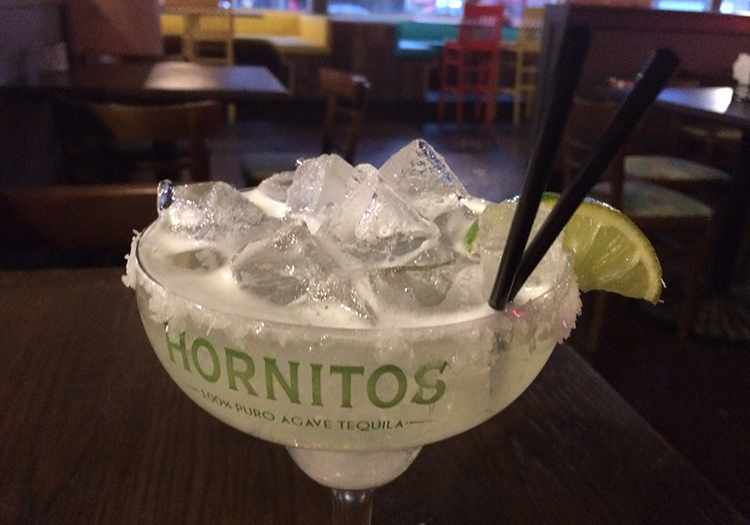 Milwaukee Record's food/drinks: As we examined the menu and chomped our complimentary platter of thick, crunchy house-made tortilla chips with red and green salsas, we sipped a house margarita. The Matador ($7) combines a potent portion of Sauza tequila, agave nectar, sweet and sour mix, and lime juice into a frothy and refreshing combo. While it far from reinvents the house margarita on the rocks, it makes for a worthwhile taco companion, especially for the scant four bucks it ran us on account of Matador's happy hour, 4-7 p.m. Monday through Friday. Blended margaritas were also on special, and for the less price conscious among us, there's more than 10 more specialty cocktails that lean heavily on tequila, but also include mezcal and a michelada (beer and tomato juice) offerings. Speaking of beer, there are 11 domestic and common micro taps, along with more than 20 bottled cider and (largely mainstream Mexican) beer varieties.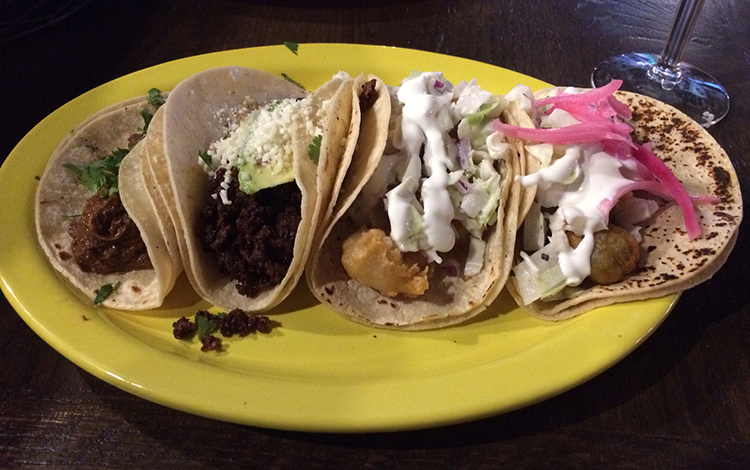 The happy hour special extends to Matador's modest and even more modestly-priced food menu, with each of the nine types of tacos available for $2 apiece (marked down from $3.50 to $4). We took that opportunity to sample four selections that we felt displayed the diversity of fare. The Avocado (far right) was a strong start, as chunks of battered fresh avocado joined forces with pickled onion, jimca slaw, and a liberal dousing of lime crema. Though it's the only vegetarian taco on the menu, there are far worse ways to settle. The Cod (second from right) offered the same beer battered crunch, crema, and slaw, but the flaky fish pieces lacked seasoning and perhaps relied, in vain, on the sauce and jimca to do most of the heavy lifting. Fortunately, the subtle spice and lime-y tang of our remaining green salsa came to the rescue.
Continuing down the line, the Chorizo (middle left) had all the seasoning the Cod was missing—and them some. As chorizo is known to do, saltiness led the charge. Yet an avocado slice and cheese trailed closely behind to help diffuse the sodium bomb. The usually greasy meat was uncharacteristically dry and crumbly, but the taco was not a regrettable order in the least, especially when we added a layer of smoky red salsa to the mix. Finally, our taco travels ended with the Chicken Mole, which had the most flavor-forward meat and a generous sprinkling of cilantro. Through the sloppy smattering had the appearance of a townie bar's crock pot taco, the safe, inviting mole rendition and the tender white meat chicken corrected our first impression. Though incredibly full from the $8 bounty, we had to try the Horchata Ice Cream ($4). The big scoop was chalky at first bite, but when left to soften, the ice cream and its churro dusting made for an acceptable ending to an altogether decent dining experience.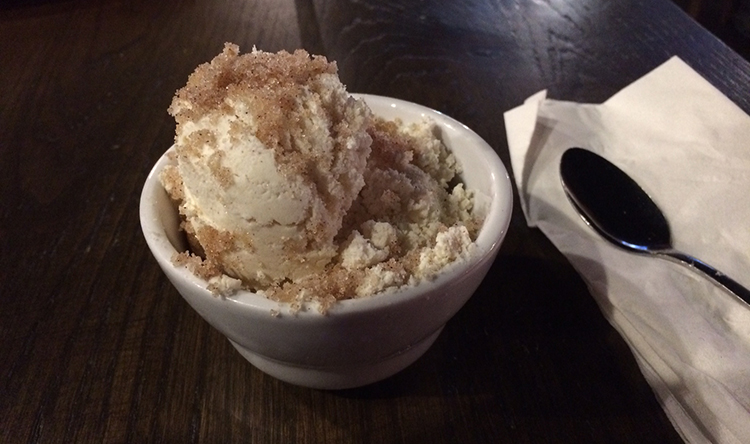 The verdict: On food alone, Matador Taco + Tequila Bar isn't doing anything you haven't already seen at places like Gypsy Taco, Taco Bandito, and Mango's Cafe. But when factoring in where it's being done (not to mention its liquor license, great service, and abundance of space), Matador has succeeded in bringing a fast, affordable, accessible, and above-average dining option to one of Milwaukee's most overpriced and bombastic streets. No, it probably doesn't necessitate a trip on its own. That said, it could quickly climb up the ladder of places to grab a bite before a show at Turner Hall or get a drink after a Bucks game. And it gets bonus points for not being a piano bar.