For a while there, Milwaukee was a one tiki bar town. After Lucky Joe's Tiki closed shop last fall to focus on its Alchemy & Eatery offshoot in Wauwatosa, Foundation was pretty much the only truly dedicated establishment residing squarely beneath the tiki drink umbrella in metro Milwaukee. But Foundation proved to be just that, as its success and longevity acted as a steadfast blueprint for other island-enthusiast entrepreneurs to try their hand at their own iteration of the tiki theme.
First came Wauwatiki, a less-than-subtle suburban bungalow that set down its bamboo roots in the heart of 'Tosa in April. Last month, Mango's Cafe (1682 N Van Buren St., 414-269-9810) took a stab at the underrepresented genre, only with a bit of a twist. Instead of the darkened lounge, mood-setting island tunes, and meticulously crafted Caribbean cocktails of its brethren, the new bar offers relaxed and revised takes on tiki standards, specialty tacos, buffalo wings, and modern reggae music amid the expected decor.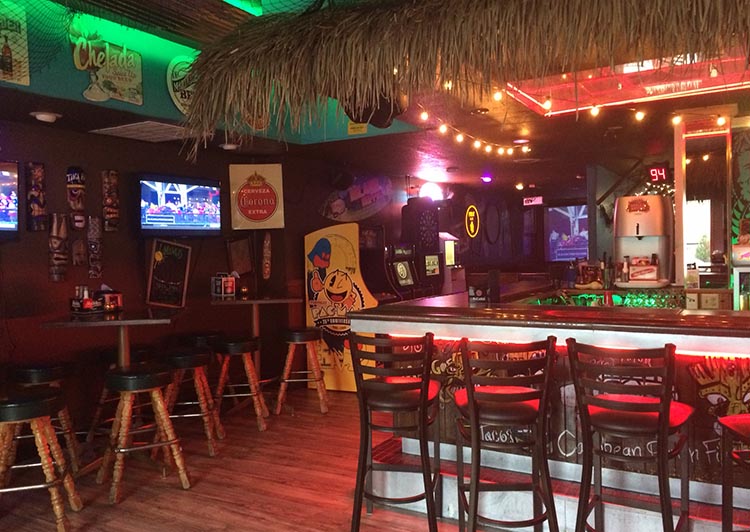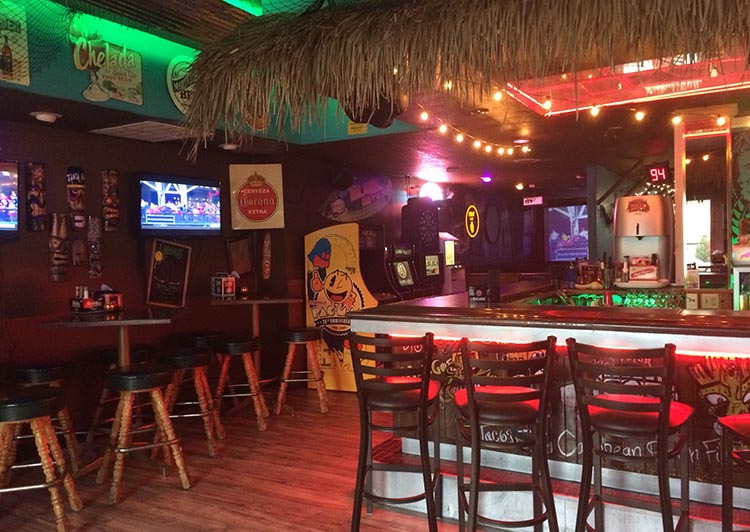 The space: After Libby's called it quits following 45 (mostly) fruitful years a block off Brady Street, Van Buren's Whiskey Bar & Grill lasted less than two years in the renovated room. Many of Van Buren's changes remain, including the five televisions, four tap lines, a dart board, and the for entertainment only video poker machine. Though not much has changed between owners, the few modifications are striking. Straw and Caribbean-inspired art run the entirety of the L-shaped bar. Fishing nets and light bulbs hang from the ceiling.
Speakers bumped songs like Peter Tosh's "I Am That I Am," Althea & Donna's "Uptown Top Ranking," and an Alpha Blondy cover of Pink Floyd's "I Wish You Were Here." The exterior remains roughly the same as ever, save for the new sign to reflect the name change and, oh yeah, a gigantic gaping mouth customers must walk through to enter the place. It's almost as if owners took over a turnkey bar and grill and decided to apply a slight tiki connection to it without breaking the bank to do so. Okay, so maybe that's exactly what happened.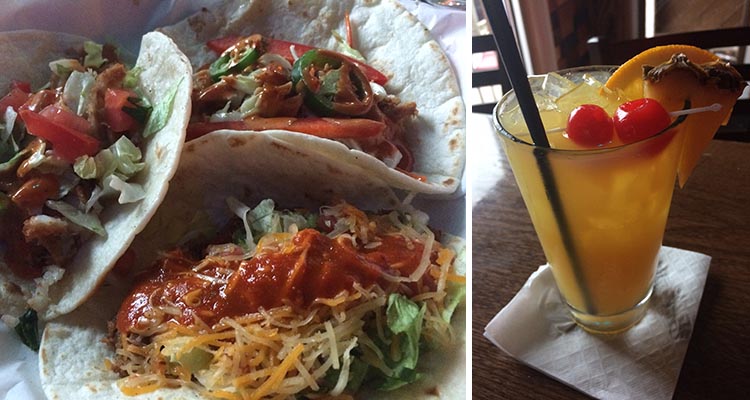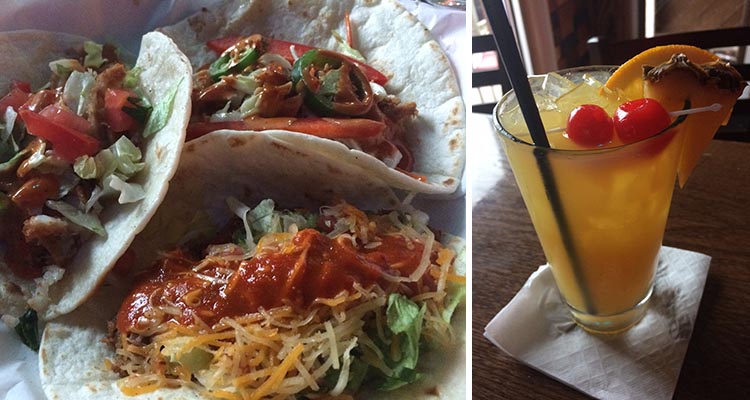 Milwaukee Record's food/drinks: The inauthentic environment is forgivable though, especially when it leads to tacos. We breezed past the wings and the perplexing presence of mozzarella sticks and set our sights on tacos, on which Mango's seems to hinge its reputation. There are 16 varieties of tacos, which cover chicken, steak, seafood, beef, pork, and vegetable selections. We sampled options from three different ends of the meat spectrum. The standard Fish Taco ($3.50) came stuffed with fluffy hunks of lightly breaded and fried cod, fresh lettuce and tomato, topped with a smoky chipotle tartar sauce. Our Chipotle Chicken taco ($3.25) came complete with tender and juicy—almost too much so, since it dripped all over our other tacos every time we took a bite—seasoned poultry, a creamy slaw with chucks of fresh jalapeno and red pepper and the titular chipotle sauce wrapped in a warm flour tortilla.
Finally, we concluded our taco tour with the Volcanic Beef Taco ($3.50), which came with a spice-related warning from our upbeat and informative server Jazmin. The warning was warranted, with the distinct sinus-vacating sting of ghost pepper quickly making its presence known. Beyond the manageable heat, the Volcanic Beef did the least to set itself apart from its more ambitious and satisfying predecessors. It's also worth noting Mango's offers all tacos for just $2 daily from 5-7 p.m. as part of its happy hour. Taps (currently Miller Lite, Crispin Cider, Corona, and Blue Moon) are also $2 during happy hour. Also, food is served until 2 a.m. Admittedly, the tacos alone might not be worth the trip (except during happy hour), but they succeed as a welcome additive to a Brady-adjacent bar experience.
We cooled the volcanic scorch of our last taco with a Mango Mai Tai ($8), which seems to be the flagship beverage on Mango's 12-cocktail list. The pint-sized amalgam of Bacardi Mango, Captain Morgan, and orange juice beared next-to-no resemblance to a traditional mai tai, neither in appearance, in ingredients, nor in terms of potency. The refreshing and simplistic rendition wasn't bad by any means, but it wasn't what we expected. The various other fish bowls, margaritas, daiquiris, the Sex On The Beach, and something called "Jamaican Me Crazy" don't exactly re-invent the wheel either, but could be safe and accessible companions to tacos and wings being enjoyed while watching a game in a casual quasi-Caribbean setting.
The verdict: If you're looking for authenticity, you're out of luck. However, even though Mango's Cafe East isn't strictly adhering to any semblance of a tiki theme, it's certainly bringing something different to a building that hasn't seen much change over the last half-century. It's not a tiki bar, is not a Mexican restaurant, isn't a sports bar, and is nowhere close to being a neighborhood dive. Still, Mango's somehow manages to take elements of all those things to forge an identity that's at least worth investigating. Next time you're on or around Brady Street and seeking a change of pace, consider walking through the gigantic mouth and into the unfamiliar.