With the recent wave of theme bars, lounges, dance club/pizza restaurant hybrids (RIP, Crisp!), and national beer bar franchises (Don't RIP, World Of Beer!) sprouting up on and around the already night life-equipped Brady Street, places like Libby's are getting lost in the shuffle. Since the late 1960s, the small watering hole less than a block off the east side causeway served as a welcoming place patrons could enjoy cheap domestics and stiff cocktails, watch a game, shoot pool, and indulge in greasy burgers or no-frills Friday fish fry. Late last summer, the Brady-adjacent bar that quietly stood for more than 45 years finally threw in the towel.
In the wake of the closure of Libby's Lounge, new owners quickly snatched up the space. Van Buren's Whiskey Bar And Grill (1682 N. Van Buren St., 414-269-9810) opened less than a month ago and is now faced with following an establishment with almost a half century under its belt. Literally in the shadow of legendary neighbor Angelo's Piano Lounge on a block that's an afterthought for Brady Street imbibers, could the new bar and grill enjoy the same longevity of its predecessor or will it, too, be lost in the shuffle.
The space: After trying (and failing) to visit Van Buren's an hour after its posted opening time during its second Saturday in business, we were glad to see the bar was actually open this time around. A trio of 50-somethings who were holdovers from the previous regime were camped at the peninsular bar and shooting the shit with the bartender while wrapping up the first of what they said would be many visits. Admittedly our last time at Libby's was to watch a game of the 2008 World Series, but not too much was different from how we remembered it. The pool table was gone and replaced by booths, the non-HD televisions were swapped out for flatscreens, and every crevice of wall space not taken up by pub tables had a video poker machine wedged in. A self-described "Whiskey Bar," Van Buren's proudly displayed its respectable cast of mid- to top shelf brown liquors in a glass case nestled beside the modest grill/kitchenette situated behind the bar.
The service: Before we get too deep into our experience, allow us to reiterate that we always try to give brand new establishments the benefit of the doubt when it comes to small mistakes, as they're expected with staff that has yet to master the menu and is, in many cases, still learning the names of co-workers and where items are located. When we took our seat at the bar, the bartender/server—an extremely friendly young woman named Kelsey—was quick to welcome us and make small talk as we waited for our food, which arrived in a very timely manner. Unfortunately, we not only received the wrong menu item, we literally paid for the mistake by being billed for the more expensive menu item.
Milwaukee Record's food/drink: As we sipped our Miller Lite ($3.50)—the least filling draft option of the bar's quartet of tap lines—and took note of the 35 combined whiskey, scotch, and bourbons on hand, we scanned the small list of entrees. Seeing just six sandwiches on Van Buren's single-page menu was actually kind of refreshing compared to the nearly novella-sized selections that often plague young businesses who are desperate to have something for everyone. We quickly fixed our gaze on the delectable and downright regal description of The Presidential ($9.95), which was a half-pound angus beef patty topped with a fried egg, bacon, peanut butter, both cheddar and American cheeses, buttercrunch lettuce, and tomato encased in a round roll from nearby Peter Sciortino's bakery, served with a side of seasoned fries.
When our basket arrived, we wasted little time before diving into the small pile of zesty, peppered-flecked french fries. After dispatching a few crispy and outstanding fries, we dove into our burger. Upon first bite, we couldn't help but notice the center of the already-halved sandwich was thoroughly pink. Fortunately, we're not at all averse to medium rare meats. Unfortunately, we were never asked how we'd prefer our meat to be cooked. If bloody is Van Buren's default, be sure to specify if you'd like yours prepared otherwise. Be sure to say it clearly, too. A couple bites in, we realized we had yet to masticate even a morsel of fried egg, not so much as a dab of peanut butter, and the purportedly half-pound patty looked a little thin. Either The Presidential was a lame duck or, more likely, we (now the only non-employees in the joint) had received the wrong order.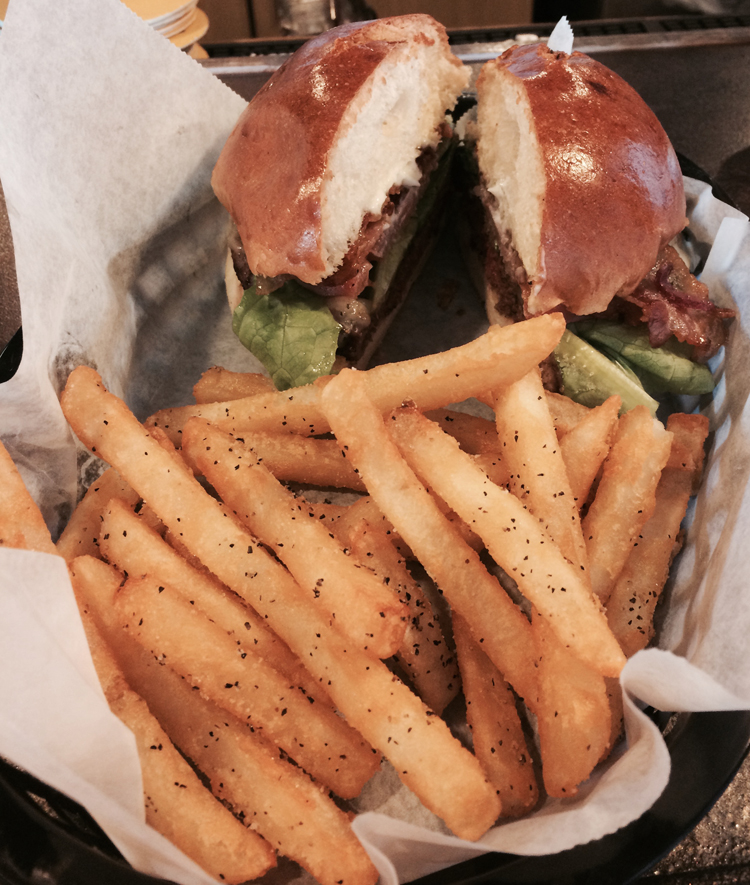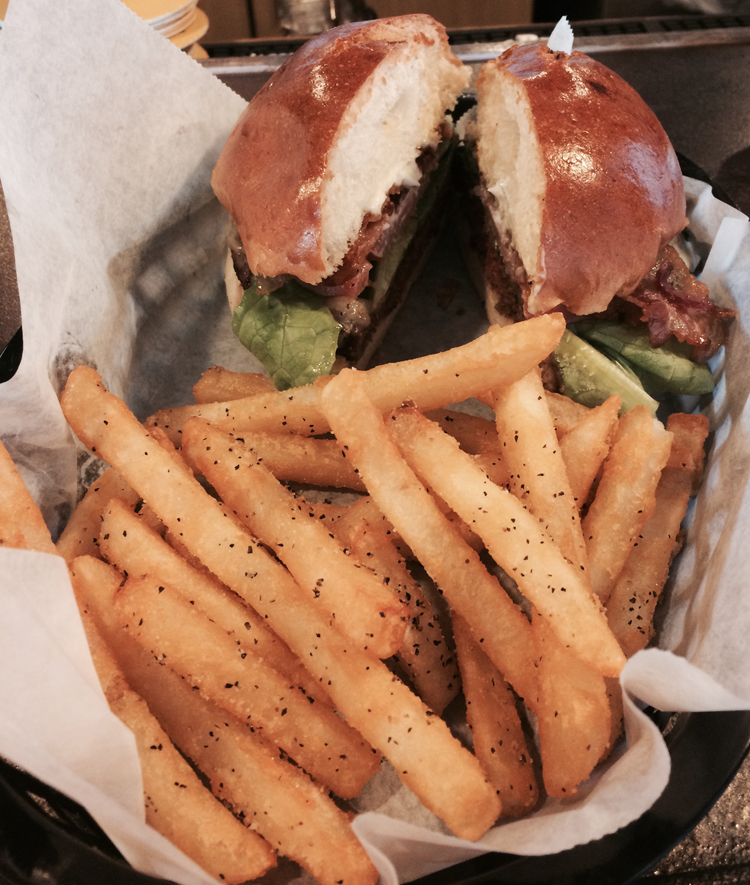 As we questioned the bartender, she confirmed we'd received The Bison ($10.95)—a third-pound buffalo burger with pepper jack cheese, bacon, chipotle mayo, lettuce and tomato on a brioche bun—and that she'd mistakenly entered it instead of our desired burger. Admittedly, we didn't even care. We were in too deep to turn back now and the burger was actually quite delicious. The lean hunk of bison was seasoned with savory spices, which coalesced with the zippy mayo, fresh local vegetables and soft bun to be (with sincere apologies to Ms. Sheryl Crow) my favorite mistake. That was lucky for us, as we weren't offered a new burger. Instead, Kelsey's profuse and seemingly sincere apologies came with an offer for free shot. We declined, thinking 1. It was the early afternoon and 2. Maybe we'd find our Miller Lite 86ed from our bill for our trouble. Nope! In fact, the mistake actually wound up costing us an extra dollar, as The Bison charge remained on the check.
The verdict: Though we can't say we loved how the snafu was handled, we're sure this was likely a result of a server still learning her bearings in a new position. Shit happens. Once Van Buren's service falls into line, it should match the already-established quality of the food (whether or not it's what we ordered). Sadly, the small and drab bar with next-to-no beer selection and strange whiskey lounge/townie bar duality will need its food and service to hold it afloat if owners hope to get anywhere remotely close to the last tenant's 46-year stint at 1682 N. Van Buren.