Wauwatosa nightlife is changing. After long existing as Milwaukee's quiet and kind of uptight neighbor, recent years have seen the suburb's dining and drinking identity improve mightily and grow exponentially. Still, many of Tosa's newer destinations are offshoots of proven Milwaukee-born businesses, such as Bel Air Cantina, Camp Bar, Cafe Hollander, Pizza Man, Colectivo, La Funete, occasional hip-hop venue Red Dot, and even a Wauwatosa George Webb's. Even longtime Tosa treasure Juniper 61 shares an ownership umbrella and menu with Bay View-based LuLu Cafe (much like the dual ownership the young Lucky Joe's Alchemy & Eatery had before the flagship Lucky Joe's—a Walker's Point tiki bar—shuttered to focus on a higher-end venture in a burg with decidedly more disposable income to slide across the bar).
Earlier this month, a new establishment bucked the recent trend of being the logical landing point for successful Milwaukee franchises and Bartolotta-approved burger bistros in a big way. An ownership group consisting of Ugly's Pub, The Hotch Spot, and The Eastsider went out on a limb—a less-than-sturdy bamboo limb—by bringing, of all things, a tiki bar to Tosa. With an enticing list of house drinks and no real Milwaukee equivalent outside of Foundation these days, Milwaukee Record drove past a bunch of businesses bearing familiar names in search of a new take on classic cocktails at Wauwatiki (6502 W. North Ave., 262-893-9539).
The space: Most recently the site of a home and office remodeling business, the corner property required extensive renovations to transform it into a full-fledged tiki bar. The stark differences between tenants is immediately evident, even before entering, as bamboo rods block the windows, the roof is accented with thatched leaves, and Flux Design-crafted railings and an arch sit beneath a luminous neon sign that displays Wauwatiki's name. When passing through the doors carved with implicit island symbols, a brand new bar stretches much of Wauwatiki's northern wall before giving way to an ample accumulation of wicker booths and two-tops. Across from the shimmering bar and its, again, thatched covering sits a quintet of (comparably) intimate shaded booths sequestered in the southeast corner. Perhaps our eyes have adjusted to the impossibly dark interior of Foundation over the years, but we were somewhat put off by Wauwatiki's brightness, which—along with a house playlist that featured 311's "Amber" and UB40's "Red Red Wine"—only served to amplify the fact we were drinking sugary island beverages on a cold Wednesday in April.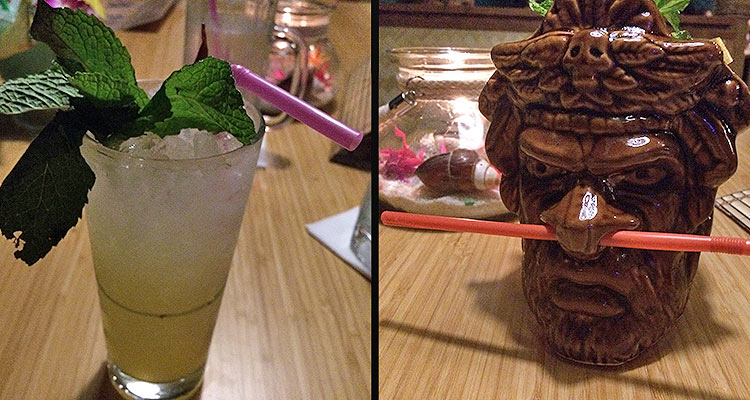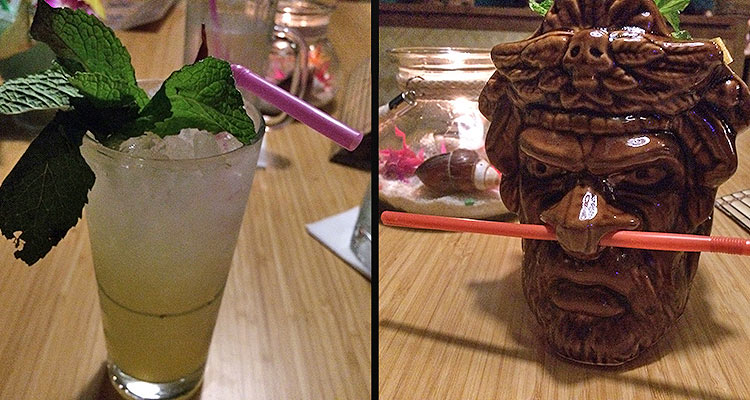 Milwaukee Record's drinks: Wauwatiki's drink list features a total of 20 boozy concoctions, ranging from the expected classics (Mai Tai, Singapore Sling, Pina Colada, Daiquiri); interesting signatures like the coffee-infused Caribbean Caffeine, the fruity "Island Smoke" Mezcal spirit, and the molasses rum and Bittercube Blackstrap amalgam called "Blackbeard's Blackstrap"; and up-priced group efforts like the $35 "Jamaican Me Crazy" date conversation starter and the $225 "Shiver Me Timbers" (serves six to 10) that's served in a treasure chest.
Having recently enjoyed a screening of Major League, our attention was immediately drawn to the Pedro Serrano ($11, top left), a cocktail that combined serrano pepper-infused rum, lime juice, a dash of passionfruit, club soda, and a fresh mint garnish. Like the fiery and powerful fictional Cleveland Indians slugger, this cocktail has a high likelihood of striking out in the opinion of those not prepared for the spicy and strong spirit. At first, we were somewhat put off by the drink's sinus-clearing capabilities. However, the surprise dulled a sip or two in, giving way to the oddly refreshing tartness of the lime and faint sweetness of the passionfruit. Though we enjoyed our peppery beginning, we followed up Pedro Serrano with Baka's Brew ($11, top right), after our otherwise-knowledgeable, professional, and altogether great bartender mistakenly advised us to try to Caribbean Caffeine the bar was unable to provide due to a shortage of puree. Despite not being our first (our even our second) choice, the coalescence of rum, locally forged bitters, sweet cherry liqueur, and sour splash of grapefruit (a chunk of which doubled as the drink's edible garnish) made the Baka's a beverage well worth settling upon.
While the spicy, sweet, and just plain complex recipes do a great job of hiding it, Wauwatiki's drinks pack a wallop. Hopefully the bar's eventual availability of food will help by giving patrons something to nibble on while spacing out staggering cocktails.
The verdict: With a recent identity that's largely dependent on what's already worked for its larger neighbor, it's refreshing to see Wauwatosa take on a new venture that's struggled for a presence in Milwaukee. Regrettable name and small, absolutely amendable ambiance issues notwithstanding, Wauwatiki could and should add a dash of unique and altogether delicious island flavor to the suburbs.