To hear Jordan Davis tell it, his path to becoming a musician—and, now, a video game designer—was laid out for him at an early age by none other than Cyndi Lauper and the Goonies.
"When I think of the first music I ever heard as a kid, there are things I remember hearing in passing, like the Beach Boys' 'Surfin','" Davis explains. "But the other is hearing the Cyndi Lauper chiptune theme from [the 1987 Nintendo Entertainment System game] Goonies II. I had seen the movie and I'd heard the song, but hearing it in that very basic format, I could hear the difference between a bass line and a melody, or a harmony and a melody. They're the simplest components you can have, but hearing that was one of the first moments I remember knowing that there were different things happening in music. It was a huge revelatory moment in my life."
Fast-forward to 2020, when Davis' interests have converged into his wildly enjoyable, laugh-out-loud-funny Space Raft: The Game. Described as a "rock n' roll retro-game experience for the NES," the homebrewed creation is both an absurdist adventure for Davis' band (that would be Space Raft, natch), and an 8-bit love letter to Milwaukee and its bustling music scene. Familiar locations like Cactus Club and High Dive pop up. Familiar folks like Kelsey Kaufmann and Mark Waldoch make pixelated appearances. Davis and his band careen through town in their van, picking up chicken sandwiches and thwarting the nefarious plans of their former bass player. Before Space Raft makes a road trip to Green Bay, they make pit stops at WMSE and Burnhearts, and reminisce about the time they played a Bernie Sanders rally.
Oh, and the game is an absolute blast to play.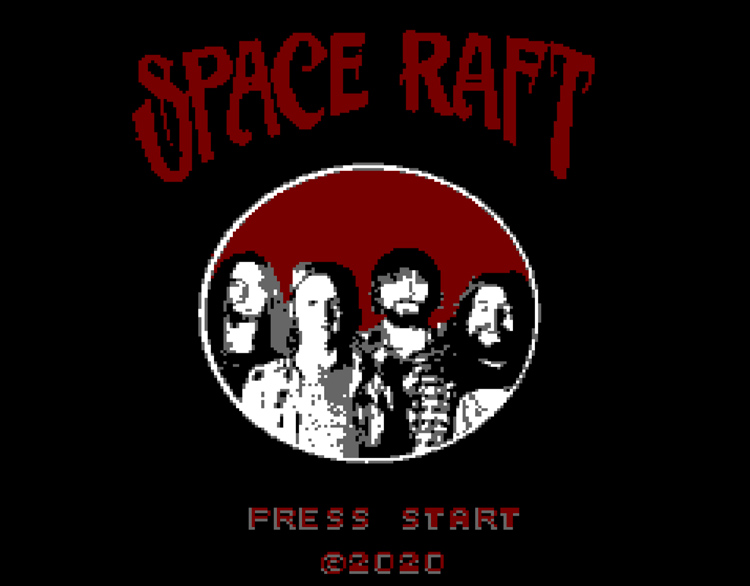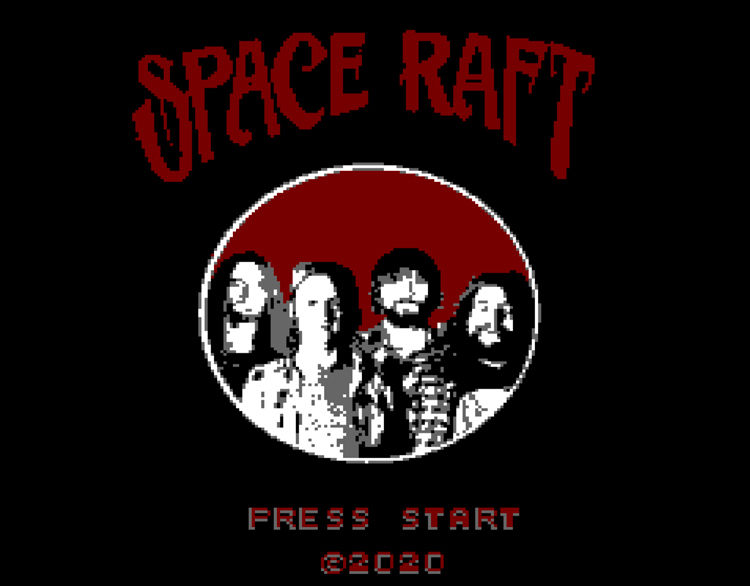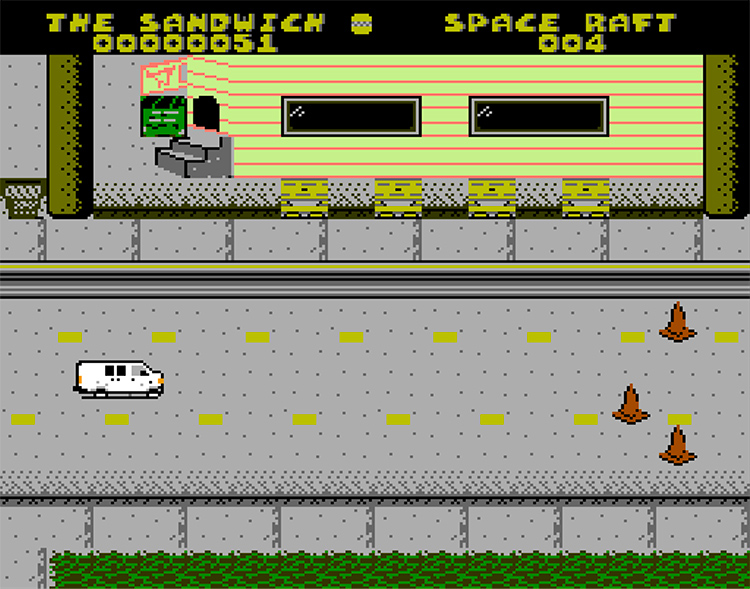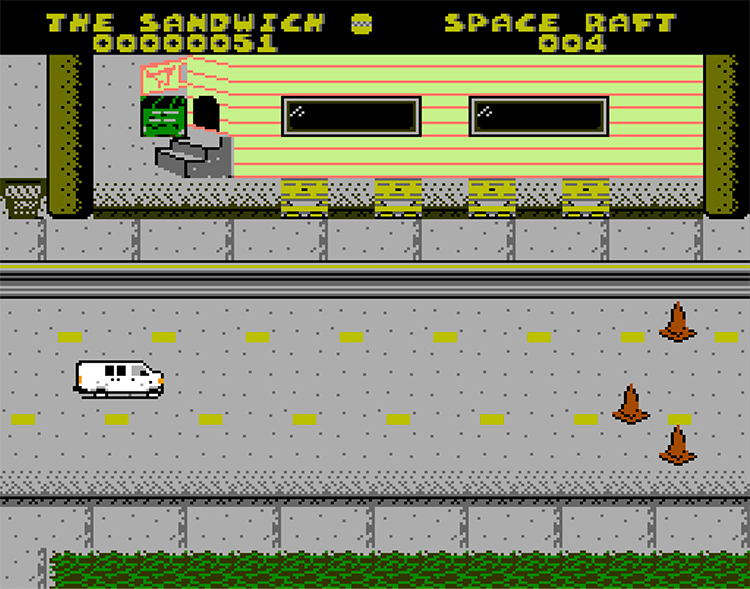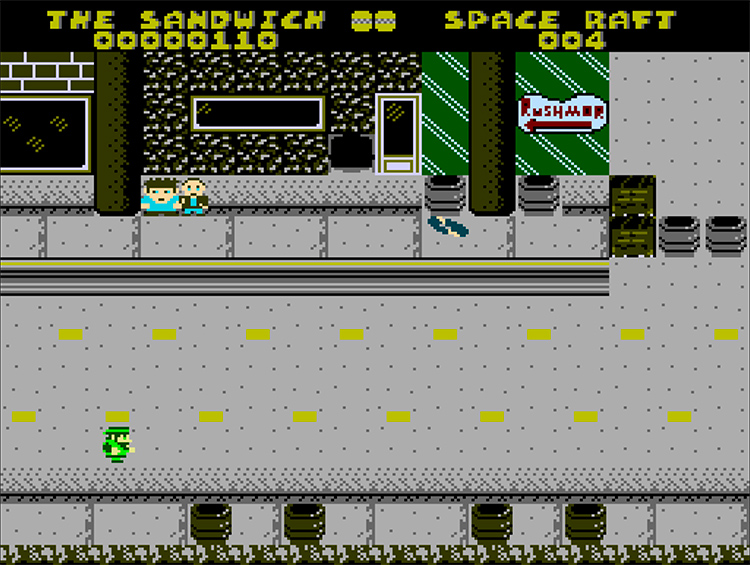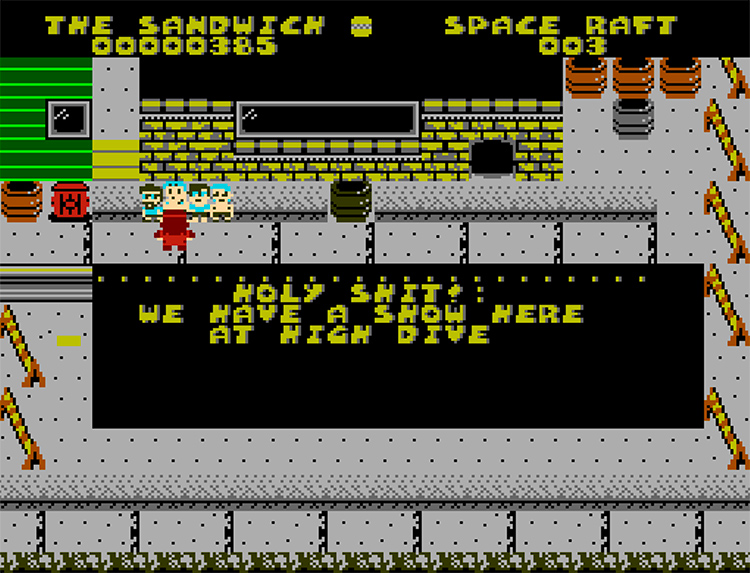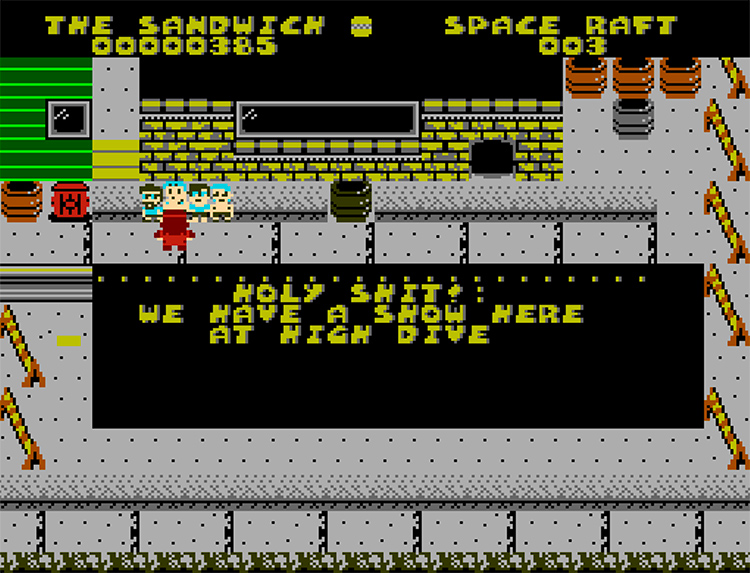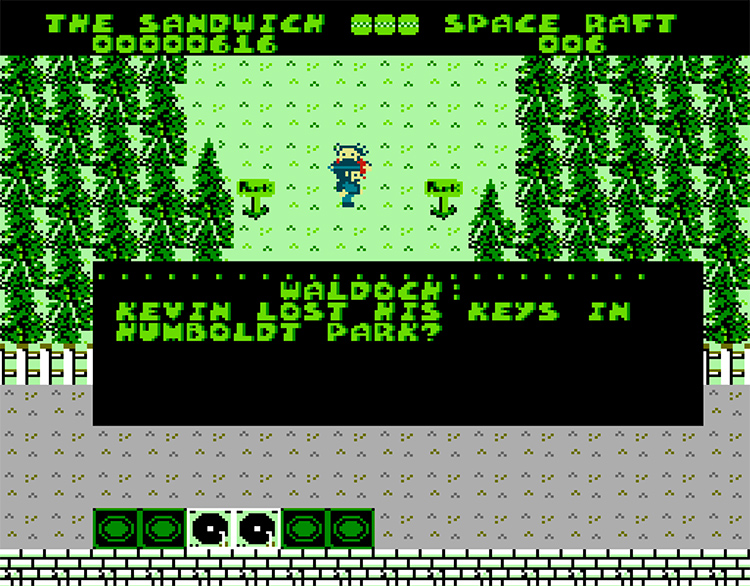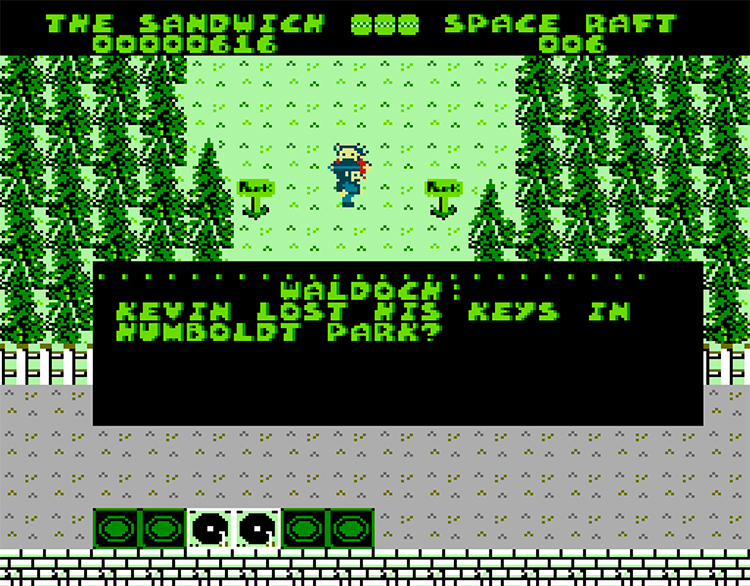 "I made this for people who understand Milwaukee and Wisconsin," the guitarist and songwriter says. "Obviously, this is a game for them, but I also wanted to make something that was legitimate enough that it would be enjoyable wherever you live."
For anyone who grew up with the sights, sounds, and infectious gameplay of the NES, it's clear that Davis has succeeded in his Zelda-esque quest.
Space Raft: The Game—now complete and raising funds for a physical release—is the product of more than two years of work. It began as a lark, with Davis dreaming up a retro Space Raft logo and some unconventional merch. ("It popped into my head one day that I could put Space Raft on an Atari cartridge. I thought about slapping new stickers on old cartridges and selling them for a dollar.") But it wasn't long before the Milwaukee musician was teaching himself how to translate Space Raft's psych-tinged power-pop into four-channel chiptune, throwing himself into the daunting world of NES design (with plenty of help from the NESmaker community), and taking a deep dive into level theory.
"I initially thought I would do a little video or something," Davis says of his initial chiptune version of Space Raft's latest album, Positively Space Raft. "But the more I thought about it, the more I thought how funny it would be if I actually made a game around it. The more I thought about it, the more I convinced myself that I had to do it."
Fans of Milwaukee's music scene will enjoy oodles of references and inside jokes while playing Davis' labor of love, but it's the game's tight controls and varied levels that will keep anyone hooked. The gameplay recalls some of the classics from the NES era: a little bit of The Legend Of Zelda and StarTropics here, a little bit of Ghostbusters II and T&C Surf Designs there. Remember being able to swap out characters and their accompanying weapons in Teenage Mutant Ninja Turtles? You can do that in Space Raft: The Game, switching between Davis, drummer Tyler Chicorel, keyboardist TJay Christenson, and bassist Jon Heibler. (Christenson's bowling ball weapon is a winner.)
Here's a quick synopsis, followed by some GIF action:
Space Raft: The Game is a mix of obstacle based scrolling stages and early arcade top down action stages making use of many recognizable people and places from the Milwaukee music scene. Featuring the band's jealous old bass player Srini* as the villain of the game who has returned to Milwaukee from California to steal the master tapes of the new record. You'll need to chase down Srini and eat all the sandwiches in order to retrieve the tapes and finally release "Positively Space Raft" to the public. Each of the 4 members of Space Raft are represented by unique sprites with unique actions and their own color palette to help build characterization.

*Srini was chosen as the villain of the game per his request, so rest assured no feelings were hurt by this decision.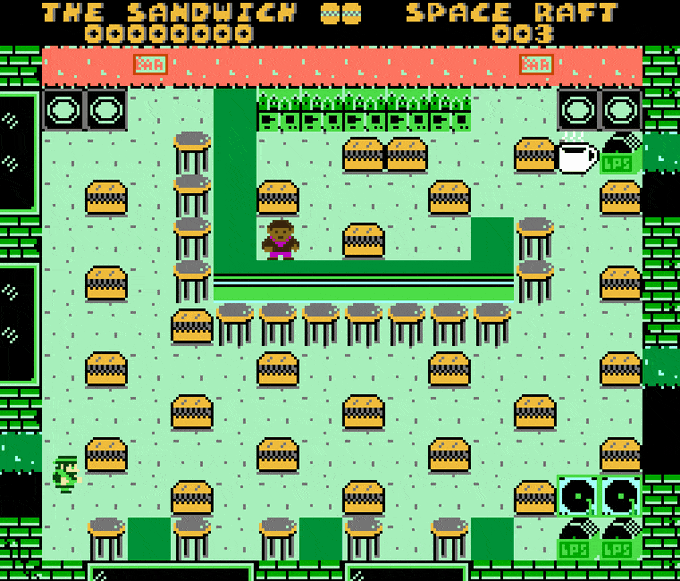 A free demo of the game is currently available to play via an emulator or flashcart. For folks not familiar with the wild and wooly world of emulators and ROMs, the demo can also be played in a browser via the Dusty Medical Records website. (The basement of Dusty Medical's Kevin Meyer is one of the game's levels.)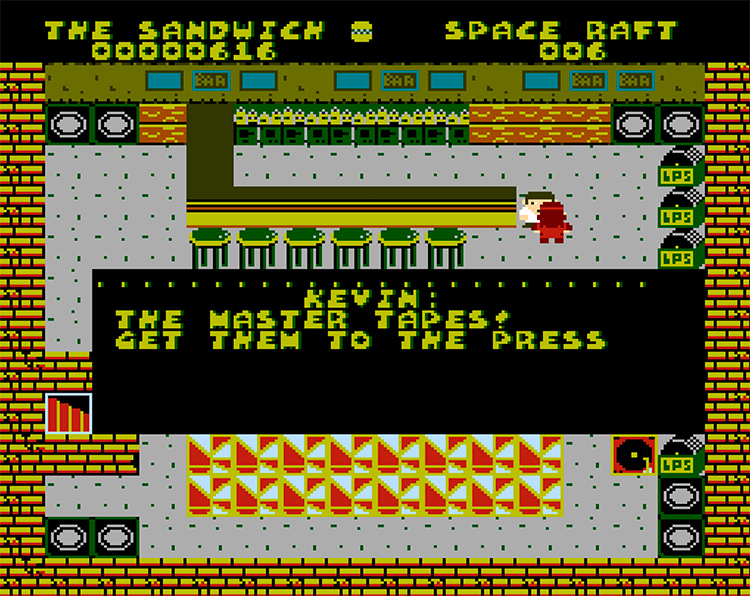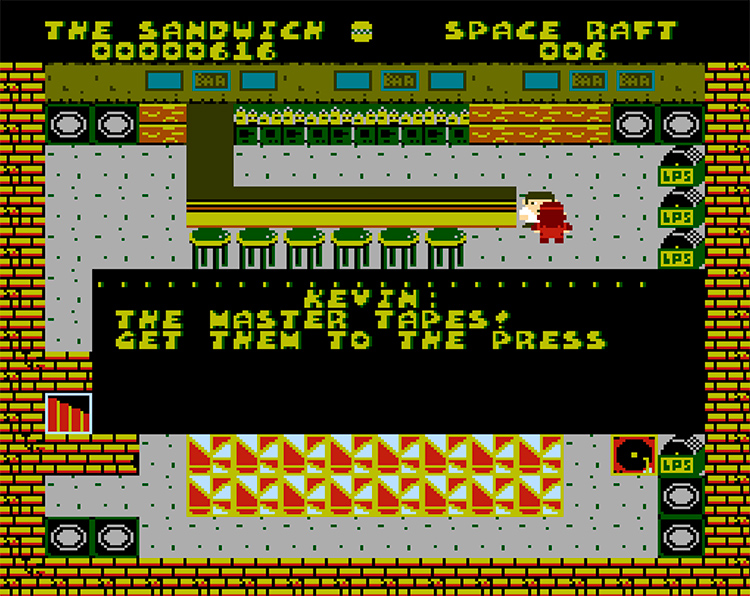 Davis' ultimate goal, however, is to produce actual NES carts, complete with instruction manuals and those little foam blocks that used to sit in the bottom of the boxes. That physical component is important to Davis, and ties into his original love of music.
"My Kickstarter campaign is launching today," he says. "Basically it's to fund the physical production of the materials, of packaging and the cartridges. This is an old medium that requires outdated technology, so it's not cheap to make cartridges. But yeah, it's a collectible thing, and I worked really hard to make packaging that would be worthwhile to have on a shelf, even with your records and other music oddities."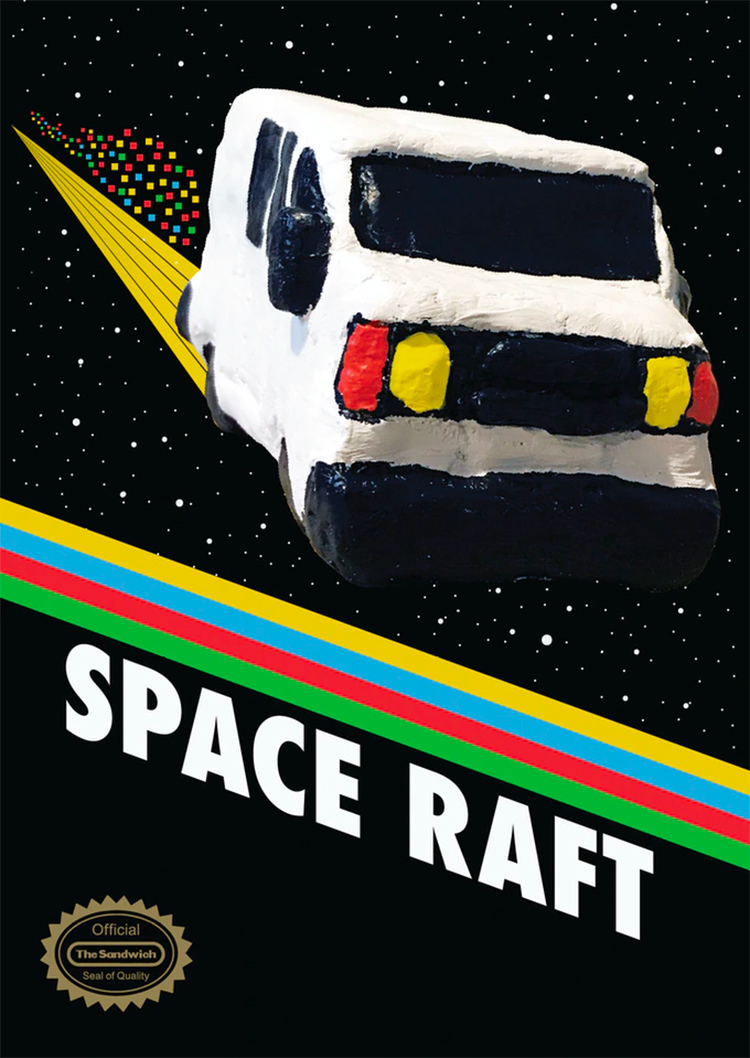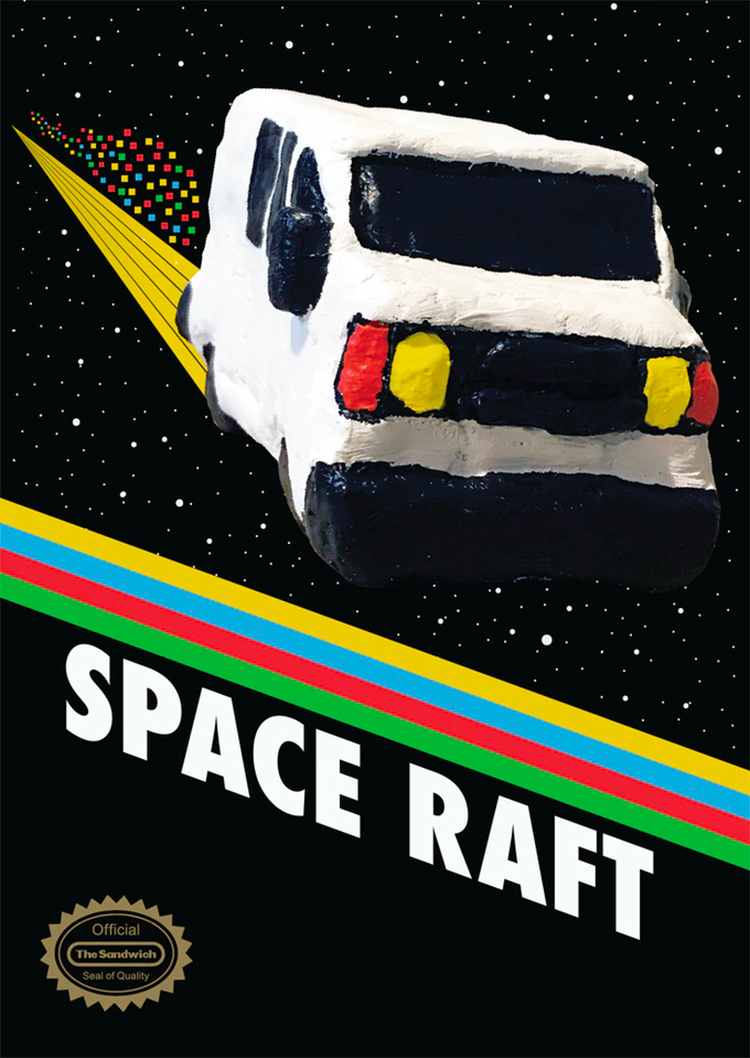 Check out the Kickstarter now. And yes, Milwaukee Record makes a late-game appearance in the Humboldt Park level, and yes, it's an honor of a lifetime.