Bands typically try to avoid playing out in the final days before they're to release a new record. However, that unwritten rule can be broken when a band has been asked to play on the same stage as its preferred presidential candidate at a pair of rallies. Sunday and Monday, Space Raft—whose sophomore record, Rubicon, comes out April 15 and gets the release show treatment at Mad Planet on May 7—played its largest and most memorable shows of its three-year existence, as the rock quartet opened for none other than Bernie Sanders during the senator and aspiring Democratic nominee's campaign events in Madison and Milwaukee.
The unique opportunity came about when Dusty Medical Records owner Kevin Meyer's Rubicon promotional push somehow resulted in the band's music getting in the hands of someone on Sanders' campaign staff who was seeking musical support for Sunday's rally at Madison's Kohl Center. The request came last Thursday, which was just enough time for the band of Bernie backers to clear their schedules for the shows of a lifetime.
"Kevin immediately got in touch with us, and we were, of course, on board. This all happened over a few hours on Thursday morning," drummer Tyler Chicorel says. "All of us were at work. I was bartending and my phone kept blowing up every 30 seconds. By Thursday afternoon we were fully committed to Sunday in Madison. At that time, that's all the details we had."
In the meantime, Space Raft was sworn to secrecy until Saturday's official announcement of the following day's event, and Sunday's posting of Monday's rally in Milwaukee. Additionally, all members underwent background checks administered by secret service agents.
"Thursday afternoon, we called and passed along all of our information," Chicorel says. "Between then and Friday evening, we hadn't gotten any new information. We all started asking each other half joking, half serious, 'Okay, guys, which one of you is hiding something?' Eventually we were cleared and good to go."
The intense security measures extended backstage at the shows, with Space Raft basically being sequestered in a room unless escorted through a number of check points by secret service and police. Eventually, the band was introduced to Senator Sanders back stage.
"The interactions with Senator Sanders were very brief, but pleasant," organ player TJay Christenson says. "When he met us after the rally for the photo op, he raised his arms in the air and said 'We love having bands!' with genuine enthusiasm. Senator Sanders thanked us very graciously for our support and participation."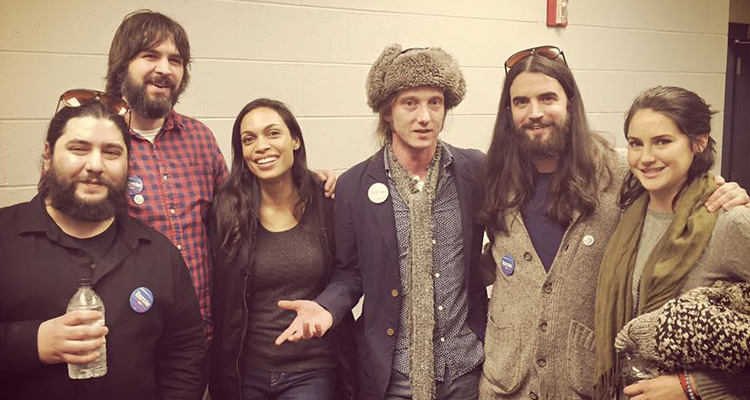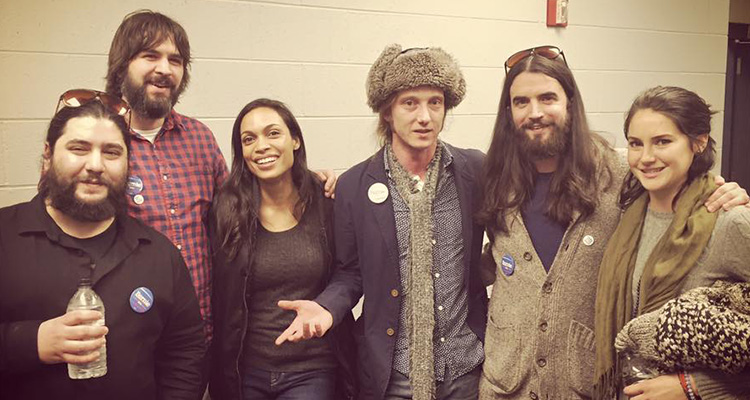 The band also met actresses and ardent Sanders supporters Rosario Dawson (third from left) and Shailene Woodley (far right) behind the scenes of the Madison rally. "Honestly, everyone involved, from the other bands to celebrity speakers to the campaign organizers were very down to earth, and I believe that reflects the tone of his presidential campaign in general," Christenson says.
Playing to what Chicorel calls "a sea of people" at both the Kohl Center rally and Monday's event at Milwaukee's Wisconsin Center, Space Raft shared the stage with Dawson, noted national bands like Best Coast and Warped Tour act 3OH3!, and of course, Senator Sanders.
"This whole experience was a bit of a whirlwind," Christenson says. "Hearing Bernie Sanders say the words 'Space Raft' to a large crowd of people over the PA was surreal. I mean, there is really no reason to use those words in sequence other than to say our stupid band name."
Though the exposure—especially on the cusp of releasing a new record—is certainly a plus, the guys in Space Raft are mostly just happy they were asked to play a small part in supporting a politician they all trust and admire.
"Just being able to participate so closely in the political process of the country I love is beyond words," singer-guitarist Jordan Davis says. "To me, Bernie Sanders is the one politician in my lifetime that I truly believe and relate to."
No matter how today's Wisconsin primary and November's general election turn out, it's safe to say that Space Raft will always have one hell of a story.
"I couldn't be happier to spend such a memorable couple of days with some of my favorite people," Chicorel says. "I think I can speak for the whole band and say that this has been an experience that we will never forget."