Milwaukee loves donuts. Dozens of bakeries in the city and its surrounding suburbs help people get a sweet start to their day with long johns, crullers, jellies, powdered, cream-filled, cake donuts, and more. If you're looking for the "hole story" on Milwaukee-area breakfast pastries, let our new weekly Dollars For Donuts column be your guide.

Founded in 1975, Honeydip Donuts has now been a trusted Milwaukee breakfast option just shy of 45 years. Through the decades, the Brew City bakery has expanded from its flagship establishment by adding another three locations that are spread across metro Milwaukee. Currently, there's one on 27th Street, another on Layton Boulevard, a location on Greenfield Avenue in West Allis, and a shop out in Hales Corners.
Other than adding new locations, it doesn't seem as if much has changed at Honeydip Donuts through the years. Its simplistic orange and white logo helps each Honeydip store stand out from the other shopping plaza tenants vying for consumer attention. The marketing budget is minimal, if one even exists at all. Instead of running ads and thinking up flashy gimmicks, this long-tenured bakery seems to rely on word-of-mouth, the steady business brought by its wide range of regulars, and the inherent sell-ability of donuts to make ends meet. Forty-four years later, it's safe to say the business plan is working.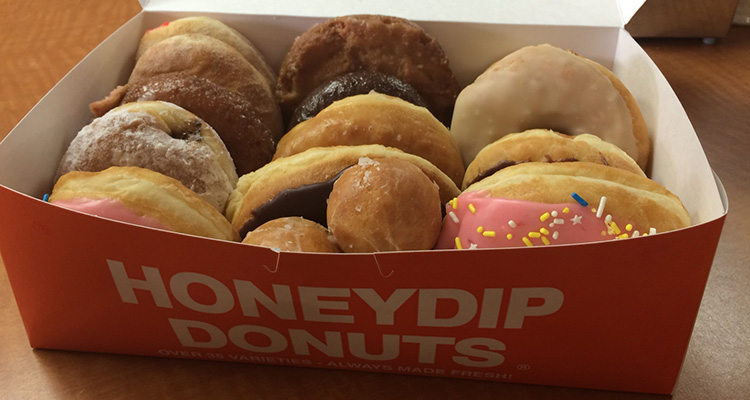 Honeydip makes more than 35 types of donuts each and every day. There's something for any taste: frosted, powdered, long johns, cream-filled, jelly-stuffed, crullers, glazed, holes, and (of course) honey-dipped. For some thoughts on specific donuts, check out Officer Bradford from Masked Intruder's 2016 assessment. Adding to its impressive arsenal are non-donut goodies like cinnamon rolls, cheese pockets, bagels, turnovers, hard rolls, muffins, and its famous apple fritter. Donuts are 90 cents apiece, $4.99 for a half dozen, and $8.49 a dozen. Additionally, carry-out specials allow customers to get 15 for $9.99, 18 for $11.99, and 36 for only $23.99—making Honeydip an ideal and inexpensive option to bring to weekend gatherings or take to the workplace.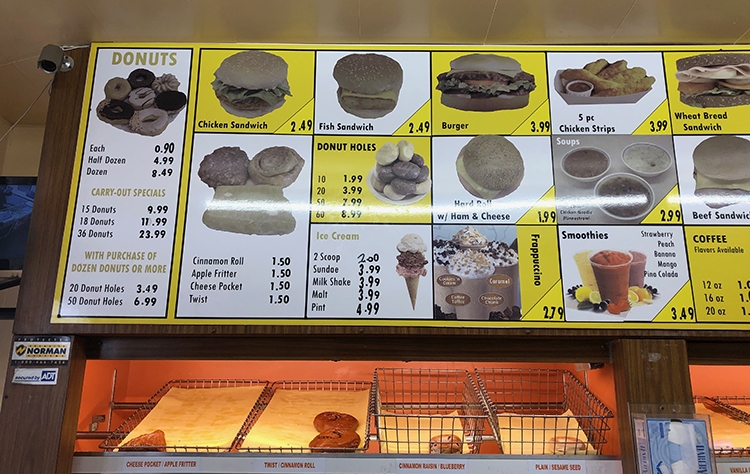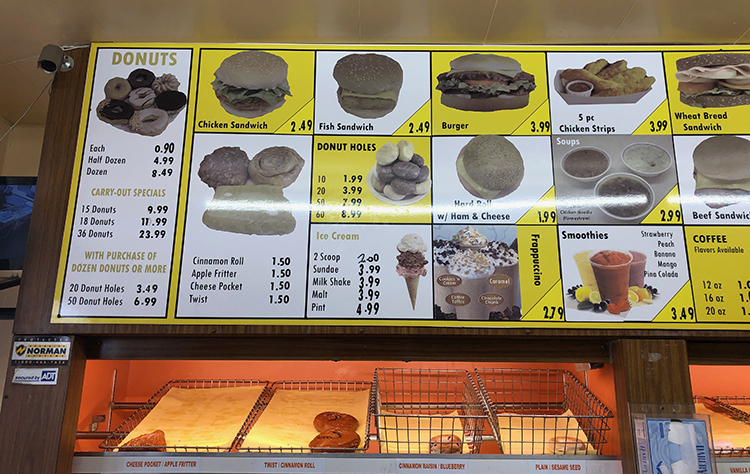 Other dough-free items include coffee (priced less than $2), smoothies, blended coffee drinks, and other non-alcoholic beverages. Honeydip has ice cream and soup, and some locations even offer lunch and dinner items like burgers, sandwiches, and chicken strips.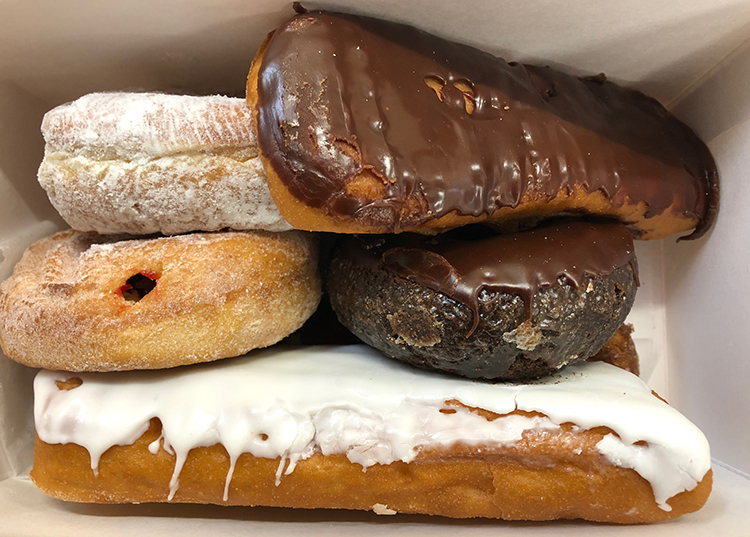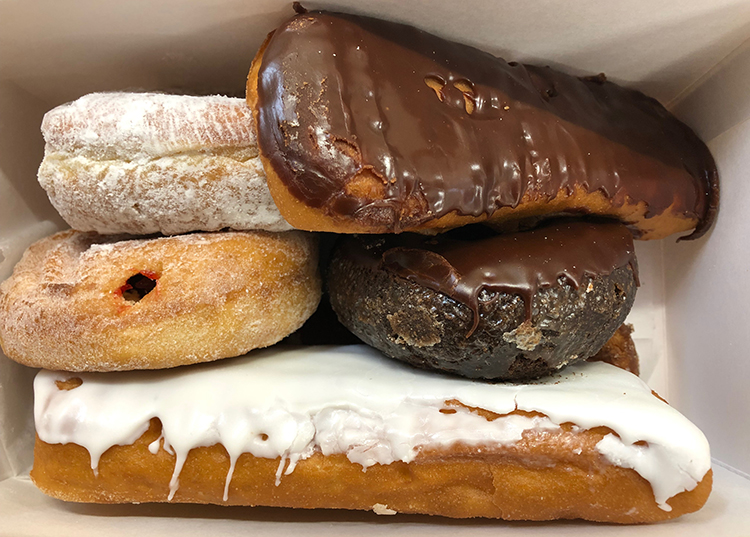 During a recent trip to the Honeydip Donuts on Layton Boulevard, we ordered a half-dozen donuts. By the time we arrived, applet fritters were long gone, but we still had no trouble packing a box with a wide range of options. We got two types of long john, a raspberry-filled, a chocolate cream, a double chocolate, and (buried at the bottom of the box) a Honeydip cruller. They were simple-yet-satisfying, opting to stick to the baked good basics instead of chasing trends or dabbling in decadence. The cruller stole the show with a crispy and sugar-coated outer layer that gave way to semi-soft innards. We kicked ourselves for bypassing the sour cream donut varietal that we'd enjoyed during previous visits.
All things considered, Honeydip has been a go-to for us and for Milwaukee for a long time, and with good reason. Whether it's a 90-cent personal indulgence, a $5 surprise for the family, or you're planning to serve the masses something nice at a fair price, Honeydip is there for you, just as it has been since 1975. Hopefully, it'll stick around for at least 44 more years.