Today is National Donut Day. Though virtually everyone is prone to enjoying the sugary breakfast pastry from time to time, no group is more aligned with the donut—for better or worse—than police officers. However, if there's someone out there who likes donuts more than the stereotypical cop, it's Officer Bradford, punk rock's premier fake police officer.
When the Milwaukee resident isn't keeping a watchful eye on Masked Intruder as the Madison-based pop-punk criminals tour the world, he's enjoying crullers, biscotti, the occasional blintz, and his fair share of donuts. How many donuts? "How many days are in a year? Somewhere around 200, right?" Bradford says. "Every year, I eat whatever that is times five…plus that, times four."
Before he accompanies Masked Intruder on this year's Van's Warped Tour, Officer Bradford took a rare break from his punk rock patrol to eat and review a dozen donuts from Honeydip Donuts, a 40-year-old Milwaukee area institution. Milwaukee Record joined Officer Bradford at the counter, broke fried/frosted bread with him, and recorded his thoughts.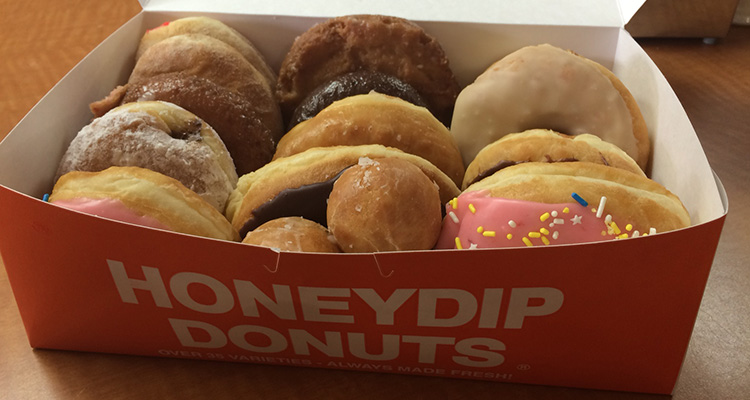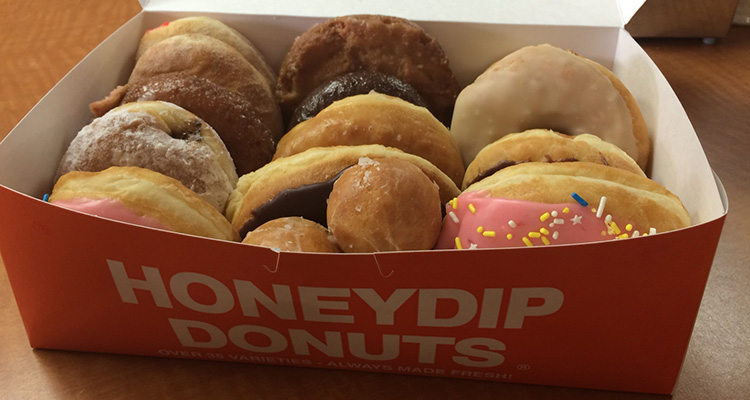 Strawberry Frosted
"Oh, this is delicious. Nice doughy consistency, kind of like my body on beach patrol. The color is great. It kind of reminds me of Intruder Pink, who sometimes joins us on stage. I hate her the least of all the Intruders. She smells the best."
Apple 'n' Spice
"This one's just like mom's apple pie. This would go really well with whiskey…just like mom's apple pie."
Honey Dipped
"This is like their classic, right? Nice and airy. This wouldn't weigh you down if you're, like, chasing kids off of a golf course. It keeps that spring in your step. The active man's donut, definitely."
Sour Kreme
"These are the one's I liked growing up. The Sour Kreme is awesome. I think it's like Polish or German or something. Good crust on it. This would stand up well to an Irish coffee."
Raspberry
"Ah, there's the neon filling! That's what you want. You want the color to be as artificial as possible. It's like, 'what does that donut taste like?' Red. I feel like I just got back from Vegas. My mustache is covered in serious powders."
Bavarian Kreme Powdered
"Oh yeah. You ever partied with a Bavarian? There's a stereotype that Germans don't have a sense of humor, which is entirely true except Bavaria. Bavarians know how to party really hard. They're right up there with police officers in how hard they party. The first time we went to Bavaria, the crowd hard brought a bunch of fake, spring-loaded knives. During the first song, a group of them stormed the stage with fake knives and stabbed us. We had no idea if they were real or fake until we didn't die. All in good fun.
"The chocolate filling looks just like cake frosting and I am not mad about it. Oh yeah. Sarge would like this one. If I messed up real bad, I would buy him a case of these to help sweep it under the rug. It's pretty amazing."
Lemon Chocolate
"Interesting combo. It looks like the translucent yellow of Space Legos. Lemon and chocolate: a combination I never thought I'd try. I really like the lemon. The chocolate is not doing it for me. There's a reason why we haven't heard of this before. Instead of chocolate, I think a whiskey glaze would make any donut better. A Lemon Whiskey donut? I'd give that a shot. I've also dipped donuts in vodka before. It's still a donut."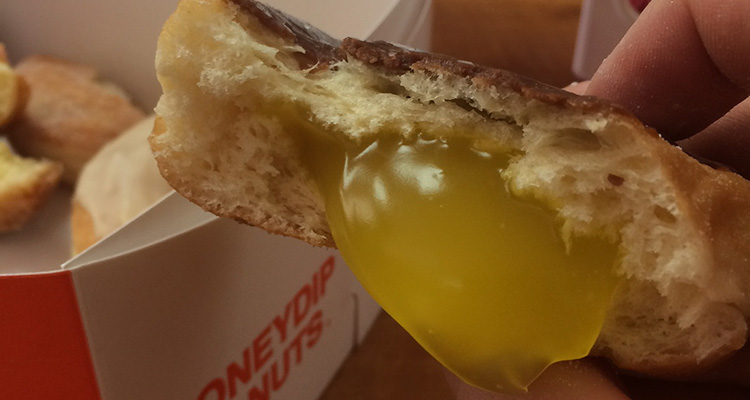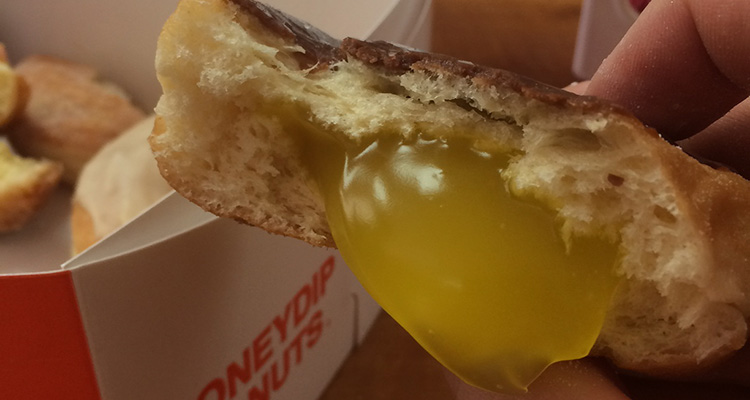 Chocolate Honey Dipped
"It's a little dry. It kind of tastes like chocolate cake. Nothing wrong with that, though. You ever have that shot that tastes like cake that sorority girls drink? Ain't half bad, just like sorority girls."
Chocolate Covered Cherries
This donut is definitely on the heavier side, which is what you want when it's the ninth one you've eaten. You really want to throw a heavy one on top."
Donut Hole
"It's just like the Honey Dipped, but in a smaller package."
Maple Frosted
"That's the most flavorful topping so far. It's intensely sweet. It tastes like Canada. Do you know what they call donuts in Canada? Donuts. Are you racist or something? You voting for Trump?"
Cherry Cake
"I was expecting more cherry flavor out of it. But my taste buds might just be blasted by that maple still. The lemon and maple were real intense and this is very, very subtle by comparison."
Final Thoughts
"Did I really just eat 12 donuts? I think Honeydip is a fine donut establishment. The signature Honey Dipped Donut really is a special thing. It's nice and light, although I think the next time I accidentally shoot a kid, I'm definitely getting the [Bavarian Kreme Powdered] for the Sarge."