It's an unprecedented and incredibly difficult time for restaurants right now. It's especially tough for restaurants in Wisconsin, where COVID-19 numbers are currently off the charts. Wanting to highlight local establishments who are keeping food quality high while also keeping its customers and employees as safe as possible, we're going to focus on restaurants that have completely shifted to carryout and/or delivery service in a series we're calling "Carryout Chronicles."

Since opening just over six years ago, The Vanguard has quickly become Milwaukee's premier sausage bar. In its first five-plus years in business, the Bay View restaurant—by way of its impressive arsenal of meats, wide variety of vegetarian and vegan specialties, and a mind-boggling selection of whisky and bourbon—has earned acclaim from countless locals, respected national media outlets, a few famous folks, and a bunch of professional wrestlers.
Along the way, The Vanguard has regularly changed up its menu in new and exciting ways, completely transformed into an entirely different business every Halloween, and has given the city a way to "BE SOMEBODY" while enjoying excellent eats until bar close every night of the week. At least that was the case until March 15, when The Vanguard made the decision to close its doors as a COVID-19 precaution (a few days before businesses were ordered to shut down in-person service).
Even after Milwaukee bars and restaurants were permitted to reopen for dine-in service on June 5, The Vanguard opted to remain closed for the good of its customers, staff, and the community. On June 17, however, the Bay View sausage emporium finally decided to open up again…for takeout only. Almost six months (and hundreds of thousands of unnecessary and avoidable deaths) later, that's how it has remained at 2659 S. Kinnickinnic Avenue. We wasted almost no time picking up some Vanguard standbys when they returned, and we've made it a regular in our restaurant rotation ever since. Over the weekend, we picked up our latest order. If you haven't paid a visit to The Vanguard since the first closed, here's what you can expect from the restaurant in a carryout capacity.
Policies and Procedures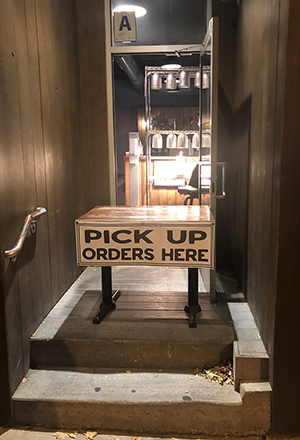 Gone are the days of The Vanguard being open until bar close. To paraphrase from the restaurant's Facebook account, "There is no bar time anymore." Instead, its hours of operation are 11 a.m. to 9 p.m. every day of the week.
Customers can order online or over the phone (at 414-539-3593). After ordering and paying ahead of time, people are told when to show up to get their order. Typically, it's ready within 15 minutes of placing the order. Instead of walking into the business or calling/texting from outside, customers simply have to walk up to a table placed strategically between the sidewalk and the restaurant's entrance, where they give an employee their name.
During our various visits, we've either gotten our food immediately or within five minutes of checking in at the makeshift pick up counter. Admittedly, the system wasn't perfect early on as the staff was learning the newly-implemented processes, but they've really dialed it in these past few months. Oh, and even though you're outside, make sure to wear a face covering out of respect for others waiting for their orders, not to mention out of respect for the employee who will be well within six feet of you and your bratwurst hole when handing your food to you. We shouldn't have to tell you this.
Carryout Quality
While many restaurants have made the tough decision to trim their menu down a little (if not significantly) to adjust for reduced capacity and/or the carryout format, The Vanguard still offers all its favorites from the pre-pandemic menu. We've made sure to keep Thee Durty Burger ($9) in our personal rotation because it's easily one of the five best burgers in the city. The carryout transition hasn't hurt that standing whatsoever.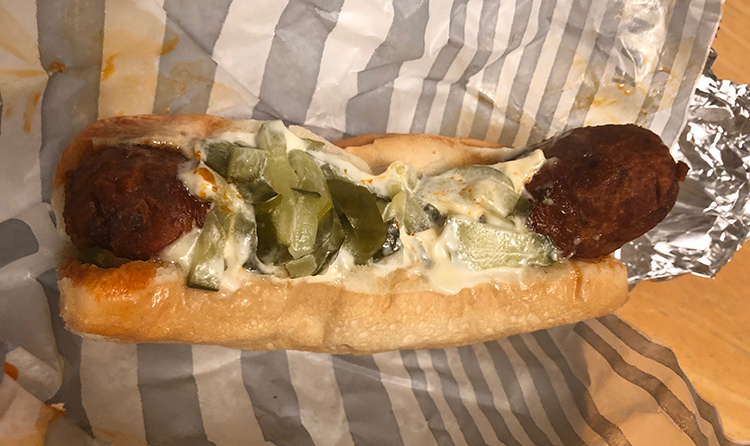 Our experience might be skewed since we live just down the road from the restaurant, but (after the initial hiccups were addressed) the quality has not dipped in any significant way in our experience. Sure, decadently-topped meat tubes like the Nashville Hot Chicken sausage ($9) you see above aren't always as pretty as we're accustomed to once we unwrap them at home, but they taste as good as ever.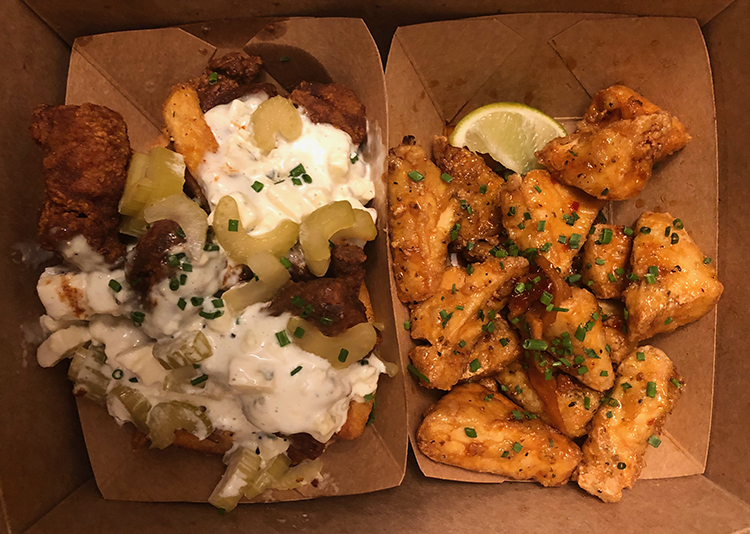 We'd strongly suggest avoiding getting carryout fries from ANY establishment. That said, the side with a famously brief period of freshness gets more-than-adequately revived when its part of a cheesy, buttery, and spiced chicken-topped riff on poutine. The South Buffalo Poutine ($6, pictured left) remains one of our favorite indulgences in Bay View. As does the Burnt Ginger Tofu ($7).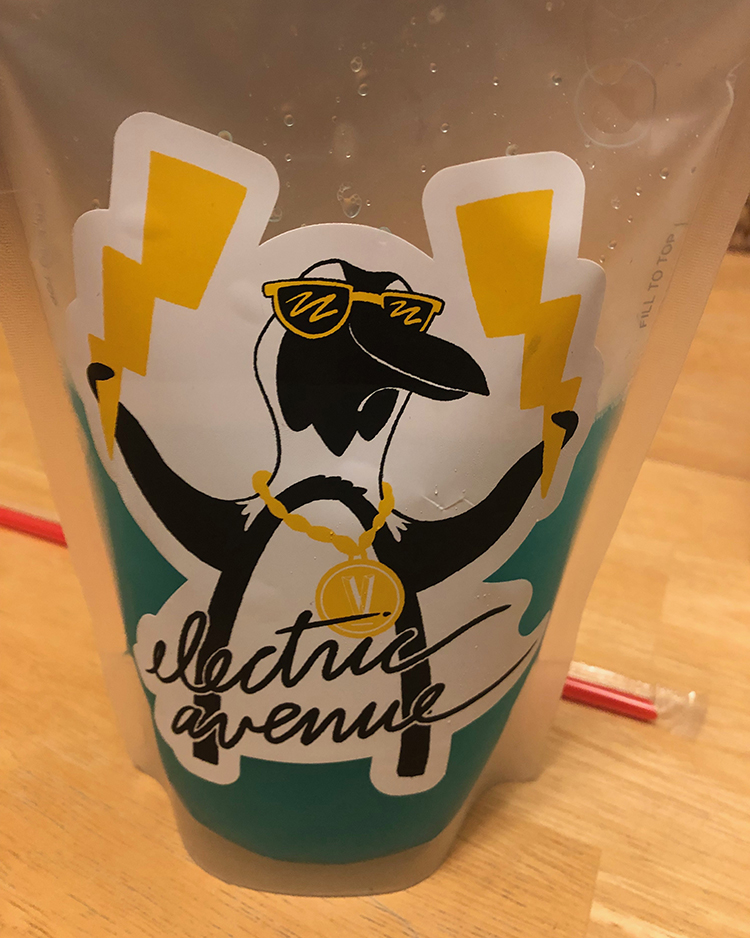 In fact, The Vanguard didn't just keep its menu almost entirely intact (as well as weekly specials like Meatball Monday, Tofu Tuesday, and Packer Brats on all game days), they've actually brought a few new menu items into the fold. Since reopening for carryout in June, they've introduced Vanguard Fried Rice and Mac & Cheese. We've had and thoroughly enjoyed the latter in previous visits. Another newcomer is the tart and tasty Electric Avenue, an "Adult Capri-Sun"-style cocktail ($16) that comes in a plastic pouch that serves two people. If electric blue drinks aren't your speed, you'll be happy to know The Vanguard also sells six-packs and growlers of beer (popular domestic and craft), bottles of wine, and eight draft cocktail kits…including its Vanguard Old Fashioned.
Other Info
For those of you traveling from a distance, you don't have to risk messing up your car or rushing home to eat a lukewarm sausage. If you want to keep it simple, you can get Grill At Home four-packs of precooked sausages in one of eight varieties (for $20 per pack) to finish up at home. There's also a $30 Vanguard Grill Kit that's complete with four precooked sausages, four buns, and other condiments to grill up and enjoy at home at your convenience.
Maybe you don't live in Milwaukee, but you want to make sure a place like The Vanguard is still around the next time you come to town. If that's the case, you can order shirts or buy gift cards to use at a later time. If you miss this one-of-a-kind Milwaukee standby and want to help make sure it weathers this long and ever-worsening storm, BE SOMEBODY and support The Vanguard.